What Is Content Marketing and Why Is It Important?
Did you know that 53% of companies use content marketing?
If you aren't part of the 53% of companies that use content marketing, you're missing a valuable opportunity to drive traffic, leads, and sales for your company. Content marketing doubles website conversion rates and drives three times more leads than traditional marketing, so it's an excellent strategy for growing your business online.
For people, like you, who just started exploring content marketing, you may have questions like:
What is content marketing?
Why is content marketing important?
What types of content marketing are there?
What are the benefits of content marketing?
How do I do content marketing effectively?
We'll answer all those questions in this article. Keep reading to learn more about content marketing and give us a call today at 888-601-5359 (or contact us online) to speak with a strategist if you're ready to get started with content marketing services!
What is content marketing?
Content marketing is a strategic marketing tactic that focuses on creating and distributing valuable and relevant information to your audience. This strategy attracts a defined audience and gets them to check out your information, engage with your business, and learn about your company.
Want more details about the basics of content marketing? We have a video for you!
Why is content marketing important?
So, what's the big deal about content marketing? Content marketing is one of the most important digital marketing methods for growing your business online. You'll want to have a content marketing strategy in place because:
Content helps you reach your target audience. Your audience is already searching for information, so why not provide it to them? By creating content, you improve your business's reach to your target audience and give them the information they seek.
Content helps you build brand awareness. When you share valuable information with your audience, they spend time getting familiar with your business. They'll get to know your company and your brand, which helps you nurture these visitors into leads and customers.
Content helps you close sales. Your content can serve as a selling point for someone close to conversion. If someone sees your content and finds it informative and helpful, it may be the last selling point they need to become a client.
Content marketing plays a pivotal role because it helps you:
Reach your audience
Get your audience familiar with your brand
Convert your interested site visitors into sales for your business
Types of content marketing
There are dozens of content types you can create. You'll want to use a variety of content to keep your strategy fresh and engaging for your audience.
Let's look at the five most common forms of content marketing:
1. Blog posts
Blog posts are one of the core pieces of content that companies create to attract leads. When you create a blog, you write content about a topic and provide your audience with valuable information. Blog posts typically include other elements, like videos and photos, to break up text.
You can see an example of this content marketing below: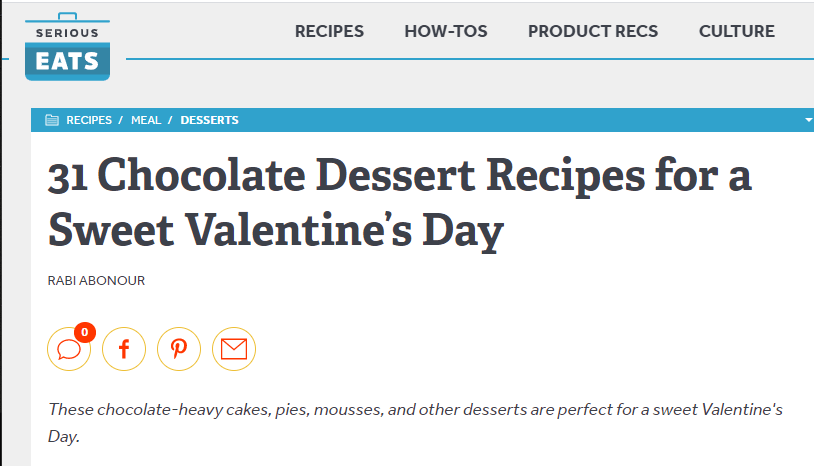 2. Videos
Video is growing into a top type of content marketing. Videos allow you to share information quickly in a shorter amount of time, plus provide a visual reference for viewers. This form of content works well for engagement and sharing.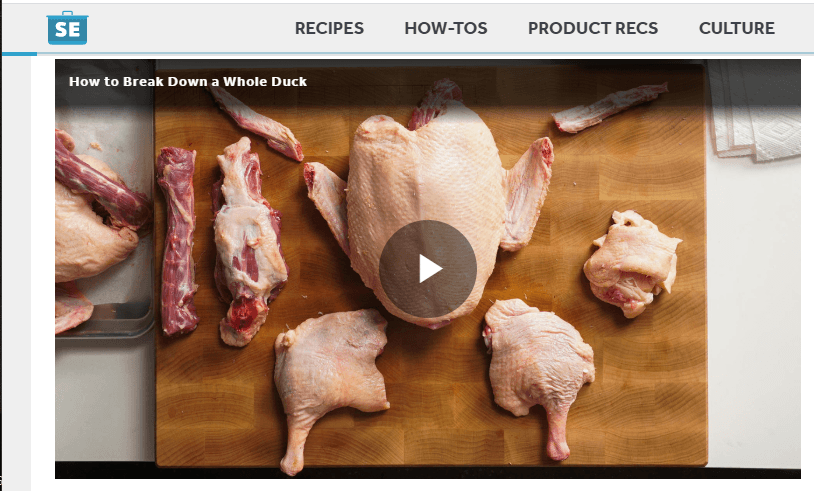 3. Infographics
Infographics present information in a visually appealing format. This content type is excellent for showing statistics or complicated processes. Infographics allow you to break down information so you can help your audience understand it better.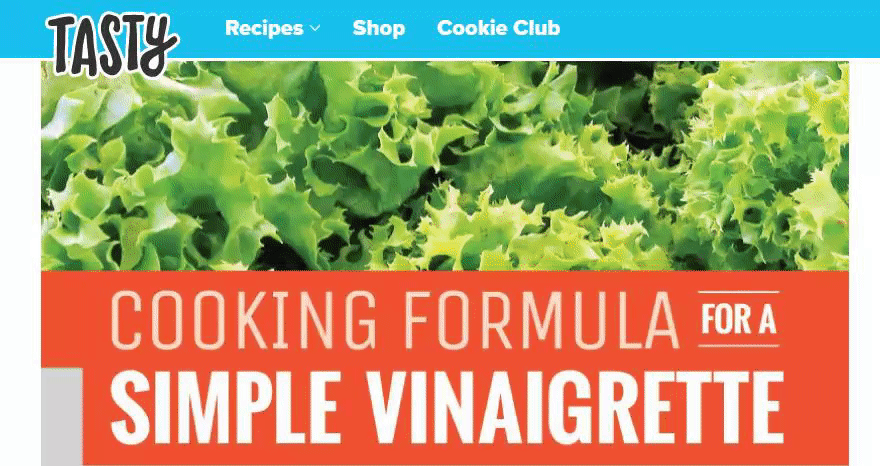 4. Guides
Guides cover content in-depth. This content format tends to be longer than blog posts and provides users with an in-depth look at a subject. These guides will cover the most critical aspects of a topic.

5. Ebooks
Ebooks are longer than guides and are typically downloadable.
This content goes more in-depth than a guide and provides users with a one-stop-shop for all the information they need on a topic. Ebooks take longer to develop but can serve as a great piece of content to get leads, as users will typically supply contact information to download an ebook.
These are the most popular types of content marketing formats that companies use.
You can use any combination of these formats to create a well-rounded plan.
Speaking of a content plan, check out our video on how to make one!
5 benefits of content marketing
So, why should you invest in a content marketing strategy?
Let's look at five benefits of investing in a content marketing plan for your business.
1. You improve your site's ranking
If you're familiar with search engine optimization (SEO), you know the importance of improving your site's ranking to drive better (and more) traffic to your website. Content marketing is a critical component of SEO because it helps improve your site's ranking.
When you create and optimize your content for users and search engines, you attract traffic to your site. People spend more time on your page because they're reading your blog post or watching your video. This increase in dwell time tells Google that your page is relevant to the user's search query.
As a result, your site's ranking in search results will increase, helping more people find your content.
So, by creating content, you're driving relevant traffic and improving your site's ranking to drive even more relevant traffic!
2. You attract better traffic
Content marketing helps you reach more qualified leads and drive them to your page. When you write content about relevant topics, people interested in learning about those topics will visit your page. They'll check out your information and get to know your business.
If industry-relevant content brings people to your page, you know they have an interest in your business. It's an excellent method because it allows you to reach people looking for your products, services, or business.
You'll attract more qualified traffic, which helps you earn more relevant leads and high-value sales.
3. You enhance your reputation
When you create a content marketing strategy, you create an opportunity for your business to improve your status. Content marketing provides you the chance to share your knowledge. You show your audience that you're knowledgeable about your industry and have answers to their questions.
If people see you sharing your knowledge, they'll see you as helpful and trustworthy. People will have a positive impression of your business, which will lead to more potential customers remaining on your site and getting to know your company.
4. You save money
Content marketing is one of the most cost-effective strategies for companies. If you decide to handle your content marketing strategy on your own, the costs get even lower. It's free to make content and can only cost you time (though this can quickly become overwhelming).
Additionally, content marketing is evergreen.
Once you publish a piece of content, it can continue to deliver results months or years after creation. When you invest money in content marketing, you continually create new pieces of content and cast a wider net to reach your audience, which allows for continued growth.
Even if you invest in a content marketing strategy from a digital marketing company, the costs fall, on average, between $2000 and $10,000 for small-to-midsize businesses. It's a great strategy to use if you're looking for something cost-effective and extremely useful.
5. You get an impressive return on investment (ROI)
When you invest in a digital marketing strategy, you want to get a good return on investment (ROI).
Content marketing has an excellent ROI for your business.
Companies that use content marketing see six times more conversions than brands that don't. Since content marketing generates conversions, like leads and sales, you have more opportunities for obtaining a better ROI for your business.
WebFX is a partner businesses trust.
Hear from HydroWorx, who saw a 236% increase in organic sessions with WebFX services.
Watch the Video Testimonial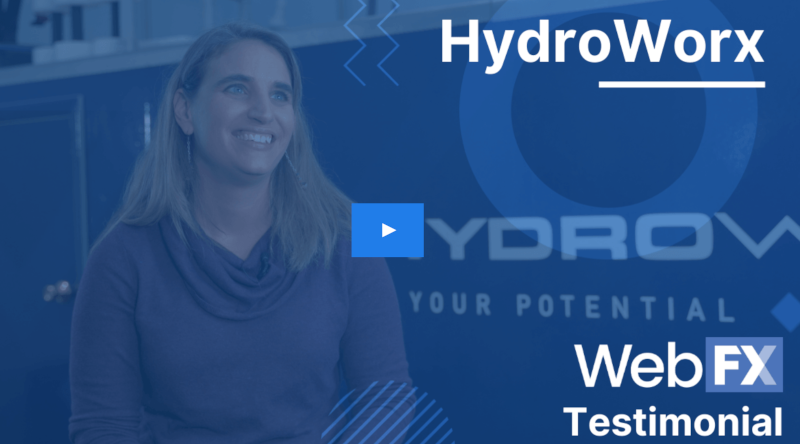 How to do content marketing effectively
A well-developed content marketing strategy will help you grow your business online.
If you want to know how to do content marketing, check out these seven best practices:
1. Establish your target audience
Before you start creating content, you need to know who you're targeting.
You must establish your target audience so you can create content that resonates with them.
So, how do you determine your target audience?
The first step involves defining your audience's attributes. Look at the type of customer that typically visits your brick-and-mortar store or your website. What are their defining characteristics?
You can document information like:
Demographics
Socioeconomic status
Buying habits
Interests
Hobbies
And more
By recording this information, you'll have a better understanding of your audience and what they want from your business.
When you know your audience better, you can create more personalized content for them.
You can figure out what topics appeal to them and provide your audience with valuable information about those topics. It helps you have a more successful content marketing strategy when you know who will probably engage with your content.
2. Consider the buyer's journey
If you want to know how to do content marketing, start by looking at the buyer's journey. The buyer's journey encompasses the stages your audience goes through that leads to them making a purchase.
Here are the three main steps of the buyer's journey:
Awareness: At the awareness stage, people are just discovering they have a problem or a need. They start to research and look for information or solutions.
Consideration: At the consideration stage, people start reviewing their options. They look at their choices and work towards figuring out which one will fit their needs best.
Decision: At the decision stage, people determine who provides what they need and choose the company they think is best.
It's essential to understand the buyer's journey so you can create content for each step. Not to mention, remaining aware of this cycle will help you deliver content at critical points when your audience needs it the most.
For example, let's say you sell ergonomic seat cushions. You're targeting office workers, so you want to create content for each stage of the cycle.
So, how could you create content for every stage?
For the awareness stage, you could create a video on why your back or butt hurts from sitting on your chair all day, how a lousy chair affects your body, and ways to resolve this pain.
For the consideration stage, you could create an article that shows the benefits of using an ergonomic seat cushion and how they work, plus why they're more cost-effective than buying a new chair.
For the decision stage, you could create videos with reviews of your ergonomic seat cushion, highlight the features of your product, and create a call to action (CTA) that invites users to purchase one.
These different types of content help provide information for people at every stage of the funnel, allowing you to engage people no matter where they are in the funnel.
When you consider the buyer's journey, you'll develop a more effective content marketing strategy.
3. Brainstorm content topics
Brainstorm ideas to get started with your content marketing strategy. You want to think of different subjects that your audience would like to see from your business, along with trending content marketing ideas.
When you generate ideas, make sure you stay focused on industry-related topics. It's essential to stick to industry-related issues so that you drive the right traffic to your page. If you write about trending topics not related to your industry, you won't drive relevant leads to your page.
Get ideas by researching what topics people in your industry cover. Come up with a list of key terms related to your business. You can even plug those keywords into a keyword research tool to find more keyword ideas!
It's important to include keyword research in your process so you can optimize your pages to appear in relevant search results. Keywords help you focus on terms your audience is searching, which allows you to cover a topic and use the keywords your audience uses to find information about that topic.
You can plug your keywords into a tool like FAQFox to see what types of questions people ask about a topic. If you follow the step-by-step instructions on how to use FAQFox, you can find out how to scan sites to see what people want to know about a topic too.
Additionally, when you have a list of keywords, try searching around the web to see what people are writing about that topic. It will help you brainstorm ideas for what you can write and what items matter to your audience.
By brainstorming ideas, you'll help your business come up with more valuable content ideas you can use to attract new leads.
4. Focus on content quality over quantity
If you want to know how to do content marketing right, start by focusing on the quality of your content rather than the quantity.
Now, that's not to say you shouldn't post content often, which you should (we'll dive into that next), but if you're going to publish content, it needs to be high quality.
Posting 10 low-quality 500-word articles isn't going to be as effective as three high-quality, informative 1500-word articles.
If you post low-quality content, your audience isn't going to engage with it. Users want information that gives them everything they need. When you have low-quality content, you aren't answering your audiences' questions, or you're not answering them thoroughly enough.
Your audience will feel discouraged by your content because it doesn't provide answers or give enough information to satisfy their needs. Poor content can indicate that you're not invested in their problem, either, which leads them to believe that you don't care.
They'll bounce from your page, which will hurt your site's ranking in search results.
By creating high-quality content, you'll drive better results with your content marketing strategy.
5. Publish content frequently
As mentioned, you need to post content regularly to have an effective campaign. It's not enough to create a blog post once a month and expect success. Content marketing requires regular publishing so you can continually drive traffic to your site and keep up with competitors.
Not to mention, posting content frequently helps people discover your business from different avenues.
For example, let's go back to the ergonomic chair company.
Say they publish one blog post for the month about the benefits of using an ergonomic chair pad. That's the only new piece of content that's going to drive traffic to their page. So, they're only going to attract people researching the benefits of ergonomic chair pads.
That same company, however, could post multiple types of content in the month. They could post about how to properly adjust your chair, how to find the right chair, and more. All these types of content would drive in new traffic looking to learn more about that topic.
So, instead of bringing in traffic through one content topic, you're bringing in traffic from multiple topics. This kind of approach to content marketing allows you to reach more people and get them to discover your business.
Help your business publish content frequently by creating a content calendar. A calendar will help you stay organized and know when you're posting content. This tool also lets you fill any content gaps — or areas where you don't have content.
If you want to know how to do content marketing and get the best results, post content frequently.
6. Ensure your site is user-friendly
If you're posting content on your website, make sure your site is user-friendly first. You can have great content on your site, but if your audience can't access it readily, they'll leave your page and visit a competitor's website instead.
You can optimize your page by:


Ensure your design includes white space: If your site is full of text, photos, and videos, it's going to overwhelm your audience. By integrating white space into your page layouts and content, you'll make it easier to view your website and browse your content.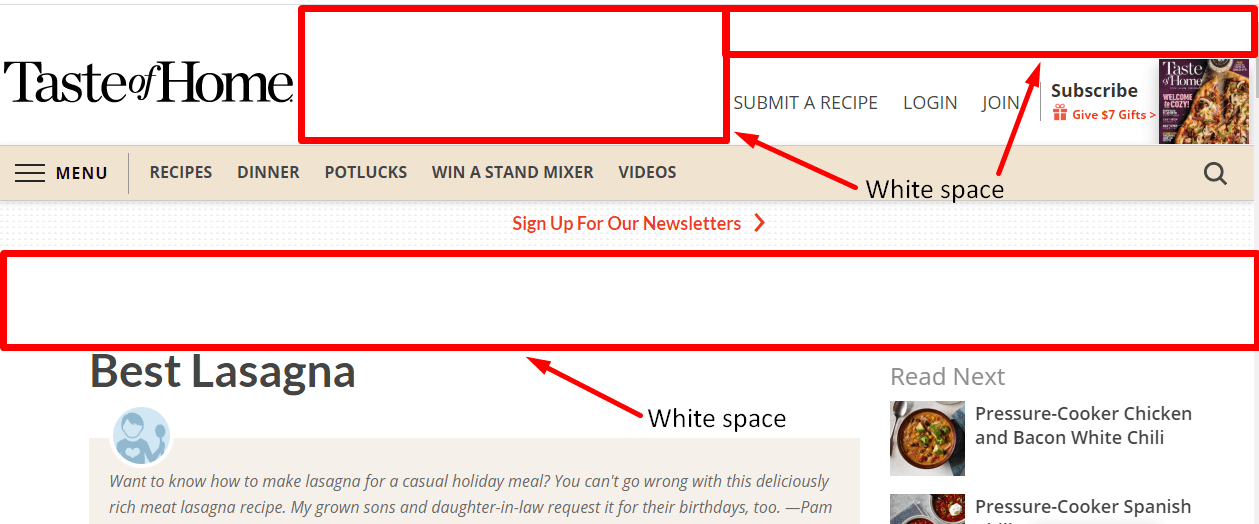 These are just a few of the many optimizations you can do to improve your site. By focusing on making a user-friendly website, you'll provide a better experience when people visit your page, which will make it easier for them to complete their buyer's journey and choose your company.
Use high-quality video: If you decide to create video content, ensure the video content is high quality because users don't want to watch videos that are poorly constructed or grainy. Focus on using high-quality footage for your videos to drive the best results.You can use your smartphone to take high-quality videos but watch for background noise.
Integrate relevant keywords into your content: If you want people to find your content, you need to integrate your keywords into your pages. It will help you rank in the right search results and show users that your page is relevant to their search.
Break up text into smaller paragraphs: If you're choosing to blog, create ebooks, or guides, you need to break up the text on your content. When users see walls of text, they'll feel discouraged and turn away from your page. If you break up the text into two- to three-sentence paragraphs, users can easily read or skim your information.
Use colors wisely: When you design infographics, be cautious with your color choices. You don't want to use too many colors, which will make your infographic look disorganized, or ultra-bright colors, which will make your infographic unreadable. You can use color tools to help you find the right palette for your infographics.
Write for humans, not search engines: Anytime you create content, you want to write for your audience, not for search engines. Search engines have gotten good at understanding how humans search, so you don't need to get overly technical for your pages to rank. Focus on creating content your audience will know because it'll drive the best results.Optimizing content for your audience will help you drive better results and attract more people to check out your content.
Time to Level Up Your Sales
Our long list of services helps you grow every aspect of your business with marketing strategies that are proven to increase bottom-line metrics like revenue and conversions.
In the past 5 years, we've managed more than 12.9 MILLION transactions across our client base.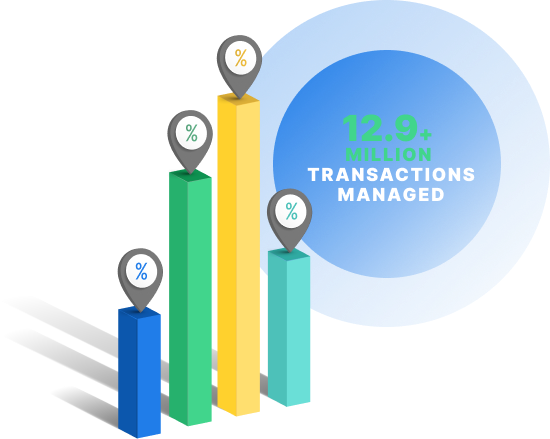 Start developing your content marketing strategy today
Content marketing offers numerous benefits for your business, and with the right steps, you can create an impactful plan. If you're feeling overwhelmed by creating and managing a content strategy, WebFX is here to help.
We have over a decade of experience creating impactful marketing strategies that grow our clients' businesses. In the past five years, we've driven over $3 billion in revenue and over 7.8 million leads for our clients.
You can count on our team of over 500 experts to build a content marketing campaign that helps your business grow.
Want to learn more about creating a content marketing strategy? Contact us online or call us today at 888-601-5359 to speak with a strategist about our content marketing services!