CHAPTER 01
Introduction: What is Content Marketing
Over the last few years, a new type of marketing has gained immense popularity online. If you haven't at least heard of content marketing by now, chances are good you've been living under a rock (or at least haven't had Internet access) since 2011.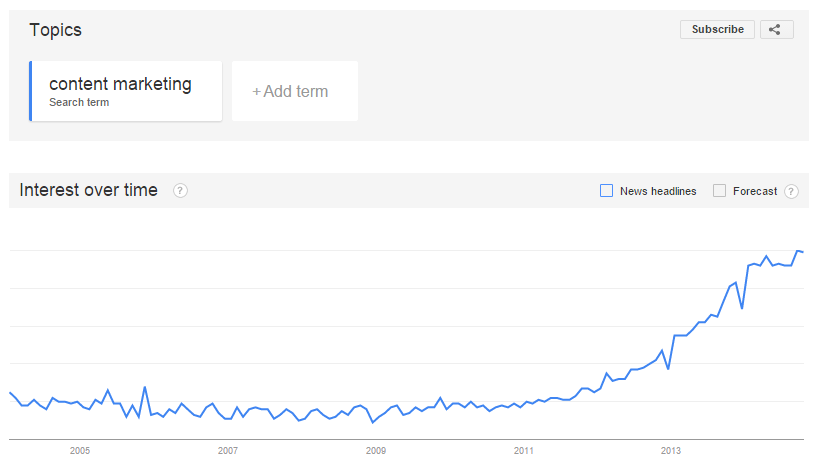 Peaking in interest in early 2014, the rise of content marketing has resulted in a flood of new blogs, articles, whitepapers, and infographics on the Internet. It's also led to the prevalence of job titles like "content marketer" and "content strategist," and even full content marketing departments for some larger companies.
As you can probably guess, content marketing is exactly what it sounds like: marketing with content. Instead of working to get consumers to make a purchase through advertising, email marketing, or other more traditional methods, the goal is to motivate a purchase through the use of content marketing examples like blog posts, articles, and whitepapers.
Content Marketing Institute, an industry-leading resource on the subject of content marketing, defines the practice as follows:
Content marketing is the marketing and business process for creating and distributing relevant and valuable content to attract, acquire, and engage a clearly defined and understood target audience – with the objective of driving profitable customer action.
Or, more simply:
It's a marketing process to attract and retain customers by consistently creating and curating content in order to change or enhance a consumer behavior.
So, you may be wondering, what's the big deal? What's so special about this form of marketing that it necessitates new job titles? And does content marketing really work, anyway?
In this beginner's guide to content marketing, we'll explain how content marketing came to be, and how this "new" form of marketing actually has roots all the way back to the late 1800s. We'll explore how marketing with content can help your business increase search engine rankings, boost traffic, and earn you more money online. Finally, we'll teach you how to research, produce, and market your own content, as well as provide some resources that should make the entire process a little easier for you.
p.s. We have a video about content marketing if you'd like to check it out.
Ready to get started? Let's explore the history of content marketing, which begins all the way back in 1895.
The History of Content Marketing