UX Writing: 6 Tips for Creating UX Content
User experience (UX) is extremely important if you want your audience to remain engaged on your site. UX writing helps you create content that works for your audience in order to grab their interest and keep them on the site longer.
On this page, we'll discuss six tips to help you create impactful UX copy. If you need help creating UX copy that drives results for your business, call us today at 888-601-5359 to speak with a strategist.
Let's get started!
What is UX writing?
UX writing is an integral part of the design phrase of your website. When you use UX writing, content becomes a priority in the design process. These two go hand-in-hand as you develop your website.
This type of writing focuses on appealing to your audience. It helps create cohesiveness between your design and copy. UX writing works to make the design and copy on your page seamlessly integrate together.
It's a great way to help connect your users and your products. You can build brand familiarity with your audience. UX writing helps you guide your audience towards better understanding your product.
Just like the name, UX writing focuses on the user. It's about creating copy that makes sense to the user. You want your content to be tailored to your audience, so it resonates with them and creates a better experience on your site.
Your content must be inclusive and easy for your audience to digest. Your design will complement your content, too. It creates a balance on your site that provides your audience with a better experience.
6 tips for creating impactful UX copy
Below, we've listed six steps you can take to create more impactful UX content for your business.
1. Research your audience
While writing for UX, consider your audience. They play an integral role in how you construct your UX content. After all, this content is created to appeal to and engage them.
If you want to create the best UX content for your audience, you need to gather important information about them first. This includes demographics, socioeconomic status, interests, hobbies, and spending habits.
All this information will help you get to know your audience better. You'll know how to write copy to appeal to them and get them engaged.
It's also important to get to know your audience, so you can write in a language that they understand. You want your content to make sense to them, and if you don't write it correctly, they'll lose interest. By knowing your audience, you will present content in a way that is easy for them to digest and understand.
2. Be clear
Be as clear as possible when you create your content. You don't want your audience to read it and be unsure of your message. Be clear and get your point across concisely.
Although fluff adds an interesting dynamic to your writing, avoid it. Don't add unnecessary words, even if it will make your copy longer. Your audience will be grateful for and engaged with relevant copy rather than a long, confusing post.
In addition, explain things thoroughly. Your audience should not have to wonder what you're talking about. They also shouldn't be confused by certain phrases or terminology. Be thorough and explain terms your audience may not understand.
When your content is clear, your audience will have an easier time processing information. This will lead to more engagement on your page, which will ultimately drive conversions for your business.
3. Write in small paragraphs
It's intimidating to see tons of information packed into one area. If your audience comes to your page and sees large paragraphs of text, they will immediately turn away. Your audience won't feel like reading the information and will choose to forego it.
To prevent this from happening, you need to keep your UX writing in small paragraphs. They should be 2-3 sentences to make it manageable for your audience. Shorter sections make it easier for your audience to skim and obtain important information.
If you want to take it a step further, use bullet points and numbered lists. Users' eyes will automatically focus on these lists. Lists are extremely beneficial for your audience if they choose to skim your page because they'll get all the important information quickly.
Smaller paragraphs, numbered lists and bullet points help make your page digestible and easy to read. You'll improve the UX by creating writing that is simple for your audience to understand.
4. Write for your audience
When you create copy, it's easy to focus on your business and how great it is. After all, you want to show users why your business is the best option for them.
The problem, however, is that your audience doesn't want to hear how great you are. They want to hear what you're going to do for them. It's about the audience and the experience they will have by choosing your business.
As stated earlier, researching your audience is a crucial part of creating proper UX content. It's important to understand your audience, so you can create content that works for them.
As you write UX content, tell your audience what they get out of choosing your business. How will you help them achieve a goal? How will you provide a solution to their problem?
Emphasizing the value for the user will hook them into learning more about your business. When you put your audience first, you'll create a better experience for them.
You can check if your website meets your readers' readability expectations with the free Coleman-Liau index tool.
5. Use calls to action (CTAs)
Once you get your audience interested in a product or service, you need to guide your audience on how to take the next step. Calls to action (CTAs) are a crucial part of this process. A CTA will help you take them to the right place.
Your CTA should be direct and engaging. Depending upon the context of your page, you'll want to use a CTA that is appropriate for the action.
If you're encouraging someone to obtain a guide, you'll want to use a CTA like "Download your free guide!" If you're trying to get sign-ups for email or something similar, a CTA like "Join our mailing list!" is more appropriate. The context of your CTA will help you determine the phrase that works best.
By integrating a CTA into your text, you'll keep users engaged on your page longer and guide them towards converting.
6. Integrate visual elements
Many people are visual learners and need to see the information clearly on the screen. While your written text will provide them with great detail, your visual elements will enhance their experience.
Infographics and videos are especially helpful for UX writing. If you are explaining a complex subject, using visual elements will help make your writing clearer for your audience. You can break down the important parts in an infographic or explain it more concisely in a video.
This also helps you break up the text on your page, too. By using visual elements, you'll provide relief for your audience and allow them to focus their mind on something different.
Use photos, videos, and infographics to help break up the text on your page. Any of these great media elements will improve the UX and help you drive better results for your page.
Good agencies have more than 50 testimonials.
Great agencies have more than 100 testimonials.
WebFX has over 1000+ glowing client testimonials.
See What Makes Us Stand out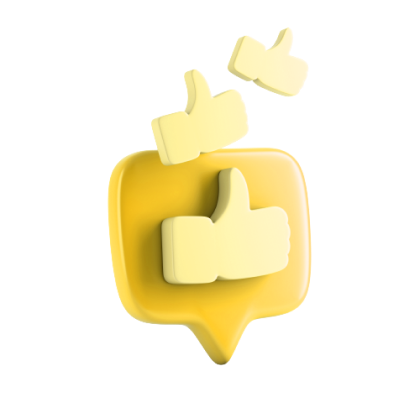 Let WebFX create a better experience for your users
UX writing will help you create copy that works better for your audience. You'll garner more interest in your business and help your business earn more valuable conversions. At WebFX, we have 25+ years of experience creating valuable UX content that drives results.
We're a full-service digital marketing company that specializes in UX content. We have a team of 500+ experts that will bring their knowledge and expertise to your campaign. Our team knows how to create UX-focused content that provides a better experience for your audience.
If you're looking for a company that drives results, look no further. To date, we've driven over $3 billion in sales and over 7.8 million leads for our clients. We focus on driving success for our clients first.
Don't believe us? Check out our 1020+ client testimonials that attest to the great work we do for our clients!
Improve UX today
If you're ready to start providing your audience with a better experience through UX writing, contact us online or call us today at 888-601-5359 to speak with a strategist.
We look forward to helping your business reach new heights with a UX website audit, for starters!