4 Marketing Budget Trends in 2024: Set Your Marketing Spend
New year, new marketing budget. But how do you know if you're making the right call for your marketing spend? Spending too little can result in missed growth opportunities, but spending too much can break the bank with too few results for your investment.
The best way to put your business on the right path with your marketing budget is to make your decision with data in mind.
Look at different trends in your data from the past year and use that information to determine what's coming up for the next year. These trends are critical to marketing success because they can help keep your business ahead of the competition.
Also, consider research about the latest in marketing (which we have for you on this page) to determine where you should allocate marketing spend in the future.
How much should you spend on marketing?
Learn how to plan a marketing budget that fits you and your business needs.
Read the Blog Post & Watch the Video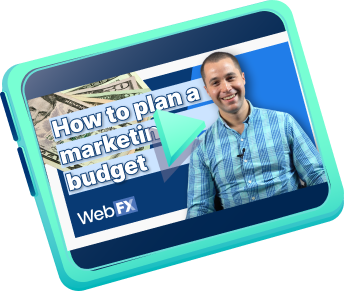 After reading this page, you'll come away knowing:
The average marketing budget for businesses
Which marketing trends will shape your strategy
Who you can contact to handle your digital marketing (hint: it's WebFX)
P.S. Unlock more info about managing your marketing budget by downloading our free budgeting guide!
Typical marketing budgets for businesses
What a business spends on marketing depends completely on which strategies they use.
Focusing on traditional marketing methods—like radio, television, and billboard advertising—can lead to a less flexible budget than one focused on digital marketing.
While it's difficult to produce a dollar amount for what your business should spend without having access to your past data, we have some general information about what percentage of your budget should be focused on marketing spend.
Here is a potential marketing budget based on percentage of revenue:
Small business: 7-8%
Mid-sized business: 10%
Enterprise business: 15%
The above numbers from a typical marketing budget are not set in stone. You may need to make marketing spend adjustments to help meet your goals.
You may also need to spend more depending on your industry, which you can read more about on our website.
The most important thing to remember is that you want to see a positive ROI from your investment.
You can also take advantage of our free marketing budget calculator to get an estimate of how much you may spend on your campaigns.
4 digital marketing budget trends for 2024 success
1. Reliance on digital marketing for consistent growth
According to an August 2020 survey from Gartner, an average of 74% of people predict their digital advertising spend will increase in 2024.
On the other side of the spectrum, the Interactive Advertising Bureau (IAB) reports that digital out-of-home (DOOH) advertising spend decreased by over 40% year over year for the 2020 fiscal year.
Think of DOOH advertising as those giant electronic billboards you see in public.
Nevertheless, the data shows that more businesses are seeing the value in digital marketing.
With a digital strategy, businesses have more control over their budget, who they target, and when they run their ads, so it's a solid investment sure to drive growth if used properly.
Plus, digital strategies such as SEO and content marketing can be done without additional ad spend (with an exception for the cost of your time or hiring an agency), giving you the opportunity to shift more marketing spend to a different area.
2. Focus on paid social channels to make up for a decline in organic reach
From that same Gartner study mentioned earlier, 78% of business-to-consumer (B2C) marketers and 69% of business-to-business (B2B) marketers expect their digital advertising spend to rise.
It's safe to say that part of that marketing spend should go towards social media advertising.
It's no secret that having a successful (non-paid) social media presence is becoming increasingly difficult.
Specifically on Facebook, as more and more businesses join the platform and the algorithm prioritizes interactions with friends and family over brands, advertising has become more of a staple than ever before.
Back in 2019, in fact, Hootsuite released data showing that the organic reach for Facebook posts decreased about 2% while ad impressions increased by over 30%.
A good way to get ahead on social media is to set aside some budget for advertising.
3. Shift to investing in original web content
Content marketing can help your business form valuable, trusted relationships with consumers.
SEMrush reported at the beginning of 2020 that over 62% of those surveyed planned to spend more to get their content marketing strategy up to par.
This strategy isn't going away, either.
In 2019, part of SEMrush's research included analyzing over 17,000 content marketing job descriptions.
The fact that they had 17,000+ job descriptions to analyze points to the continued content marketing investment from businesses.
More content marketers means more white papers, videos, infographics, and other premium content will be made, all of which will garner more attention for the businesses creating it.
If you plan to get some of this attention, you'll need to invest some marketing spend in a content strategy.
4. Invest in creating a good user experience on your website
According to Internet Live Stats, there are over 1.8 billion websites on the Internet.
This means that consumers have a lot of choices when it comes to deciding which websites they'll visit.
If they choose your website as one of their destinations, you have to give them a good user experience (UX) so they'll stick around for a while. As a matter of fact, if you give your site visitors a bad experience, there's about an 88% chance they may not return.
Over the past several years, many marketing strategies have fallen under the UX umbrella. Every tiny detail about your website, your business, and what you do somehow impacts a visitor's experience and whether they'll become a customer.
Conversion optimization, copywriting, and content marketing are all part of UX since they all directly impact a person's experience with your brand.
The idea behind UX is that the more engaging, interesting, and helpful you make your site, the more customers you'll get online.
So how do you provide a good customer experience? There are a few basic ideas you can use to help:
Make your site mobile-responsive
Use a consistent color scheme
Include modern web design trends
Make it easy to find information on your site
Use calls to action on each page
List your contact information on each page
While you certainly can improve your website's UX on your own, hiring an expert (or a team of experts) to do it for you can help ensure you're not alienating any site visitors.
Just remember that your competition is working on UX, too.
Time to Level Up Your Sales
Our long list of services helps you grow every aspect of your business with marketing strategies that are proven to increase bottom-line metrics like revenue and conversions.
In the past 5 years, we've managed more than 12.9 MILLION transactions across our client base.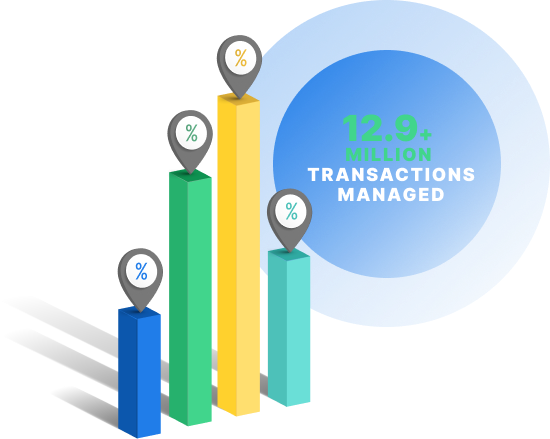 WebFX specializes in marketing budgets and innovation
At WebFX, our team of experienced Internet marketers understand what goes into the average marketing budget and constantly keep an eye on marketing trends from year to year.
We regularly learn about the industry and pass that expertise on to you so you can grow your business. With our talented team of experts, we'll do everything we can to get you the results you want to see from your marketing investment.
Contact us online today to learn how we can craft a custom digital marketing strategy for your business!
Earn a 20% greater ROI with WebFX