Social media has transformed the way people communicate and search for information. In fact, 74% of people use social media when making purchase decisions.
People rely on personal recommendations and referrals when deciding which businesses to trust, and this is especially true with healthcare. But as DermatologyTimes explains, "Now, instead of calling [friends or family], they just post it on Facebook and say, 'Can anyone recommend a good dermatologist?'"
Most people would rather hear recommendations from other patients rather than businesses themselves, and social media is an easy place to gather those recommendations.
Although social media platforms don't allow you to share as much information as you can on your website, almost 90 percent of marketers have said their social marketing strategies have increased exposure for their business and 75 percent have said they've increased traffic. That makes sense when you consider the fact that the average American spends 2.7 hours each day using social media.
Because the content is typically shorter, it's important for your posts to share information in a simple, concise manner. Your social media marketing should be informative to your followers, and written in a way that's easy to comprehend.
If you're ready to work with an agency to improve your social media presence, contact us today! And if you want to learn more about how social media marketing can help your dermatology practice grow, keep reading for more information.
Why social media marketing matters for dermatologists
You are in constant competition with other practices for potential patients, so you have to set yourself apart and make it clear that you are the best choice. Below are just a few ways social media marketing can help you do this.
Drive traffic and conversion rates
People are on social media constantly throughout the day. In fact, the total time people spend on social media is more than the time they spend eating and drinking, socializing, and grooming – and it translates to a whopping 5 years and 4 months of a person's lifetime.
Given that people are using social media that often, it's clear how much potential there is for it to drive traffic to your website.
You can use social media to direct people to your practice and encourage them to visit specific pages on your website you want them to see. Every time you link to one of your pages, you put your content in front of more potential patients. The more traffic you have, the greater your chances to generate conversions.
And there is plenty of opportunity for people to see the information you're putting out since Americans check their social media accounts 17 times a day. Social media has become part of consumers' everyday lives, and for that reason alone, it's important that you have a presence on it.
Improve brand recognition
Using social media draws attention to your practice, and lets potential patients know that it's an option for their skincare needs. And beyond that, it can set you apart and show that you care about sharing relevant news and information with your patients.
The Center for Cosmetic Dermatology does a great job of using Facebook to share tips about how to stay safe while out in the sun. This gives patients helpful advice and demonstrates their level of care and concern for patients.
Each time a person shares or retweets your content, you build a stronger brand. They're essentially giving you a recommendation to all of their followers, and more exposure for your practice.
And the next time one of those followers has an unusual mole appear or a suspicious spot on their skin, they'll be more likely to remember your practice and become a new patient.
Build relationships
Social media marketing also helps you build relationships with potential patients. Interactions on platforms like Facebook and Twitter feel less like of a sales conversation and more of a personal experience.
The more engaged you are in conversations on social media with potential patients, the more trustworthy you will seem. And people are more likely to visit a healthcare practice they trust.
Social media lets you communicate with people that care about and understand their needs. You can share a more personal side of your practice that you wouldn't typically share on your site. Over time, you can develop brand loyalty with your patients and increase the chances that they'll trust you with all of their dermatology needs.
The relationships you build with patients also help you learn what information they find useful and beneficial, and which strategies are worth replicating.
Boost SEO
Although there's no direct link between social media and search engine rankings, you can still use social platforms to improve your online visibility.
The more influential you are on social media, the more likely it is that someone will eventually link to that content from their own site. And given that links are one of the most important ranking factors, this can have a significant impact on your SEO efforts.
Not happy with your social media engagement?
We've got just the blog post for you.
Read the Blog Post & Watch the Video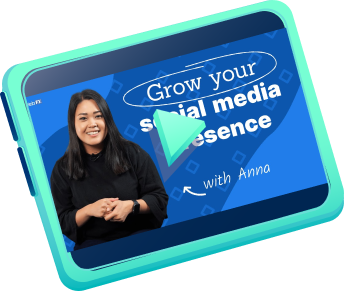 Hear What It's Like to Work With WebFX!

"WebFX has completely transformed my practice. With their support, I have expanded my practice significantly and grown exponentially. I could not have expanded to this degree, nor this quickly had it not been for the incredible efforts provided by WebFX and my team."
Healthcare
Social media marketing services from WebFX
If you're ready to increase your online visibility and reach new patients, WebFX can help. Our team has years of experience creating and managing effective social media campaigns for clients in a variety of industries, and we'll do the same for you.
Contact us today to speak with a strategist about how your dermatology practice can earn new patients through social media!
Earn a 20% greater ROI with WebFX