A lead is anyone with some level of interest or need in your dermatology practice. A lead generation strategy is a carefully contrived plan to find those leads where they already are — online — and take steps to encourage them through your marketing funnel until they ultimately complete an action.
Depending on the marketing plan for your dermatology clinic, this action could be filling out an appointment request form online, downloading a skincare guide from your blog, signing up for your clinic's newsletter, or following you on social media.
The idea of lead generation is that, if done well, your target audience will come to you instead of you pumping more money into finding and attracting patients. Call the WebFX marketing team at 888-601-5359 and read on to learn more about lead generation.
37% of marketers say that generating high-quality leads was one of their biggest challenges.
We want to decrease that percentage.
WebFX can help you generate high-quality leads with a customized marketing strategy.
Learn More About Lead Generation Services
Why digital marketing makes a difference
If you're like most healthcare practices, you probably have several marketing strategies already in place, like local TV advertisements, billboards, community event booths, and outbound calling.
While these types of traditional and outbound marketing tactics have a place, they don't give you the competitive edge or targeted visibility that digital marketing does.
When you think about your ideal lead, who are they? Are they the busy adult trying to make time to ask about a new skin condition they've developed? An Instagram-savvy young adult looking for facial enhancements to create a new look for themselves?
Good news! No matter what side of the spectrum your skin clinic falls on — including all those demographics in between — you'll find them somewhere on the Internet.
If your prospects are spending time online, you should be, too. Your competitors certainly are.
Digital marketing can also be a helpful way to learn more about your leads to deliver more targeted advertising and curate service options that meet their needs. Unlike traditional advertising, digital methods open up a two-way conversation to answer questions and break down the wall between clinic and patient for a more personalized interaction.
How to get more patients at your dermatology clinic
Before jumping too far into a lead generation campaign, take time to nail down your unique selling proposition (USP), or unique selling point. These qualities set you apart from your competitors — they're what your dermatology practice offers that patients might not find elsewhere.
Keep your USP at the forefront of your marketing efforts as you jump into the following lead generation ideas:
1. Start with your website
Every part of digital marketing for dermatologists leads back to the same place — a professional website. Without one, even the best lead generation efforts will fall short.
Your website should be:
2. Have an SEO strategy
Search engine optimization (SEO) is a strategy for getting your website, content, and business in front of more eyes by helping it rank higher in search engine results. The higher you rank, the bigger chance someone will click on a link to learn more, generating more leads for your business.
SEO should be a part of every dermatology marketing plan, especially now that practitioners have to compete with more than nearby competitors. Online dermatology consultation services have grown rapidly, and that trend is likely to continue.
Combined with the fact that an increasing number of online dermatology services can now prescribe some medications and treatments, there's never been a better time to leverage SEO tools to stand out, stay competitive, and generate more leads.
Your SEO could include:
Keyword research

and implementation across your website, content, and social media platforms

Creating a

Google Business Profile

Networking with others in your industry to earn backlinks on reputable websites

Tapping into local SEO search terms to outrank local competitors
3. Post content that builds credibility
Creating and posting original content is a type of inbound lead generation for getting more patients into your practice. Unlike outbound methods — like sending mailers or setting up at local events — inbound lead generation focuses on drawing people to your business.
Inbound lead generation is 54% more effective than outbound strategies, and content creation is one of the most effective methods. Well-made and informative content gives you something to share on social media and optimize with SEO-friendly keywords while simultaneously building your credibility and authority in the eyes of prospects.
Blogs and videos are two valuable dermatology marketing ideas for content:
Blogs:

Publishing blog posts and articles about dermatology lets you showcase your expertise and specialties and connects prospects with authoritative, reliable information to better understand their symptoms or treatment options. Even blogging once or twice monthly can get you

70% more leads

!

Videos:

Video is an engaging way to break down complicated topics to create educational content showcasing different health conditions, treatment options, and at-home how-tos. Your videos can also give prospective leads a close look at what to expect for their appointment or procedure. This content is highly shareable and lends itself to more engagement than other media types.
Meet WebFX:
Your world-class, tech-enabled marketing agency with over 1.6 million hours of combined expertise.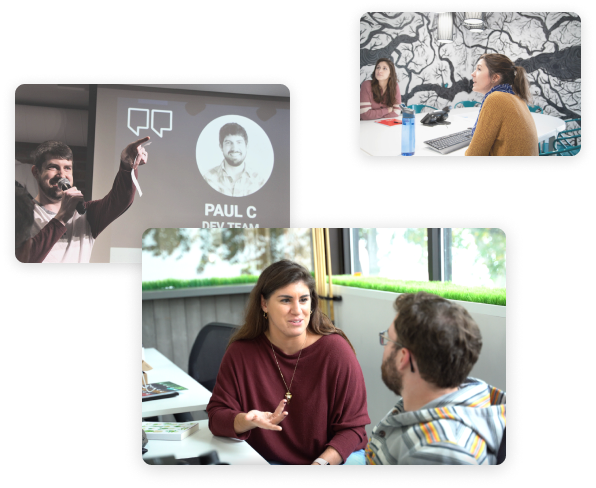 Gain high-value leads with dermatology advertising services from WebFX
WebFX is a full-service digital marketing agency with years of experience crafting B2C lead gen campaigns for all industries, including healthcare specialists and dermatology clinics.
Our lead gen professionals know that one key part of marketing for dermatology is going beyond simple lead generation marketing by implementing specific customized plans to help you find and convert qualified leads into satisfied patients.
Request a free estimate today to learn more about what we can do for your practice!
Increase your leads, sales, and revenue with digital marketing
Find Us Driving Revenue Nationwide