SEO Explained: How Search Engine Optimization Works
Hello there! How did you end up here? You must have been searching for how search engine optimization (SEO) works or something closely related. Whether you used Google, Bing, Yahoo or any other means to land here on this page, we are glad you are here.
We're also very excited to point out the irony in your search query and the results you were delivered!
How did you end up here? You surely didn't come across this page by chance. The search engine you used didn't randomly pick this page out of the sky and send you here hoping it would answer your question. In fact, it used a very complex algorithm to determine which of the more than 21 million pages it has indexed on the subject of SEO would be most appropriate to present to you in hopes of best answering your question.
Search engines know that by consistently delivering you high quality, relevant results for search queries, they'll begin gaining your trust and hopefully become the only search engine you ever need. If you want to learn more about how SEO works, keep reading, and give us a call at 888-601-5359.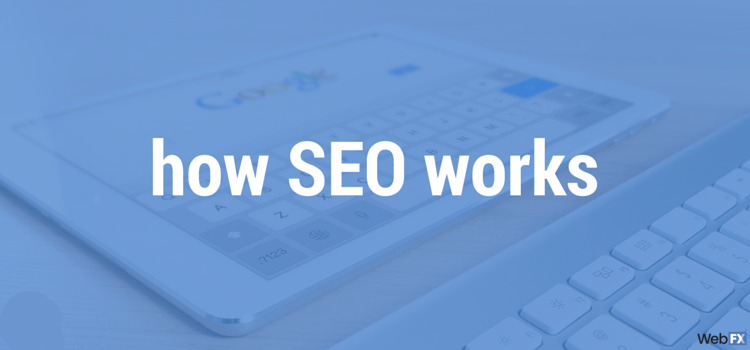 Why Do They Care?
Why on earth does a search engine care if you use them or another search engine? After all, you're not paying them? That's right, you aren't paying them… but someone else is! So the answer to this question is that they care because they make their money from advertising.
The page you are delivered to after you enter a search query is called the search engine results page (aka SERP). The SERP presents you with what are called "organic results" as well as "pay-per-click ads" (or PPC). The organic results are those that are influenced by SEO, while the PPC ads are paid for.
You cannot pay Google or any search engine to occupy any position in the organic results. However, the ads on the page are how they make their money. So, the better the results they deliver you, the more likely you and others are use that search engine again. The more people using the search engine, the more ads they can show and the more money they can make. Make sense?
Video: What Is SEO?
Who Cares How Search Engines Deliver Results?
The internet has really put the world at our fingertips. We are usually not more than a few clicks away from almost any information we could be looking for. When people are looking for information, services, products, and so on, they go online.
Try to remember the moment you thought, "I should really look up how search engine optimization works." You knew exactly what to do: you got on the Internet and you searched for "how SEO works." What did you do then? Odds are you clicked on one of the first few results, at least initially. If you didn't find a site that met your expectations, you probably clicked the back button and scrolled down the page until you found what you were looking for.
If your site isn't properly optimized, it's safe to assume you're only coming up on the first page for your branded search queries—although depending on the name of your business, that might not even be the case. That means people who don't know you exist but are looking for someone like you will never find you, and you'll never even have a chance to tell them why you're better than the competition.
That's right: without SEO, you're giving leads away. The good news is you're making it really easy on your competitors who are doing SEO. Odds are, they are loving you for not putting up a fight.
So, who cares how search engines deliver results? You definitely should!
Some of our client Successes
A Technical Explanation of How SEO Works
So now you know why search engines work so hard to provide you with great results and why you should care, we can talk about how SEO works in a little more detail.
Search engines have spiders—not the creepy kind, but the automated robot kind. These spiders collect all kinds of information about your website and the pages that make up your site. This allows them to easily determine when to serve a searcher a page on your site. They collect things like page speed, title tags, social signals, internal linking, backlinks, and so on.
With over 200 ranking factors used by Google in their algorithm, there are a lot of things to consider, and actions that can be taken to try to optimize a website. There are both on-page and off-page ranking factors that determine how well your site is optimized, and therefore how well it ranks.
The on-page factors are exactly what they sound like: things that are actually on the page. This includes title tags, content, site speed, page URLs, image alt tags, internal linking, and more. Off-page factors, meanwhile, are almost entirely based on links to your site from other sites.
It's important to keep in mind that these bots are automated computer programs and not actual humans. As you might imagine, that means they have some limitations. They can't access a website like you or I would because they don't actually see the website: they crawl the code of the website. This means they can't see images or videos, nor are they impressed by flashy designs or audio clips. In fact, they can't even comprehend content like we do!
So What's a Business to Do?
SEO, of course! Optimizing your website for search engines isn't an insurmountable task by any means. If you're a little less technically inclined, you might find it to be challenging, but you can always reach out to a web strategist for help.
WebFX is an SEO agency that has many years of experience optimizing client websites to make them more attractive to search engines. Whether you're brand new to SEO or want to take your optimization to the next level, we're eager and willing to help you out!
Get in touch with an SEO expert at WebFX today to discuss how we can optimize your website. We can't wait to hear from you!
Call 888-601-5359 or contact us online today to learn more about how WebFX can help you use SEO to grow your business online.