Google Page Ranking: How to Improve Your Google Ranking
Did you know that 68% of clicks go to the first five positions in the search results? If you want to drive traffic to your website, you must be in one of the top spots on the search results page. To get to a high position, you must continuously improve your Google page ranking with strategies like SEO.
But first, how does SEO work?
On this page, we'll discuss what Google PageRank is and how you can improve your Google ranking to drive better results. If you need help optimizing your Google ranking, call us today at888-601-5359 to speak with a strategist about creating your custom search engine optimization (SEO) campaign.
What is Google PageRank?
When you're trying to improve your ranking, it's essential that you understand how you get your ranking. A significant contribution to your rank position comes from Google PageRank. Google PageRank is Google's algorithm that determines your page's value by looking at the quantity and quality of other pages that link to your page.
Google determines the relevancy of your webpage. If Google thinks your site is essential and provides quality information, it will rank your website higher than a less informative site.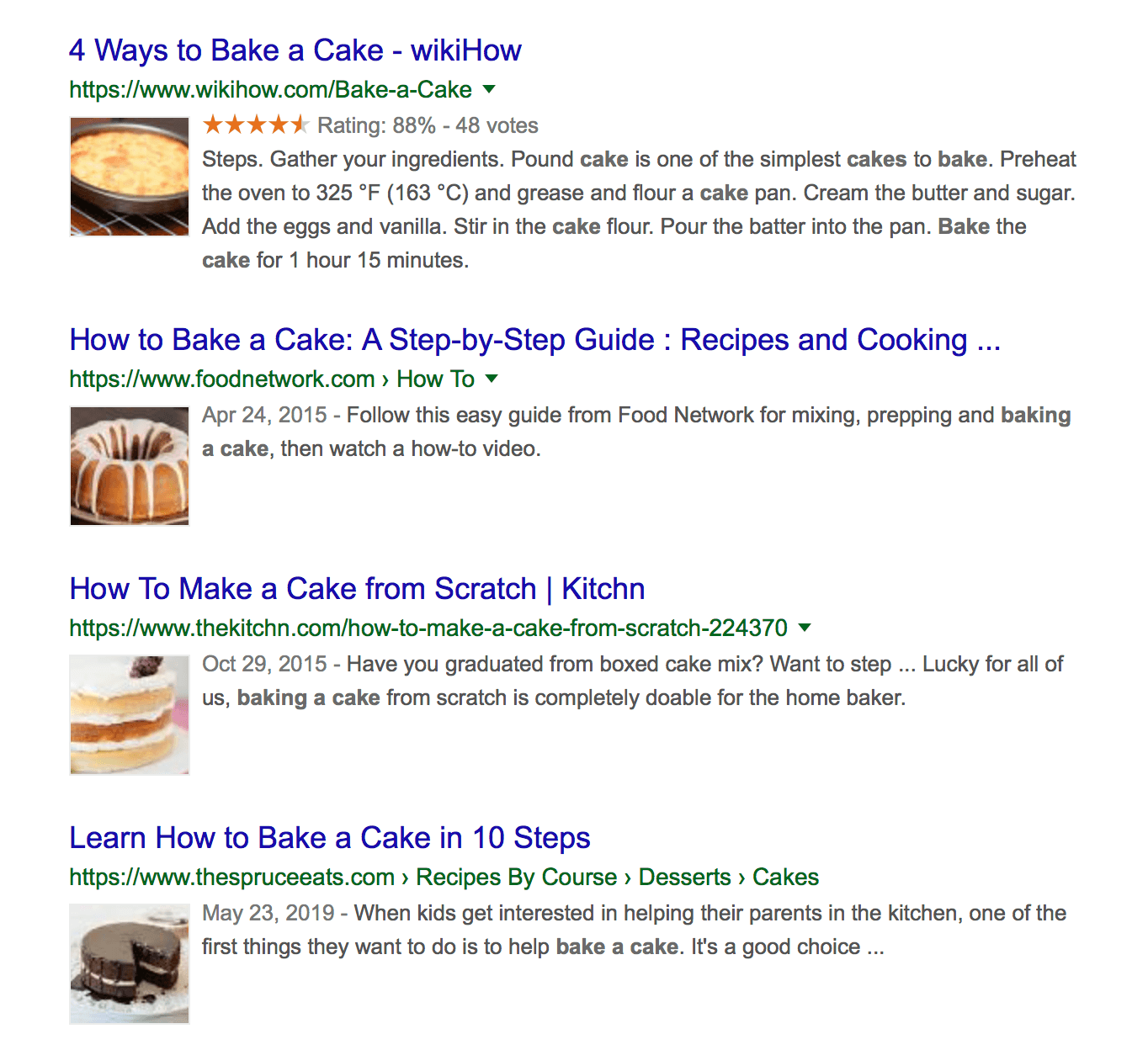 While this isn't the sole factor Google uses to determine the ranking, it does play an active role in deciding where your website falls in the search results. It considers the number and quality of outbound links to your site. If you want to have a good ranking, you will need to earn quality outbound links to your website.
When you're trying to figure out how to rank on Google, take Google PageRank into account. It will influence how you optimize your ranking.
How to improve your Google ranking
To drive better results for your business, you must know how to boost Google rankings. Let's look at eight ways to improve your Google ranking.
1. Improve the user experience to keep leads engaged
User experience plays a vital role in determining whether leads remain on your page or leave it for a competitor. It's critical that you provide your audience with a positive experience when they visit your site.
If your audience doesn't have a positive experience on your site, they won't remain on it. Your audience will quickly leave your site, which will increase your bounce rate. A high bounce rate indicates to Google that your information isn't fitting the user's needs.
Your website is for your audience. It's a hub that helps your audience get to know your business, products, services, and more. You need to sell them a positive experience so they will continue to get to know your business and get familiar with your brand.
When Google ranks your site, it takes into account website visits, time on site, and pages per session. If people spend more time on your site and look at numerous pages, it sends a positive signal to Google that your website is relevant. You will improve your ranking by being more applicable to your audience's needs.
You can improve your user experience by:
Making your navigation simple and easy to use
Adding visuals to break up the text on your page
Adding call-to-action buttons to guide your audience to the next step in the sales funnel
Implementing responsive design to ensure your site looks great on every device
Consistently testing your website to improve its performance
These are just a few user experience practices you can follow for improving your site. By focusing on the user experience, you'll create a better website for your business.
2. Improve your page speed to keep users on your page
Did you know that 83% of users expect your website to load in three seconds or less?
When users click on your site, they don't want to wait around for your page to load. Users want information fast and efficient. If your page takes too long to load, you risk losing those leads to a competitor.
53% of users will abandon a page if it takes more than three seconds to load. You could lose half of the traffic on your website directly from your site not loading quick enough!
Slow loading pages negatively impact your SEO ranking, too.
If people are always leaving your page because it takes too long to load, your bounce rate will increase. Google will view your page as less relevant than your competitors' pages and rank them above you. Moreover, Google now considers page load speed a direct SEO ranking factor, following its page experience update.
To prevent losing people to your competitors, you can actively improve your page speed. You can use Google PageSpeed Insights to help you see how quickly your site currently loads. This tool will help you understand how your website performs presently and where you can make improvements to create a better website.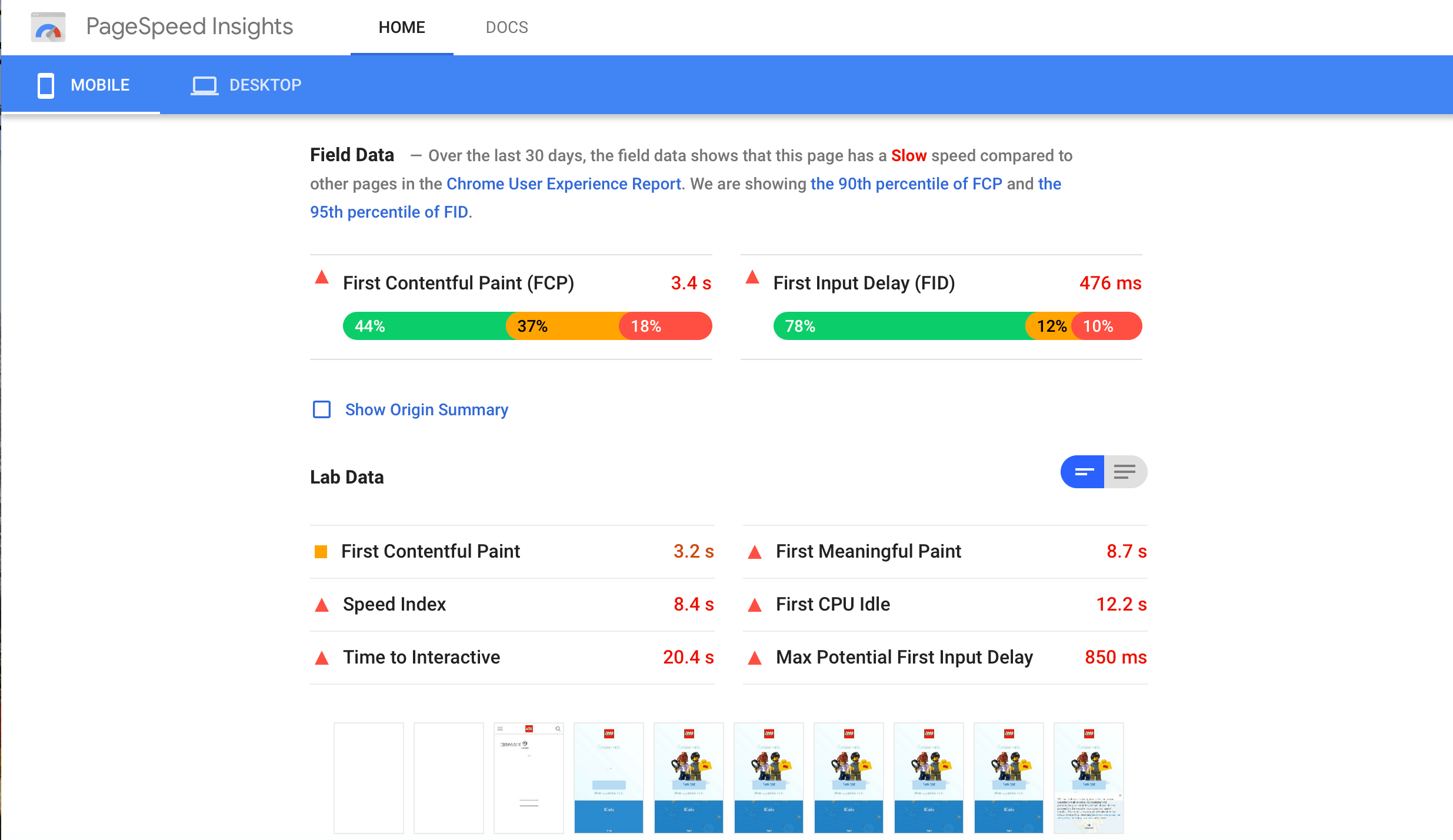 So, how can you improve your page load time?
Fix broken links on your site
Delete any unnecessary white space in your coding
Reduce the number of redirects
Condense image file sizes
HOst videos on outside platforms like Wistia
These are just a few of the many ways you can improve your site's load time to provide a better experience for your audience.
If you don't have the time to dedicate to improving your site's speed, don't worry! Our team of over 500 experts at WebFX will help you optimize your page speed to improve your site's load time and keep users on your page longer. Call us today at 888-601-5359 to speak with a strategist about our page speed services!
3. Create content optimized for SEO to boost your ranking in the search results
Content marketing is a crucial aspect of SEO. When you create content, you create the opportunity for your business to drive more traffic to your site and earn more relevant links.
When you create content, you share your knowledge and expertise with your audience. It helps you establish yourself as an authority in your field.
Content comes in numerous formats. You can write blogs, create videos, design infographics, or write ebooks. Your content focuses on delivering valuable information to your audience that they desire.
To start creating content, you need a topic. You can find different topics by conducting keyword research. Keyword research helps you generate a list of valuable keywords you can use to create content.
When you search for keywords, stick to long-tail keywords. These are keywords that contain three or more words. These key terms will help you drive more valuable traffic to your site than keywords with fewer words.
Once you have your keywords selected, you can do a quick search on Google. This search will help you see what other people are writing about the topic, as well as questions commonly asked around the keyword.
If you look at the "People Also Ask" section of the results page, you will see a list of questions users ask about that topic.

You can use these questions to help guide your content. It will help you address important questions your audience is asking.
Content marketing is a valuable tool for improving your Google page ranking because it drives more traffic to your website. You will attract leads that are looking for information on topics you've covered. Once they find your content, they will spend time on your site while they're reading or watching your content.
Your content increases the time spent on the page. It also increases the probability that these leads will visit other pages on your site. If leads visit more pages on your website, it will improve your ranking. Google will see that people spend more time on your page and engage on it so it will rank your site higher in the search results.
Content creation is one of the many search engine ranking factors that positively influence your site's ranking. If you want to know how to boost Google rankings (which you can monitor with free Google position check tools), consider investing in a content marketing plan.
4. Optimize your site for mobile to keep mobile searchers happy
With more than 50% of Internet traffic coming from mobile, it's crucial that you adapt your pages for the mobile user. Users conduct more mobile searches each day, and this number will only increase as mobile devices become better and more accessible.
Google knows the importance of the mobile experience, too. Mobile-friendliness is now considered an important ranking factor for your website. If your site isn't friendly for mobile searches, it will hurt your ranking.
So, how do you create a mobile-friendly website?
The best way to make your site mobile-friendly is to integrate responsive design into your website's design. Responsive design enables your website to adapt to whatever device a user is using. Whether they're on mobile or tablet, your website will adjust to fit their screen.
Responsive design is the best way to ensure that your website is friendly for mobile users. It allows you to integrate mobile-friendly design elements, like hamburger menus and scrollable pages, to make for a better mobile experience.
By adapting for mobile, your business will perform better in the search results. You will improve your site's ranking to drive more traffic to your page.
5. Structure content to appear in the "position 0" spot
"Position 0" is the holy grail of SEO. Every marketer wants their content to appear in "position 0," also known as the featured snippet. So, what is the featured snippet, how do you get your content featured in it, and why does it matter?
What is the featured snippet ("position 0")?
The featured snippet is the box of information you see at the top of the search results. When you search, you may see a box at the top that details the answer for you.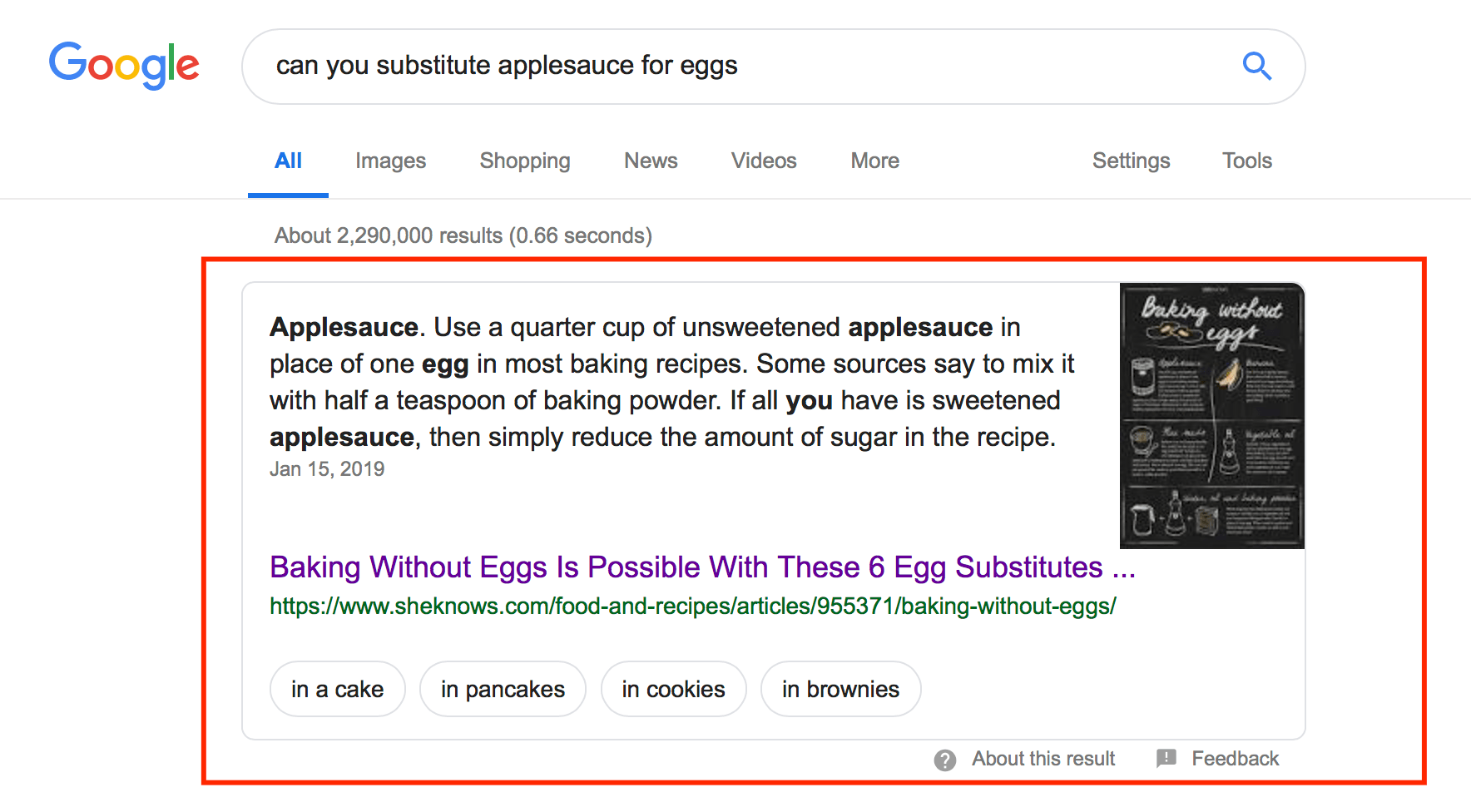 This box is your "position 0." It's a great position to be in because your audience will see this information first. If the information in the box answers the search query, they will click on the article to learn more.
How do you get content in the featured snippet?
There is no sound way or formula for getting in the featured snippet. There isn't one foolproof way to structure your content to ensure it appears in "position 0."
The best way to attempt to get your content featured in the snippet is to answer questions clearly and directly within your content. Let's say you're writing an article on five substitutions for eggs in baking. You're discussing different replacements, whether they work, and how they affect the taste of the food.
When you're writing your content, you want to think about the types of questions people will ask. In this case, someone may ask, "Is applesauce a substitute for eggs?"
As you write your content, you can structure it to work smoothly in your article, but also answer the question directly. So, it may look something like this:
"2. Applesauce: Applesauce is an excellent substitute for eggs in your baked goods. You can use a quarter cup of unsweetened applesauce to substitute for each egg in your recipe. Additionally, you may need to add some extra baking powder to ensure your baked goods rise. Many people enjoy using applesauce as a vegan alternative in baking…"
So, this would be a paragraph in your article on five baking substitutions. The structure of this paragraph makes it a good fit for a featured snippet. If someone conducted a voice search asking "Is applesauce a substitute for eggs," this first paragraph would correctly answer their query.
Since there isn't a set way to get your content featured in the snippet, the best thing you can do is answer common questions as you write your content.
Why does the featured snippet matter?
When you get "position 0," you drive more traffic to your website. Users are more likely to visit your site because your featured snippet provides all the information they need.
It's also beneficial to obtain the featured snippet because of voice search. With the rise of voice search programs like Alexa, Google Assistant, and Siri, more people are conducting voice searches to find information. More than one billion voice searches occur each month.
Fifty percent of searches on voice search devices rely on featured snippets for information. Search devices will pull this information and verbally share it with the user. When the voice search device shares the information, they cite their source.
If your information is in the featured snippet, it allows you to gain more brand exposure. It's very beneficial to helping your business grow.
6. Ensure your site is readable to keep leads on it longer
You're going to put time and effort into driving leads to your page. If leads end up on your site and can't read your information, they won't remain on your page. Readability is a crucial factor in keeping leads engaged with your content.
If you want to keep leads on your page, you must create easily readable pages. Let's look at a few ways you can improve your site's readability:
Choose the right font color: If you want people to read your information, they need to be able to see the words. You don't want to choose a font color that is too light with your background. Test your font color to ensure that you can easily see your content.
Choose the right font size: When you're designing your site, make sure your font size is big enough for your audience to read your content. Generally, your site text should be 16pt and above.
Use headings and bulleted lists to break up text: Headings and bulleted lists help you break up the content on your site. It makes it easy for your audience to skim your content and catch important information.
Break up content into smaller paragraphs: If your content is broken up into sections of 1-3 sentences, it's easier for your audience to read and digest. Paragraphs with 5-7 sentences are denser and can deter your audience from reading your content.
These options are just a few ways to create a website that is more readable for your audience. By making your website more readable, you'll keep leads on your page longer. This optimization will improve your SEO ranking and drive more traffic to your page.
Improve your Google page ranking today!
Your Google ranking is crucial to helping your business drive more valuable traffic. By optimizing your Google ranking, you will improve your rank in the search results to reach more interested leads. At WebFX, we have over 25 years of experience in improving our clients' page rankings.
We have over 1020 client testimonials that attest to the remarkable work we do. We've driven over 7.8 million leads for our clients, so we know how to drive valuable results that help our clients grow their business.
If you're ready to start improving your Google page ranking, contact us online or call us today at 888-601-5359 to speak with a strategist about how WebFX can help you improve your ranking.
How Is Your Website's SEO?
Use our free tool to get your score calculated in under 60 seconds.