How PPC Works for B2B Companies
B2B companies can make great use of pay-per-click (PPC) advertising to grow their companies and expand brand awareness. The key is understanding how to make effective campaigns, how to track them, how to update them, and how to convert customers. By harnessing the potential of PPC, B2B firms can steadily increase their revenue, conversions, and awareness online.
Want to learn more about PPC for B2B companies? Keep reading, and give us a call at 888-601-5359!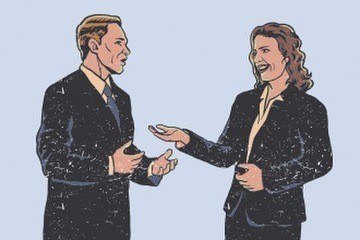 What is PPC?
PPC lets you show short, specific ads to search engine users that entice them to go to your site. You only pay when someone clicks an ad, and a lightning-fast auction system determines if you show up or not. This means that even if you aren't naturally ranking for certain keywords, you can still get the visibility you want by investing heavily in PPC.
PPC ads not only give you an opportunity to be seen, but they also collect sales leads. When someone clicks on your ad, you can ask them to convert right away or request their contact information so you can encourage a conversion later in the sales funnel.
Best of all, PPC is easily trackable so you can find out where your money is best spent. This kind of trial-and-error may cost a little more up front, but it's invaluable to your business as you update and tweak campaigns to perform at their best levels.
What do PPC ads for B2B companies link to?
Most PPC ads do not simply send visitors to random pages — they send visitors to a landing page that has been specifically designed to appeal to that visitor's needs based on the keywords they used to trigger the ad.
For example, if a person searched for "copying services in Indiana," the PPC ad that appears should indicate that the user will find information on copying services in Indiana if they click. The page can also go more in-depth about copying services and client needs, and it can even encourage conversions at the end with a call to action.
Because landing pages for go hand-in-hand with the advertisements themselves, the text on the page needs to be thematically similar to the text in the ad. Otherwise, you'll be deceiving searchers, and you could receive a penalty from Google.
Some of our client Successes
What kind of PPC budget should a B2B company have?
PPC budgets will vary according to a specific business, its industry, and how competitive that industry is online. Attorneys are notoriously competitive in PPC, and law firms can easily spend thousands of dollars on campaigns in a month. Of course, not all businesses are going to be that competitive.
Basically, the best budget for PPC is the budget that works for your business. Remember that if your PPC campaign works, you should generate revenue from it. This revenue should pay for the PPC campaign and net additional revenue. If your PPC campaigns aren't showing the results you want, consider tweaking them, A/B testing different ads, or other measures to optimize them for clicks.
Video: How Much Does PPC Cost?
How do you find the right keywords?
Keyword analysis is a critical part of developing a PPC campaign. Google's keyword tools (and others) can help you find the right keywords to use to trigger different ads. These keywords should be relevant to your industry while staying affordable enough to fit within your budget. Don't jump for the high-priced keywords right away — you can easily work your way to them over time.
In general, it's best to very narrowly target your PPC campaign keywords with long, specific keywords. The more specific the keyword, the more likely your searcher will be to convert. Plus, narrower keywords will usually cost less per click.
What kind of PPC ads get clicks?
You don't have a lot of space with PPC ads, so you have to be concise. Avoid flowery language and just get to the point. Have a sense of urgency, and say something unique that draws a potential customer's eye. If you have a special offer, say it up front. Basically, make your advertisement irresistible.
For instance, a business selling interior design services to commercial clients might want to highlight that it is offering a special discount for new clients. It also might want to emphasize that it specializes in contemporary, environmentally-friendly interiors, rather than other types of interiors. These are all unique selling points, and they can make the ad stand out.
After you have your ad, you should also test it. Try different headlines, but send visitors to the same landing page. Or change your wording in a few blurbs. Then, see which headline converts more prospects into paying customers. You might be surprised by what you learn!
What platforms offer PPC for B2B?
The Google dominates PPC advertising, there are other search engines you can use too, including Yahoo!, Bing, Facebook, and LinkedIn. Which platform you choose depends on where you expect your clients to be. You can also use multiple platforms simultaneously to see where you're more popular and where you can funnel additional money. You really never know which one will work best until you do some research!
WebFX can help
If you don't have time to plan, create, and implement a PPC campaign yourself, WebFX can do it for you! Our talented team of PPC specialists knows how to craft ads for every industry, and we're positive that our hard work, determination, and passion for Internet marketing will grow your business. If you want to take the next steps on your business's climb to the top, reach out to us!
Contact us today to work on a PPC plan that can make you money.
Ready to start your PPC campaigns? Call 888-601-5359 or contact us online today to learn more about how WebFX can help with your B2B company's Internet marketing challenges.