4 Tips to Nail Your Bing Local Listing
When you build your digital presence, you want to reach people through as many channels as possible. Search engine optimization (SEO) is a popular strategy for boosting organic traffic and driving more people to your website. When you are a local business focusing on local SEO, you may not know that Bing Place for Business, also known as Bing local listing, is an option for your business. Many people think of Google Business Profile when building their local listings for their business, but Bing Places is another important channel you want to optimize. While Google dominates most searches, Bing still accounts for 23.7% of searches. If you aren't optimizing your listing on Bing, you're missing an opportunity to drive in more leads for your business. So, how can you optimize your Bing local listing to obtain more traffic?
On this page, we'll talk about the difference between Bing local and Google Business Profile, as well as four tips to help you nail your Bing local listing. If you need help creating a listing that works for your business, call us today at 888-601-5359 to speak with a strategist.
Bing Places vs. Google Business Profile
When you use local SEO, you have two avenues you can use to drive in traffic. These avenues are Bing Places and Google Business Profile. Both are great ways to drive local traffic to your business.
So, how are these platforms different?
One of the best features of Bing is that it focuses on promoting local businesses. Bing is dominated by local listings. This makes it a great platform for local businesses.
Bing also integrates Facebook into their platform. This is something that is unique to Facebook and helps local businesses. People can see results for their Facebook pages, which include ratings and reviews.
These are just a few of the key features of Bing. Google, on the other hand, has different features.
Google has a complicated algorithm that makes businesses work on optimizing their sites and integrating keywords. It is much harder to link spam through Google because they base their ranking on factors like keywords, backlinks, and session durations.
Another prominent of feature of Google is that the algorithm tends to generate more informative-based results. This is based on the usage of keywords. Bing focuses more on social sites, while Google focuses on informative sites.
Though both platforms have different algorithms and focuses, they both provide quality results. The difficult task emerges with their algorithms. You need to adopt different tactics for these platforms.
So, now that you understand the differences between the two, it's important to know how you can use the features of Bing local to your advantage.
Time to Level Up Your Sales
Our long list of services helps you grow every aspect of your business with marketing strategies that are proven to increase bottom-line metrics like revenue and conversions.
In the past 5 years, we've managed more than 12.9 MILLION transactions across our client base.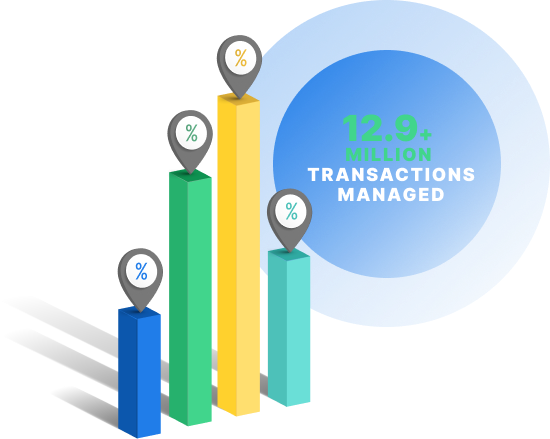 4 tips to help you nail your Bing local listing
If you aren't familiar with Bing, it is difficult to know how to make a listing that will work for your business. Here are four tips to help you create a stellar local listing that will drive in traffic for your business.
1. Fill out your profile
First and foremost, you need to fill out your profile. When leads come across your listing, you want to provide them with all the information they need about your business. So, you need to fill out your profile with as much information as possible.

You'll want to include basic profile information in your Bing local listing. You can include a description of your business and the products, services, or dishes you offer. This will help people get a sense of your business and whether it fits their criteria.
Aside from your description, you'll want to post your hours of operation. This is because 50% of search users visit a business within a day of conducting a local search. You want to make sure you post your hours of operation, so users know when they can visit your business.
It is crucial that you include important contact information as well. You want to list your phone number and a link to your main website, so you can drive in traffic through your local listing. You'll also want to link to your social media pages to encourage people to follow your business.
Lastly, you'll want to choose a category for your business. Bing enables you to choose multiple categories to classify your business. You don't want to settle for one category.
Why? Many people will conduct searches using different words to find a business just like yours. One person may call your business a "café" while others call it a "bistro." You want to ensure you capture leads that are conducting searches with similar keywords.
To do this, you'll need to select a primary category. This is mainly how you would classify your business. Then you can choose a bunch of similar categories to support your primary category, which helps you drive in people that use different terms.
2. Add images to your listing
One of the biggest differences between Google Business Profile and Bing local is the use of images. While both utilize images, Bing local is more image forward. When you conduct a search, the first thing you see is a strip of images and the name of the business.

You want to make sure that you choose a good image for your listing. This is one of the first things people will see, so you want to make a good first impression.
In addition, you don't want to just have one photo attached to your listing. It is best to post multiple photos within your listing. Many high-ranking businesses in the local listings have more photos than others.
When you integrate photos in your Bing local listing, your listing will perform better and have a chance to rank higher.
3. Earn reviews
Local businesses rely on reviews. Reviews help people determine if they want to visit a business or not. This is one place where you want to accumulate reviews about your business.
Reviews add credibility to your company. You don't necessarily want all positive reviews, as people will be suspicious as to why there aren't any negative reviews or average experiences. It is good to accumulate varying reviews, so people can make their own judgments about your business.
The best way to earn reviews is to ask people to rate their experience at your business. You don't want to force them, but provide them with the opportunity to tell others about their experience. Don't coerce them into writing positive reviews, but encourage them to share their experience.
This will help your local business obtain more authentic reviews. You can build your credibility and drive people to select your Bing local listing by obtaining reviews.
4. Optimize your website
When you create your Bing local listing, you attach your website link. If you're going to drive traffic to your website, you want to make sure your site is optimized. A poorly operating site will drive leads away and hurt your ranking.
A well-optimized site helps your listing rank well and get found by searchers. If you want to drive in better traffic, you need to optimize your site.
So, how do you optimize your page?
There are numerous things you'll want to analyze to ensure that they are running properly. One thing you'll want to look at is your keyword usage. You want to make sure that you have integrated your keywords into your page, so users are finding relevant pages.
If you don't have keywords on your page, you'll need to implement them. It will help users learn about your business and figure out if your business is the right option for them.
Aside from keyword usage, you'll also want to check your page's speed. Users hate to wait for slow loading pages. They want results and want them quickly.
You need to make sure your pages load fast, so you don't lose leads. You can do this by investing in page speed services or by using Google PageSpeed Insights to make the changes on your own.
These are just a few of the many things you can do to improve your site. When your site is running in top shape, you will drive more leads to your Bing local listing and keep them engaged with your page.
Let WebFX help you optimize Bing local listing
If you want to expand your reach with your local business, you need to optimize your Bing local listing. It is important that you take time to make this listing stand out. At WebFX, we know how to make your Bing listing drive in leads for your local business.
We're a full service digital marketing company that specializes in optimizing Bing local listings. We have a team of 500+ experts that are dedicated to your campaign. Our award-winning team of experts will help you create a listing that helps you bring in more valuable traffic.
If you're looking for a company that drives results, look no further. To date, we've driven over $3 billion in sales and over 7.8 million leads for our clients. We focus on bringing our clients results.
Our clients love the work we do, too. In fact, we have over 1020 client testimonials from a variety of industries. Check them out to see what it's like to partner with a top Bing local company like WebFX!
Learn more about Bing local listings
If you want to learn more about how optimizing your Bing local listing can help you drive in more credible traffic, contact us online or call us today at 888-601-5359 to speak with a strategist.
We look forward to hearing from you!