How to Dominate Local Business Rankings with a Local SEO Strategy
Did you know that more than half of online searchers visit a store within a day of conducting a local search? If you want to attract more local customers (and sales) in 2023, you need to start with a solid local SEO strategy. Local SEO boosts your rankings in local search results, so more people can find, contact, and visit your business.
What is local SEO strategy?
Local SEO is a search engine optimization (SEO) strategy that focuses on improving your rankings in local search engine results pages (SERPs), so more people can find and visit your business. And local SEO strategy refers to the overarching strategy or process used to optimize your site content and online presence for higher rankings.
While traditional SEO boosts your visibility on a wider scale, local SEO focuses your efforts on attracting customers near your physical location — and getting them through your door.
The benefit of local SEO is that it lets you take advantage of increased visibility in your immediate area — and since 80% of local searches convert, it's an extremely valuable strategy for 2023.
How does local SEO strategy work?
How does a local SEO strategy work to improve your local search rankings?
Google uses numerous factors when ranking local content, but it predominantly focuses on these three signals:
Relevance: Does your business listing match the searcher's intent?
Distance: How close is your business to the searcher at the time of the search?
Prominence: Is your business well-known both online and offline?
While you can't alter your physical distance from a searcher, a robust local SEO strategy helps your business meet Google's other ranking criteria, so you can greet local searchers at the top of results.
If a user conducts a search using a location or "near me" and your business listing best matches the query, you'll appear in Google's local SEO 3-pack — a listing of the top three local businesses that meet the search criteria.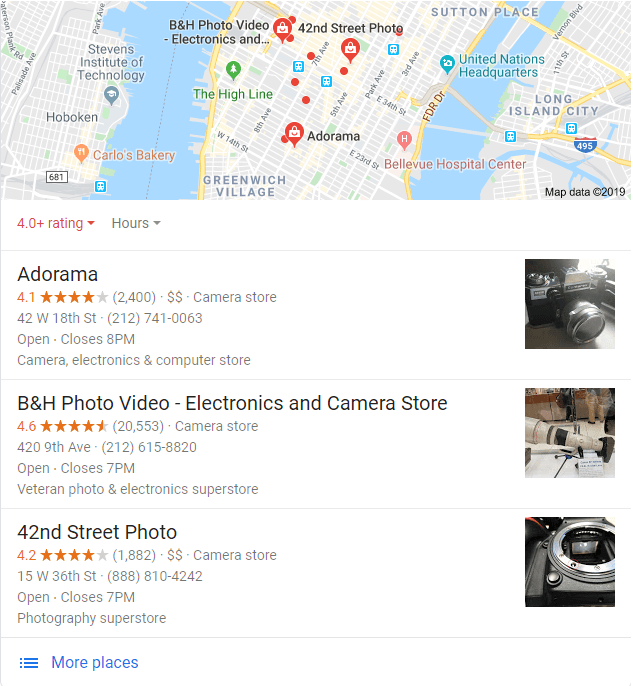 Only the top three ranking listings will show up in the local SEO 3-pack, so you'll need a custom local SEO strategy for 2023 if you want to earn a spot.
12 local SEO strategy tips to boost rankings and revenue
Now that we covered some local SEO strategy basics, let's take a look at twelve strategies you can use to turbocharge your local search performance in 2023.
1. Optimize your local listings and citations
To rank in 2023 for local search results, you'll first need to claim your Google Business Profile (GBP) listing.
This listing contains key information about your business and location — and Google uses GBP listings to pull information for the local SEO 3-pack. That's why this local SEO strategy tip is crucial for getting your company to show up in local SERPs.
If you already claimed your GMB profile, take time to optimize it by adding information like:
Business name
Address
Phone number
Products and services you offer
Photos of your business
After you optimize your GBP, start building citations on local directory sites like:
When submitting local citations, make sure your name, address, and phone number (NAP) information is consistent in order to rank in relevant results.
Bonus Tip: Try out our LocalFX tool to make managing your local citations a cinch!
2. Understand your local personas
Next, you need to fully understand local customers — and generating marketing personas can help.
Start by asking yourself these questions:
Who buys your product or service locally?
Why do they purchase your product or service?
What do they love about your product or service?
Who talks about your products or services in the community?
Who in your region do you want to buy your products or services?
Create a detailed list of what your ideal customers look like. Include their ages, work positions or titles, industry, local spending habits, and any other demographic information you think would influence their conversions, such as local events they're likely to attend.
Understanding your key personas helps you write relevant and targeted local content for 2023.
3. Conduct local keyword research
A successful local SEO strategy includes keyword research.
Spending time researching keywords may seem daunting, especially when you have so many things on your mind. But keyword research allows you to uncover valuable phrases locals search, related to your business, products, and services.
Keywords connect consumers' questions to your content. Including local keywords in your content tells Google that your content is relevant to local searchers, which in turn helps rank your content higher and increases your visibility in your area.
Search intent
When conducting keyword research, it's important to understand searchers' intent when they type specific keywords and phrases. Google wants to rank content that best matches a searcher's query, so understanding the intent behind local searches will help your business rank higher in search results in 2023.
Instead of guessing the intent of the keyword you'd like to target, all you have to do is search for it on Google and see what kind of content ranks. A lot easier than you thought, right?
As an added perk, Google even suggests similar keywords that you can include in your content to rank for those as well.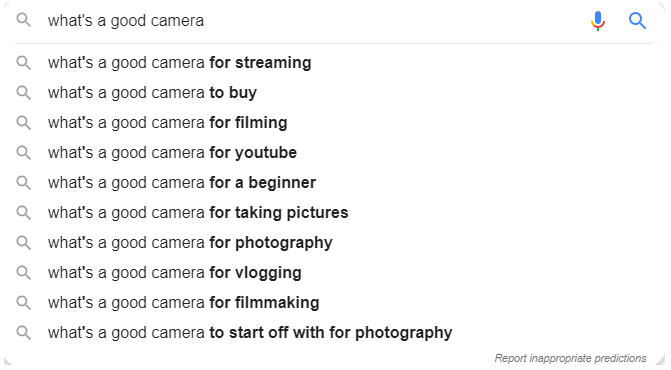 Don't forget about researching keywords with "near me," when targeting keywords. These are your local keywords. They're the essence of local SEO, and you want to rank for them. We recommend targeting keywords that include towns in a five-mile radius of your location.
Keyword research tools like Google's Keyword Planner, SEMrush, and Keyword Tool can help you conduct local research in-depth in the coming years. They can help you determine which keywords you and your competitors already rank for in local search results too.
Types of keywords
When researching keywords, it's useful to know about the three main categories of intent.
Informational: "What's camera aperture?"
Navigational: "Camera equipment store near me"
Transactional: "Buy camera under $300?"
Knowing what type of intent the queries belong to will help you generate more specific content relevant to your chosen keywords.
Navigational and transactional are often the categories that local keywords fall into. Navigational keywords help your local clients find your business. Transactional keywords help them purchase your local products and services.
Keywords also vary in length. Head terms are short, one to three words in length. These keywords tend to be very competitive to rank for. Think about it, how many companies are trying to rank for "best camera"?
Long-tail keywords, on the other hand, are much less competitive. These keywords are more conversational and often start with what, how, when, where, or which. These are the types of keywords that users search when performing a voice search — "Where can I get my camera lens fixed near me?"
Local keywords fall into this category.
Long-tail keywords are becoming a critical SEO trend because they show user intent much better than head terms. And because they appear in voice searches, which are estimated to grow to 50% of all searches by 2023, Google is putting greater emphasis on long-tail keywords.
The recent BERT update is just one example of the increasing focus, which means that local SEO will see a huge boost from the update in the near future.
4. Earn backlinks from local sources
Google considers the number and quality of backlinks — or links from other sites to your website — when ranking content. That means you'll need to consider backlinks as part of your local SEO solution for next year.
The purpose of backlinks is twofold.
They help searchers navigate the Internet
They demonstrate your expertise, authority, and trustworthiness (E-A-T) to search engines
Some backlinks carry more weight than others, depending on the linking site's trustworthiness and authority online.
In other words, a link to one of your pages from Time Magazine has more weight to Google and users than a link from a newly created blog.
To boost your local SEO strategy for 2023, consider earning backlinks from reputable, local sources. Local backlinks will increase your brand's recognition in your area. And since people trust local influencers, your credibility will increase by leaps and bounds in the eyes of potential clients.
One of the best ways that you can gain local backlinks in the coming year is to attend or host local events related to your business. If you own a local videography company, a film festival would be a great example!
Local events are often covered by local news agencies, which will link back to your site when they cover the story.
Local events will also generate mentions on social media attendees, boosting your brand awareness even more.
You can start creating local backlinks by:
Generating and promoting local content
Asking local influencers and news sources to share your content
Earning reviews and mentions from local customers
Bonus tip: Use tools like Ahrefs to analyze your backlink profile and monitor competitors' local backlinks.
5. Write in-depth, local content
When it comes to local SEO ranking factors in 2023, content is extremely important. Just using keywords and links won't rank your content like it did in the days of yesteryear, so if you want that #1 spot, you need to generate quality, in-depth content.
And not just any content. You have to be writing good content, and good content has some criteria.
Good content supplies demand. If it doesn't meet demand, it will not be considered good content. If users aren't finding an answer to something they're looking for within your content, they're not going to read it no matter how well you write it.
Good content is easy to navigate. It will have links that users can follow, both to navigate to it and other relevant information. Good content is no better than bad content if users can't navigate it easily. Without links, the user's ability to access will drop, and with it, your conversion rate.
Good content is easy to digest. It is unique, informative, and easy to read. Your content should have proper grammar and sentence structure, as well as a conversational writing style. Ranking content is also scannable, with relevant headlines, short paragraphs, and bulleted lists to give users a comfortable reading experience.
Good content matches user intent. The topic of your content should be extremely narrow. It should address a specific question and match the users' intent behind the keywords you want to rank for.
The quality of content works exactly the same way for local SEO as it does for standard SEO, the primary difference being that local content is generated for topics your local clients want to know about.
These topics have to be heavily local-focused, information that can only be found about the surrounding area. If it is information that is well-known nationally, local consumers will likely find that information elsewhere. Here's how to do it.
Step one: Create content using PAA: Start by creating posts using frequently asked questions about concerns in your area. These will show up in the People Also Ask (PAA) Featured Snippet in Google's SERPs. You can later develop an FAQ page on your website using these questions and other questions your local clients frequently ask.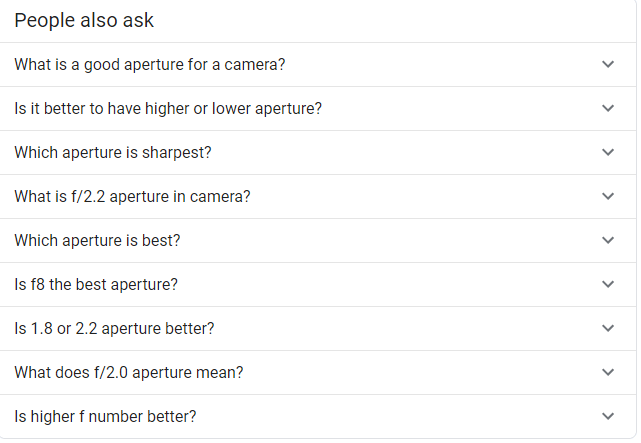 Step two: Put essential information at the beginning: Remember that your content should be unique and easily digestible. Front-load your information so that readers can access the essential parts quickly.
Step three: Set up an outline: Include headlines that are unique and relevant to your topic, which will help make your content scannable. Don't overwhelm your users, but do keep it longer, at least a 1000 words — readers like being able to read all the information at once.
Step four: Make readers want to act: Finally, include a robust and straightforward call to action (CTA) that will get readers to make a move.
What about your local services?
One of the first things you should create — if you haven't already — when generating local content is a separate local service page for each of your products and services. On each page, condense the essence of your local service into a few words. You can do this by:
Including a list of features about the service, and making a note of why it's unique and how users can benefit from it when buying locally
Keeping your features and benefits separate
It's all too easy to allow the two to merge into synonyms. Keeping them separate will enable you to target local consumers more efficiently. What's the difference?
Features are the technical aspects of your service
Benefits are the way those features help users accomplish what they want
For consumers, benefits trump features. How the product fulfills a need or desire will sell better than knowing what the parts of the product are. Knowing that a camera takes brighter pictures at night is much more important to consumers than knowing that it has an aperture of f/1.8.
When writing about the benefits of your products and services include:
Tangible benefits
Intangible benefits
Commercial benefits
Benefits also include how the product or service reduces a pain the user might have. In particular, consider any local pains that your service could alleviate.
Don't have the time? WebFX has a team of talented writers that'll help you create a variety of personalized web content to meet your local content needs!
Learn More about Our Personalized Web Content Services
6. Optimize your title tags and meta descriptions with local keywords
To boost your rankings in local results in 2023, you'll want to add local keywords to your title tags and meta descriptions.
This helps Google and searchers better understand the context of your content — and it will help you rank in local searches related to your business.
Your title tag is the tag that shows up in the SERPs. It should contain your primary local keyword, preferably near the front. Your title tag does not need to be precisely the same as the title of your content, but it should contain the same ideas. Make sure both are relevant to your content.

Your meta description is the description that shows up below the title tag on the SERPs. It does not show up on your page, but it should give a brief, under 160 characters — preferably around 145 — and contain at least one local keyword.
If you want your content to rank for more than one local search result, include those local keywords as well. They're the first thing that users see in the SERPs (right after the title tag), so make them compelling to encourage those people to visit your site!

Google sometimes cuts your meta description off, so make sure that all the necessary information is closer to the front. And, as always, keep it relevant to your topic and include your keywords.
You can increase your optimization by having a unique title tag and meta description for each of your pages. Avoid duplicating any information, including in your content, URL, and headers, as Google will have a hard time knowing which piece of content to show to searchers.
7. Include an internal linking structure for location pages
Internal linking helps Google find and index local content on your site — and it helps users navigate your website.
In 2023, no page on your site should be left hanging by itself. Connect your homepage, service pages, location pages, and more with relevant links. When adding local pages to your site, be sure to link to them from relevant, older pages, so Google can find and rank the new content faster.
If you want your content to rank in relevant, local searches, you need to make internal linking part of your local SEO strategy.
Bonus tip: Keep the anchor text for your internal links shorter and relevant to your content, and spread them consistently throughout your content.
8. Update your website
Your website is the first thing searchers look at when trying to find information about your local business.
So, if you haven't updated your site recently (or you don't have a website), it's time for a refresh for next year.
Building and maintaining a professional website costs money, so make sure to set aside funds in your budget. How much you spend on a site will depend on how much functionality you want out of it.
Not tech-savvy? The good news is that you don't have to be. Website builders allow you to create websites without the need to code. With easy-to-use interfaces and a plethora of articles outlining tips and tricks, website builders make creating and updating your site a cinch.
Below is a list of some of our favorite website builders.
Want someone else to create a website for you? WebFX has an award-winning team of web designers waiting to work with you. Take a look at our portfolio of over 1,600 professionally designed sites!
Want a new website fast? When you choose WebFX's RainmakerFX package, we create one for you in 30 days!
Learn More About our Personalized Web Content Services
9. Improve your UX
Google wants to rank local content that answers a searcher's query and provides a great user experience (UX). That's why in 2023, you'll want to incorporate UX improvements into your local SEO strategy.
For the best chance of ranking at the top of results, you need a website that's intuitive, easy to navigate, and well-designed.
If a page is uncomfortable to look at or confusing to use, users won't stick around — and that doesn't look good to search engines. To keep users on your site, your UX must be up to par.
First and foremost, when it comes to improving your UX, make your website mobile responsive. Today, more than half of all searches are conducted on mobile devices, so if your site isn't mobile responsive, you're missing out on valuable local leads and revenue.
The idea is to put your users first.
What would make it easier for them to navigate your site? Include things like voice search, alt text for images, video transcriptions to improve user's interaction with your site. Also, increase the page load speed, so your users aren't stuck waiting around for your page to load. How fast your page loads is a ranking factor for Google.
What would your user like seeing on your site? Create images, videos, infographics, and links to additional information to increase your user's engagement with your content.
What would make your users comfortable? Increase your site's security. It's another top priority in Google's ranking factor. Make sure that your site is secure by installing security plugins and using strong passwords. Regularly update your site, apps, plugins, and content management system (CMS). Install an SSL certificate — the "s" in the https:// of your domain when you get the certification will mean that the information on your site is encrypted and secure.
And this is just the start.
How can WebFX Help You Improve Your UX?
10. Post local content on social media
If your business isn't already on social media, you'll want to make your presence known. Post regular updates and promotions for people in your area, because 40% of people prefer to spend more of their money on businesses that are active on social media.
Companies that are social media savvy feel up to date and technologically talented as well as open to interacting with users. Companies that are local and on social media feel friendly and concerned with the benefit of the community.
Creating a blog will also build up confidence in your brand along with a social media presence, so be blogging. On it, share regular updates, location-specific news, and local events to appeal to your local audience.
11. Earn reviews
The next step for your local SEO strategy in 2023 is to start asking for reviews. Testimonials, ratings, statistics, and other social proof indicators are the first things users turn to when determining the credibility of a company.
After they make a purchase, encourage your customers to share reviews and recommendations of your company on local directories, social media, and other review sites.
Google includes star ratings in local SEO 3-pack results, and because those results are one of the first things searchers see when meeting your business for the first time, it's vital to earn a lot of positive reviews.
If on average, 80% of your users have had their minds changed from online reviews, and new reviews are added daily, then one of the best things that you can do for your local SEO campaign in 2023 is to track your reviews.
Managing your reviews will also help you generate more reviews and start building up more backlinks.
Need Help Managing Your Online Reviews? Check Out Our Review Management Services!
12. Track the results of your local SEO strategy
Finally, remember that local SEO isn't a set-it-and-forget-it strategy.
To see the best results in the coming months, schedule regular analysis and updates of all parts of your local SEO strategy.
Use tools to check your performance and conduct regular local SEO audits for 2023, and keep a close eye on your rankings, traffic, and conversions.
Check out our awesome local SEO tools!
As local SEO tools built with your local business in mind, MarketingCloudFX and LocalFX make it easy for you to track the results of your local SEO strategy.
MarketingCloudFX allows you to track visitors and calls, investigate local competitors, boost reviews and more!
LocalFX's features allow you to update and track your listings across 100 directories and monitor your reviews on social media and review sites.
Both can easily provide you with the information you need to make improvements for your local SEO campaign.
How much should local SEO cost?
Local SEO is a lot of work, sometimes more work than you want to put into it. But you also know that a local SEO strategy is worth it in the long run.
Luckily, there's such a thing as outsourcing your local SEO, where getting the best bang for your buck and getting the time to do what you want in 2023 is as easy as turning to a local SEO specialist like WebFX.
How much should local-SEO cost you? It depends on the plan you choose.
Head over to this page to discover the most cost-effective local SEO package for your business.
Staying current with the industry for next year means you're at the top of your game. When something changes, you can change with it.
Let the best local SEO company help you stay #1 in 2023 with a personalized local SEO strategy
Ready to get started creating your custom local SEO strategy for 2023? WebFX can help!
Our focus is on driving results for our clients. In the last five years, we've generated 7.8 million leads and 5.2 million phone calls for clients.
If you would like to cash in on these results, call us at 888-601-5359 or contact us online today to speak to a local SEO specialist!
Ready to Grow? Get your FREE Quote Today!
"We measure our success by how much we WOW our clients."

Bill Craig
WebFX President
Digital Marketing Services