AdWords vs. AdWords Express
If you're considering using PPC, or pay-per-click, advertising for your business, you may already know that Google AdWords is one of the most effective paid methods for reaching customers. But now that Google also offers AdWords Express, you may not know which one to choose.
Whether you're a business owner or a marketing professional, you know the importance of getting the best results possible with your available time and resources. That means making smart advertising decisions with your budget, especially on Google's platforms.
Call 888-601-5359 to speak with an Google Ads manager from WebFX, or keep reading for a basic overview of your options, and how you can determine which platform is the right choice for your business.
A basic overview of AdWords Express vs AdWords
AdWords and AdWords Express both allow you to show PPC ads in Google search results, Google Maps, and other related websites in the Google Display Network. The ads created with these two platforms look exactly the same to viewers. The main differences lie in how they are created.
This comparison chart from Google gives a nice overview of what these differences are: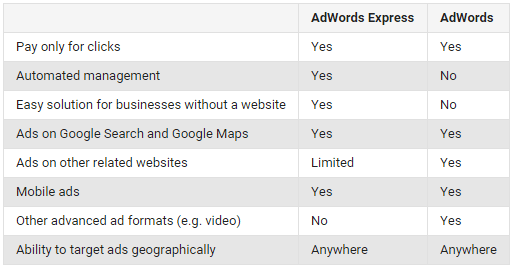 Basically, AdWords Express is just a simplified, less hands-on version of AdWords. But to help you figure out which one is right for your business, we've broken both of them down by required time, ad formats, ad placement, and your existing online presence.
AdWords Express
Google describes AdWords Express as an option for businesses that want to get started quickly. It's also much easier for first-time advertisers, and those who are new to keyword research or PPC.
Time
The amount of time you have to manage campaigns is a huge factor in this decision, and as the name implies, AdWords Express takes much less time than AdWords. Setup is quick, and the ongoing management required is minimal.
To get started, all you have to do is set a budget and write a text ad. Google will come up with a list of keywords, as well as potential related sites if you're a U.S. advertiser.
From there, you can shift to automated management, and as long as you continue to pay, your ads will continue to run. Google will also update your keywords over time if necessary.
Ad formats
The format you want your ads to take should also play a role in your decision. With AdWords Express, ads are text-only. You do not have the option to use advanced formats like video ads or mobile extensions.
Ad placement
With AdWords Express, your ads can display in Google search results, as well as Google Maps. If you are in the United States, your ads can also appear on Google's search partner sites or on Google Display Network sites.
Your existing online presence
If you don't have a website, AdWords Express is your only option. You can create a local page with Google My Business and use that as the landing page for your ads.
However, while that might serve as a nice temporary PPC option, we recommend that you create a site as soon as possible. Even if it's just a basic one, your site serves as your home online, and can be extremely useful for both you and your customers.
Plus, even though AdWords Express can direct users to your Google+ page, it's important to remember that once you stop paying for those ads, your traffic will disappear almost instantly.
AdWords
Now that we've taken a look at the express version, we'll go over how regular AdWords is different, and what advantages it offers over its simpler counterpart.
Time
AdWords requires significantly more time to manage, and it can take about 5-15 hours per week depending on the amount of campaigns you run and how frequently you update them.
This is because with AdWords, you build and manage campaigns all of your campaigns manually. You have the ability to choose keywords, set bids, write text ads, create display ads, and schedule your ads, giving you much more control over your advertising than with Express.
Along with this extra control, AdWords also offers much more detailed reporting, meaning that you always know the status of your campaigns.
Ad formats
With AdWords, you have the option to create ads in a few different formats, including images, app promotions, videos, and product listings. You can run also run multiple kinds of ads at the same time, which can help you determine the best formats for your business goals.
Ad placement
Regardless of whether you are U.S.-based or not, your ads can show on Google's Display Network partner sites for greater visibility. For example, if your business sells kitchen appliances, you could opt to have your ads display on popular food blogs.
Your existing online presence
In order to use AdWords, you need to have a website. If your business already has one (and we definitely recommend that you do!), you can link to different pages from different ads.
This can be a huge help if you are running multiple campaigns, especially if the ads draw attention to specific products or services you offer. Instead of directing viewers to your homepage and making them search through your site to find what they want, you can design your ads to take them directly to what made them click.
Which platform is right for you?
Both AdWords and AdWords Express are great options, but your choice depends on your available time and resources, as well as the extent to which you want control over your online ads.
If you don't have the time to manage campaigns, AdWords Express might be your best bet. However, if you want the additional formats, reporting, and control that AdWords offers, you always have the option to hire an outside PPC management agency.
And because there's no startup fee, you can try both to get a better sense of how each one works and decide after a test run. However, Google recommends that you don't use them at the same time. That will cause your ads to compete against one another, which will only complicate your campaigns.
How can WebFX help?
Whether you choose to go with AdWords or AdWords Express, we can help you get started with your campaigns. So if you want to advertise on Google—or any other ad network—but need a little direction, feel free to contact us! Our dedicated team of Internet marketers is more than happy to help you start creating campaigns and generating revenue with PPC.