Jerry's car has been having problems, and he's come to the conclusion that he needs a replacement part for it. He does a Google search, and it's for a keyword you've targeted with your paid ads! But when Jerry clicks on one of the ads, it's not yours — in fact, yours isn't listed.
If your pay-per-click (PPC) advertising campaigns aren't optimized to drive results, this scenario has probably played out numerous times for you. PPC is highly competitive, and for it to be of benefit to you, you need to stay on top of your competitors. So, how can you do that?
Below, we'll look at several techniques you can use to improve the effectiveness of PPC for auto parts retailers. Read on to learn more, and then partner with WebFX's team of over 500+ experts for our auto part PPC services.
Just call 888-601-5359 or contact us online to get started!
Time to Level Up Your Sales
Our long list of services helps you grow every aspect of your business with marketing strategies that are proven to increase bottom-line metrics like revenue and conversions.
In the past 5 years, we've managed more than 12.9 MILLION transactions across our client base.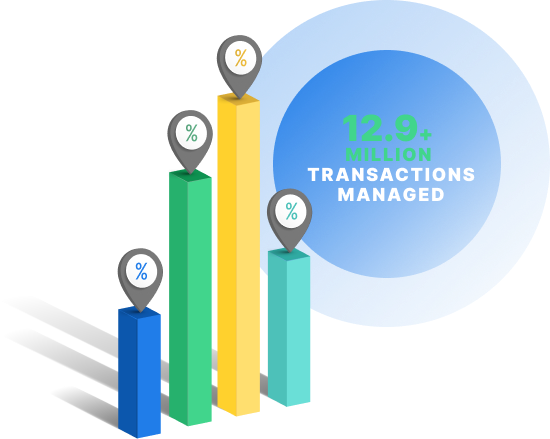 7 tips for improving auto parts retailer PPC
PPC is a straightforward enough concept, but in practice, it can get rather messy. Fortunately, there are a few simple ways you can rise above the competition and get the best results from your ads.
Here are seven easy tips to help you boost PPC for auto parts retailers!
1. Target branded keywords
It seems like a no-brainer that if someone directly searches for your business on Google, your site is the one they'll end up visiting. But that's not always the case.
Let's say your business is named Gladden Auto Parts. When someone searches for the keyword "gladden auto parts," you'll likely dominate organic results. But if your competitors bid on that keyword, they can end up drawing clicks away from your site with PPC ads.
For that reason, you need to be sure to bid on your branded keywords, or those that include the name of your brand. You want to claim the search traffic already meant for you!
You might also consider bidding on your competitors' branded keywords to steal some of their traffic. Be aware, though, that competitors' branded keywords might come at a higher price tag, since your competitors will have a strong incentive to bid on them.
2. Use display ads on relevant sites
PPC ads aren't solely limited to the top of Google search results. Many PPC ads are display ads, or those that appear on third-party websites. You may want to consider running display ad campaigns as well as ads for Google search.
When you run display ads through Google Ads, you have some control over where they appear. For example, your auto parts retailer PPC ads won't necessarily have much relevance on a blog about perfumes, but on an automotive news site, it's a different story.
You can also keep your ads off sites with questionable content if you want, like sites that include violent or sexual content.
The benefit of display ads is that it expands your reach to users who might not be directly searching for automotive parts but might need them in the future.
3. Target specific groups of users
Not every Internet user will fit into your target audience. You likely only serve a particular area, and your customers tend to fit into specific demographic clusters. You don't need to waste resources marketing to people outside that audience.
That's why Google Ads allows you to target specific groups of users based on those features. You can create custom audiences using factors like:
Age
Ethnicity
Gender
Occupation
Location
Much like targeting specific sites with your display ads, this feature enables you to keep your audience as relevant as possible. Without targeting, your ads could end up being displayed to a variety of people with no interest in what you have to offer.
When you refine your ads' focus to a particular group, though, they'll be much better equipped to drive results for your business.
4. Take advantage of RLSA
Another advertising feature Google Ads offers with PPC for auto parts retailers is remarketing lists for search ads (RLSA). RLSA allows you to retarget users who have already visited your site in the past, but who left without purchasing anything.
Google can track who visits your site, which means you can tell Google Ads to target a certain ad to anyone who visits a specific service page or who abandons their shopping cart. It's a highly valuable tactic because these users are close to converting.
PPC ads can be good tools for generating leads, but they're typically best for converting people.
5. List negative keywords
As an auto part retailer, you likely sell car batteries among your other products. If so, you may want to run a PPC campaign to advertise them, and the word "batteries" will probably appear in many of the keywords you target. Simple enough, right?
The problem is, the term "battery" might appear in more than one search — and not all of them will be relevant to your business. If someone searches for "aaa batteries" and your PPC ad appears in the results, users won't have any interest in your ad because it's not relevant.
But there's a way to avoid this. In Google Ads, you can create lists of negative keywords, which are keywords you specifically don't want your ads appearing for in search results. In the above example, "aaa" might be one of the keywords you add to the list.

Using negative keywords allows you to focus your ads on the searches that matter. You don't want half your clicks to come from irrelevant users who immediately hit the back button once they realize your ad isn't relevant to them — with negative keywords, that won't happen.
6. Use custom landing pages
Landing pages are critical to your PPC, since they're where users are directed when they click on one of your ads in Google search results. While your ads should largely work to drive clicks, your landing pages need to be optimized to drive conversions.
One thing to get right with landing pages is to address user intent. When users click on your ad, what are they expecting to see? Whatever it is, make sure you stick to that. Don't use generic landing pages — instead, design a custom landing page for each ad.
Your landing pages should also be simple. Don't cram them full of information, or you'll quickly drive users away. Instead, present a simple call to action (CTA), and then give users a single link or button to click that will allow them to do what you're asking them to do.
7. Monitor results and test new ads
The success of any auto parts retailer PPC campaign depends on your ability to monitor it. The fact is, some campaigns will drive results, while others won't. You need to keep track of your campaigns so you can optimize ones that may not drive the best results.
Within Google Ads, you can view a variety of PPC metrics like conversion rate and click-through rate, which can show you where your ads are underperforming. When you see an ad that isn't doing so well, you can either swap it out for a new one or work to improve it.
Another thing to consider doing is frequently testing out new ads. You don't want to be stuck with the same ads forever, but you also don't want to start using tons of new ads without knowing if they work.
Devote a portion of your PPC budget to testing out new ads and ideas. When you find some that work, you can implement them into future campaigns.
Hear What It's Like to Work With WebFX!

"Our experience with WebFX has been very positive. After working together to establish our SEO/PPC goals, we were and continue to be informed frequently of progress and concerns. We also appreciate the fact that conversations are not laced with technical jargon; information is put forth in an easy to understand format. We are very satisfied with the service provided and would highly recommend WebFX."
Auto Parts Provider
Get help optimizing your campaign with WebFX's auto part PPC services
Ready to start driving results with your PPC campaign? WebFX would love to give you a hand! With over 1020 client testimonials, we're the agency businesses trust to gain them more leads and conversions through online advertising.
With our auto part PPC services, you'll get help optimizing your ads for all the tips listed above and more. You'll also receive a dedicated account representative to work closely with you throughout the whole process.
Just call 888-601-5359 or contact us online to get started today!
Earn a 20% greater ROI with WebFX