Social Media for Ecommerce: What It Is and How to Use It
If your business has an ecommerce website, your first priority should be to make people aware that it exists — otherwise, people can't find your products. That means you can benefit from seeking out the largest possible online audience, and ecommerce social media is a great way to do that.
Ecommerce
Home What Is B2C Social Media Marketing? When you market your B2C company online, it's crucial to do it on platforms that grant you access to a large and relevant audience. That makes social media a perfect advertising venue for […]
Ecommerce
Home Ecommerce Social Media Agency: Partner with WebFX More businesses than ever before sell their products online — creating a battle for your audience's attention. As a business owner, you need every advantage you can get to connect with prospects […]
Ecommerce social media can work wonders for your marketing
In today's increasingly digital world, selling your company's products or services online is one of the most reliable ways to drive revenue. However, selling successfully online requires having a digital marketing plan in place to continually promote your store.
Social media is arguably one of the best online marketing strategies due to its vast audience. If you're looking to advertise your ecommerce site, a social media platform may be the ideal place to do it.
But what is ecommerce social media? How can you use social media for ecommerce? We'll answer those questions below, so read on to learn more. Then partner with WebFX for our social media marketing services. Just call our ecommerce social media agency at 888-601-5359 or contact us online today!
74% of people use social media when making a purchasing decision.
Make their decision easy with a stellar social media presence. See how your brand can level up by requesting a no-obligation proposal today.
One of our experts will be in touch within 24 hours!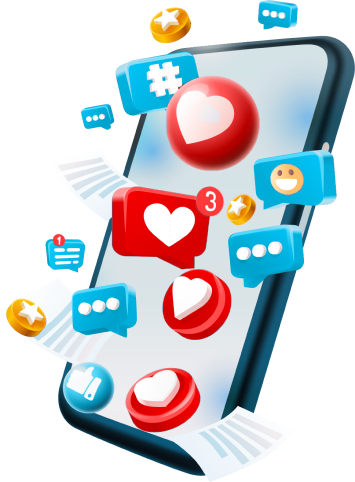 What is ecommerce social media marketing?
Ecommerce social media marketing involves using various social media platforms to promote your ecommerce business to your target audience online. This strategy helps you connect with interested prospects, engage them on the platform, and educate them about your products, which ultimately leads to sales and revenue for your company.
10 tips for doing ecommerce social marketing effectively
Ecommerce social marketing is a simple concept, but how do you execute it successfully? What tactics can you use to drive social media users to your online store?
There are several ways to boost the effectiveness of your ecommerce social media, and we've outlined several of them below.
Here are 10 ways to better market your ecommerce on social media:
1. Market where your customers are
When you market on social media, you must decide which platforms to use. There are many popular platforms online, with some of the most notable ones including:
You can choose to market on one or several of these platforms. But don't make the choice at random. You should select a platform or platforms based on where your target audience is.
Do some research on which demographics dominate each platform and compare those to the demographics of your customer base. Focus on the platforms where your target audience spends their time and engages the most.
2. Post engaging multimedia content
Once you have an account set up, you can begin posting engaging content to attract users to your page. But what sort of content should you post?
One of the best approaches is to post multimedia content like photos and videos. Large blocks of text aren't as engaging or eye-catching as visually appealing photos and videos.
Your photos can highlight your products and your team members, while your videos can inform users about your business or demonstrate how your products work. Be sure to keep the videos short so you don't deter users from watching them.
3. Interact with your audience
One of the most critical parts of any social media campaign is audience interaction. If you don't engage directly with users, you're missing a prime opportunity to build relationships with prospects that can result in sales later.
A useful approach is to think of social media as a dinner party rather than a stage performance. In a stage performance, the communication is one-way — you broadcast to the audience, but don't hear from or speak to individuals. But at a dinner party, you mingle with your guests.
Likewise, your social media should serve as a place for you to interact with people. Respond to comments and mentions, and answer questions people have for you.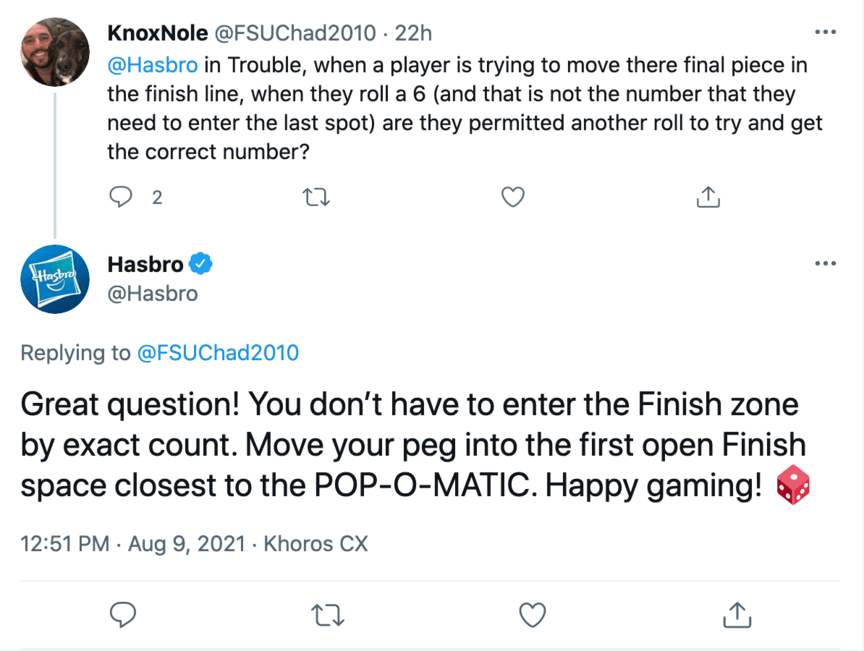 Doing so will make your audience feel heard and appreciated.
4. Encourage user-generated content
Your ecommerce social media presence provides you with an opportunity to persuade users to buy your products or services. You can get your target audience to help market your products for you through user-generated content.
When you encourage users to create posts that mention your products, you're encouraging user-generated content. For example, you might make a post that tells users to post photos or videos of themselves using your product and include a branded hashtag.
As customers upload content showing their engagement with your products or services, it will encourage other users to buy from you as well.
You can also repost user-generated content from your own account to give it more visibility!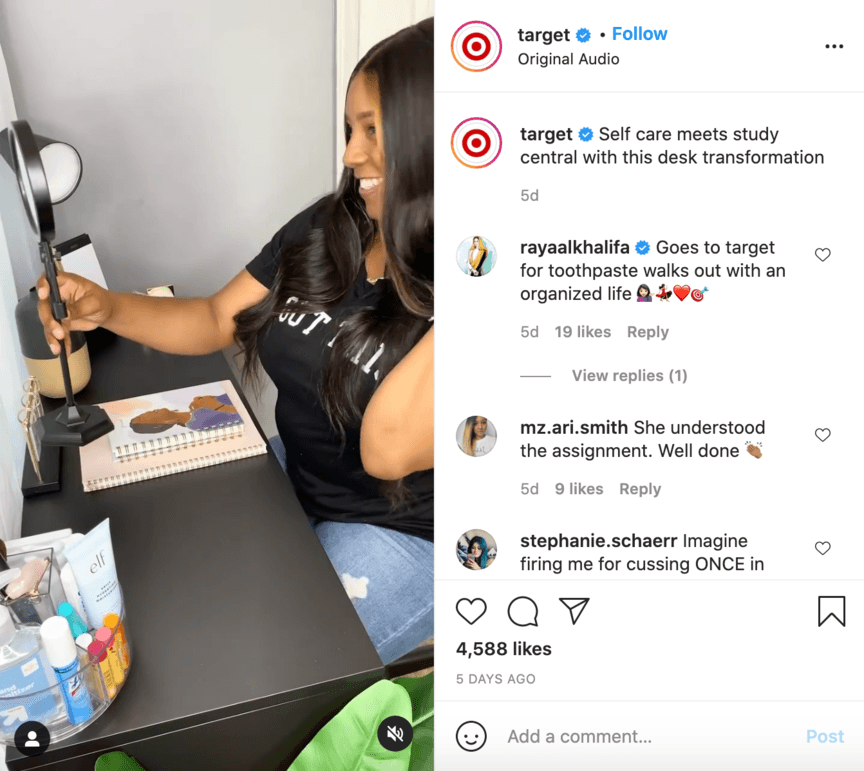 To find some content you can repost, search hashtags with your business name or other branded terms!
5. Show off social proof
One of the reasons user-generated content is so effective is that people value your customers' opinions of your business. When customers share their positive experiences with your business, it speaks volumes. That's why you should also post social proof on your profiles.
Social proof includes reviews and testimonials where your customers express their love for your business. When you post testimonials on social media occasionally, it allows your audience to see the positive experiences your customers have with your business. Seeing social proof ultimately builds confidence in your brand, which can help encourage more people to buy your products.
6. Run contests and promotions
Another way to attract traffic to your social media page is to run contests and giveaways occasionally.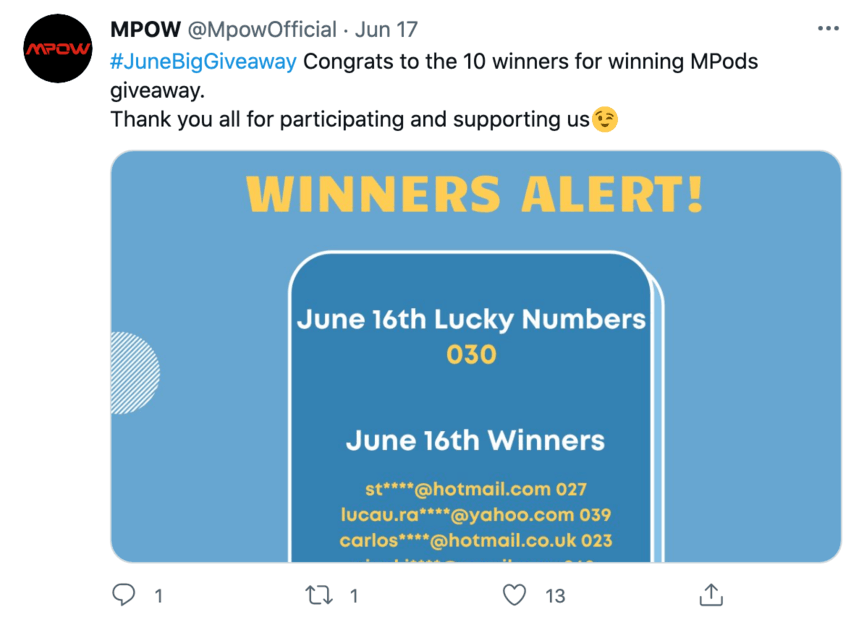 These contests can take various forms, like requiring users to enter a photo contest or asking for them to submit their name and email. Likewise, the prizes may vary — one prize may be a gift basket, while another may be a massive discount on their purchase.
Whatever the case, contests and promotions are excellent ways to draw in users. Almost everyone likes the opportunity to win a prize, and at the end of the day, they'll come away with a greater familiarity with — and appreciation for — your brand.
7. Schedule your posts
If you want your social media marketing to be effective, you'll need to post on a consistent schedule. You don't want to post three times in one week and then go two months without posting. Whether you post once a week or once a day, make sure the intervals are consistent.
One of the best ways to do that is to use a social media calendar, which you can create on a social media management platform like Buffer or Hootsuite. With a calendar, you can create posts in advance and on your own time, and then schedule them to go live later at specific times.
When users see you posting on a consistent schedule, they'll be more likely to remember and engage with you, whereas going a month without posting might cause them to forget you're there.
8. Develop paid social media ads and landing pages
Not all your social media content has to take the form of organic posts on your page. One of the most effective ecommerce social marketing methods is to use paid advertising.
Most social media platforms let you create paid ads from your account, which you can then display in users' social media feeds. You can create promoted posts, which are like your organic ones, but you pay to put them in front of qualified leads, or you can create a separate ad to promote your business.
When you create these ads, be sure to connect them to relevant landing pages where they can convert. Create a unique landing page for each social media ad you run, so that when users click on the ad, they'll be directed to a relevant page that keeps them focused on converting.
9. Hone your social media ad targeting
When you run social media ads, take advantage of the advanced targeting features to reach exactly the right group of users.
You can target people based on demographics, such as:
Age
Gender
Occupation
Location
And more!
Additionally, you can target people who visit certain pages on your website. Facebook, for example, lets you install the Facebook Pixel on certain pages. Any Facebook user who visits those pages will start receiving your ads in their feed.
10. Sell products directly on social media
A final tip for boosting your ecommerce on social media is to go beyond marketing and sell your products directly through social media platforms. Not every platform offers this feature, but for the ones that do, it's a fantastic opportunity.
Not everyone will want to go visit a third-party site to buy from you. But if they have the chance to do it right in their social media app they're already using, they might be more willing to purchase.
To name just one example of how you can sell directly on social media, Facebook has Facebook Marketplace (as well as another platform called Facebook Shops) where you can list and sell your products right in the app.
WebFX knows social media for ecommerce
Ready to start optimizing your company's ecommerce on social media? You don't have to do it alone. WebFX has over a decade of social media experience, and we'd love to help you set up your campaigns.
With our social media services, you'll get help implementing each of the tips listed above and more. You'll also be assigned a special representative to connect with you about everything we do for your ecommerce social media.
To get started with us, just call 888-601-5359 or contact us online today!