Your Introduction to B2C Social Media Marketing
With about 97% of Americans owning a cellphone, it is no surprise that most of the website traffic that businesses are receiving is coming from mobile traffic. And if there's one place people like to go on their mobile devices, it's social media — making that a prime marketing spot.
B2C
Home How to Open an Amazon Storefront (And Start Selling) With more than one million small-to-midsized businesses selling on Amazon, your company needs to stand out from the competition. Opening an Amazon storefront, also called an Amazon Store, can set […]
With the influx of mobile device dependency comes the boom of social media usage, which opens a prime opportunity for businesses to start marketing to consumers through social media.
About seven-in-ten Americans are using social media today, so exploring the patterns and trends of the social media environment is an important step for identifying business-to-consumer (B2C) social media opportunities.
What is B2C social media, though, and how can you use it to boost your business? We'll answer those questions below, so read on to learn more! Then subscribe to Revenue Weekly — our email newsletter — to learn more about digital marketing from the B2C social media agency with over 25 years of experience!
Meet WebFX:
Your world-class, tech-enabled marketing agency with over 1.6 million hours of combined expertise.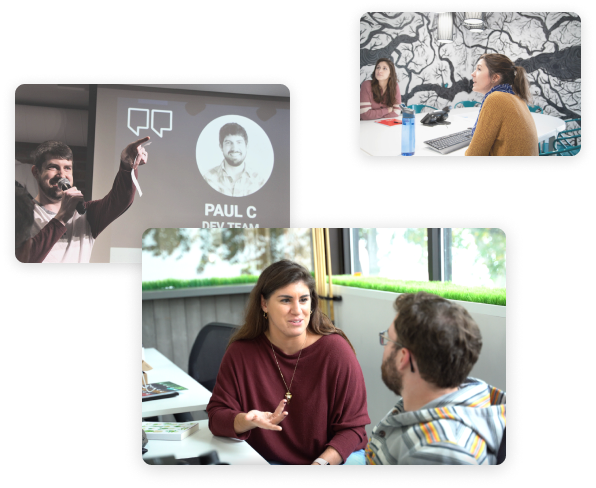 What is B2C social media?
Business-to-consumer (B2C) social media refers to marketing efforts and online engagements that businesses take part in through social media platforms. The goals of B2C social media are usually to increase customer engagement, generate more revenue for the company, position the company as a leader in the industry, and improve the customer experience.
What is the difference between B2C social media and B2B social media?
While both business-to-businesses (B2B) and B2C companies can engage in social media, social media for B2C is a little different from B2B social media. Read on to learn how!
Goals
B2C companies typically use social media to drive more traffic to their site, generate sales, and build brand reputation. B2B businesses have similar goals, but they are more focused on generating qualified leads among other business entities.
Approach
Social media for B2C tends to take a more engaging approach, using humor, emotion, interactive opportunities, shareable posts, and reviews to foster a brand personality. This is also effective in creating a following of loyal customers.
B2B businesses are known to take a different approach to social media that is a little more formal. This looks like offering resources such as webinars, infographics, case studies, and whitepapers. This difference is starting to shrink as B2B companies are turning more towards the B2C approach to give their business a little more personality alongside the content that they are offering.
Social media platforms
The main difference between the two business orientations is the social media platforms in which B2C and B2B companies choose to invest.
While B2C companies focus on more consumer-populated platforms such as Instagram, Facebook, Twitter, and Pinterest, B2B businesses hone their efforts on platforms like Twitter and LinkedIn that see more corporate activity than the other social media platforms.
As social media marketing increases in popularity, Facebook and Instagram are growing more accessible for B2B businesses by offering segmented advertising that makes audience targeting easier for B2B social advertisements.
Seven benefits of social media for B2C companies
You might be asking, why use social media for your business? How can it benefit you?
As it happens, social media can help your business in several ways. Read on to find out how!
1. New customers
The increased exposure that comes from social media allows your customer base to grow. Paid social is an additional opportunity for growth. With paid social, you "pay to play," so B2C businesses can specifically target the audiences they want to show ads to and increase the likelihood of awareness among new users through interactions and sharing.
2. Increased brand awareness
Consumers are more likely to purchase from brands they are familiar with. Social media makes it extremely easy to get your business in front of consumers and build that brand recognition and awareness among your target audience.
3. Brand personality
Having a social media presence offers the opportunity to build a tone around your brand and tell your brand's story.
4. Word of mouth marketing
B2C social media can create a buzz around your brand that encourages word-of-mouth marketing as consumers talk about your business among one another. Social media also opens the opportunity for online communities in which consumers can generate a conversation surrounding your brand.
5. Increased traffic flow
By having a B2C social media presence, you are making the business much more accessible to consumers. This, coupled with consistent engagement with your specific target audience, can majorly boost the flow of relevant traffic to your site.
6. Increased revenue
With an improved flow of relevant traffic visiting your website, your product and service sales will increase, resulting in revenue generation growth.
7. Reviews and advocates for products
Social media is brimming with industry influencers that businesses can partner with to foster positive advocacy for the B2C brand. Additionally, a solid social media presence for B2C makes it even easier for customers to leave reviews, opening the door for your business to engage and listen to your consumer base.
How to launch a successful B2C social media campaign
When you're ready to launch your campaign, you can use the following steps to get started:
Decide which social platforms are best for your business
Create a plan for engaging content
Consistently deliver content, but keep it creative and unique
Stay up-to-date with industry and social trends
Be authentic and relatable
Focus on the customer and creating an engaging environment for them
Invest in paid social campaigns
Create a community around your business
WebFX is a partner businesses trust.
Hear from HydroWorx, who saw a 236% increase in organic sessions with WebFX services.
Watch the Video Testimonial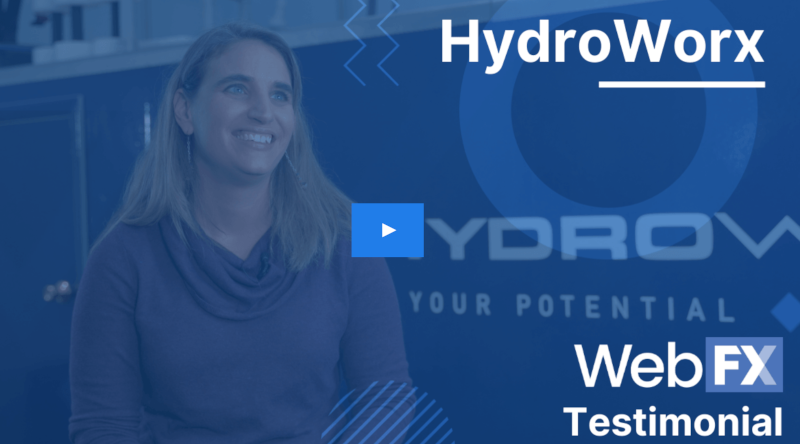 Make B2C social media easy and profitable with WebFX
Consumers expect to be able to interact with and view your business on any social media platform. In fact, about 75% of people use social media before making a purchase decision.
Stay relevant in today's growingly mobile and social environment with B2C social media services.
WebFX is the industry's leading social media marketing management agency. We create custom plans that will drive results that meet your business goals. Start growing your business's social media presence today when you get a free quote from the experts!