What Do Social Media Marketers Do?
Social media marketing is a relatively new form of online promotion, and as a result, there are a lot of questions about it. People who pass the social media marketer at their company — or see the invoice from a social media marketing agency — constantly wonder what goes into such a niche marketing field.
And that makes sense. After all, if there's something new at your company, you want to know more about it, right?
So what do social media marketers do all day, exactly? If you've found yourself asking that question, you're not alone — and it does have an answer.
You can watch the video below and then keep reading to discover the various jobs and tasks assigned to a social media marketer.
Looking for some social media help? You can contact us online or call 888-601-5359 today to speak with one of our experts directly! We are happy to answer any questions you may have.

Guide to
Social Media Marketing for Businesses
Recommendations and tips straight from our subject matter experts!
Get My Free Guide
Job #1: Determine what social networks to use
Not every social network works for everything. Facebook is good for building a community, Twitter is good for promoting content, Pinterest is good for visual content, etc. There are more caveats to other social media networks, but the point is that a good social media marketer will know the differences between all of these networks and use the one that works best for their needs at the time.
For example, if you sell professional attire, like suits, a social media marketer will choose different formats for different content, like:
Coupon codes for Facebook
Promotional images for Twitter
Candid shots for Instagram
While this isn't a 100% truth for all industries, it's generally a good model for B2C and B2B social media marketing. And to make those decisions, a social media marketer needs a lot of background knowledge.
Job #2: Identify your target market
A social media marketer requires an audience to succeed, so that's their first task. They have to find the people who have interests that are similar to your business. So, using the same formal wear example from before, a social media marketer needs to find all the people who are likely to purchase your company's suits on any given social network.
They can do this by looking at certain groups, hashtags, or even your competitors to find the most reliable source of market information. And once they do, they can promote content more effectively. This is especially important for the next step.
Job #3: Get followers
To get followers, a social media marketer has to show that your brand identifies with your demographic. They have to promote the right kind of content at the right time to show up on users' feeds, and they have to make sure people know your company exists.
To do this, they can talk to key players in your industry to get retweets or @-mentions, gaining more brand awareness. In this way, a social media manager is also a public relations expert who talks to outside sources to help get more recognition for your brand.
Job #4: Engage followers
Once they have these followers, a social media manager has to engage them. That means talking directly to them, answering their questions, and even fielding their complaints. A social media marketer is in charge of managing negative complaints and making sure they don't explode into a fiasco, appeasing or defusing situations whenever possible.
In this respect, the social media marketer is the first reaction and line of defense between your company and the public. They have to promote and reassure happy customers, and they also have to contain and diffuse problem customers. It's a tough juggling act, but one that an experienced social media marketer can handle.
Job #5: Increase site traffic
For all of these social media followers to mean something, a marketer has to get them to your site. That means posting blogs, photos, videos, promotions, discounts, deals, and other eye-catching information that'll entice them to click through.
This is one of a handful of marketing roles that social media marketers perform regularly. They want to get people to your site, and they do that with clever posts and promotional materials that incentivize your followers. And once they get to your site, your content can turn them into customers.
Job #6: Track results
During this whole operation, a good social media marketer will track the results of their strategies to make sure everything is working well. And if it isn't, then they have the numbers to tell them what to change in the future.
Tracking is a key component to every social media marketing strategy that your company starts. The biggest reason is that it makes their next job possible.
Job #7: Improve their strategy
With data behind them, your social media marketer now has an idea on what to change for upcoming strategies to utilize different social networks, identify your target market, get more followers, engage those followers, and increase site traffic. Basically, this part of a social media marketer's job ensures they can successfully carry out the next strategy. And the next one. And the one after that.
And, as a result, your company will see better results, traffic, and even customer conversions.
74% of people use social media when making a purchasing decision.
Make their decision easy with a stellar social media presence. See how your brand can level up by requesting a no-obligation proposal today.
One of our experts will be in touch within 24 hours!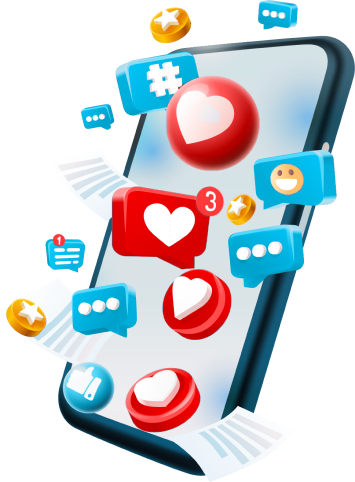 WebFX is one of the best social media marketers in the business
WebFX knows social media marketing, and our team of dedicated marketers stay up-to-date on all the latest trends and best practices, so they can get the best results for your business! We work hard on social media to establish a dedicated following, build brand identity, and entice users to buy to grow your bottom line. And once we start, you'll start enjoying the outstanding ROI that comes with social media marketing!
Are you ready to grow your brand and your business? Contact us today to lay out a social media strategy for your needs!