Why Is Social Media Important in Today's World (And in Business)?
The importance of social media continues to grow for people and businesses in 2023. Why is social media important? Social media creates connections, shares information, and helps people find what they're looking for, whether it's an entertaining video or a new household product.
Keep reading to learn more about social media's importance in today's world and businesses. If you want to get started with social media on Facebook, Instagram, or Twitter, check out our free social media guide for brands!

Guide to
Social Media Marketing for Businesses
Recommendations and tips straight from our subject matter experts!
Get My Free Guide
3 reasons social media is important to today's world
Social media is important to today's world for a few reasons, including:
1. Connect with family and friends
With social media networks like Facebook and Instagram, people can connect (and keep in touch) with family and friends. They can also meet new people via groups, which bring together users who share hobbies, interests, and more.
2. Share information
People can also use social media to share information like:
Life milestones
Breaking news
How-to videos
And more
Twitter, for example, is a go-to network for journalists who use the platform to find breaking stories. In comparison, people will use Instagram to share milestones, like an engagement, home purchase, marriage, and more.
In comparison, YouTube makes learning a new skill, like fixing a flat tire, easier than ever.
3. Find entertainment
Social media is also a resource hub, providing users with ways to laugh, cry, and binge. People can find entertainment in various formats, from videos to posts to games. Plus, they can share them with their connections.
20+ ideas to help you
Market Your Business
for Free

Online

Strategies that don't cost anything (but time!) to help your business get the awareness & leads you need!

Get My Free Guide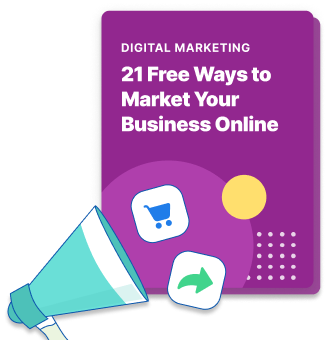 9 reasons social media is important to businesses
When it comes to commerce, social media is important to businesses for a few reasons, including:
1. Connect with fans
Just as people connect with friends and family through different types of social media, they can also connect with their favorite brands. The first reason why social media marketing is important for businesses is because they can connect with their biggest fans, who can become advocates (and generate even more fans!) for the brand.
2. Share updates
Another example of social media's importance is its ability to deliver timely updates fast, like for:
Temporary hours, like for a holiday
Sale
Product or service availability
And more
Businesses can post on Facebook, Instagram, Twitter, and more with a few clicks. Plus, with social media management tools like Buffer, it's easy for companies to post to multiple networks simultaneously — which is great for high-priority updates.
3. Build trust
Social media also sends trust signals, which is one of social media's biggest advantages.
Think of your shopping habits — when you find a new business, do you typically check its social media? When you do these checks, you're often looking for confirmation that this is a real business and whether people love (or hate) its offerings.
That's why companies often include links to their social media profiles on their website. One of the major social media marketing importance is its capacity to cultivate trust across diverse platforms. It allows you to post information and photos that demonstrate how much you appreciate your customers. You give them valuable information. In exchange, they return to you and purchase your products and services.
4. Provide customer support
Another reason why social media is important is because of its ability to provide customer support via:
Chatbots
Direct messages
Post comments
With more than 65% of people using social media for customer services, businesses need to have a presence on social media networks like Facebook, Instagram, Twitter, and even LinkedIn. When you do, you can respond fast to user needs and deliver 'WOW' experiences that create lifelong fans.
5. Improve client retention
Why use social media for marketing? Because companies can also use social media to improve client retention by:
Communicating updates to followers
Resharing user-generated content, like from a fan
Responding to user comments, direct messages, and brand mentions
Since it costs significantly more to generate a new client than retain one, you want to invest in customer retention tactics when possible, and social media offers a great one. Social media tools like Buffer and Hootsuite can also make managing your social media efforts easier and faster.
6. Advertise to qualified users
Another example of social media's importance comes from its advertising capabilities. On networks like Facebook, Instagram, Twitter, and LinkedIn, your business can launch targeted campaigns to reach users in your target audience.
Some use cases for social media ads include:
Remarket to website visitors
Advertise to users with similar interests to your target market
Retarget existing clients for upsells
And more
If you're wondering why use social media marketing in the first place, these advertising capabilities provide just a glimpse of the potential power of social media. For more ideas and inspiration, check out our compilation of social media ad examples!
7. Generate website traffic
Social media is also important because of its ability to drive website traffic.
Follow brands on social media, and you'll notice many share content from their website, like a blog post. Those shares help generate traffic to the brand's site. It's important to note, though, that you'll give users fatigue if you share everything you publish to your site.
Focus on sharing the most relevant website content to your social media profiles.
8. Interact with fans
For businesses using social media to market and advertise their business, social media is more than sharing your message — it's also interacting with your fans, whether they're happy, sad, or something in between.
Some interactions are easier than ever, like a happy client vs. an unhappy one, but they're critical to building relationships. They also demonstrate to new, future customers that you acknowledge and work through problems instead of ignoring them.
9. Collaborate with other brands
Another example of social media's importance is the ability to collaborate with other brands, like by:
Running a contest together
Commenting on each other's posts
Launching a product or experience together
And more
When you team up with another company, you expand your reach, which can help your business attract more fans (and revenue). Keep in mind, though, that the collaboration should make sense. If your brands don't overlap in audience, you won't get the results you want.
Do you run a chimney and masonry business? Learn how to implement social media for chimney and masonry in 2023.
I know why social media is important. Now, I'm ready to get started!
Congrats, you know the answer to "Why is social media important?" Now, you're ready to get started.
If you're looking for information on how to get started with social media, here is a quick overview:
Research your audience to determine which networks to focus on
Determine your roles, like who will manage posts, comments, mentions, support, and more
Set your goals, like what you want to accomplish with social media marketing or ads
Build your social media calendar with what you'll post over the next few weeks
Create your social media profiles, like on Facebook, LinkedIn, Twitter, and TikTok
Add your social media links to your website, like in your website footer
Post your content to social media
Monitor your social media profiles for comments, brand mentions, and messages
Measure your performance against your social media goals
Improve your social media strategy so you can improve your performance and results
For more information on getting started with social media, check out this nine-step social media guide!
Turn social media's importance into revenue
Looking to improve social media's importance in your organization? Whether you're looking to attract followers, website traffic, or revenue, WebFX can help. Download our free guide, Social Media for Business, for a walkthrough on making social media work for you.
For professional social media help, check out our social media marketing services!