What is social media marketing?
Social media marketing is a method that allows you to post personalized content that gets your audience interested and engaged on your page. Social platforms include popular networking sites like Facebook, Instagram, Twitter, Pinterest, and LinkedIn.
You will need to analyze your target audience to figure out which social media sites are best for your campaign. It's best to choose social media sites they frequent the most. You can do this by knowing your target market and researching each social media site to see the percentage of people that are on those sites.
On these social sites, you connect directly with your audience. Aside from email marketing, this is one of the few methods where you reach your audience directly. This creates the opportunity for you to deliver tailored content.
The type of content you can post will depend upon the platform. You can post photos, videos, links to content, polls, and more with certain social media sites.
Social media helps you deliver valuable content that gets your audience to engage with your content. When your audience is engaged with your brand, they are more likely to purchase your products or services.
Why is social media marketing important for my Jacksonville business?
Social media marketing benefits your business in numerous ways. Here are just two big benefits you'll get from using social media marketing.
1. You'll build brand recognition
Brand recognition is valuable to your business. You want people to recognize your brand and feel comfortable with it. Leads are more likely to choose your business over the competition is they are familiar with your brand.
You want to build brand familiarity with your business to help build their trust. Posting content helps you build up brand recognition with your audience. They become more familiar with your brand and get to know your business better.
When you build your brand in a positive light, you build trust with your audience. This will lead to more conversions for your Jacksonville business
2. You'll earn more conversions
Social media marketing helps your company earn more conversions. When you run a social media marketing campaign, you deliver tailored content to your audience. This content is personalized for your audience to garner their interest.
Personalization leads to more conversions. In fact, 77 percent of people choose, recommend, or pay more for brands that provide a personalized experience.
When your content focuses on your audience and their needs, you get a better response. You boost engagement and get your audience to comment, like, and share your content. Since content is tailored to them, they are more likely to convert because it appeals to their interests.
74% of people use social media when making a purchasing decision.
Make their decision easy with a stellar social media presence. See how your brand can level up by requesting a no-obligation proposal today.
One of our experts will be in touch within 24 hours!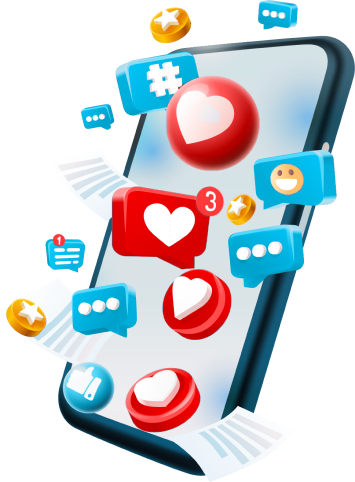 Florida social media marketing services from WebFX
At WebFX, we've got plans to fit all types of businesses. We make it easy for you to customize your plan to get the most out of your social media marketing campaign. Our plans are based off of the number of social media networks you need for your business.
If you want to get an in-depth look at all the features you'll get for your campaign package, visit our social media service page!