Agency

Build Your Site With a Trusted Custom Web Design Company
Build Your Site With a Trusted Custom Web Design Company
A website is a powerful tool in helping your business attract more clients. Whether you're a business-to-business (B2B) or business-to-consumer (B2C) company, you can use your site to attract online sales, high-value leads, and more. That's why many businesses partner with a custom web design company like WebFX.
We've driven over
$3,021,182,299+
IN SALES FOR OUR CLIENTS
We've designed
1,600
WEBSITES
Google Partner with
FIVE
AGENCY SPECIALIZATIONS
Build Your Site With a Trusted Custom Web Design Company
At WebFX, we help your company get the most value (and revenue) from its website by designing and developing custom sites that include search engine optimization (SEO) and responsive design, as well as follow best practices for generating conversions, like a phone call, purchase, or contact form submission.
With more than 50 awards won for our website designs, we're a trusted choice for small-to-midsized businesses (SMBs) looking for a custom web design firm. Learn more about our custom web design services, which include an in-house, U.S.-based design and development team, now.
Don't forget, we offer our web design services all around the world. Check out our web design services by location.
…and that's just the beginning.
Get an Instant Quote With Our Web Design Calculator
Use the sliders below to indicate your needs, then click the "See Pricing" button for a free, instant quote. We'll show you both low and high end estimates for each service category, so you'll end up with an overall range describing how much it might cost to get such a website built out.
Project Quote Calculator
Use the sliders below to indicate your needs, then click the "See Pricing" button for a free, instant quote.
Project Quote Calculator
We estimate your project will cost between and . Please complete the web form below for an exact project quote from a WebFX website design strategist.
"*" indicates required fields
What do our custom web design services include?
When you partner with WebFX for custom web design services, you receive a design that's:
Custom
Responsive or mobile-friendly
Optimized for SEO
Built for driving conversions, whether leads or online sales
Additional features that come with your site, based on your company's needs, include:
Professional copywriting
Database integration
Ecommerce functionality
Our strategists and in-house design and development team will work with you beforehand to determine which features your website needs. For example, if you're unsure about the level of ecommerce functionality needed, we can provide recommendations based on your intended use of this feature.
We don't want to tell you about the work we do, we want to SHOW you.
View Our Portfolio

We've built over
1,100
Websites
in a variety of industries.
What is our custom website design company's process?
Your experience matters to our custom website design company. That's why we've developed a process for our custom web design services that makes your life as easy as possible while ensuring you receive the site your business needs.
Here is a breakdown of how our process works for custom web design and development:
Understand your custom website design goals
The success of your design depends on your custom web design firm understanding your business. That's why our strategists take the time to learn about your company, audience, and web design requirements.
Partner your business with a dedicated project manager
Once we know more about your business and its web design goals, we partner you with a project manager. Your project manager will serve as your dedicated point of contact throughout the design, development, and launch process. They'll also have experience with your industry and unique goals.
Design your company's custom website
With your requirements, goals, and brand outlined, our design team can begin creating your custom web design. In addition to designing for looks, we also design for SEO. Since SEO plays a critical role in your site's ability to generate traffic, leads, and sales, it's an essential component of web design.
Receive your feedback and make improvements
After creating a variety of mockups and wireframes, your project manager will get — and encourage — your feedback. Based on your input, our custom website design company will make improvements to make your design even better.
Build your company's custom website
Once you approve the finalized design, our development team will begin building your site. Like our design team, our development team optimizes your custom website design for SEO so your business can get the best return from its brand-new site.
Test your company's custom site
You want a seamless launch, and so does our custom web design firm. That's why we dedicate time to testing your company's site. This process allows our team to find and fix any issues, helping you ensure a smooth website launch.
Launch your company's custom website design
Finally, we launch your custom website design. For this step, we'll coordinate with you to determine the perfect date and ensure an issue-free launch. If you have an existing site, our development team will also set up the appropriate redirects to preserve your SEO.
If you'd like to talk about your custom web design needs, contact us online or call us at:
888-601-5359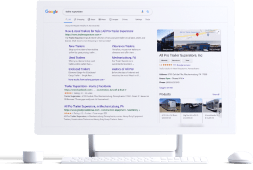 How to choose a custom website design company
1. Know your goals and how you want to achieve them
Before searching for a suitable custom web design firm, you should be clear on what your company needs. Remember that the web development firm will help you achieve your marketing goals. It is best for you, as the representative to identify them beforehand since it is you who knows your company best. Of course, the custom web design firm will be knowledgeable of what you might need as well, so it is best that you cooperate and collaborate.
For instance, what message would you like to convey in the advertisement?
Do you only convey the most basic information of the company as in a brochure, or do you want a more comprehensive coverage of the products and services that you provide? You also need to find out whether you need Internet marketing methods such as SEO or Google Ads. Would you like to gain new customers or foster stronger ties with existing customers? These are just some of the most basic aspects that you need to decide. The most basic information your web design firm will need in relation to the marketing plan will be as follows:
The goal of the marketing project
Your target audience
Your anticipated budget
The individuals or departments in the company responsible for the marketing project
Whether the project needs to fit into a large custom marketing scheme
2. Find the custom web design firm to work with
There are a variety of ways to look for a web development firm to partner with. You can ask for referrals. Checking the web design firm's portfolio is a great idea in itself, but there are a few technical aspects which can never be really seen through a portfolio such as software development or database. That means it's very important that you use a combination of various approaches for you to find the web design firm which will really meet all your custom needs.
What do you look for in a custom web design firm? Here are some of the good signs which can tell you that you are dealing with a potentially reliable company:
Design portfolio
A professional custom web design firm will have an impressive portfolio which is consistent in terms of quality. Looking through their sample works can give you an idea of what to expect out of their services. If you admire some portfolio pieces, do not hesitate to ask for the designer or the people behind the project and insist that you talk to them.
It is also a good sign if the web design company has already done projects with other companies related to your niche. The breadth of their experience as seen in their portfolio will determine how they will be able to meet your marketing needs. If you anticipate working with a custom web design firm for a long time, check to see if they do provide long-term services.
Note also that the Internet now allows web design and marketing services to be provided all across the globe. It is great to work with an interactive firm which has worked with clients from different geographical locations so you can enjoy a more global approach in terms of marketing services.
Technical expertise
It is very important to deal only with a custom web design firm which has enough technical competence and expertise to meet all your design and marketing needs.
Reliable web design firms should have enough experience related to Internet marketing, ecommerce or e-business, search engine optimization, software and database development and system integration, among many others. It is a good idea to check their knowledge on these aspects. A great way to start is through their website.
A professional looking site which contains enough technical information may be a good sign.
The design process
The process that a reliable web design firm carries out should be clearly stated and intricately designed. The firm must spend time in understanding your goals through Needs Analysis and design your structure in a well-thought Information Architecture.
Remember that with all the web design firms all over the Internet, it can be very difficult to find one who has the ability to efficiently handle all the visual and technical elements that are needed to make your web presence more felt by more people. Never waste your time and money on a custom web firm that simply can't give you what you need.
Other services offered
Most custom web design firms offer value-added services. Most offer product marketing, website promotion, pay per click, email and newsletter campaigns and so on. You can also verify whether a custom website design firm provides software and database development if you need them. It is great to find out what more you can expect from a web development firm. The added services they offer will give you a better run for your money.
Note though that a lot of web design firms out there tend to make false promises and attractive offers just to get you to sign with them. At this point, you should never be hasty when making decisions. Prioritize the most important services that you need first before checking out the bonus offers.
3. Request a proposal
Custom web design firms (at least the reliable ones) send proposals for you to evaluate before you make a deal with them. All you have to do is request one.
You should specify that the proposal must include a general overview of your requirements (based on what you agreed upon) and the proposed solutions. This is a good way to determine if the custom web design firm indeed understood all your needs.
It is also best to ask for a description of the development and implementation process along with price quotes for different aspects of the site marketing project. This way, you have a better understanding of what is expected of you by the web marketing firm.
4. Finalize the contract with a trusted web development company
Again, your custom web design firm will be responsible for creating your company's image on the World Wide Web and make your company be known to millions and millions of Internet users all over the world. This can potentially make or break your business. So, before finalizing a deal with a custom web design firm, make sure that the firm is 100% reliable. You need to carefully evaluate how quick and efficient they are in terms of services and communication.
Once you are satisfied with their proposal and their cost, you can then sign a deal with them. Your web design agreement should contain detailed information on the custom website design services that will be provided. It should include the number of pages, the scope of the design, maintenance, costs, payment and project completion. If you are also availing of marketing services, it should include the kind of Internet marketing solutions provided and the costs involved.
Your custom web design firm should be your partner in making your business more profitable. Hiring the services of web developers does not mean that you are fully entrusting everything into their hands. Remember that though you have outsourced this aspect of your business, it is still important that you work hand in hand with your web development firm. This way, you can make sure that all process and the solutions are all geared to the main goals and aspirations of the organization.
Many companies have achieved online success in a short span of time. This can be attributed to great site design, proper marketing, bundled with great products or services. You too can be one of them. Start now by choosing the right custom development firm to take care of all your e-business and online marketing needs.
We're masters of our craft.
WebFX is a marketing and design industry leader.

Meta, Amazon, and Google Partner


4,000+
blog posts written


300+
Google Certified team members

Contact Us

Learn more about partnering with our custom web design company
A website design customized to your business can help your company achieve real, measurable growth.
That's our goal at WebFX.
As your custom web design firm, we will create a website tailored to your unique goals, whether it's generating online ecommerce sales or attracting high-value leads. We'll also incorporate SEO best practices in your design to maximize your visibility in search results.
With this approach, our clients have generated more than 7.8 million leads, as well as more than $3 billion in revenue in the past five years. Even better, these results have helped our clients create real growth in their companies, like expanding into a new area, hiring new team members, and more.
If you're ready to get started on achieving your company's goals for growth with custom website design, contact us online today to learn about our web design and redesign services for businesses like yours!
Ready to start on your own custom website design? Call 888-601-5359 or contact us online to create an effective online presence for your business.
Digital Marketing Services
Learn More About Web Design