If your company has an app, you might already be familiar with the concept of app store optimization (ASO). If you're not, it's a marketing strategy that involves increasing your app's visibility in app stores –– it's like search engine optimization (SEO) for your app.
Like SEO, ASO benefits from the use of tools. You could rely purely on manual tactics to boost your app's visibility, but you'll fare better if you use some ASO tools to enhance your efforts.
You might be wondering which app store optimization tools you should use for your company. That's why we've listed some top-tier app store SEO tools below for you to consider.
Keep reading to learn more. Then subscribe to Revenue Weekly — our email newsletter — for more digital marketing tips!
10 app store optimization tools for your business
There are plenty of ASO tools that can help you track and amplify your app's visibility. In fact, there are so many options that it can be overwhelming. That's why we've narrowed it down a bit for you by listing some of the best ones:
Here are 10 of the best app store SEO tools to consider!
1. ASOTools
Price: Free, or $9+ per month for more features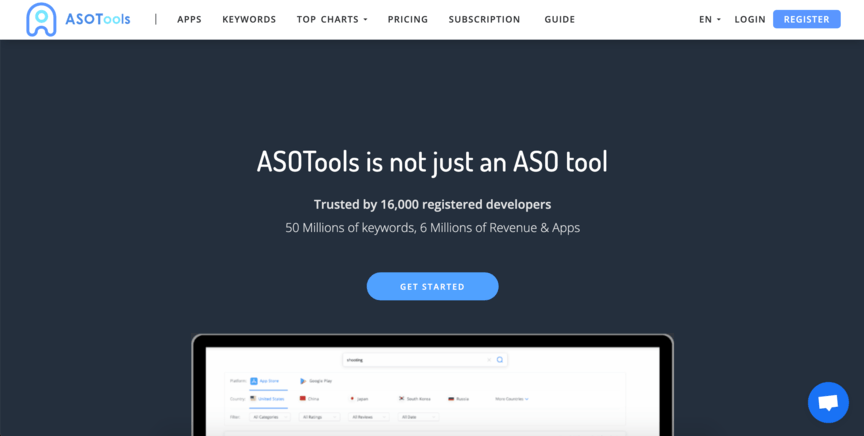 The first tool for ASO on our list is the appropriately named ASOTools. This platform serves two primary functions, the first being keyword research. You can use ASOTools' keyword feature to search for specific terms and find metrics like popularity score and volume.
The second major function of ASOTools is competitor analysis. You can use this tool to see your app store competition, as well as what keywords those competitors target.
2. Checkaso
Price: Free, or $14+ per month for more features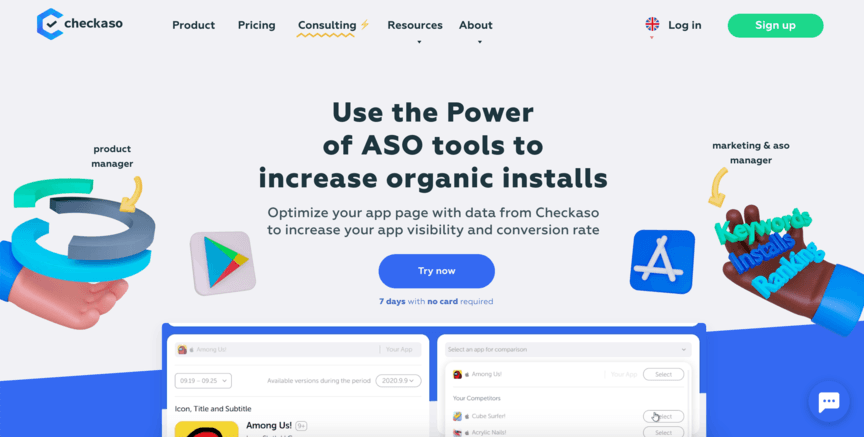 Checkaso is an excellent tool for early analysis. As soon as you get it set up, you can use it to see the status of your ASO. In addition to telling you where you currently stand, Checkaso will offer a list of tips for improving your ASO.
From there, it will offer other types of recommendations, with one of the main ones being keyword suggestions. If you want, you can even set Checkaso to automatically add its keyword suggestions to your targeting list.
3. AppFollow
Price: Free, or $23+ per month for more features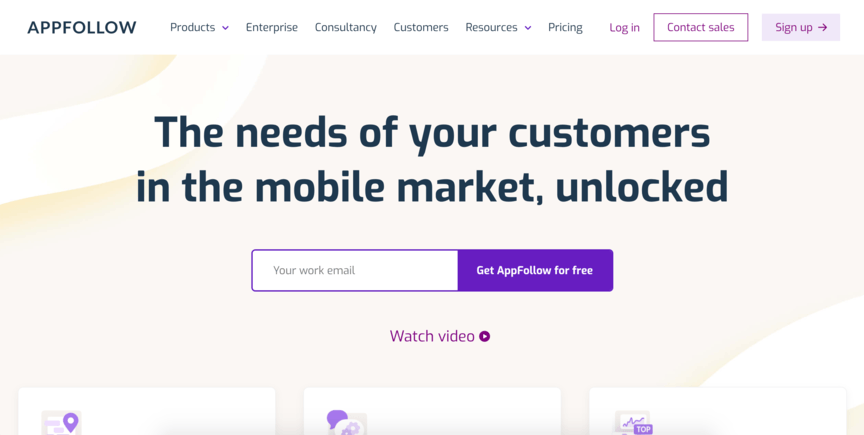 AppFollow offers many of the same features as the previous two tools. It can help you track keyword metrics and assess what your competitors are doing, as well as provide tips for improving your overall ASO.
However, it also offers a few features not included in other apps. For example, you can track currently trending keywords in your industry, giving you a clear picture of which searches will drive the most impressions and installs for your app.
4. App Radar
Price: Free, or $39+ per month for more features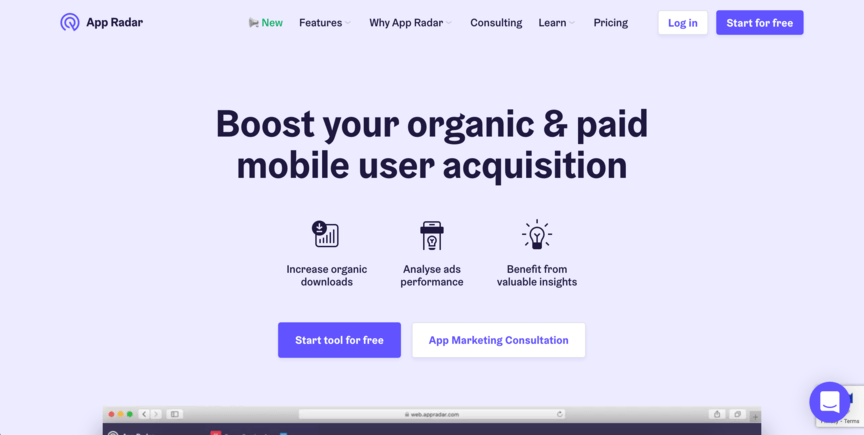 App Radar is yet another app store SEO tool that prioritizes keyword research. More specifically, it helps you identify which keywords are most relevant to your company. It also lets you compare your rankings for different keywords against your competitors' rank.
Some other App Radar features include:
Rating and

review management

App localization management

A massive keyword database

And more!
5. ASOdesk
Price: $24+ per month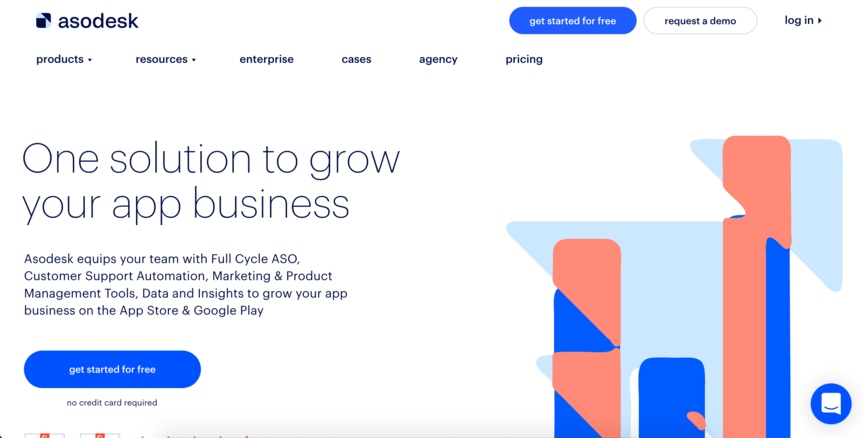 ASOdesk puts an emphasis on branded keywords (and similar terms). That is, it focuses largely on keywords that show up in searches directly tied to your company. That's vital because while you want to rank high for all your relevant keywords, you definitely want to appear at top in direct searches for your business's app.
ASOdesk lets you see which queries users type in to search for your app. Another feature it offers is that it lets you see which relevant queries have the least competition and are therefore easiest to rank for.
6. AppTweak
Price: $69+ per month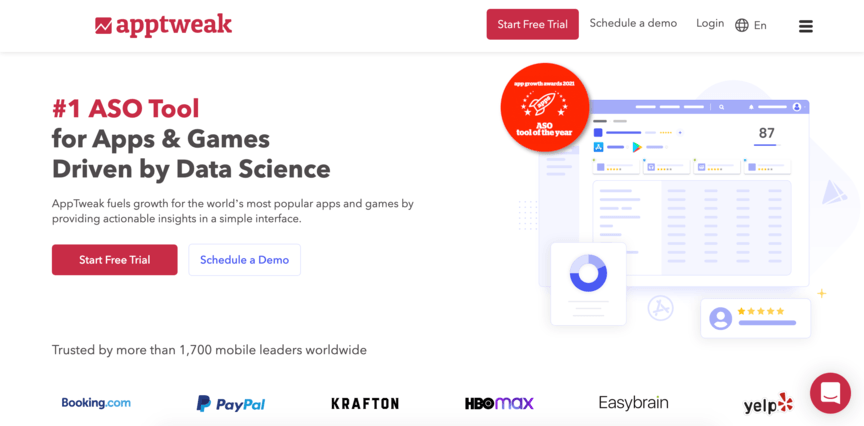 AppTweak is one of the best-known and best-liked tools on this list. It comes with all the standard features related to providing keyword metrics and helping you check in on what your competitors do. That said, it does all those things with a high degree of accuracy and speed.
Additional AppTweak features include:
ASO timeline

Keyword impact analysis

Category rankings

Visibility score

And more!
7. Store Mockups
Price: $99+ per month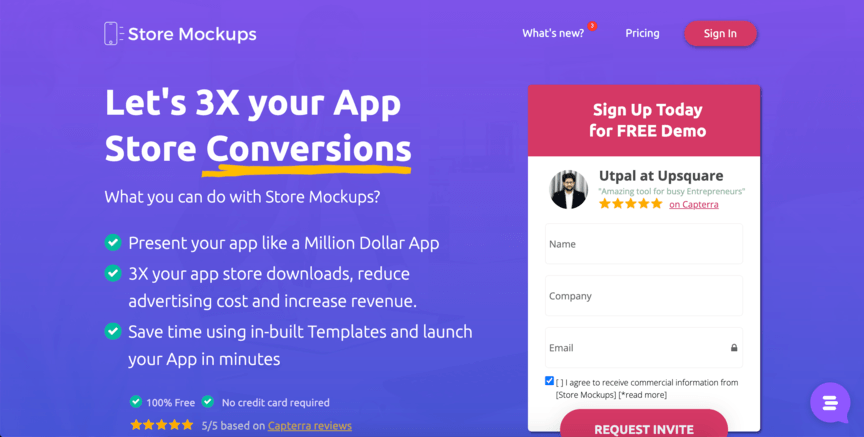 Store Mockups is unique on this list because whereas the other tools listed here focus mostly on keywords and competitors, this one is about optimizing your app. After all, that's a big part of ASO — your rankings largely depend on the quality of your app.
If you haven't yet built your app, or you're looking to revitalize it, Store Mockups can help. It offers plenty of clean and professional templates you can use to build your app, and it allows for easy editing so you can keep that app up-to-date.
8. Sensor Tower
Price: Available upon request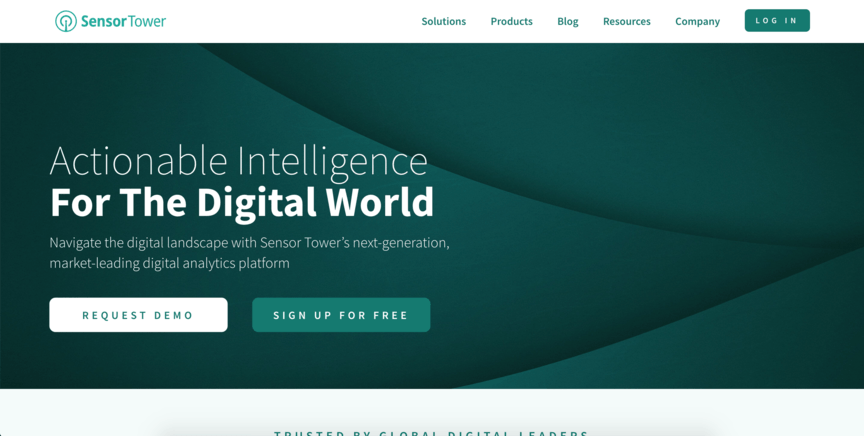 Sensor Tower is one of the best ASO analytics tools on this list. It provides a wide array of keyword and ranking data, and not just the usual metrics. It can help you pinpoint the most popular apps in your industry and gauge how successful they are in terms of aspects like downloads and revenue.
Sensor Tower also offers a Predictive Rank feature that estimates your expected ranking for specific keywords. That helps you get a better picture of which keywords to prioritize.
9. Split Metrics
Price: Available upon request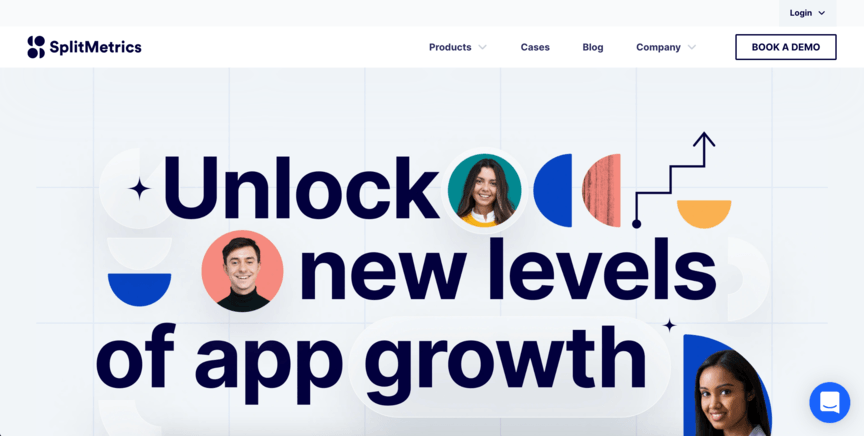 Split Metrics is a standout tool for ASO because it functions like a web analytics tool. That is, it tracks user behavior on your app page to see how people interact with it.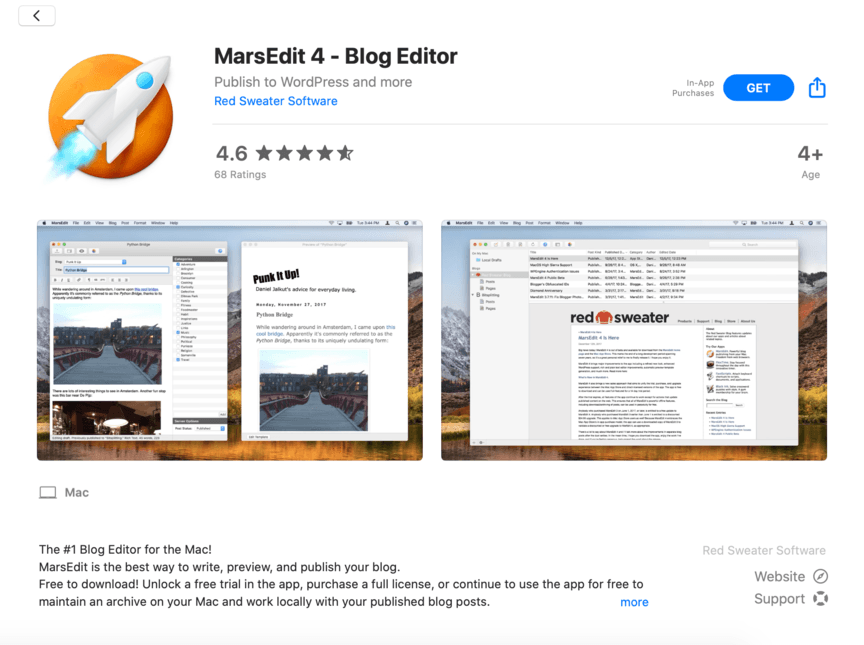 You can view information like how long users spend on the page, which parts of the page draw the most interest, and where the most people exit the page. This can help you optimize the page to earn more downloads.
For example, if you find that people most commonly leave without downloading after they read the reviews, that tells you that you should work on some review management.
10. Storemaven
Price: Available upon request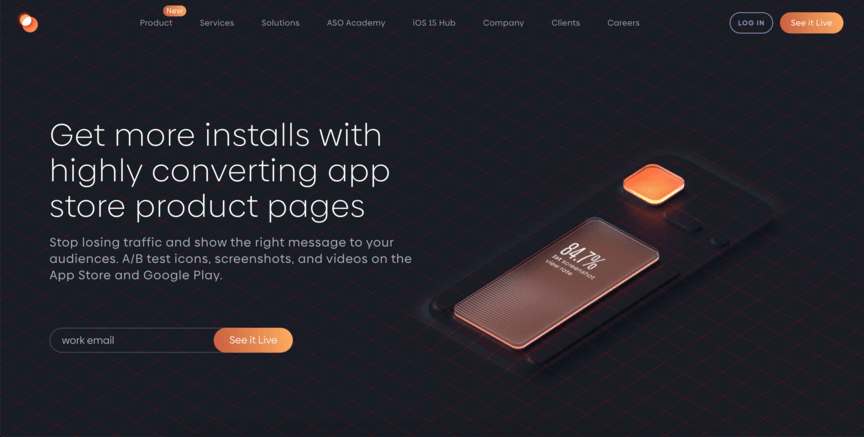 Storemaven is a tool that helps you test different options for your ASO. It stands out from the crowd because of its scientific approach. In fact, it harnesses the scientific method to help you run A/B tests.
You first develop a strategic hypothesis, and then you run the A/B test. In the aftermath, Storemaven will help you analyze the results of your tests to determine whether your hypothesis was correct, allowing you to improve your ASO accordingly.
We foster and form long-term partnerships so that your business has long-term results.
Over 90% of WebFX clients continue partnering with us into year 2 of their campaign.
Hear from Our Happy Customers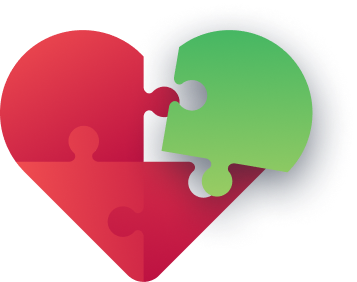 WebFX can help you master your app store optimization efforts
Want a helping hand with your app store optimization tools? WebFX is here for you! With over 25 years of experience with digital marketing, we know how to drive revenue for your business through SEO and ASO.
With our SEO services, you'll get help using your ASO tools to move your app up in rankings and boost its overall visibility in app stores. We're a "do-it-for-me" agency, which means we'll do all the work for you while letting you call the shots.
To partner with us, just call 888-601-5359 or contact us online today!
How is your website's SEO?
Use our free tool to get your score calculated in under 60 seconds.
Get posts by email
Join 200,000 marketing managers and subscribe to Revenue Weekly!
"*" indicates required fields
WebFX Careers
Join our mission to provide industry-leading digital marketing services to businesses around the globe - all while building your personal knowledge and growing as an individual.