Can digital marketing grow sales this year? Yes — if you invest in the right strategies for your business. If you haven't invested in online marketing for your company, you're missing a prime opportunity to grow your business by reaching new leads and increasing sales through cost-effective strategies like search engine optimization (SEO) and content marketing.
On this page, we'll provide you with seven marketing trends for 2023 that will help increase sales for your business. Keep reading to learn more and subscribe to Revenue Weekly to stay up to date on the latest tips and trends for marketing!
Time to Level Up Your Sales
Our long list of services helps you grow every aspect of your business with marketing strategies that are proven to increase bottom-line metrics like revenue and conversions.
In the past 5 years, we've managed more than 12.9 MILLION transactions across our client base.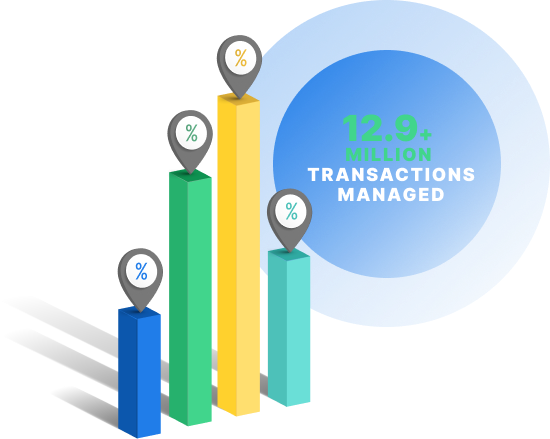 Can digital marketing grow sales in 2023?
Yes. Digital marketing helps you reach more qualified audiences to market your products or services, which leads to more sales for your business.
If you use the right strategies correctly, digital marketing can grow your sales in 2023.
Need Digital Marketing Help? Look No Further
Top 7 digital marketing trends of 2023 to increase your sales
Now that you have the answer to, "Can digital marketing grow sales in 2023?" it's time to look at what strategies you can use to increase sales. Check out these seven marketing trends for 2023 that will help increase your sales:
1. Personalization
Personalization is a core component of growing sales in 2023. Your audience connects with multiple companies, including some of your competitors, so you must stand out from the crowd. Personalization can help your target customer notice your business over your competition.
With personalization, you customize your marketing efforts to your audience. This tactic allows you to deliver a tailored experience for different members of your audience, which makes them more likely to engage with your business. You can personalize your audience's experience by:
Using their name in email subject lines
Tailoring information to their location
Creating content tailored to their interests
Sending personalized content via email
And more
Use personalization to help your audience feel valued and like you care about (and understand) their unique interests. Personalization will help you engage your audience and get them to check out your products or services, which will lead to more conversions. This tactic is one of the top digital marketing trends for 2023, so use it to increase your sales!
2. Paid advertising
The future of digital marketing includes paid advertising too. If you want to use digital marketing to grow sales in 2023, you need to invest in paid advertising programs like Google Ads or Facebook advertising. Paid ads allow you to reach the most interested leads, which helps increase your sales.
You'll want to focus on two types of paid advertising for your strategy:
Pay-per-click (PPC) ads
Pay-per-click (PPC) ads appear at the top of search results above the organic listings. Searchers will see these ads when they search for something directly related to your ads.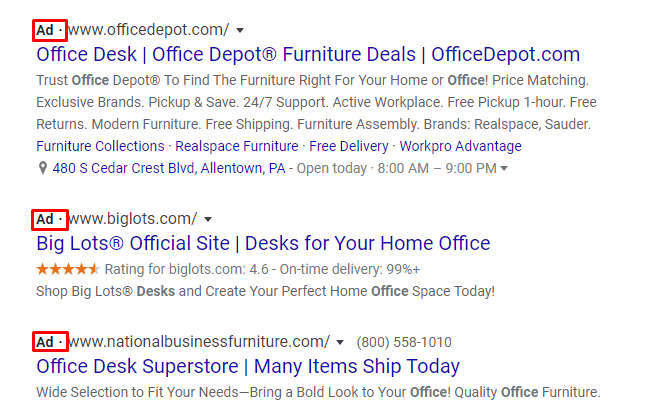 With PPC ads, you reach your audience by bidding on relevant keywords so your ad can appear in related search results. Focus on long-tail keywords, which contain three or more words, to reach relevant audiences.
Long-tail keywords work best for PPC campaigns because they target specific audiences, which means you'll drive better leads with your ad content. After finding your keywords, set a maximum bid, which is the amount you're willing to pay when someone clicks on your ad. When you bid on long-tail keywords, there's less competition, which means fewer companies bid against you for the same keywords.
This bidding structure means you can reach more leads and make more sales. PPC ads are great for driving sales for your business.
When you consider that PPC visitors are 50% more likely to convert than organic visitors, you can't miss out on a strategy that will help you grow sales this year.
Take PaulB Parts, for example. PaulB Parts, an agricultural and industrial parts manufacturer, used PPC to grow their business.
After investing in PPC services, they saw a 75% year-over-year (YOY) conversion rate increase and 150% YOY return on investment (ROI) increase.
Social media ads
In addition to search ads, you can also use social media ads to grow sales in 2023. Social media ads appear in users' newsfeeds, which puts your business right in front of interested audiences.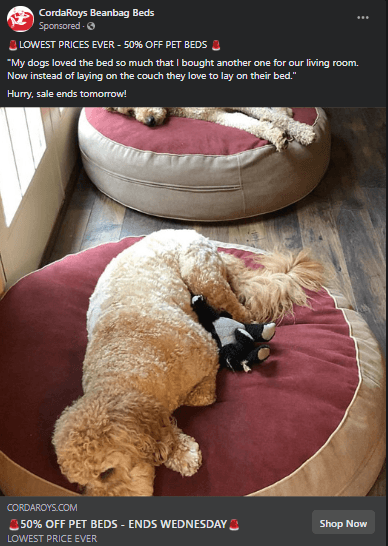 With social media ads, you can advertise on multiple networks, including:
Social media ads are great for driving sales because you can target leads more precisely, which allows you to reach leads more likely to convert. From demographics to buying habits, you have multiple options you can use to reach the right people. If you run social media ads, you can get visual with your ads, too.
It creates an excellent opportunity for you to showcase your product or services to your audience, giving them insight into using your company's offerings. Since 74% of people use social media when making a purchasing decision, you don't want to miss the opportunity to reach people where they're likely to look when purchasing a product or service.
3. Chatbots
You know digital marketing can grow sales in 2023, but how? With chatbots, of course!
Chatbots play a critical role in helping you communicate with customers and provide customer service. Your team isn't always available to answer questions, but chatbots are almost always available for people to use.
With chatbots, you provide customer service for your audience in real-time.
They don't have to wait to connect with someone to get answers. It's a simple and easy way for users to contact your business with questions. Some people may have simple questions, that once answered, can turn those people into customers.
By using chatbots, you can answer those questions quickly for your audience and get them on their way to purchasing your products or services.
4. Instagram shoppable posts
Shoppable posts are one of the most valuable marketing trends of 2023.
With shoppable posts, you can market your products through your organic content. If you have physical goods to sell, shoppable posts are a great opportunity for your business to reach new leads. Shoppable posts let you post pictures of your product on your page.
Then, you can tag individual elements in your post with a link to the product page. So, when people view this content, they'll see a little white dot over different products in the photo. When they click on this dot, they'll see a small callout box that details the name of the product and how much it costs.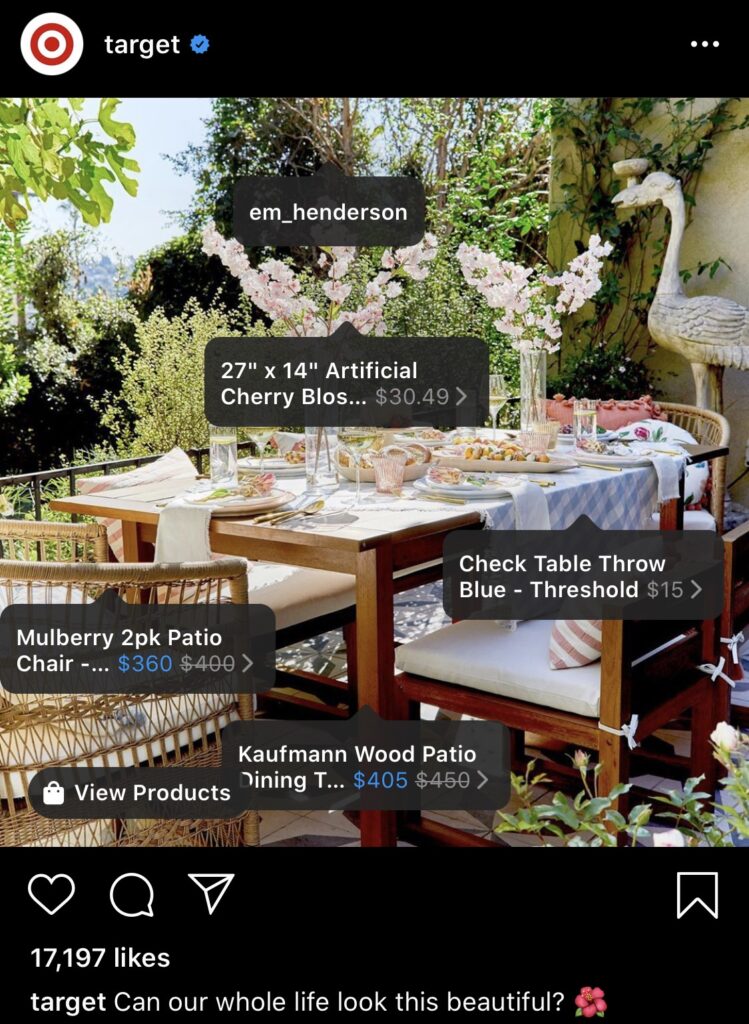 These shoppable posts are great for helping you earn more sales. If people like something they see in your photos, they can easily find it on your website without having to search. It also provides them with the price, so they don't have to wonder about how much it costs.
Digital marketing can grow sales in 2023 if you use Instagram shoppable posts to encourage more people to buy your products.
5. User-generated content
One of the top digital marketing trends for 2023 is user-generated content. User-generated content is valuable because it can help you earn more sales since it serves as an endorsement of your products or services. Ninety-two percent of users trust recommendations from others over a brand.
People turn to others and their experiences to help them determine if they should choose your business. Many people will look at reviews, but user-generated content can have just as big of an impact. With user-generated content, you share posts from other people talking about your product or service.
It can also include content that talks about your brand in general. Always be sure to ask for permission before you share or reshare posts from your audience!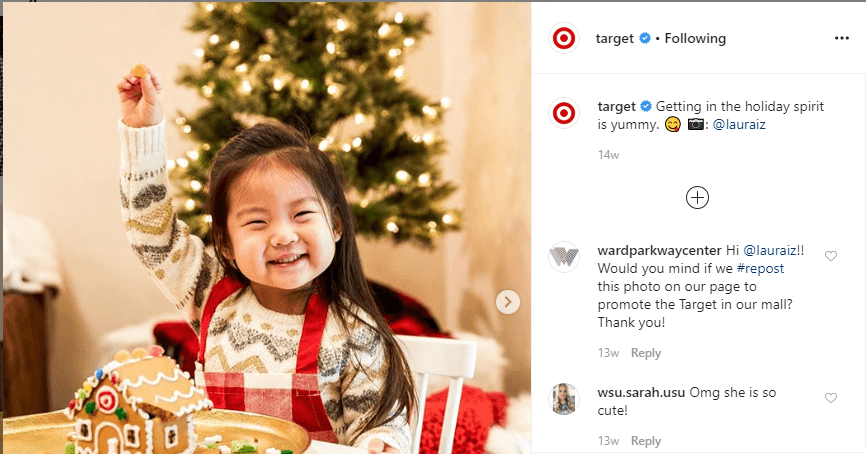 User-generated content is valuable for bringing a humanistic side to your brand. It shows people real experiences with your product or service.
User-generated content serves as an endorsement for your brand and can help you nudge leads towards conversion.
6. Automation
Can digital marketing grow sales in 2023? Yes, if you use automation so you can dedicate more time to selling! Your team spends a lot of time on tedious tasks that, while important to your business, take up a lot of time.
You could spend this time engaging your prospects or creating more content to convince them to convert. With automation, you give your team more time to work on these tasks. You can automate tasks like:
Sending emails
Collecting data about your audience
Posting on social media
When you use automation, you take these time-consuming tasks off your team's plate. If you have a sales team, this frees up their time to spend more time talking to your prospects and getting to know them better, so your sales team can turn them into sales. Sales teams can save time with a customer relationship management (CRM) platform, like Nutshell, which will help sales teams compile data in one place automatically instead of inputting the information manually.
Additionally, tools like Nutshell help your sales team monitor a lead's digital journey so that you can deliver the right information at the right time.
Automation frees up time for marketing teams, too.
Instead of spending time posting on social media each day, your team can work on more extensive marketing campaigns that will help drive sales for your company. For example, you can use a social media management tool, like Buffer, to automate social media posts by scheduling them in advance. Instead of having to take time each day to post content, your marketing team can focus on other important marketing tasks.
By investing in automation, you'll help your team focus on the critical tasks that can earn you more conversions.
Bonus Reading: SEO Automation Tools to Boost Efficiency
7. Local SEO
If you aren't investing in local SEO, you're missing a prime opportunity to grow sales in 2023. Did you know that 80% of local searches convert? With so many leads converting from local searches, you don't want to omit this top digital marketing trend for 2023, especially if your business operates locally.
A significant portion of local SEO involves claiming your Google My Business listing. Your Google My Business listing appears in search results when users look for local businesses or companies in a specific area. Your listing appears at the top of search results next to two other listings in a feature called the local SEO 3-pack.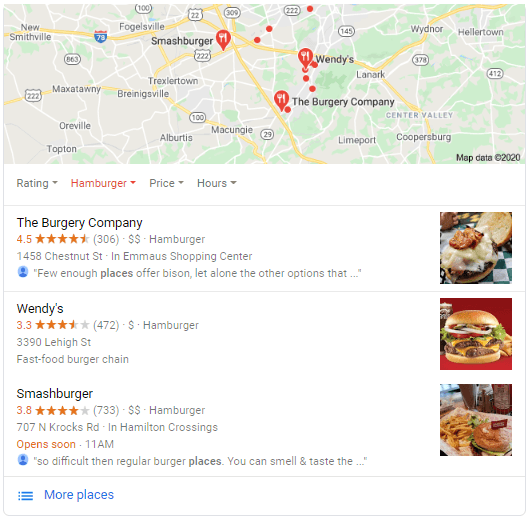 People use this feature to help them find businesses near them or in a specific city. By claiming your listing, you'll help your company appear in local search results and drive more people to your location. In addition to claiming your local listing, you can also add local keywords to your website.
Local keywords, like "pizza place in Los Angeles," can help you appear in more local searches and drive relevant traffic to your site and business location. If you want to grow sales in 2023, invest in local SEO to drive more customers to your business.
Bonus Reading: Digital Marketing for Dummies
Can digital marketing grow sales in 2023? Yes, with the right help!
Digital marketing is a huge task.
If you don't have experience with using digital marketing strategies, you may feel overwhelmed by everything you want to do to grow your sales. Luckily, our team at WebFX is here to help. We've managed over 12.9 million transactions for our clients.
You can count on us to help you create a digital marketing strategy that boosts your sales. If you want to see how we can help you create a digital marketing plan that rocks, contact us online or call us today at 888-601-5359 to get your free quote!
WebFX Careers
Join our mission to provide industry-leading digital marketing services to businesses around the globe - all while building your personal knowledge and growing as an individual.