To drive sales for your business, you need a strong digital marketing campaign. With the ability to research and buy things online, more people are using the Internet to inform their purchase decisions, making it an advertising ground you can't afford to ignore.
But the Internet is an enormous place, and it offers a wide range of marketing options. Without a deep knowledge of digital marketing, it can be difficult to know where to start.
Fortunately, you can implement a few simple techniques to get your digital advertising off to a strong start. Below we'll look at 10 digital advertising tips with which to start off or strengthen your campaign. Oh!
Also, subscribe to Revenue Weekly to get more digital marketing tips from the agency that's been in the digital marketing industry for over 25 years!
10 online advertising tips and tricks for your strategy
The 10 best online advertising tips and tricks companies can use include:
Keep reading to learn more about these digital marketing tips and how to bring them to your marketing plan!
Our digital marketing campaigns impact the metrics that improve your bottom line.
See More Results

WebFX has driven the following results for clients:

$3 billion
In client revenue

7.8 million
Leads for our clients

5.2 million
Client phone calls
1. Optimize for search engine optimization (SEO)
One of the best digital marketing tips for beginners is to optimize your web content for search engine optimization (SEO). Most users will probably find you through Google, so when people search for keywords that relate to your business, you want to appear in the results. SEO is all about helping your content rank high enough for many users to find it.
The biggest step involves including target keywords in the written content on your site. So, if you sell casual clothing in Houston, you could target keywords like "t-shirts in houston tx."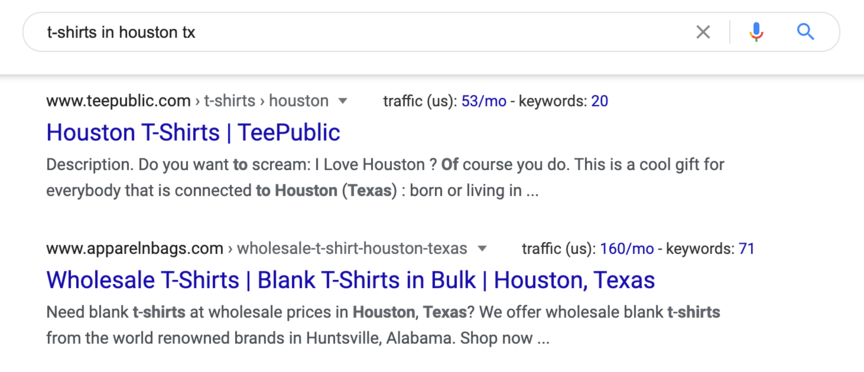 You can also use tactics like optimizing your page speed — how fast your website loads — and making sure your site is optimized for mobile devices. These strategies will increase your rankings since Google will recognize that they improve the user experience.
2. Launch a pay-per-click (PPC) ad campaign
Pay-per-click (PPC) advertising aims for a similar result to SEO — getting your content in front of users via Google — but it does it differently. With PPC, you pay for Google to display your ads at the top of search results.

You can start a PPC campaign by setting up an account in Google Ads.
Within that account, you can bid on the keywords you want to target with your ads. You can then craft landing pages for the ads you choose to run, where users will get directed when they click on them. Whenever one of your chosen keywords gets searched, Google Ads will display the highest bidders' ad for that keyword.
The best part is, you only have to pay for your ads when they get clicked on!
3. Harness social media
When it comes to formulating the best digital advertising strategy, it's to your benefit to go where most people are online. And with the average user spending nearly a third of their Internet time on social media, you'll likely want to invest in some social media advertising.

Social media ads can take a few different formats.
To start with, they can resemble banner ads, appearing in the margins of the site or app. Alternatively, you can use sponsored posts, where you pay to have the social network promote your posts to the top of users' feeds.
4. Craft compelling content
While banner advertising and sponsored social media posts work to put your ads in front of users, sometimes it's better to take an inbound marketing approach — that is, to let users come to you. That's the idea behind the next item on our list of online advertising tips: Content marketing. Content marketing involves crafting compelling, informational material — from blog posts to videos to infographics — that users will want to watch or read.
When you pair it with SEO, you can rank your content on Google, so people will find it when they search for it. If your content is legitimately helpful and relevant to your industry, people will likely want to come back for more.
5. Know and target your audience
On top of pursuing large-scale strategies like SEO and social media, there are several other practical digital marketing tips you should be sure to follow. One such tip is to know your audience. It's hard to market to people if you're not even sure who you're marketing to.
You need to have a clear conception of the kind of people who make up your customer base, from demographics to geographic location. You can do more than that, though. In many cases, you can target those very people with your online advertising, limiting it to an audience that fits your desired description.
This is often the case for PPC ads and social media ads, for example. Here are some features you could include or exclude people by:
Age
Device
Location
And plenty more
When you limit your ads to your desired audience, you avoid wasting your marketing resources on irrelevant users.
6. Use clear calls to action (CTAs)
Even an advertisement that uses the most brilliant persuasion tactics in the world won't benefit your business if it doesn't end with a call to action (CTA). If you don't tell users what you want them to do, they won't do it.

CTAs provide users with a clear next step that they can take, typically with a link or button directing them to the page where they can do it.
A CTA might be a button that says, "Subscribe to our emails!" or a link at the end of a piece of content that says, "Check out our products!"
7. Display testimonials
Next on our list of digital advertising tips is to let users hear from your customers. People will be inclined to take your self-promotion with a grain of salt, but when they see your buyers talking about how great you are, they'll be much more encouraged. That's why you can benefit from posting testimonials on your website and social media.
You can get these from review sites, or by emailing customers a request to give you feedback directly. The more customers say something good about you, the more new ones you'll earn!
8. Retarget website visitors
Sometimes users will visit your website, only to leave without converting. When that happens, you'll want to try the next of our online advertising tips, retargeting — that is, following up in an attempt to bring them back. When you use email capture forms on your website, you can build up a list of users' emails.
You can then send emails to their inbox that encourage them to return to your website. You can accomplish the same tactic by using cookies on your site, which will store data in visitors' browsers, allowing you to target PPC ads to them down the road. It's easy to set up a cookie-based remarketing audience in Google Analytics based on user behavior, such as what pages they visited or how long they stayed on your website.
Following that, you can import your newly-created audience to Google Ads to use in your campaign.
9. Apply unique branding
One of the most critical practical digital marketing tips for beginners and experts is to instill all your advertising with your company's brand. If your advertising says, "you need this product," but doesn't say, "this is who we are," it won't be of much benefit to you. When users see an ad that doesn't convey your brand, they may forget whose ad it was and buy the advertised product from a competitor.
You need all your advertising, from your website to your PPC, to showcase your company's personality.
10. Track key performance indicators (KPIs)
Last on our list of digital advertising tips is this: Track your results. No digital advertising strategy will be particularly beneficial if you don't verify that it's working. Every strategy will have elements that need tweaking, and by tracking KPIs, you can see which parts to modify.
You can do this through platforms like Google Analytics and Google Search Console, which you can set up for your website. Here are some main KPIs you'll want to track:
Cost per lead
Organic traffic
Customer lifetime value
Get more help with your digital advertising strategy from WebFX
By following the practical digital marketing tips above, you'll see a significant rise in leads and conversions. But if you're still struggling to make it all work, don't worry — WebFX is here to help. With over 1020 client testimonials, we're one of the most trusted digital marketing agencies in the business.
We can help drive results for your business by optimizing everything from your Google Ads to your Facebook ads with our digital advertising services. To get started with us today, just give us a call at 888-601-5359 or contact us online today!
How is your website's SEO?
Use our free tool to get your score calculated in under 60 seconds.
Get posts by email
Join 200,000 marketing managers and subscribe to Revenue Weekly!
"*" indicates required fields
WebFX Careers
Join our mission to provide industry-leading digital marketing services to businesses around the globe - all while building your personal knowledge and growing as an individual.