Did you know that 4 out of 5 consumers use search engines to find local information? If you aren't using your website to reach potential customers in your area, you're missing an opportunity to gain valuable leads for your building material company.
With local search engine optimization (SEO) for building material suppliers, you can start reaching more local leads interested in your company.
On this page, we'll provide you with four tips for local SEO for building material supply companies. If you want to learn more about how a local SEO strategy will help you grow your business, call us today at 888-601-5359 or contact us online to speak with a strategist about our local SEO plans.
1. Claim your Google Business Profile listing
If you want to see success with local SEO, start by claiming your Google Business Profile listing. When users conduct a local search, it generates something called the local SEO 3-pack. This feature lists three Google Business Profile listings that fit the user's search query.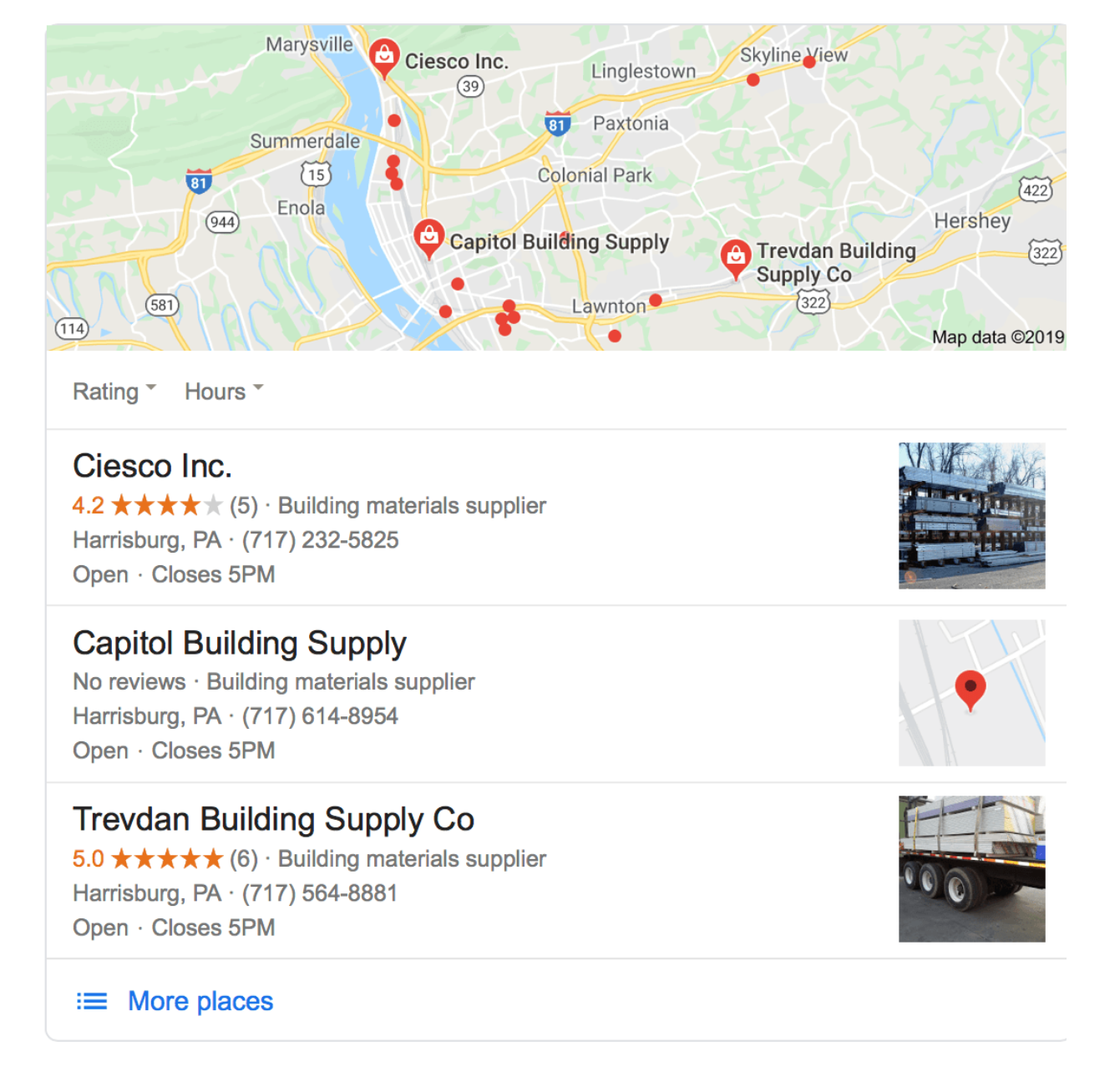 Claim your Google Business Profile listing by going to Google's website to find whether you need to claim or create your listing. Once you have your listing, fill out all your information, like your hours, phone number, and industry, to provide your audience with everything they need.
Once you verify your name, address, and contact information, you can start adding more details to your local listing. You'll want to add your hours of operation and a short blurb about what your business offers too.
Additionally, you'll also want to upload photos to your listing. Businesses with photos receive 35% more clicks to their website than companies that don't have pictures.
Pictures help people learn about your products, business, and team. It's an excellent way for you to provide your audience with valuable information about your company.
By filling out and claiming your listing, you can start appearing in more local searches on Google. It's a local SEO strategy for building material suppliers that will help you drive more qualified leads.

Hear What It's Like to Work With WebFX!

"The sophistication and professionalism of the team at WebFX, and the agency itself with their proprietary tools and platform, is hands down the best I've ever experienced. Highly recommend."
Building Manufacturer
2. Be consistent with NAP
NAP stands for name, address, and phone number. NAP is an integral part of optimizing for local searches.
Local searchers look for this core information to get in touch with or visit your business. Search engines use this information to understand what your company does and where it's located so that it can place your business in the right local listings.
You must be consistent with this information, so users always have accurate and up-to-date information. When your information is the same across all platforms, it ensures that, no matter how users find your business, they'll get the same information.
To help ensure your listings are consistent, you can use a tool like MarketingCloudFX to scan your local listings. You can quickly enter your company information and search for inconsistencies.
Let's look at how you should optimize each category.
Name
You'll want to ensure your business's proper name appears on all platforms.
If you own "Robert's Building Supplies," your name should appear as such on all your websites and local listings. Even if people call your business, "Bob's," your company's official name should appear on its site and local listings.
Additionally, if you have tags in your name, like "LLC" or "Inc," those tags should always appear in your name.
Address
With your address, you'll want to ensure you're using the same format each time. If your location is "123 Apple Lane," spell out "Lane" when you mention your address. Don't switch between "Lane" and "Ln."
If your business is in a suite, format it the same way every time. Whether you use "Suite #201" or "Suite 201," keep it consistent across platforms. It will help your audience (and search engines) have accurate information about your business.
Phone number
Keep your phone number consistent across platforms. Whether you decide to use parentheses for the first three digits or dashes instead of dots, keep it consistent for users and search engines.
3. Optimize for local keywords
If you want to do local SEO for building material manufacturers right, you must optimize for local keywords. Local keywords help interested leads find your business's website.
When users conduct local searches, they use keywords specific to their location.
People do local searches with phrases that include:
City or town name
Zip code
"Near me">
When optimizing your site, you'll want to optimize for local keywords to help you appear in these local searches.
A local keyword, like "building material suppliers in Harrisburg, PA," is an excellent example of a local keyword. You could easily integrate this keyword into your website to help you rank for searches in the Harrisburg area if your business serves that area.
If you want to do SEO for local businesses right, attach locations to your keywords. The city or town will help Google identify your location so that you can rank in the right search results. It will help you appear in "near me" searches, too.
By focusing on local keywords, you'll help your company appear in more local search results.
4. Manage your local reviews
Reviews play a fundamental role in helping leads choose your business. People read reviews to see how others experienced your business. If they've never partnered with your building material supply company, they want to know what to expect before they do.
People treat reviews like a recommendation from a friend. Reviews help people determine if your business is a good fit for them.
To create a successful local SEO strategy for your building material supply company, you must monitor and manage local reviews.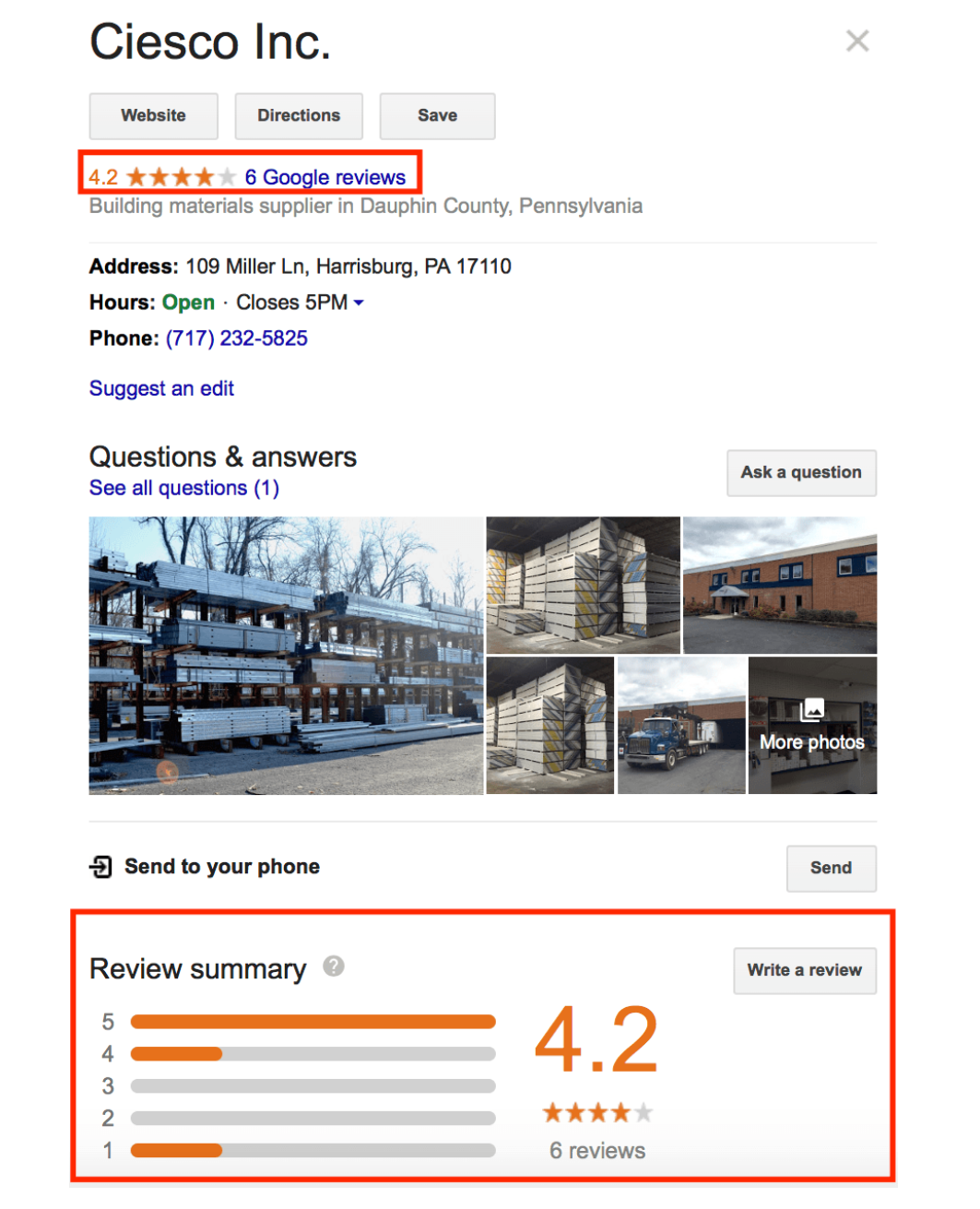 The most important place to start managing reviews is your Google Business Profile listing. Many people will turn to this listing for insight into your company. When you claim your Google Business Profile listing, you can manage reviews for that profile.
Whether it's a positive or negative review, you must take the time to respond to people's comments. Thank people for positive reviews and solve issues in negative reviews.
If you get negative reviews on your profile, don't sweat it!
People are more skeptical of businesses that only have five-star reviews. They may think the reviews are paid or fake, so having a few negative ones gives new leads a full perspective of your business.
Negative reviews create an opportunity for you to show future customers how you're willing to solve problems, too. If potential customers see you handling issues and trying to resolve them, they will feel more confident about partnering with your business.
Aside from Google, you can manage reviews on other platforms, too.
Places like Facebook and Yelp are other popular channels for leaving reviews about businesses. You'll want to monitor these websites to see what people say about your company and respond to anyone who has issues.
By managing your local reviews, you'll help build a positive image of your building material supply business. It's an excellent way for you to build trust with your audience and get more local leads to contact and sign with you.
Independent research from Clutch has named WebFX the
top SEO company

in the United States.

Clutch has personally interviewed more than 250 WebFX clients to discuss their experience partnering with us.

Read More Clutch Reviews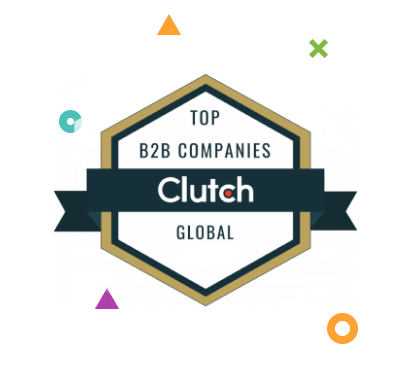 Start using local SEO for building material suppliers to grow your business
A strong local SEO strategy will help grow your company. You'll attract more local leads looking for a building material supplier. It's a great way to drive qualified leads and turn them into customers.
At WebFX, we have a team of over 500+ local marketing experts that will help you optimize for local SEO. With over a decade of experience, we know how to optimize and strategize local SEO campaigns that drive more leads and conversions.
If you're ready to reap the benefits of local SEO and grow your building material supply company, contact us online or call us today at 888-601-5359 to speak with a strategist about our local SEO packages.
Earn a 20% greater ROI with WebFX