There are more than 6,500 medical device companies in the United States, with a market size of about $148 billion – and the industry is only continuing to grow and expand. So as a medical equipment company, how do you stand out?
Internet marketing helps improve your online visibility, connect with new clients, and direct current customers to specific products you offer. That's why medical equipment marketing (with a focus on digital channels) is essential.
Keep reading to learn about the best medical device marketing strategies, including for durable medical equipment (DME). If you'd like to chat with a strategist about your current strategy, give us a call at 888-601-5359!
1. Reach physicians as they search with search engine optimization (SEO)
Search engine optimization, or SEO, is the process of improving your website so that it ranks higher in search engine results for keywords and phrases related to your products and services. With the right strategy, you can rank above your competitors and attract more people to your site.
Google uses many factors when ranking sites in their results, and SEO involves working with many of them. This includes link building, on-page optimization, and content creation.
Identifying and optimizing your site for keywords related to your business means that you'll reach more potential clients as they're actively searching for information.
For example, if you provide medical equipment for the home, then targeting keywords like "home medical devices," could be part of your strategy. The idea is to determine what your audience is searching for, then optimize your website for those words and phrases.

Hear What It's Like to Work With WebFX!

"WebFX has helped fill the gap in the internet marketing space for our company. Thank you so much for your guidance and support helping our company grow and expand outside our traditional marketing initiatives."
Medical Equipment Provider
2. Get doctors' attention with pay-per-click (PPC) advertising
Pay-per-click, or PPC, advertising is a cost-effective online advertising strategy that gives your company the extra edge it needs to show up at the top of search results. Below, you can see how the top search results contain the small "Ad" tag.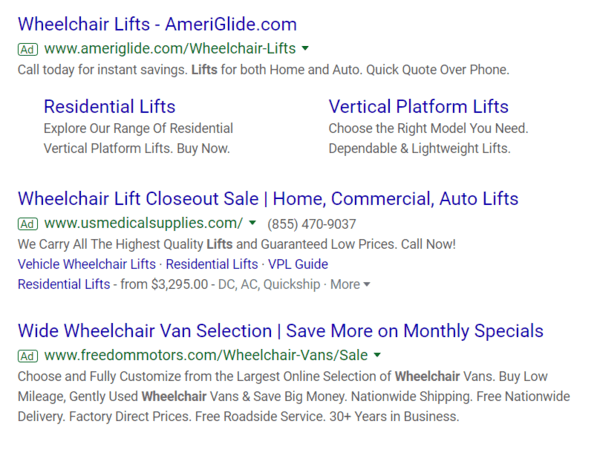 PPC campaigns are effective because they only require you to pay when someone clicks on your ad. And they generate qualified leads, too – in fact, PPC customers are 50% more likely to buy a product or service. This helps you avoid spending money on people who are unlikely to make a purchase.
PPC advertising can also deliver immediate results. Your ads can start driving traffic to your website as soon as you launch them, so if you're looking for a way to quickly increase traffic to your medical equipment company website, creating a campaign could be the right solution.
3. Nurture medical device leads with email marketing
Although it's one of the oldest forms of digital marketing, email is still one of the most effective digital marketing strategies, especially when it comes to medical equipment marketing. In fact, for every $1 you spend, email marketing has the potential to generate $44.25 in ROI.
Email marketing is successful because it's versatile. When it comes to awareness, acquisition, conversion, and retention, most marketers agree that email marketing is by far the best strategy.
The first step to creating an email marketing campaign for your medical equipment company is building a list of subscribers. You can add a sign-up form to your website and encourage visitors to subscribe. When a person opts into to your email list, they are saying they want to hear from you – meaning that they're definitely a qualified lead.
Once you have a list of subscribers, you can send emails with information on new products, services you provide, and any other information your potential clients might find interesting, like helpful tips and industry news. This is a great way to stay in touch with potential and current customers, without coming across as overly salesy.
Email marketing is ideal for building a loyal audience and encouraging customers to return to your website.
At WebFX, we have years of experience creating custom email campaigns for our clients. Contact us today to speak with a strategist about how you can get started with this high-value digital marketing channel.
4. Build lasting relationships with physicians via social media marketing
Social media platforms are considered a staple in Internet marketing today, and medical equipment companies are no exception.
Of all adults with access to Internet, 71% use social media, which means that there's a very high chance your potential clients are active on social platforms. You can share links to industry and company news, and even interact directly with customers.
Being able to communicate with your followers gives you the unique ability to answer questions, respond to comments, and address any concerns. Your followers will appreciate direct responses, and even if they're not immediately ready to make a purchase, they'll remember these positive interactions when they are.
Consistently interacting with your followers also builds customer loyalty and credibility for your medical equipment company. People feel more comfortable buying from a company they trust, and being a helpful source of information can increase their trust in your brand.
Your tone and style should remain consistent across all platforms, but your goals for each may vary. This is because every channel is slightly different and the opportunities for content are not all the same.
5. Build a website that's easy for doctors to navigate
The majority of your medical equipment marketing strategy will be designed to drive traffic to your company's website, and once they get there, your site needs to provide a positive experience.
Part of having a user-friendly site is optimizing it for mobile.
One of the most important things you can do for your website is make it mobile-friendly. 77% of Americans currently own a smartphone, so many of your potential clients will likely access your website from theirs. If your site isn't accessible on tablets, smartphones and other devices, you could be missing out on a lot of potential leads.
Mobile phones have much smaller display screens than desktops. This means if your website isn't designed with them in mind, it will be difficult to navigate, some features may not work correctly, and the overall appearance may be distorted.
Your company website features images of the various devices and equipment you sell, and if they don't load or appear distorted, it could cost you a sale. Plus, after a bad mobile experience, 40% of consumers give their business to a competitor's site. On the flip side, a website that's mobile-friendly increases ROI, drives additional traffic to your site, and improves your brand reputation.
Need help building a medical device marketing plan?
Internet marketing is essential for any company to succeed today. With so many people going online to find products and services in your industry, you can't afford to not take advantage of digital marketing opportunities.
WebFX can help you determine which online marketing strategies will work best for your medical device marketing plan.
We're a full-service medical device marketing agency with the resources to help you attract the customers you want and increase your leads and sales. Contact us today for more information and a free quote!
Earn a 20% greater ROI with WebFX