You've heard about SEO enough times to ask, "What does SEO mean?"
A variety of definitions exist for search engine optimization (SEO), but every one highlights the primary goal of this digital marketing strategy: to improve your online visibility to generate revenue and growth for your company.
Ready to learn more about SEO's definition and get answers to some of the most common SEO questions, like "What does SEO do?" This mini-guide covers the top seven things every marketer and business owner should know about SEO. Just keep reading to get started!
1.     SEO stands for search engine optimization
When someone mentions SEO, they're referring to search engine optimization. If you adopt SEO marketing, you optimize your website for search engines, which can range from Google to Bing. You're optimizing your site for not only search engines though, but for people too.
With a well-optimized site and competitive SEO strategy, your business can earn a top spot in search results, also called search engine results pages (SERPs). For the best results, your company wants to appear in searches related to your products or services.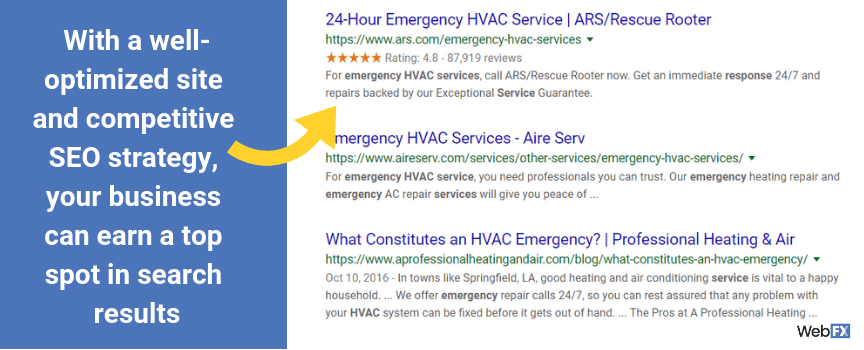 For example, if your company offers HVAC services, you want to appear in search results related to those services, not plumbing or electric. For many businesses, this scenario isn't an issue, as you would rarely create and optimize website content related to searches outside your field.
2.     SEO consists of an umbrella of strategies
The "optimization" part of SEO encompasses an umbrella of strategies. You can optimize your website in dozens of ways since search engines like Google rely on more than 200 factors to determine the rankings of sites in search results.
A few of the most trusted ways to optimize a website for search engines and users include:
As you can see, SEO relies on an entire team of specialists. You need web developers and web designers, as well as copywriters. Not to mention, you need a savvy SEO expert that can lead your strategy and guide your team.
That's why many businesses invest in SEO services, which provide your company with immediate access to SEO professionals. A full-service agency, like WebFX, offers an even bigger advantage, as we include a dedicated team of developers, designers, copywriters, and SEO specialists.
3.     SEO focuses on organic, not paid search result rankings
Answers to "What does SEO mean?" aren't complete without talking about organic and paid search results. Remember, SEO helps your business earn more visibility in search results. It's important to mention, however, that SEO only targets organic search results.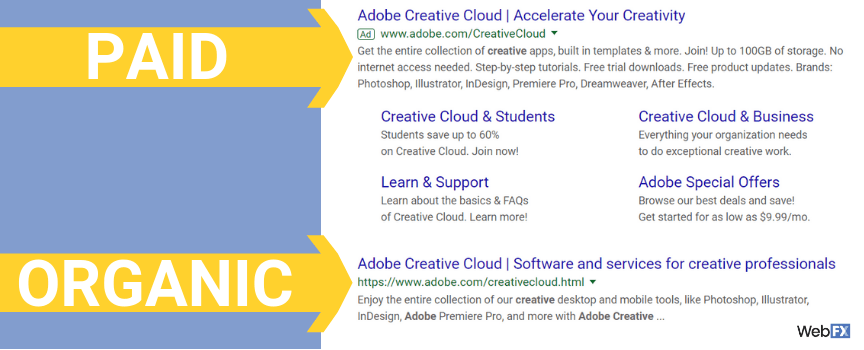 In search results, many search engines include paid and organic search results. A paid search result is an ad promoting a business and its services. That's why searches with a purchase intent, like "hvac emergency services" tend to feature ads.
You may even see ads for navigational searches, like in the example above. Businesses can also create ads that target a competitor's brand name, like "QuickBooks" or "TurboTax." Overall, pay-per-click (PPC) advertising offers many companies a new strategy for promoting their goods.
While paid ads appear first in search results, it's still valuable to earn a top spot in organic search results, which follow paid search results. That's because paid ads aren't free. When someone clicks on your ad, you pay for it.
In comparison, you pay nothing when a person clicks on your site in organic search results. Not to mention, 70 percent of clicked search results are organic. That means most users click on organic search results, rather than paid ones.
That doesn't mean PPC advertising isn't useful.
It's an excellent digital advertising tool, as well as a strategy that supports SEO. You can use PPC, for example, to give your company immediate visibility in search results, which is helpful because SEO takes a few months to show results.
Even better, you can use data from your paid ad campaigns to inform your SEO strategy. PPC advertising, for example, provides keyword data or the terms used by searchers. This keyword data can help your company determine which keywords to target in future content for your site.
If you're thinking about SEO, also consider the potential value of a short-term PPC campaign.
4.     SEO includes black- and white-hat tactics
Companies that adopt SEO can use black- and white-hat tactics.
Just because you can, however, doesn't mean you should. That's because black-hat tactics hurt, rather than help your SEO strategy. They can also cause extensive, long-term damage to your website's ranking capabilities and online reputation.
A few examples of black-hat tactics include:
Stuffing a page with keywords, hurting its readability
Including hidden text, like white text on a white background, to target keywords
Buying links from other websites, like link farms
In comparison, white-hat tactics allow your company's website to rank in relevant search results. They provide your business with that must-needed visibility in search results because they adhere to SEO best practices.
Some examples of white-hat tactics include:
With white-hat tactics, your business can appear at the top of relevant search results. You also avoid the penalties that come with black-hat tactics, like a ban from search engines like Google. Meaning, Google will not include your website in search results.
As Google claims more than 90 percent of the search market share, you want to avoid that scenario.
5.     SEO matters because of modern shopping habits
If you're pitching SEO to company decision-makers, it's critical to present compelling evidence that demonstrates its value. You want to show that SEO matters, as well as offers value to your business. It's also essential, as a part of understanding what SEO means, why it matters to organizations.
People, from businesses to consumers, shop differently today.
Instead of heading to a brick-and-mortar store, many use their phone, laptop, or desktop to search for products, ask questions, read reviews, and more. In fact, 80 percent of shoppers do product research online. Not to mention, more than half of users discover a new company or product after a search.
For consumers and businesses, search engines are a critical part of their path to purchase.

If your company doesn't appear in search results, you don't exist. Even if your business does appear in search results, a spot on page two, three, or four makes your company invisible to most users. That's because only 25 percent of users move past the first page of search results.
For businesses today, that is why SEO matters.
Whether you're an ecommerce store or brick-and-mortar shop, you can use SEO to make users aware of your business. That awareness can translate into consideration and conversion, which means a new sale or lead for your company.
To put into perspective the power and usefulness of SEO, look at the successes of our clients.
With SEO, as well as other digital marketing strategies, we've helped our clients earn more than $1.5 billion in revenue in the past five years. That's tremendous, and it's allowed our clients to pursue a variety of goals, from opening a new location to launching a new product or service.
6.     SEO takes months to show results
What does SEO mean? For many, it means an ongoing and financially rewarding commitment.
A lot of businesses invest in SEO and expect immediate results. Whether you're optimizing existing website content or launching a brand-new set of pages, your company won't see changes in your rankings overnight.
That's because SEO takes time. In many cases, it can take up to several months for your team to see a change in your rankings. A few factors, like your website's age and history with Google, can shape your company's timeline.
An older website with zero penalties from Google, for example, may see results sooner than a brand-new site. No matter your website's age and history, however, you will have to wait a few months to see results.
SEO is worth the wait, though.
It delivers excellent results, which is why 75 percent of businesses invest in SEO already. With our SEO strategies, for example, we've helped our clients earn more than 4.6 million leads, 1.9 million phone calls, and more.
7.     SEO continues to change in response to algorithm updates
Search engines like Google aim to provide the best possible experience to users. That's why search engine algorithms, which shape organic search result rankings, continue to undergo updates. These updates directly influence today's SEO strategies and tactics.
If your company adopts SEO, you need to take an active role in remaining up-to-date on SEO. You can follow blogs, take courses, run workshops, and more to keep your team at the forefront of SEO strategies.

A few excellent resources for staying ahead of SEO updates include:
Even if your company partners with a reputable SEO agency, like WebFX, it's worth keeping up-to-date.
Ready to use SEO for your business?
Whether you're looking to learn more about SEO or searching for a trusted SEO service provider, WebFX can help. With our informative blog, extensive resource library, and award-winning team, we offer everything your business needs to succeed.
Browse our SEO services today to discover how we can help your company grow!
Get posts by email
Be the first to know when we publish a new blog post!