What if you could increase your sales by 10 percent and generate a return on investment (ROI) that's five to eight times your marketing spend? According to analysts, that's exactly what personalized marketing can do for a business. That's why it's critical for companies to learn how to personalize their digital marketing plan in 2023.
Ready to learn how to personalize your digital marketing strategy in the new year? Just keep reading to discover six helpful tips for personalized marketing in 2023. Plus, see real-life examples of personalized marketing at work!
1. Personalize at every interaction
Today, 80 percent of customers are more likely to do business with companies that offer personalized experiences. This number emphasizes that every industry needs to make personalized marketing part of their digital marketing strategy. If your company wants to maximize the results of personalized marketing, then you need to personalize every interaction.
Whether a user is a lead, client, or brand-new visitor, it's critical for you to create an experience that's about them. How can you create a personalized experience? Try these strategies:
Create a quiz to help users find a product or service
Design a quote builder to help users request a custom price
Launch an email campaign to provide personalized product recommendations
Publish a guide that targets specific user needs and moves them down the funnel
For instance, look at this example from SimpliSafe, a home security company.

Their website features a multiple-choice quiz that helps users receive a custom quote for their home or business. It's a personalized experience that makes it easy for users to find what they need, and for SimpliSafe to generate a new lead.
2. Use data to your advantage
With almost 90 percent of users expecting a company to understand their needs, data is becoming an essential digital marketing tool. Data allows your company to create and build personalized experiences that deliver on the expectations of not only consumers but also businesses. Depending on your business, you may already have some information about your customers.
For example, with a tool like Google Analytics, you may know the demographics of your audience. If you operate an ecommerce store with user accounts, you probably have some information on the purchase habits of your customers too. All this information can help your company develop a data-driven, personalized marketing strategy.
How can you learn more about what your target market wants, though? A few ways, including:
Send an occasional, short survey to select customers
Use social media, like Facebook and its remarketing tool, Facebook Pixel
Invest in customer relationship management (CRM) software
Create exclusive offers for users that sign-up for your email newsletter
As an example, look at The Container Store. This retail store, which operates offline and online, offers first-time shoppers a 15 percent discount on their orders. All shoppers have to do is sign-up for POP!, which provides users with an account and exclusive rewards.

POP! also helps The Container Store gather valuable user information. With POP!, The Container Store can learn about shopper buying behavior, as well as best-selling products.
It can also see which promotional offers drive the most sales. All this data allows The Container Store to create a personalized shopping experience.
3. Make cybersecurity a priority
When it comes to user data, cybersecurity is essential. No matter how much or how little data your company collects, you need to ensure your business protects it. That's why, if you want to learn how to personalize digital marketing in 2023, you need to conduct research on how to secure user data.
If you're a small-to-midsized business (SMB), cybersecurity is even more critical, as more than 40 percent of cyber attacks target SMBs. In most cases, your company may already have a cybersecurity program in-place. You should still, however, check and make sure it provides the best protection.
When you prioritize cybersecurity, you help your personalized digital marketing strategy. Your strategy can provide users with a custom experience, plus protect their information. This proactive approach can build user trust, which can contribute to improved customer loyalty.
4. Get AI on your side
As digital marketing becomes more data-driven, artificial intelligence (AI) becomes an essential tool, especially for companies focusing on personalized marketing. With AI, your business can analyze not only user data but also marketing campaigns. With AI, your team can gain immediate insight for millions or even billions of data points.
This can help your business develop a competitive personalized digital marketing strategy that appeals to various segments of your target market. If your company want to use AI in your personalized digital marketing, you have a few options:
Develop an AI software in-house
Use a third-party vendor's AI software
Partner with a digital marketing agency with an AI software
As an example, look at WebFX. For our custom digital marketing strategies, our team of more than 200 digital marketing specialists uses MarketingCloudFX, which IBM Watson powers. If you're familiar with IBM Watson, it's one of the leading AI software applications available.

From the insights of IBM Watson, as well as our team's expertise, we've developed data-driven campaigns for our clients. For our clients, that's resulted in more than 4.6 million leads and more than $1.5 billion in revenue in the last five years. Get powerful results from your personalized marketing strategies by bringing AI into your campaign.
5. Refine your target audience personas
With the amount of personalization expected from users today, it's essential for your business to build better personas for your target audience. While you may have a general idea of who your target audience is, you can refine it with the data that comes with personalized marketing. Go beyond demographics, and instead build a profile that answers the following:
What does this user want?
What does this user expect from a product or service?
Why does this user need to buy now?
What does this user expect from a company?
What does this user need to know before buying?
When you have an in-depth understanding of your target market's motivations, as well as pain points, you can build an unparalleled personalized digital marketing campaign. You can even take the next step of refining that audience into segments to take your personalization efforts to the next level. For example, look at Rothy's, a sustainable footwear company.
Browse the website and social media of Rothy's, and you can see their target market: women interested in eco-friendly, yet attractive, comfortable, and functional footwear.

With the company's active presence on social media, as well as email newsletter, you know that they're gathering valuable information about their target market and using that data to create a personalized and targeted experience for their ideal shopper. Whether you're a business- or consumer-facing company, you can do the same for your organization.
6. Create personalized content for every channel
Today, users are active across multiple channels, interacting with your company via your website, social media, email, and more. That's why, when it comes to how to personalize digital marketing in 2023, your company needs to create personalized content for every channel. If your business adopts a "copy-and-paste" approach to marketing yourself, it delivers an unoriginal and repetitive experience for users.
For the best results with personalized digital marketing, you need to look at each channel as a separate yet coordinated marketing effort. For this approach to succeed, your team needs to take the following actions:
Research your audience
Determine your audience's behavior and expectations on different platforms
Decide how you can create a coordinated approach across channels
Build a content calendar that appeals to users and each channel's strengths
As an example, look at the content of our company across social media networks.

While our social media channels feature some overlap, they also come with original content specific to that platform and audience. For example, our Instagram highlights the achievements, events, and happenings at our office while our LinkedIn focuses on industry news.
For inspiration in your industry, browse competitor profiles and websites.
We foster and form long-term partnerships so that your business has long-term results.
Over 90% of WebFX clients continue partnering with us into year 2 of their campaign.
Hear from Our Happy Customers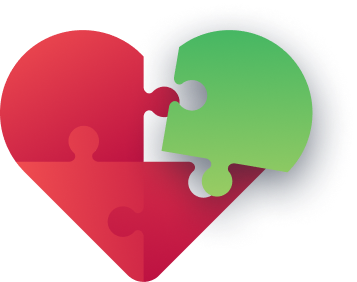 Get the latest tips for personalized marketing!
Want to learn more about how to use personalized marketing? Sign up for our newsletter and get the latest tips for how to personalize digital marketing this year.
Plus, get exclusive, never-before-seen content that covers industry news, strategies, and more!
How is your website's SEO?
Use our free tool to get your score calculated in under 60 seconds.
Get posts by email
Join 200,000 marketing managers and subscribe to Revenue Weekly!
"*" indicates required fields
WebFX Careers
Join our mission to provide industry-leading digital marketing services to businesses around the globe - all while building your personal knowledge and growing as an individual.