Transcript: What better way to talk about video marketing in 2023 than through a video? Hey there! I'm very excited to tell you about where video marketing will go in the next year, and how adding video to your 2023 strategy can greatly benefit your business!
Let's start with some video marketing stats! Did you know that in the next few years, 82% of commercial internet traffic will come from video? Also in that timeframe, it's expected that around a million videos will cross the internet every second. That's an extraordinary amount of video. But what does this mean for your business?
Video isn't going anywhere, so if you don't hop on the video train soon, you're going to be left at the station. But hey, I get it.
If everyone is hopping on that video train, it's going to get crowded. You're going to have to be more creative in your approach to video so you can stand out. And yeah, it's easier said than done, but I have some tips for growing your video marketing in 2023 and beyond.
If you want your 2023 videos to stand out, you're going to have to understand your audience's viewing habits.
I'll expand more on this with four video marketing tips.
First, know what platforms people use to watch videos.
We all know the biggest player is YouTube. People view more than a billion hours of video every day on YouTube. Just think about it. How many times have you been physically in a store, looking at your options and wanted more information like product reviews or tutorials? Of course, just because YouTube is on the rise doesn't mean you should ignore other social platforms.
Facebook and Instagram posts with videos do tend to get more engagement.
Depending on your business and your goals, you may see success from posting videos on LinkedIn. Where you post will always depend on who and where your audience is. Aside from where you post, your engagement rate will also depend on your video length. Whereas a 10-minute video will probably perform well on YouTube, someone scrolling through Facebook isn't going to stop and watch for very long…some might not stop at all.
Second video marketing tip for 2023: know what devices people use to watch videos.
I don't think this will come as much of a surprise, but you should create web videos with a mobile-first mindset. People watch videos on social media, and where do they access social media? Their phones.
Two big things for you to think about with mobile video:
One is the language you use.
Here's an example.
If you want someone to click a link, it's not really a click on a phone. It's more like a tap.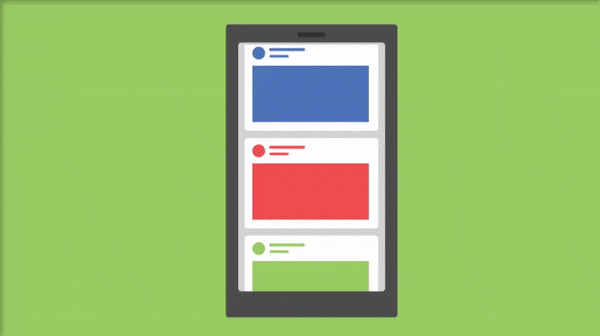 So instead of saying click the link in the description for someone using a mouse, you might want to say something like follow the link or tap the link. Again, look at your video analytics to really see where people are watching your content. You might still get a decent amount of views from desktop computers, so you shouldn't isolate that segment of your audience if it's still present.
The second big thing with mobile video: a lot of people watch without sound.
92% of people surveyed in the U.S.
view videos without sound on mobile. So the solution to this is captions. If you caption your videos, you're giving people a way to watch your content without turning up the volume. Alright, next 2023 video tip.
Tip three: understand how people search for videos.
In 2019, search intent mattered a lot. It matters just as much in 2023. Someone searching for "update your website" on Google might be looking for an explanation of why they should.
You'll see some results focused on the "why."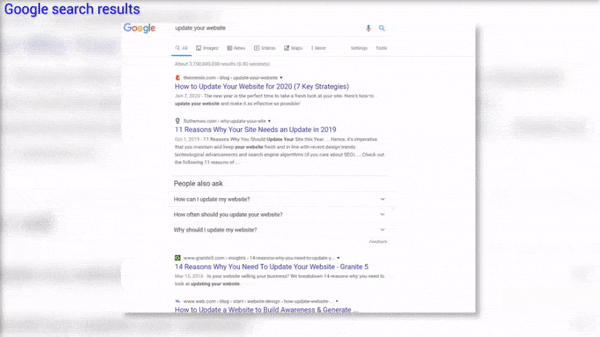 But if you search for the same term with YouTube, you'll see the results go further with not just the "why" but the "how." Videos are visual, and the topics you cover should reflect that. It makes more sense to make a video showing people how to update their website rather than narrowing it down to a full explanation of why it's important. Digging into the search results can help you understand what people want to see in your 2023 video marketing content.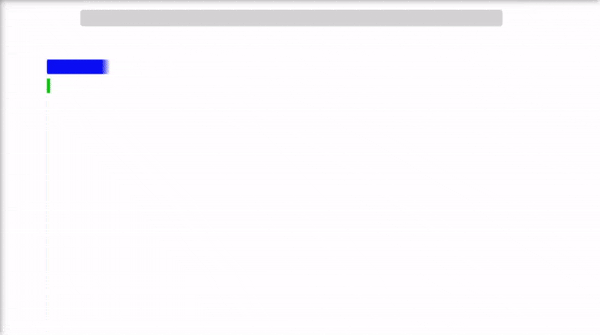 As I mentioned earlier, YouTube has become a staple of the consumer decision-making process. Google knows this and now has a Key Moments feature for YouTube videos AND websites. You might have seen these results when you search for a "how-to" query on Google. A video pops up in the search results on mobile featuring different segments related to your search. To get your YouTube videos to pop up for a search, make sure to break down your video into timestamps in the YouTube description.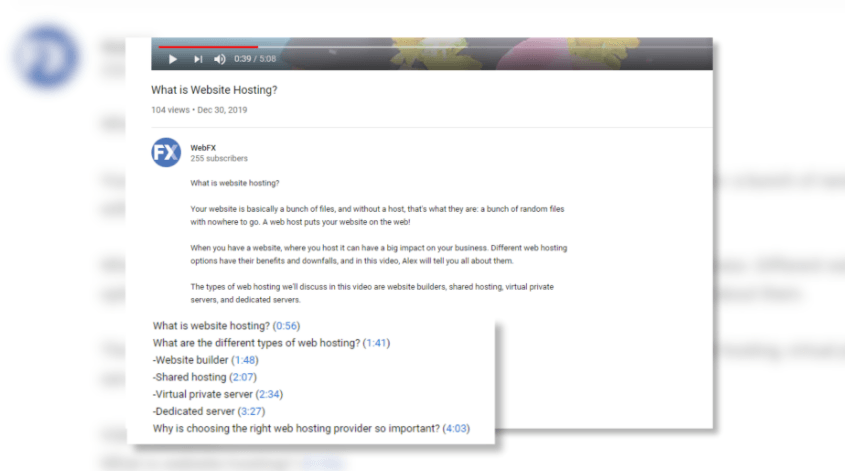 It's a bit more complicated to get your site's videos to show up for key moments. Your page has to support rich results, and you have to use clip structured data on your site.
The website feature is also limited to a small group of sites, but if you're interested in participating and meet all the requirements, you can fill out an interest form for your site. Now, here we are at the final tip for video marketing in 2023.
Tip four: use data to personalize your videos.
Personalization will win in 2023, especially in the world of video. You might have seen personalized videos on social media or in your email that feature your name throughout the video. It's a super cool way to connect with your audience using the information they provided when they interacted with your business. Look at the data you have. Do you have a weekly email newsletter for your customers?
Do a lot of industry professionals engage with your content on social media? Target your videos towards them. How specific can you get? If you incorporate video into your 2023 marketing strategy, you're sure to have some wins for your business. How do you think video will change in 2023?
Let us know in the (YouTube) comments! And as always, subscribe to our YouTube channel and follow our blog for the latest in digital marketing.
Get posts by email
Join 200,000 marketing managers and subscribe to Revenue Weekly!
"*" indicates required fields
WebFX Careers
Join our mission to provide industry-leading digital marketing services to businesses around the globe - all while building your personal knowledge and growing as an individual.