May 10, 2022
7 minute read

Kayla is a content specialist with a B.S. in marketing. She is certified in Google Analytics and Google Ads Search and Display. When not writing, she enjoys reading, playing with her dog, and baking.
Get ready to leverage a new, exciting opportunity to market your business: Streaming giant Netflix is introducing ads.
The subscription service has long been synonymous with streaming, drawing viewers worldwide to consume movies and TV shows on the platform. However, while other platforms have supported ads, marketers could never advertise on Netflix.
More streaming services have cropped up in the last several years, placing intense competition on Netflix. Due to their extra options, many consumers now gravitate more toward lower-priced services that show commercials.
As a result, Netflix experienced a decline in subscriptions in early 2022. How'd the streaming giant respond? Netflix has taken the hint and plans to roll out an ad-supported tier.
Learn what we know about these ads so far and how you can prepare to introduce Netflix ads to your marketing strategy.
Meanwhile, want more of the latest marketing news? Sign up for our Marketer Manager Insider emails for the most current information you need to know delivered straight to your inbox!
Don't miss our Marketing Manager Insider emails!
Join 200,000 smart marketers and get the month's hottest marketing news and insights delivered straight to your inbox!
Enter your email below:
Inline Subscription Form – CTA 72
"*" indicates required fields
(Don't worry, we'll never share your information!)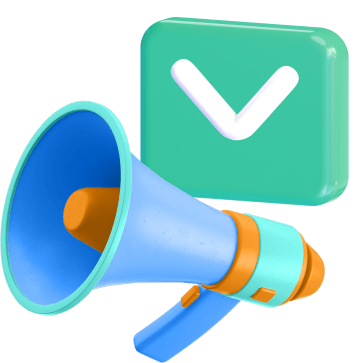 What will Netflix ads look like?
We don't know all the details yet, but Netflix spokespeople have indicated that:
The ads will roll out under a new ad-supported subscription tier.
This approach means only people who opt into ads will see them. If subscribers prefer not to see commercials, they have the option to continue streaming ad-free.
Netflix will leverage third-party advertising companies to manage the ads.
Outsourcing this job will allow Netflix to continue dedicating its time and energy to creating content its viewers want to see — which is critical to keeping their subscription numbers high. Outsourcing will also allow Netflix to leverage more data to serve the most relevant ads to its audiences.
Netflix's advertising strategy is primarily geared toward growing its subscriptions globally.
While Netflix will make the ad-supported tier available to U.S. subscribers, the platform is mainly concerned with its international growth. In many countries, Netflix faces steep competition from lower-priced alternatives, complicating its expansion into these countries.
Introducing an ad-supported tier will enable Netflix to compete with these services and expand its reach abroad.
Though we don't know too much about what Netflix ads might look like yet, you can gather some insights from current streaming services that leverage ads and the overall over-the-top (OTT) and connected TV (CTV) advertising experience.
The current ad-supported video on demand (AVOD) landscape
While Netflix was one of the first video streaming services, the landscape has since grown. Consumers have their choice of streaming services, and many consumers subscribe to multiple options.
Amid this competitive landscape, Netflix stands out as one of the only streaming platforms with no ad-supported options. Only now are Netflix — and Disney+ — introducing ads to compete with platforms like:
Hulu
HBO Max
Peacock
Discovery+
You might recall that Hulu was one of the first ad-supported streaming services, and Hulu's current model resembles how Netflix's ads might roll out. For that reason, it's a good idea to look at Hulu's current layout to determine what Netflix's ad tier might look like.
When you sign up for a Hulu account, you see three options — an ad-free plan, a standard plan with ads, and a plan with live TV.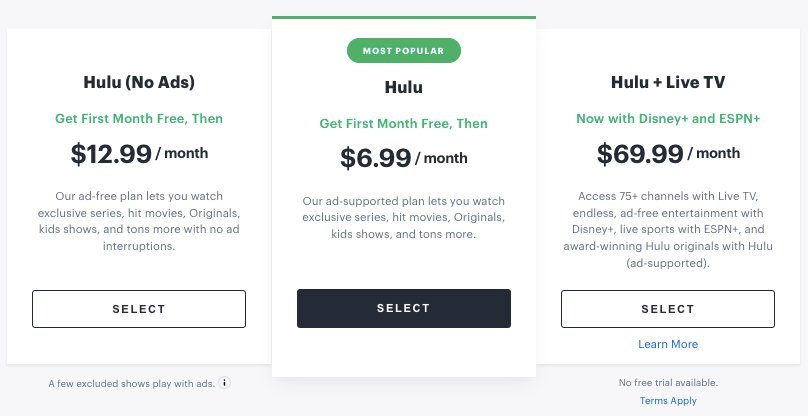 Ads on Hulu play throughout the viewer's program and appear like standard TV commercials. Some might include interactive elements for the viewers, allowing them to engage directly with their ad experience.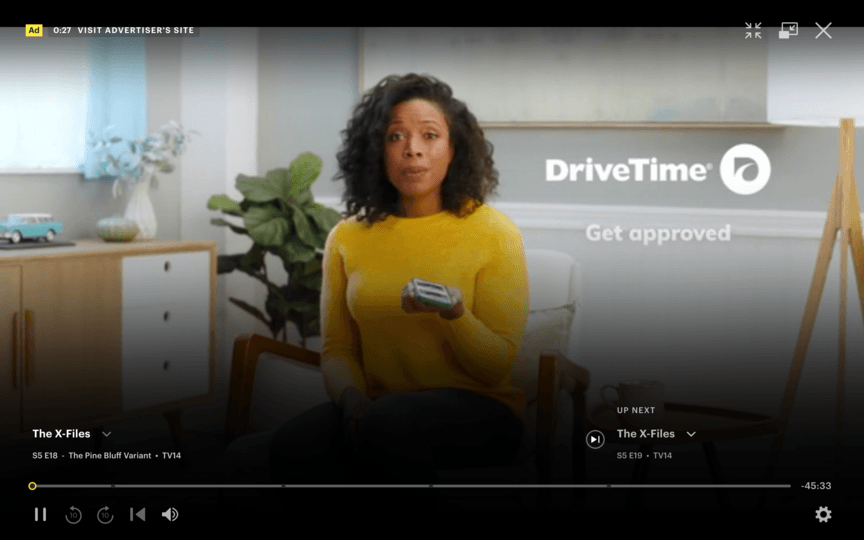 OTT and CTV advertising potential
AVOD forms one part of the broader OTT advertising landscape, which bears exciting potential for marketers. Why is OTT so compelling for advertising? And how do the OTT and CTV advertising experiences look?
Before exploring the potential of OTT advertising and how Netflix commercials might fit into it, you might be wondering what OTT and CTV are. OTT refers to any content streamed online, while CTV refers to any TV connected to the internet.
When viewers stream Netflix, that's OTT in action, and when they stream Netflix to their TV, that's CTV.
OTT advertising allows you to:
Because OTT advertising occurs online, you can leverage the data from that connectivity. Instead of advertising to all viewers of a program, as you would with traditional TV ads, you can zero in on your target demographics or interest segments.
Netflix's decision to work with third-party advertisers helps the platform better leverage this potential. Compared to other OTT platforms like Disney+ and Amazon Prime Video, Netflix doesn't hold as much proprietary customer data.
However, working with third-party advertising companies will make up for this shortcoming. With the right partner, Netflix can provide competitive targeting data to leverage in your OTT advertising strategy. This influx of data will empower Netflix ads to compete with other platforms' advertising opportunities.
OTT advertising also allows you to create interactive ads — so long as the platform supports it. With this functionality, you can personalize the experience to get viewers more involved with your ads.
Another advantage of OTT's exciting data capabilities is improved reporting. You can analyze the data from your OTT ads to understand what performs well for your audience on each platform. Your data can inform your targeting strategy to help you improve your return on ad spend.
Netflix's history and reach mean its targeting will come from a wide swath of the population, and your data will benefit from that breadth. Think about it: The broader the population you're pulling from when you create targeted segments, the more granular and representative your segments can become.
How can you prepare a Netflix advertising strategy?
With these exciting developments on the horizon, how can you prepare to leverage Netflix ads when they roll out? Follow these three tips to help you prepare to jump into the Netflix advertising pool as soon as possible:
1. Understand how Netflix commercials can fit into your pay-per-click advertising (PPC) strategy
OTT advertising — and Netflix ads specifically — bear enormous potential to scale your PPC marketing.
While you might currently run PPC campaigns on search, display, or social media, consider how expanding your campaigns to Netflix and other AVOD platforms can benefit your company.
If you're already advertising on ad-supported streaming services, start planning how Netflix will help you scale your campaigns. Netflix remains one of the industry leaders. How will Netflix commercials align with your current streaming ads?
2. Consider the audiences reached by Netflix advertising
As you create a Netflix advertising strategy, consider the audiences your commercials could target.
With the additional subscription tier, Netflix hopes to reach more price-conscious streaming customers, U.S. customers who require a more affordable price to suit their financial needs, and international consumers who have traditionally preferred lower-priced alternatives.
How will these audiences align with your marketing plan? How might you adapt your Netflix advertising strategy to suit these customers?
3. Focus on creating high-quality ads
Netflix has created and will continue to create high-quality content for its streamers. How will your ads align with that quality content?
Traditionally, subscribers might have preferred ad-free options due to ads' disruptive nature. But now that in-stream commercials are growing in popularity, think of ways to make your ads feel like an extension of the viewer's entertainment.
The more valuable and high-quality your ads are, the less likely streamers are to consider them disruptive. And that improved ad sentiment can work wonders for your results.
Questioning the quality of your SMB's PPC performance?
Get your FREE PPC audit from WebFX today!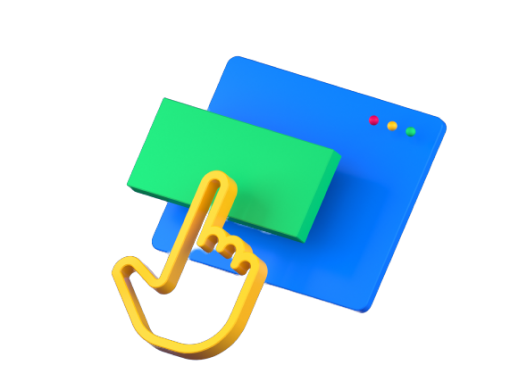 Prepare for Netflix ads by improving your existing PPC strategy
Netflix advertising holds exciting potential for your marketing strategy. Ensure you're ready to scale your advertising to Netflix by establishing a solid foundation.
If you have a robust PPC and CTV advertising strategy, you'll be ready to jump into Netflix advertising as soon as the platform rolls it out. Unsure where to begin? Let our digital marketing experts help!
Our 500+ digital marketing pros know how to create a robust online advertising strategy that drives real-world results for your business. With over 25 years of experience, we've run 650 ad campaigns for our clients across many industries.
Leverage our digital advertising expertise to create a strategy that will set you up for Netflix advertising success! Ready to speak with a strategist? Call us at 888-601-5359 or contact us online today!
Kayla is a content specialist with a B.S. in marketing. She is certified in Google Analytics and Google Ads Search and Display. When not writing, she enjoys reading, playing with her dog, and baking.

WebFX provides digital marketing solutions with expert marketers, designers, and developers to increase visibility, conversions, and revenue.

Learn more
Cost Per Click (CPC) Calculator
Do you advertise on platforms that charge per click? Use our calculator and figure out exactly how many clicks will fit within your budget.
Calculate Your CPC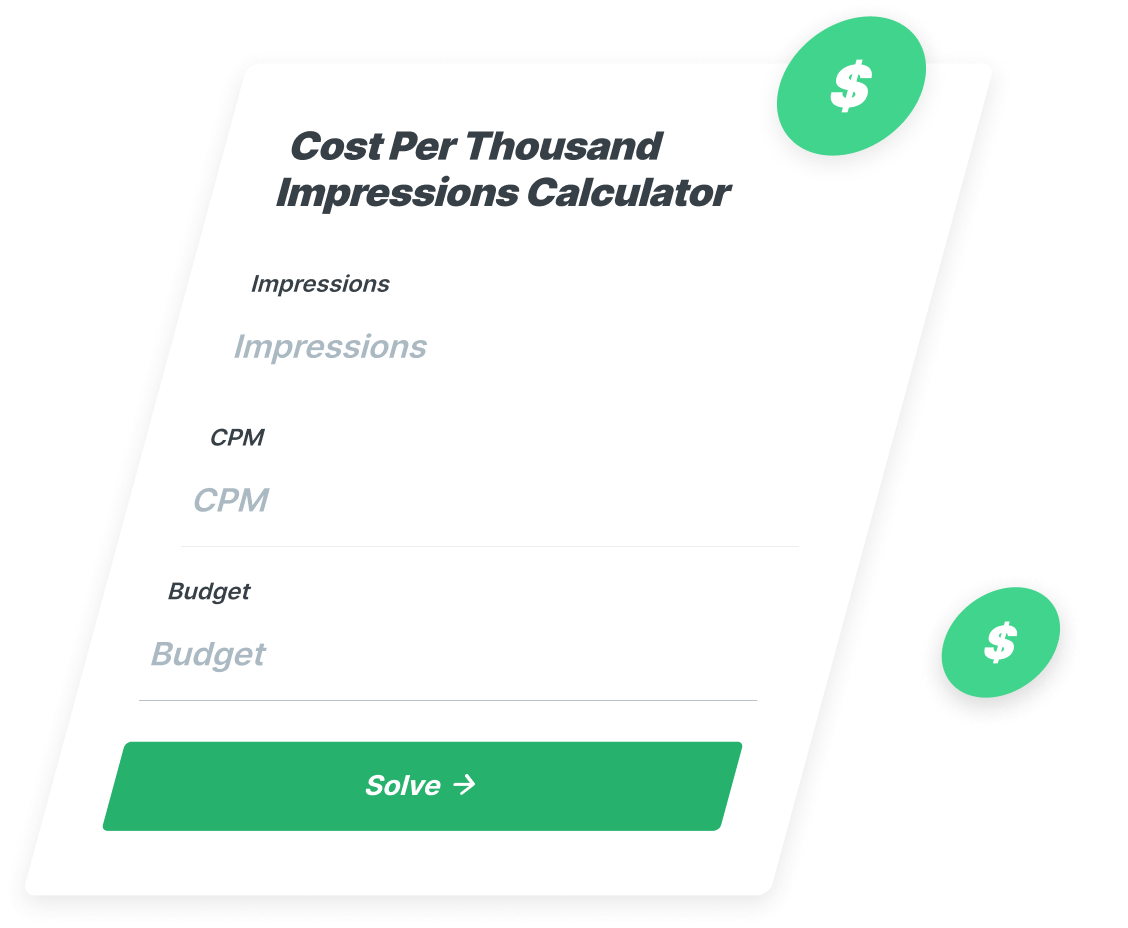 Unlock the Potential of PPC for Your Business
See how WebFX helped another company increase quote requests from paid search.
See How We Did It
Cost Per Click (CPC) Calculator
Do you advertise on platforms that charge per click? Use our calculator and figure out exactly how many clicks will fit within your budget.
Calculate Your CPC