Facebook allows you to connect with old high school friends, keep in touch with family, and even find recipes for this week's dinner. But did you know that Facebook is also one of the best places to reach your company's target audience online? Whether you're looking to increase traffic to your website or improve your bottom line, Facebook paid ads can help.
If you're new to the idea of Facebook ads, consider that there were over 2.963 billion active Facebook users on February, 2023. It's unlikely that you'll find this large of an audience anywhere else. The best part is, you can target them based on tons of different characteristics.
Simply put, a Facebook paid ad campaign can help to take your marketing strategy to the next level.
Organic vs. Paid Advertising?
If you're not sure where to start, keep reading! We'll talk about how you can use Facebook paid ads to shape your advertising strategy and increase your number of site visitors and conversions year over year.
Types of Facebook paid ads
Before we get into the real meat and potatoes of using Facebook paid ads for your business, it's important to know the types of Facebook paid ads that you can use.
Photo and video ads
These two different kinds of ads have the same goal in mind: user engagement. Both photo and video paid ads help you to show off your products and services by showing them instead of telling users about them.
These ads are simple and efficient, and you can use them to show pictures of products, videos of how they're made, clips of how to use them, and so on.
Carousel ads
This kind of ad allows you to combine up to 10 photos, videos, or a combination of both to create an intriguing and engaging paid ad for viewers. You have tons of different options with this kind of ad. For example, you could choose to show 10 different specific details about one product, 10 versions of the same product, 5 photos and 5 videos of a product.
Your options with carousel ads are essentially endless, and they're super engaging, too, since they give users a lot to look at.
Slideshow ads
Slideshow ads are a great way to string together a series of still images to create a video-like clip. You can even add music! Though users read these as videos, they take up far less bandwidth, which means they load faster.
You can choose to feature still images from your own collection, short video clips, or even stock images Facebook provides.
Lead Ads
In short, lead ads are an easy way for advertisers to collect potential customer information directly from ads on mobile devices. Instead of arriving at a landing page after clicking the ad, customers are served a form when they click on the ad instead. There aren't a lot of fields to fill out, and they're super easy to complete.
Lead ads are only for mobile and help to make the subscription process a lot easier.
Collection ads
This is another kind of ad that is only made for mobile. Collection ads make it super easy for users to click to buy a product. It doesn't take a lot of time or clicks and is ideal for users who may not have the best Internet connection when they find your ad.
Dynamic ads
If you've ever had a customer fill their shopping cart on your website just to abandon it later, you're not alone.
Dynamic ads essentially retarget those who have been on your website and looked at a product, or even added it to their cart, without taking further action. These ads will show up in their newsfeed to promptly remind them that they intended on buying one of your products.
Step-by-step Facebook advertising strategy
Now that you understand the different kinds of Facebook paid ads, it's time to put together your Facebook ad strategy. No matter what kind of ad you're opting for, the strategy is generally the same.
1. Set goals for your Facebook paid ad campaign
Failing to set goals for your Facebook ad campaign is one of the worst mistakes you can make. When you set goals, you create a benchmark for your campaign success, and it'll be far easier to measure your achievements over time. Not only that, but setting goals gives you something to work toward, and keeps you from allowing your campaign to plateau.
Every business will have a different goal for their Facebook paid ad strategy. Some may want to increase site traffic with their ads, while others are looking for more conversions overall. Other businesses may want to increase their number of email opt-ins, and some may want to increase event attendance.
It all depends on your business, who you serve, what products you sell, and how you can use Facebook paid ads to grow your company overall.
2. Prepare your Facebook paid ads campaign in Facebook Ads Manager
Though the goal for your ad campaign differs from company to company, something that works the same is Facebook Ads Manager. This is the tool that you'll use to create the ads that help you reach your marketing goals with social media. To start your Facebook ads, you can use the Facebook Ads Manager link. Or, simply locate any of the "Promote Page" buttons on your company's Facebook page.
3. Tell Facebook exactly what you want to achieve
We first recommended that you set goals, and this is where you can put them into action! Before creating your ads, Facebook will ask you why you're using the ads. For your ads to be as successful as possible, setting your marketing objective accurately is super important.
There are three different categories of objectives that Facebook offers: awareness, consideration, and conversion. You can use the personal goals that you set earlier to help you decide what objective is right for you and your business, or you may find an objective that you didn't know you wanted to reach. Regardless of how you choose, be sure that you choose an objective that is specific to your unique business.
For example, setting an objective of "raising attendance at your event" when you don't have any events set up would be a waste of time and money.
4. Choose your audience
This is one of the most important parts of your Facebook paid ads campaign. Without customizing your campaign to target your most qualified audience, you'll waste a lot of money on ineffective ads. You'll be able to target users based on the following:
Age
Gender
Purchase behavior
Language
Location
Interests (based on the pages they like and interact with)
These specific demographics will help you reach a group of users that is most likely to be interested in purchasing your specific products and services.
5. Set your budget
This is another crucial part of a successful Facebook paid ad campaign. The best part about your paid ad budget with Facebook is that you can essentially choose how much you want to spend in a single day, and the platform will take care of the rest. You don't have to worry about dividing up cents. Facebook will work to get you the most amount of impressions with the budget you've allotted.
You'll have the choice to set a daily budget or a lifetime budget, which is how much you'd like to spend over the entire course of your ad campaign.
6. Get creative
After you've set your goals, chosen your audience, and determined your budget, it's time to get creative. You'll be able to choose what kind of ad you create and the pictures and videos you want to feature, along with your attention-grabbing headline and click-worthy body text. You should spend some time wordsmithing your ad since it can be a make-or-break factor when it comes to someone clicking on it.
You'll want to use keywords that your users are interested in, and create copy that is related to the image that you choose. When it comes to choosing an image or video, you should only use the highest quality shots to ensure that your ads look professional. After designing your ad, you'll want to decide whether you want it to appear as an Instagram ad as well.
Not happy with your social media engagement?
We've got just the blog post for you.
Read the Blog Post & Watch the Video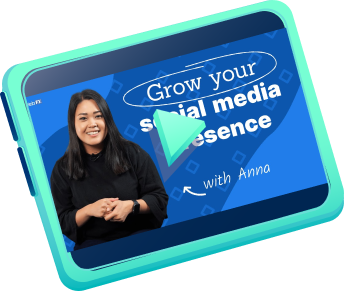 Want a custom Facebook paid ads strategy?
If you're overwhelmed by the process of creating Facebook paid ads for your business on your own, WebFX can help.
We have a team of over 500 specialists who can help your business reach its full potential with social media marketing services. If you're interested in learning more about custom Facebook ads for your business, or how to track important metrics with Facebook insights, contact us online today, or give us a call at 888-601-5359!
WebFX Careers
Join our mission to provide industry-leading digital marketing services to businesses around the globe - all while building your personal knowledge and growing as an individual.