6 Best Social Media Platforms for Businesses
There are lots of social media platforms available to marketers today, and the ones you use can play a major role in your social media marketing success. Factors like your industry, audience, and brand can all influence the network you use.
A dental practice that uses social media marketing, for example, will likely use different types of social media than a software-as-a-service (SaaS) provider. That's why it's essential to not only know the various social media networks available but also how they function for different sectors, audiences, and more.
Watch our video and keep reading to learn about the best social media platforms for businesses, including yours! Or, call 888-601-5359 to speak with a strategist about social media plans from WebFX.
Guide to
Social Media Marketing for Businesses
Recommendations and tips straight from our subject matter experts!
Get My Free Guide
1. Facebook
Number of monthly users: 2.89 billion

Demographics: Men and women, ages 18-65 or older
Facebook is the most popular social network in the world, with more than two billion users. As a result, you can find just about anyone on Facebook, provided they have access to the Internet. That means almost everyone in your customer base has a Facebook account, which is why it's a top social media site for businesses.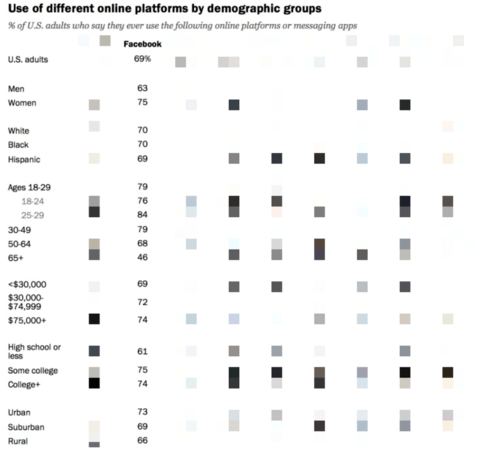 With such a broad appeal, Facebook marketing gives you the chance to turn your customer base into a community. You can share behind-the-scenes looks at your company, new deals on your services, and more by creating a simple Facebook page. It only takes a few minutes to create, and once you upload some photos, you can start reaching out to Facebook users for followers.
Photos, contests, questions, videos, and other short posts work exceptionally well on Facebook. You can also use text updates to keep your followers informed, but they won't perform as well as your photos or videos. And you can always use your Facebook to promote new content that you've created to get visitors to your site.
2. Twitter
Number of monthly users: 4.48 billion

Demographics: Men and women, ages 18-49
Twitter gives its users a steady stream of information and new content from all over the Internet. It has millions of engaged users every month, and practically every brand in the world has an account to update its customers. This social network for businesses may not have the same broad audience as Facebook, but it's easily one of the most accessible networks on the planet.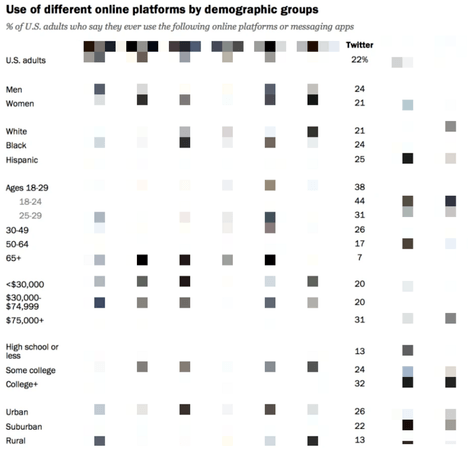 However, Twitter famously limits its users to messages of 280 characters or fewer.
That means you have to be concise, interesting, and informative all in one tweet, and that's not easy.
But when you do it correctly, people can favorite or retweet what you've written so that you can appeal to a broader audience — which can make your content go viral. A robotics company using social media to promote its products could create content similar to Boston Dynamics with dancing robots, for example.
While this type of content won't drive immediate sales, it will drive brand awareness.
3. Instagram
Number of monthly users: 1+ billion

Demographics: Men and women, ages 18-64
Instagram is one of the youngest social networks out there, with a majority of users under 25. That makes it the perfect social network for brands or companies that target young, hip demographics. Photos and short videos with a small amount of text do exceptionally well on Instagram, and it also integrates with your Facebook and Twitter accounts, so you can use the same photos across multiple platforms.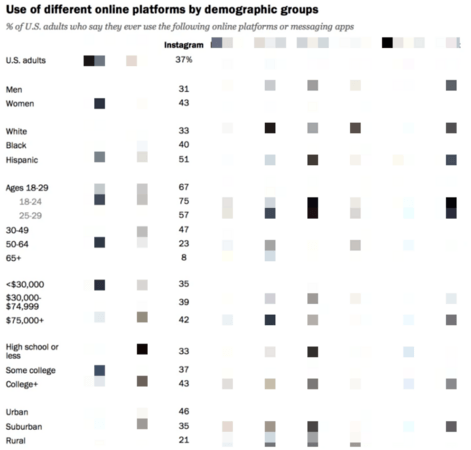 Instagram tends to have a bigger following in urban areas, meaning companies that focus on fashion or digital tech will usually do better than companies focused on agriculture or home-building. Although that's not to say you still can't find success if you're not a young, trendy company — just that you'll have to be a little more creative with the photos you take.
A social media agency can help you with this challenge, and help you make the most of this social media site for businesses.
Explore Instagram vs. Pinterest
4. Pinterest
Number of monthly users: 450+ million

Demographics: Women, ages 18-64
Pinterest is a place to share (or "pin") different visual content so that other people can see it. That can include everything from a scarf to an infographic, which means practically any company can find at least part of their niche on this social network. It's one of the best social media platforms to promote new visual content you create, especially if you regularly maintain boards.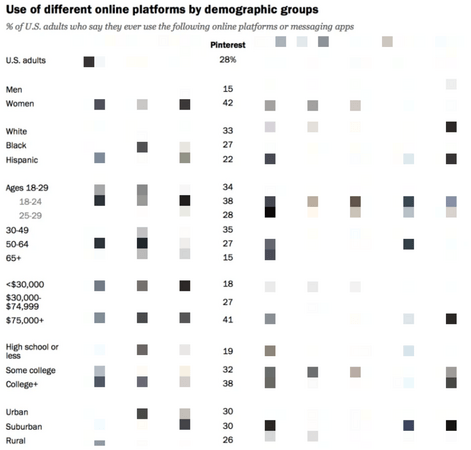 Use some graphic design magic to spruce up some statistics or other interesting, evergreen content that'll continue to get pins and grow your brand awareness over time. This is especially helpful if your company makes a product or offers a service specifically for women — statistically, about 85% of Pinterest's user base is female.
And if you don't, you can still make Pinterest work for you. It has several hundred million users every month, and some of them are bound to be interested in what you have to offer.
5. LinkedIn
Number of monthly users: 310+ million

Demographics: Men and women, ages 25-64
In terms of professionalism, no social network can beat LinkedIn. It's a thriving community of workers and business owners who share and connect on a professional level, making it much more formal than other social media platforms. Because of that, its users tend to respond better to B2B content than B2C.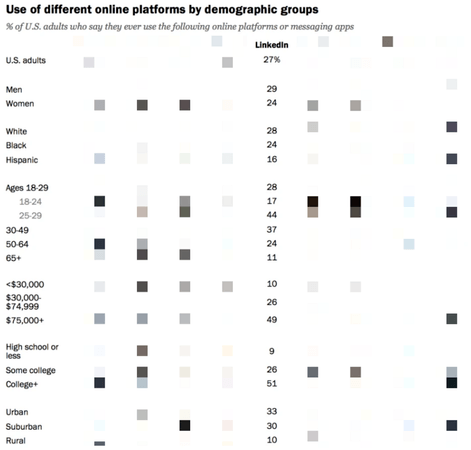 In general, that means companies that seek businesses as clients will have more success than companies that market directly to consumers. Decision-makers and influencers are all over LinkedIn, and if you can get your brand and message to them, you can get another sale.
6. YouTube
Number of monthly users: 2+ billion

Demographics: Men and women, ages 18-65 and older
YouTube is kind of a catch-all when it comes to content since so many people use it (it's the second-largest search engine in the world after Google). Comedy and music both do well on YouTube, but that doesn't mean you can't use this social media platform for your business.
In fact, it's just the opposite.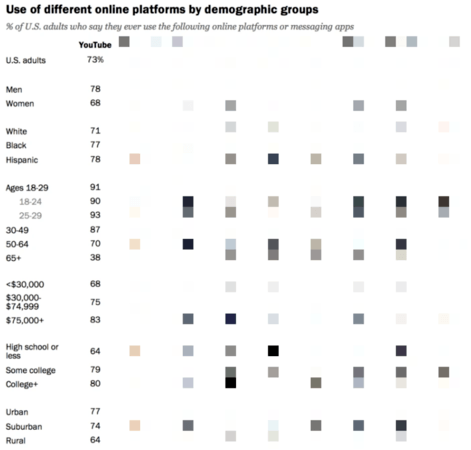 Product reviews, instructional videos, and similar kinds of content do exceptionally well on YouTube, especially when you're educating part of your target market. Plus, once you make a video, it'll start to show up in Google and YouTube search results, and you can promote it on your other social accounts. When your customers want to learn, you simply can't beat YouTube.
Guide to
Social Media Marketing for Businesses
Recommendations and tips straight from our subject matter experts!
Get My Free Guide
Use the best social media platform (and agency) for your business
At WebFX, we have a full team of social media specialists who know how to get the most from Facebook, Twitter, Pinterest, LinkedIn, and more. We're constantly up-to-date on the latest trends and best practices when it comes to social media marketing, and we'll strive every day to get you the results that you want to see.
With the power of social media on your side, your business can grow like never before!
Are you ready to get more customers through the best social media platforms for businesses? Contact us today to lay out a strategy that'll work for your business!
WebFX is a partner businesses trust.
Hear from HydroWorx, who saw a 236% increase in organic sessions with WebFX services.
Watch the Video Testimonial