Agency

Internet Marketing Agency
Internet Marketing Agency That Gets Real Results
106% increase in conversions. 751% increase in search engine traffic. #1 ranking in Google. Those numbers? They're real results from real WebFX clients. Our Internet marketing services don't just drive traffic — they turn website visitors into paying customers, maximizing your ROI and delivering an experience like no other. That's why businesses worldwide trust our Internet marketing agency.
Our Internet Marketing Agency's Services
Here at WebFX, we're a full-service digital marketing agency, so we offer a full suite of online marketing services for our clients. When you can get everything in one place, the result is improved alignment across channels, simplified management of your marketing, and better results. We craft custom Internet marketing strategies for all of our clients, and we'll take the time to get to know you and understand your company's unique needs and goals. Learn more about the various services our online marketing agency offers below.
Hear From Our Clients
"WebFX understands our business and shows genuine enthusiasm about achieving our goals. They communicate exceptionally well and care about our work…Although there has been a lot for us to learn, WebFX has done a great job breaking everything down for us."
VP of Marketing and PR, Event Design & Production Firm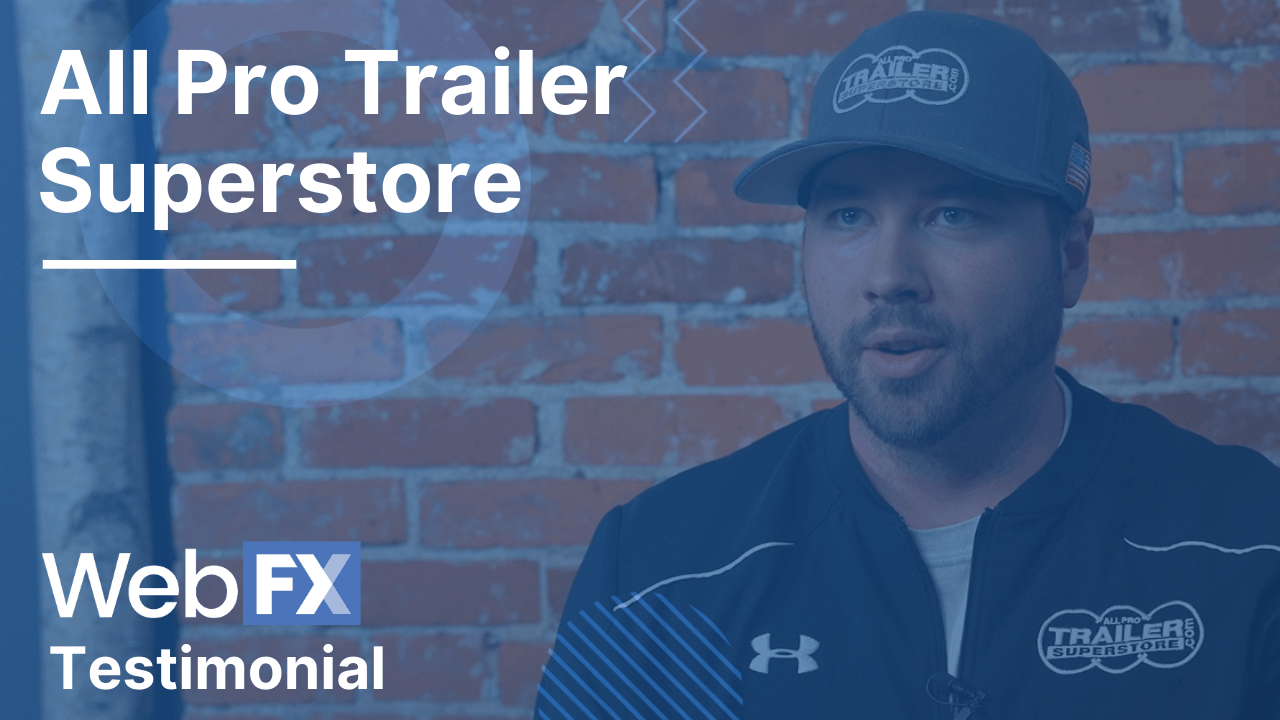 "WebFX has always been very informative with every step we take with our site. I appreciate that we always see what they will be doing with our site before it is implemented."
Abrasives Manufacturer
"WebFX has exceeded our expectations. They do a great job explaining what they are working on for our projects. They help us understand in a simple, easy understand way, which is so helpful. We see excellent results so far!"
Beauty Ecommerce
"The best thing I can say is that we continue to rely on WebFX as a partner, not just an external agency. We do more and more with WebFX with each passing a year, a testament to how good the team is. They've become part of our team in the best way possible."
Restaurant & Bar Product Supplier
Video: What Does An Internet Marketing Agency Do?
Get an in-depth look at how Internet marketing works, what our Internet marketing agency does, plus how we help businesses likes your grow through the Internet in this video.
What is an Internet marketing agency?
If you're wondering "what is an Internet marketing agency?", you're not alone.
An Internet marketing agency is a group of specialists who work together to provide marketing services to clients.
Some digital marketing agencies may be small and specialized, and only cater to specific industries while other agencies have teams of 500 or more employees that work with every industry in the book.
Similarly, some Internet marketing agencies operate as a full-service agency, which means they serve clients a full suite of digital marketing services, while others are specialized and only offer a specific service or two.
Most likely, you'll want to hire a full-service agency to ensure that your campaign is well rounded and effective.
A digital marketing agency is responsible for:
Researching your business
Researching your industry
Researching your competition
Researching target keywords in your industry
Reporting on the results they drive with marketing campaigns
Suggesting new and improved strategies that could benefit your company
Now that you can answer the question, "what is an Internet marketing agency?", let's answer another question — "what does an Internet marketing agency do?".
What does an Internet marketing agency do?
Before you can decide if your business needs to hire an Internet marketing company, you should first be able to answer the question, "what does an Internet marketing agency do?".
In short, an Internet marketing agency uses a variety of strategies to help your business increase website traffic, improve brand awareness, boost conversions, and increase revenue year over year.
There are a variety of Internet marketing strategies that an agency uses to help you accomplish your business goals, including, but not limited to:
And so much more
An experienced digital marketing agency will use a combination of strategies to help businesses thrive.
So, what does an Internet marketing agency do? They help your business shine, grow, and thrive.
Get the best digital marketing agency on your team
As a leading Internet marketing agency, we know that your company is unique.
We want you to embrace what makes you different, and what makes you stand out from the crowd. That's why we offer solutions customized to fit your unique business needs, goals, and expectations. Whether you're searching for a partner to manage your online presence or a full-service firm to design and boost your website to the top spot in search results, we can create a package just for you.
With more than 25 years of experience in Internet marketing, our team has the expertise to help your company succeed. Search engine marketing, among other tactics, is second nature to our award-winning experts who will deliver high-quality results that help you meet and exceed your goals.
Are you ready to start working with a top Internet marketing firm?
Our team is ready to give your website the boost in rankings it needs to attract more visitors and earn more conversions. With more than 1.6 million hours of experience, plus hundreds of satisfied clients, you can trust our team to deliver the results you're looking to achieve.
Work with the Internet marketing agency that companies trust. Get your FREE quote now!
Whether you're looking to increase your sales, boost your revenue, or maximize your competitive edge, WebFX can help. With our custom, data-driven strategies, we can help your company achieve its biggest goals, from expanding into a new area to giving back to the community to hiring additional team members.

How to choose an Internet marketing firm that delivers
With thousands of Internet marketing firms in the U.S. alone, it's sometimes overwhelming to consider your options — but it shouldn't be!
There are a few tried and true criteria that you should always consider before signing on the dotted line with an agency.
Use the following checklist to help you find the perfect website marketing company for your business.
One of the first things you should consider when choosing an Internet marketing firm is how long they've been in business. Are they just starting out, or have they been around for a while? It's typically not in your best interest to hire a firm that's just starting out — and there are a few reasons:
You can't be sure of their expertise
Not a lot of companies have worked with them, so they probably don't have many reviews, if any
It's risky to invest a marketing budget in a start-up marketing firm
You could potentially lose money and end up with zero results
For these reasons, you'll want to find an online marketing agency that has been around for at least a decade to ensure that they've been through the ups and downs of running a marketing business and are still bringing in customers.
When you hire an established agency, you can trust that they're successful, since unsuccessful companies won't get established — or stay established for long. With our decades of history and experience, as well as client retention rate of almost 100 percent, you can count on WebFX.
They provide transparent pricing
Another quality that you should look for in an Internet marketing firm is that they share their pricing online. Agencies that have their pricing written out in black and white have nothing to hide, and are willing to let you decide right off the bat if they're a good fit for your company in terms of budget.
Agencies that don't share their pricing online could be hiding something, and you could find that they have hidden fees associated with their services. At WebFX, we always provide transparent pricing — including for customized quotes — and reports.
They're a Google Partner and Google Ads certified
If you're looking for a top-of-the-line digital marketing agency, look for one that is a Google Partner or, even better, a Google Premier Partner.
Google Partners have met Google's partner program requirements, which include having team members who are certified in Google Ads and achieving a high level of Google Ads campaign performance.
At WebFX, we've met Google's strict standards and earned our Google Premier Partner certification, so you know our team is knowledgeable and reliable and can drive results for your business with Google Ads.
They immerse themselves in your industry
The best campaigns and results often come from online marketing companies that immerse themselves in the industry and business of their clients. While you may not meet your agency or account manager in-person, you should feel welcomed, appreciated, and valued when speaking with an agency.
That's why it's vital that you talk to an agency on the phone before signing with them — it can give you a lot of insight into their character and values.

After you chat with an Internet marketing agency, ask yourself the following questions:
Did they ask about our business, industry, and operations?
Did they research our business, competitors, and industry beforehand?
Did they ask about our target audience, goals, and preferences?
Did they suggest a custom approach that's tailored to our business?
Most of all, you want to leave that call or meeting with the knowledge that this Internet marketing firm has a genuine interest in your company. This is an agency that'll see your business as a partner, versus an account number — and that's what will drive real results.
Focusing on the Metrics That Matter Most
In the past 5 years we've helped our clients earn:
$3 billion
IN CLIENT REVENUE
7.8 million
LEADS FOR OUR CLIENTS
5.2 million
CLIENT PHONE CALLS
A typical Internet marketing firm will focus on increasing the number of visitors to your site. But we aren't your typical agency. Our two-prong marketing approach focuses on optimizing your site to bring in more traffic, then utilizing current marketing strategies to turn those visitors into paying customers.
They have a lot of testimonials
Testimonials are proof that an agency has done fantastic work in the past, and come from previous (or current) clients. In short, they're social proof that this Internet marketing company delivers on their promises.
Testimonials can be a video, or a text record of what a client had to say about an Internet marketing agency's services, how the agency treated the client, what kind of results the agency drove for the client, and more.
If an agency doesn't have any testimonials, you may want to look for one that does. A lack of testimonials can serve as a red flag, indicating a few issues that may cause your company to receive a digital marketing campaign that's less-than-stellar.

A few reasons an Internet marketing company is without reviews include:
They're a young start-up firm: As mentioned earlier, an unestablished company comes with risks. Their operating funds could exceed their expenses, leading to closure and the loss of your investment — depending on the scenario, you may not even receive your deliverables.
They're an inexperienced agency: While this type of Internet marketing company may have a stronger foundation than a start-up, their overall experience could lead to delays in your deliverables, as well as a weaker digital marketing strategy that delivers lackluster results.
They're an unethical agency: In online marketing, there are black-hat and white-hat practices. It's essential that your partner with an ethical agency that follows white-hat practices as the actions of an unethical one can impact your standing in the online world for the long-term.
They're an average firm: For some companies, digital marketing becomes a money pit — not an investment. That's why you want to select an Internet marketing company that's performance-driven, which means they're focused on your goals, return, and success. Plus, they see themselves as an extension of your marketing team.
It's also worth looking at a lack of testimonials from a client's perspective. What makes you want to leave a testimonial for a company? It's when you feel passionate about a company — good and bad — that motivates you to share your experience with others.
If a digital marketing agency has zero testimonials, what does that say about the experience they provide?
At WebFX, we have 1000+ testimonials on our site to help you get an idea of what it's like to work with our digital marketing agency.
They have high client retention rates
Another factor to consider when comparing Internet marketing companies is their client retention rate, as well as their employee turnover rate. For most companies, offline and online marketing is a priority year-round, which is why it's essential to look at the retention rate of different marketing agencies.
In most instances, firms with a high retention rate are happy to share it. WebFX, for example, features a client retention rate of almost 100 percent. It's also able to promote its dedicated account managers because of low employee turnover.
Why does low employee turnover matter?
It's often indicative of your experience as a client. Partner with an agency with low turnover, and you'll likely collaborate with a familiar team of professionals on your account — and in most cases, those professionals will bring years of experience due to their consistent role in the company.
That translates to a positive experience for your team, as well as a smart online marketing strategy.
Earn more revenue from the web with the top Internet marketing agency
With decades of experience, an award-winning team, and a history of driving results, WebFX is a trusted digital marketing agency for small-to-midsized businesses. As your partner, we will help your company achieve its goals for growth, from attracting more leads to earning more revenue.
Give us a ring at 888-601-5359 or request a free quote online to get started with digital marketing!
Learn more about digital marketing pricing, services, and industry tips!
Digital Marketing Services
Search Engine Optimization
Pay-Per-Click (PPC) Advertising