Online learning has paved the way for the future of education. Years ago, most people couldn't imagine attending school from the comforts of their homes and learning exclusively online.
Today, students can earn professional degrees without ever stepping foot in the classroom. They log into their classes by signing into an online learning system where they read materials, watch videos, interact with teachers and other students, upload assignments, and take assessments — and they can do it anywhere that has an Internet connection.
Internet education still has a few kinks, though. One of the biggest issues is the low completion rates of assignments and assessments, especially when compared with traditional classrooms.
This implies that many students enroll in courses, but fail to complete them entirely. Some students enroll but never attend class. Other students log in once or a few times but then drop out. And you also have students that start strong, but peter out toward the end of the class's term.
If your school has issues with online assignment completion rates, you have options.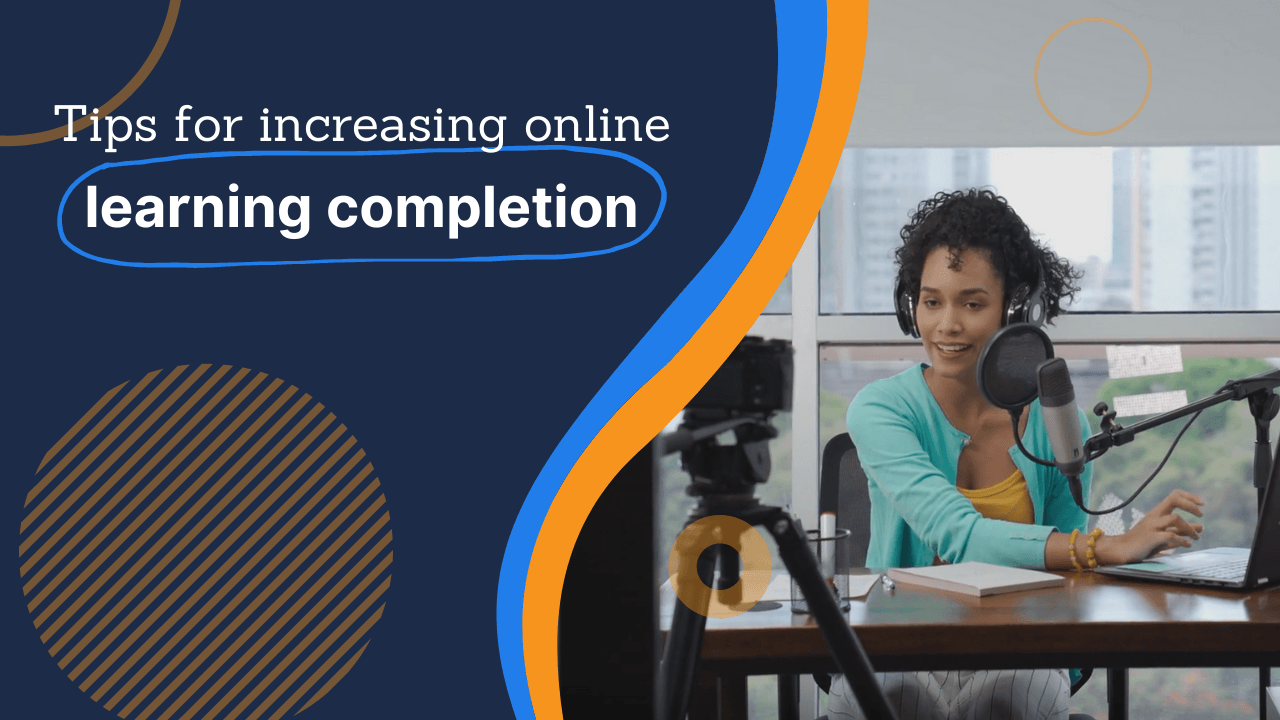 Check out the video above and read the rest of this page for a few tips you can use to increase your online completion rate.
We'll discuss various reasons why the rates are low, and look at what you can do to change it.
If you'd like to speak to a specialist, you can reach us at 888-601-5359.
Provide more information about your courses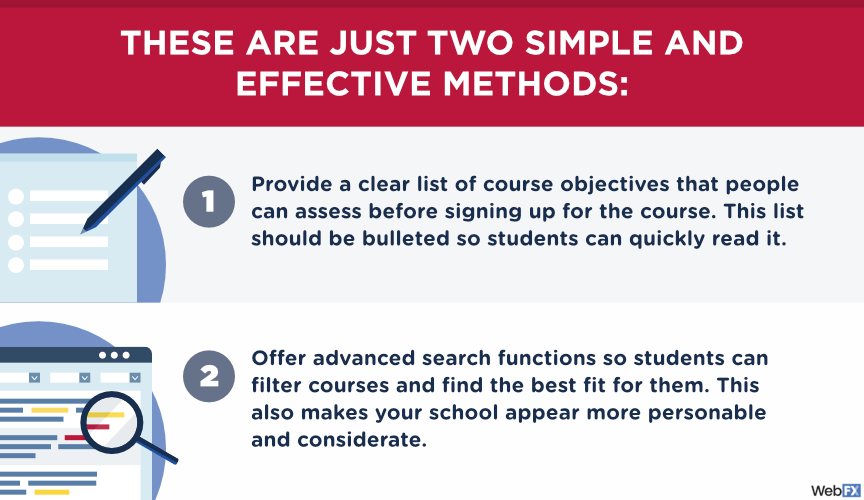 Many students sign up for a course before they truly understand the requirements and course objectives. You can't completely prevent this — after all, it's the student's responsibility to understand the class before enrolling — but you can do a few things to ensure students have the information they need to make an informed decision about enrolling.
These are just two simple and effective methods:
Provide a clear list of course objectives that people can access before signing up for the course. This list should be bulleted so students can quickly read it.
Offer advanced search functions so students can filter courses and find the best fit for them. This also makes your school appear more personable and considerate.
These two tips are just the start. Next, we'll jump into what you can do to engage students in each class.
Hear What It's Like to Work With WebFX!

"WebFX has a full team of competent people that work diligently and quickly on our marketing and SEO needs."
Christian School In Pa
Recognize different learning styles
Students learn in a variety of ways. There are three main types of learners, but most people are actually a combination of these qualities. Still, understanding them can help you more effectively communicate in online courses.
Here's a quick outline describing the different types of learners:
Visual. Visual learners retain information best when they look at visuals. They learn by reading, looking at graphs and charts, and watching demonstrations. Infographics, motion graphics, and other visual data representations resonate with them much better than text.
Auditory. This type of learner needs to hear things being explained to them in order to best retain information. They may like to recite information out loud or have music playing while they read. These learners respond best to lectures, mnemonic devices, and other audio cues.
Kinesthetic. Kinesthetic learners learn best through hands-on experiences. They prefer to actually do something, rather than read about it or watch a demonstration. They may not be able to do something in a classroom or lab, but you can provide instructions on how to make or do something in your class's resources.
The biggest takeaway from these three learning styles is that none of them are text-only. Text is a great way to supplement information and explain it, but these three other learning styles are essential to informing your students.
Instead of only using text, you can use these other strategies to appeal to a diverse class of students.
High-quality video tutorials. Online students aren't attending class physically, so they miss out on personal interaction and instruction. Visual learners may become tired of too much reading, so a video tutorial will help give them another visual display. There's also an appeal to auditory learners, as they are hearing and watching at the same time, and kinesthetic learners, since they can work as they watch.
Recorded lectures. Supplementing course materials with a recorded lecture is helpful to the auditory learners. It gives them an option besides the reading and a chance to listen to an expert speak about the topic they're studying. Online learners often miss out on the opportunity to hear an expert speak since they have to read and interpret textbooks on their own.
Interactions with peers. Asking students to discuss information with their peers will reinforce information while giving them an opportunity to form relationships with other students. Interactions can include message boards, live chats, and live video sessions.
Suggestions for hands-on activities. Kinesthetic learners often suffer the most in online courses because there's usually very little opportunity for hands-on activities. It's important to assign classwork that enables these students to engage in kinesthetic activities. For example, if a course discusses reverse psychology, you could ask them to test the theory in a real life situation, then write about. To facilitate their learning, ask them to try out, test, imitate, and practice concepts and ideas presented online.
With all of these strategies in use on your school's website, you can more effectively engage your students and enjoy higher assignment, assessment, and class completion rates.
WebFX knows online education
At WebFX, we have a full team of digital marketing experts who know how to get the most out of your school's online education program. We'll use every tried-and-true method we have to improve the completion rate of your program, and we'll try a few new strategies along the way to test what works. If you want your school's online program to reach your students and educate them effectively, we know what to do!
Contact us today to set up an online learning strategy for your school today!
Earn a 20% greater ROI with WebFX