PPC for Online Education: Your Guide to Running Paid Ads
Finding new students is an ongoing process for continually growing your institution. With pay-per-click (PPC) advertising, you can put your institution before people looking for somewhere to learn online.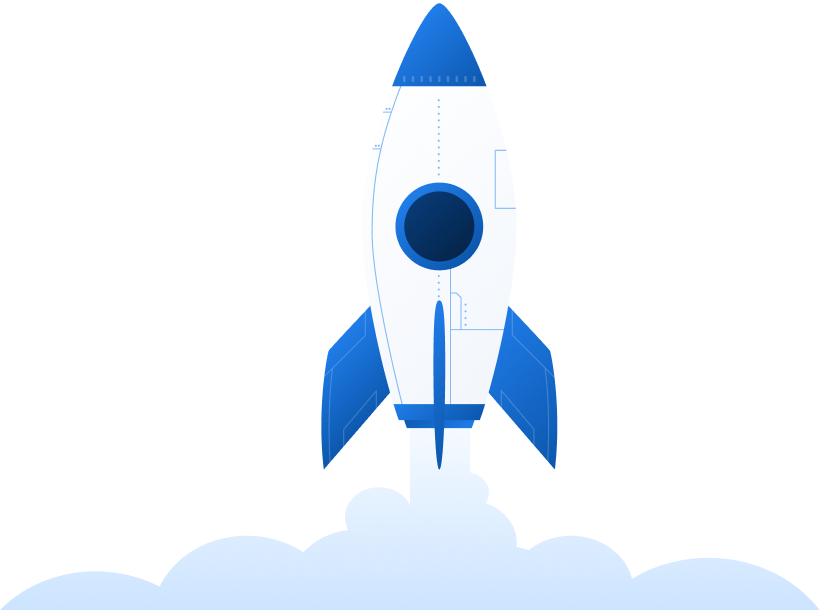 Victor decided he wants to go back to school and get his degree. Since he works full-time, he needs to find a program he can do online. Victor searches on Google, sees an ad for an online program, clicks it, and learns about what they offer.
This scenario with Victor happens daily for people looking for online education institutions. With PPC for online education, you help put your institution at the top of the search results so prospects check you out first.
But if you don't have experience running a PPC campaign, it feels overwhelming to start one. That's why we've compiled everything you need to know to do online education PPC successfully. Keep reading to learn how to set up a PPC ad and tips for running a successful campaign!
Don't want to wait to start driving results? Contact us online or call us today at 888-601-5359 to speak with a strategist about our PPC services!
How to set up an online education PPC ad
Want to learn how to do PPC for online education? Here are six steps to launch your first PPC ad:
1. Set up your Google Ads account
Before creating your ad, you must set up your Google Ads account. You can do so by visiting the Google Ads homepage and following the provided steps to make your account.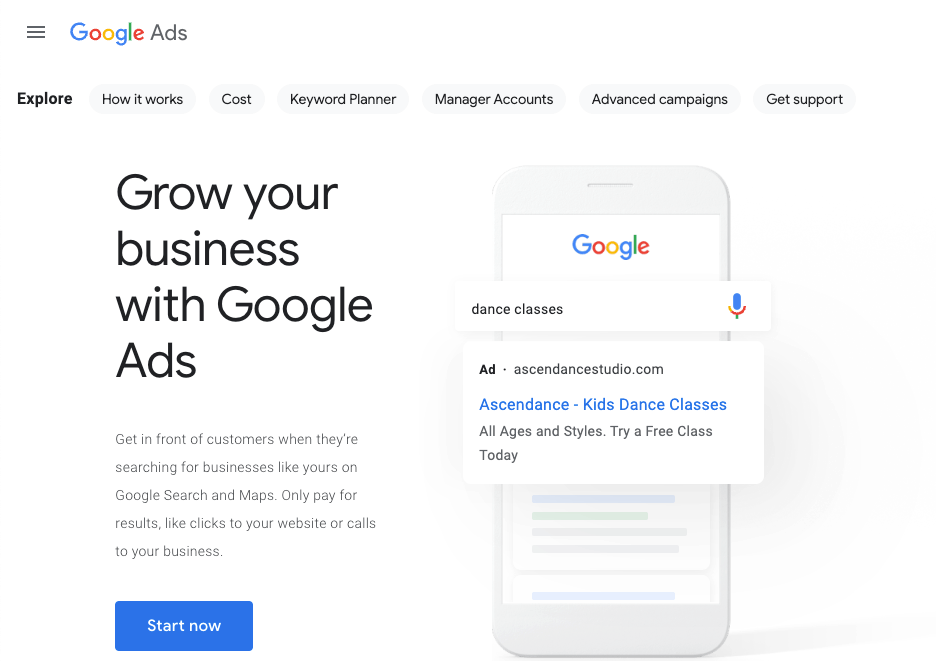 2. Conduct keyword research
If you want to set up your online education PPC ad, you must start by conducting keyword research. Your PPC ads appear when users search for keywords on search engines like Google. To run your ads, you must identify keywords to target.
You can find relevant keywords for your ads using a keyword research tool like KeywordsFX. All you need to do is input your starting term, and then the tool will generate related keywords for your ad.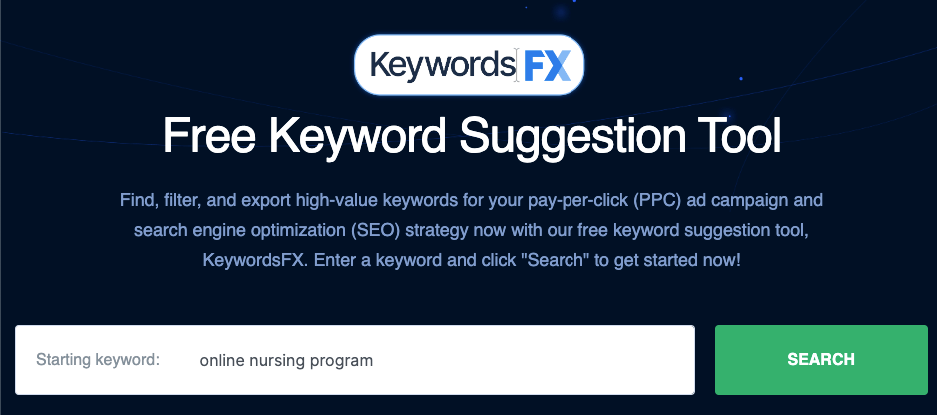 When you have a list of keywords, narrow your focus. Choose long-tail keywords, which contain three or more words, for your ad. Long-tail keywords work best for your ads because they are specific and have a lower cost per click (CPC).
Once you know what keywords you want to use, you can target them in your PPC ads.
Use our proprietary keyword research tool,
KeywordsFX

, to help you find high-quality keywords for content and PPC campaigns. Identify Top Keywords for Free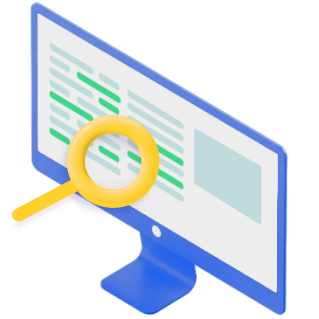 3. Set your bid amount
When you do PPC for online education, you'll want to do keyword research and set your bid amount simultaneously. It's important to know what the CPC is for your keywords so that you can determine if those keywords work with your budget.
If you know the average CPC for a keyword, you can use that data to determine how much you want to bid for that term. For example, if the average CPC is around $1.30, you may bid $1.25.
Once you set your bid amount, you can start crafting your ad.
4. Design your ad
The next step in doing PPC for online ed is designing your ad. You'll spend time crafting your headline and ad copy, and setting up your landing page destination.
When you craft your ad content, make it relevant to your targeted keywords. If you're targeting the keyword "online graphic design degree," your ad content should focus on that information.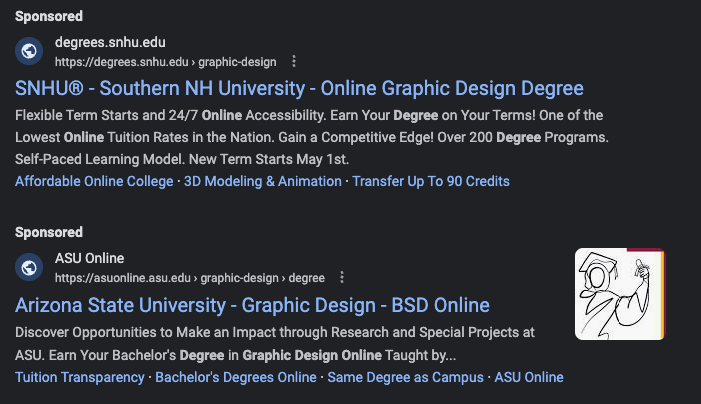 Additionally, consider using ad extensions in your ad. These extensions enable you to provide additional information for your audience that entices them to click on your ads. There are dozens of options available, from call extensions to price extensions, that will help enhance your ads and draw more clicks.
5. Refine your targeting
After you have your ad content up and running, it's time to set your targeting. While Google operates on keywords, it's not the only targeting option available. You can further refine your target to ensure your ads appear in front of the right audience.
For example, say you have an RN to BSN online program you're promoting. You would want to refine your ad targeting to reach people in an older demographic who already practice nursing but want to advance their education. You wouldn't want high school seniors to see your ads for this program.
By refining your target audience, you would ensure that only relevant leads see your ads in search results.
6. Finalize and launch
After you've set the parameters for your ads, you're ready to finalize your ad and launch it. Look over all the details of your ad and ensure that it's accurate and what you want to advertise. Once you've looked over your ad, you can launch it.
3 tips for doing PPC for online education successfully
If you want to create a successful PPC strategy for online education, follow these three quick tips:
1. Monitor your ad performance
With PPC for online ed, you must monitor the performance of your ads. There is always room to improve your ads and drive better results that grow your business. Monitoring your ads will enable you to see where you can improve to maximize results with your PPC ads.
When you monitor your ads, track metrics like:
Tracking this data will help you see which aspects of your ads work and where you can improve to drive better results.
For example, you may find that your ad has a high CTR but low conversions. You may need to reevaluate your conversion page to see if something is holding those leads back from converting.
Monitoring your ad performance will help you make improvements to drive better results for your business.
2. Test your ads regularly
In conjunction with ad monitoring, online education PPC requires you to test your ads regularly. When you create your ad, it may not be the best version you can create. Making little adjustments to your ad can positively impact your results.
You can test elements like your:
Ad copy
Ad extensions
Landing page elements
Keywords targeted
And more
When you test these elements, only test one at a time. If you try testing multiple elements at once, you won't have a clear picture of which elements positively or negatively impact your ads.
3. Adjust your bid amounts
Many businesses make the mistake of launching a PPC campaign and never looking back at it. PPC campaigns require continual monitoring and adjusting to maximize your budget and help you get the most from your ads.
One aspect of your online education PPC campaign you'll want to adjust is your bid amounts. After your campaigns run for a while, you'll gather valuable data about your keyword performance.
You can then use that data to adjust your keyword bidding strategy. Your data may show that some keywords drive more traffic than others or have better results. You can then adjust your bid amounts (higher or lower) to improve your ad performance.
Ready to start with PPC for online education?
Building a PPC strategy for online education is no small feat, so if you're feeling overwhelmed with starting, WebFX can help.
We have a team of 150+ Google Ads certified team members that have created over 355,000 unique ads for our clients. Our team of PPC experts knows what it takes to drive success with your PPC strategy for online education.
Don't believe us? Look at our 1020 glowing client testimonials to see what it's like to partner with our team!
Ready to get more students through the virtual door of your institution? Contact us online or call us today at 888-601-5359 to speak with a strategist about our PPC services!
Increase your leads, sales, and revenue with digital marketing
Find Us Driving Revenue Nationwide