You're looking to grow your dental practice online, so you decide to start researching ways to market your dental practice. As you begin sifting through the options, you find yourself feeling overwhelmed. Which strategies are best to get your dental practice on the map?
On this page, we'll tell you which strategies will promote the most growth for your dental practice.
Want to know how to get more dental patients? Keep reading to get five results-driven strategies that will help you grow your dental practice!
And if you need help launching your digital marketing campaign, contact us online or call us today at 888-601-5359 to speak with strategist about our digital marketing services!
Time to Level Up Your Sales
Our long list of services helps you grow every aspect of your business with marketing strategies that are proven to increase bottom-line metrics like revenue and conversions.
In the past 5 years, we've managed more than 12.9 MILLION transactions across our client base.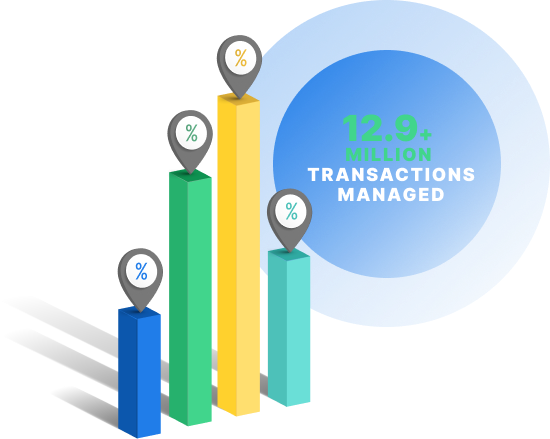 1. Use search engine optimization (SEO) to help your practice rank in relevant results
Want to know how to get more dental patients? Start by using search engine optimization (SEO).
SEO is the process of optimizing your site in search results to drive more credible traffic to your page. This strategy is an excellent way for you to help dental patients discover your practice.
So, here's how to get more dental patients with SEO:
Optimize for relevant keywords
If you want to rank in search results, start by choosing the right keywords for your pages. Keywords trigger your website to appear in search results, so, if you want your site to rank in search results, you need to conduct keyword research to find relevant terms.
You can use keyword research tools, like KeywordsFX, to help you find the right terms. As you conduct keyword research, focus on long-tail keywords. These keywords contain three or more words, like "dental office in Los Angeles."
These keywords are best for your practice because you reach more qualified leads. If someone searches "dental office in Los Angeles," you know they're looking for a dentist in the Los Angeles area. On the other hand, a generic search like "dental" or "dental office" doesn't tell you much about what the user wants to find.
Once you have your long-tail keywords selected, it's time to integrate them into your site. Don't overuse them, as it leads to keyword stuffing. Integrate your keywords where they fit naturally within your text to drive the best results.
Speed up your site
Users don't want to wait for your pages to load. If your pages take longer than three seconds to load, 53% of people will abandon it. If more people leave your site, it will increase bounce rate, negatively impacting your ranking.
To avoid this SEO blunder, check your site's speed with Google PageSpeed Insights. This tool will show you how quickly your site currently loads and provide you with suggestions for improvement. Some common recommendations include:
Reducing redirects
Using browser caching
Optimizing image files
If you aren't sure how to make these optimizations and improvements, you can always invest in page speed services from a digital marketing company like WebFX. We can help you optimize your site's backend to help your pages load fast, and people get information even quicker.
Make sure your site is mobile-friendly
SEO is one of the best strategies for getting dental patients, but it won't be useful if your site doesn't provide an excellent experience for all visitors.
With Google's mobile-first index, you must have a functional mobile version of your site that offers the same great experience. A mobile-friendly version of your website offers the same experience to users regardless of the size of their device. Whether they view your website on a desktop monitor, a tablet, or a smartphone, your website should be equally as enjoyable on each.
To make your site mobile-friendly, integrate responsive design. Responsive design ensures your site adapts to all devices to deliver an optimal experience.
2. Claim your Google Business Profile listing to reach local patients
If you want to know how to get more dental patients, you can start by optimizing your local presence. As a dentist, most of your patients are people who live in your area, so, to help locals connect with your dental office, you need to claim your local listing.
Your local listing is known as your Google Business Profile listing. You'll see listings appear when people conduct searches like "dental office in Los Angeles" or "Anaheim dental practice." These local searches generate the local SEO 3-pack, which is a box with three Google Business Profile listings.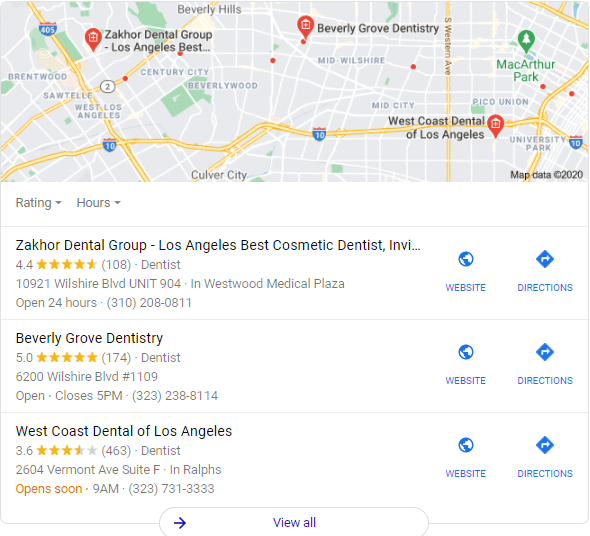 So, to appear in the local 3-pack, start by claiming your Google Business Profile listing. Once you claim your listing, you'll want to verify that your name, address, and phone number are correct. You can then proceed to:
Add additional contact information, like an email
Write a short blurb about your practice
Add photos that showcase your staff and office
Verify that your practice's website is attached to your listing
Optimizing your Google Business Profile listing is one of the best strategies for getting dental patients because it helps you put your practice in front of locals searching for a dentist in your area.
3. Run pay-per-click (PPC) ads to help reach more qualified patients
Next on our list of strategies for getting new dental patients is pay-per-click (PPC) advertising. PPC advertising is one of the best strategies for reaching qualified leads because it puts your business at the top of the search results.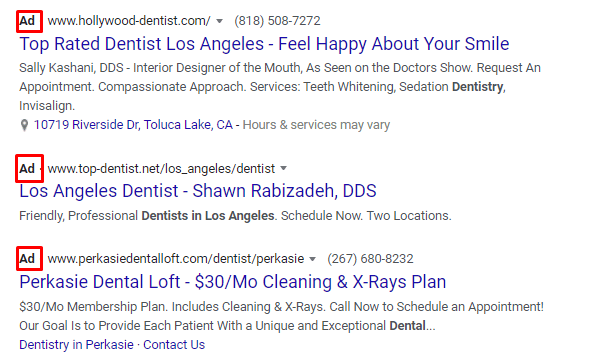 Considering 46% of page clicks go to the top three PPC ads, you don't want to miss an opportunity to drive valuable leads to your dentist office's site.
Here's how to get more dental patients with PPC:
4. Create a functional website to provide your audience with helpful information
Your website is the heart of your dental practice. Regardless of what strategies you use to get dental patients, your website is likely the first interaction many patients will have with your practice. That said, if you want to know how to get new dental patients, invest time building a beautiful website.
Making a great first impression with your dental website is paramount.
Here are a few ways you can create the best website for potential patients:
Choose a design that reflects your practice: When you design your dental practice, you want to ensure you choose a design that fits your business. It will help you build brand familiarity with your audience and help them get a sense of who you are.
Create simple navigation: You don't want users to struggle to find information, so you need to design simple navigation. Use broad headings and subcategories to make it easy for your audience to find the information they need.
Use call to action (CTA) buttons to guide users: Call to action (CTA) buttons help you guide users to the next step. Whether you want your audience to schedule an appointment, view your services, or contact you, you can use these buttons to guide them to those actions.

5. Run social media ads to reach more interested patients
Social media advertising is one of the best strategies for getting dental patients because it allows you to reach people who haven't discovered your practice yet. Social media ads appear in users' newsfeeds and blend in seamlessly for an optimal experience.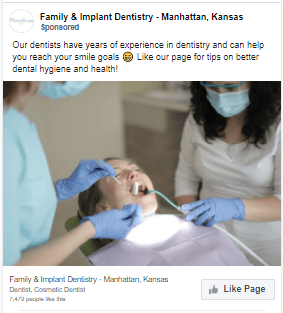 To get started with social media ads for your dental practice, start by selecting your platform. You can choose from numerous popular social platforms, including:
Once you select your platform, you can start running advertisements for your business.
To get the most from your social media advertising, follow these best practices:
Know your target audience: Social media offers advanced targeting, making it easy for you to reach people most interested in your dental practice. From age to gender to occupation, you can refine your target audience to ensure you're reaching the right people.
Use compelling visuals: Visuals will help you draw people to your ad and get them to engage with your content. You can use photos, videos, and graphics to help you craft eye-catching social media ads.
Monitor your ad performance: Keep tabs on how your ads perform to ensure they're driving results. If your ads aren't driving the results you desire, you need to do some testing to see if you can create a more compelling advertisement.
37% of marketers say that generating high-quality leads was one of their biggest challenges.
We want to decrease that percentage.
WebFX can help you generate high-quality leads with a customized marketing strategy.
Learn More About Lead Generation Services
How to get more dental patients: Partner with WebFX
Now you know how to get patients for your dental practice! But that doesn't mean implementing these strategies is always easy.
You're busy running your practice and may not have the time to dedicate to obtain new dental patients, but you don't want to miss out on an opportunity to grow your practice. Instead of having to miss out on the tremendous benefits of digital marketing, you can rely on WebFX to manage your campaign.
We have a team of over 500 experts that are ready to help your market your practice online. We know how to create digital marketing campaigns that drive results — we've driven over $3 billion in sales and over 7.8 million leads for our clients.
Ready to help your dental practice grow online? Give us a call at 888-601-5359 (or contact us online) to speak with a strategist about our digital marketing strategies!