When people look for a urologist, they turn to search engines like Google to help them find the right one. The question is, when they search for a urologist, will they find your business at the top of search results?
If your practice isn't ranking at the top of search results, patients won't find your practice. But before you freak out, there's a way you can get your urology practice ranking in search results: Search engine optimization (SEO).
At WebFX, we have a team of over 500 SEO experts that will craft a custom SEO campaign that drives more patients for your practice. We offer SEO services that help you boost your ranking in search results and gain more visibility for your practice.
Keep reading to learn more about our SEO services for urologists, and contact us today to learn more!
P.S. Want to see where your SEO currently stands? Check out our free SEO checker to get your report in 60 seconds!
Looking for an all-in-one SEO audit tool? You've found it.
SEO Checker provides data on key metrics to give you:
Complete SEO score

Content Grade

Site Speed Analysis

and more.
SEO services for urologists from WebFX
Urology SEO is critical to helping your practice grow online. Considering 93% of all online experiences start with a search engine, you need to optimize your site to rank in valuable searches for your business.
At WebFX, we offer unmatched SEO services that provide you with everything you need to rank higher in more relevant search results. Here's what you'll get with our SEO services for urologists:
Keyword optimization and integration
A critical component of SEO for urologists is keyword optimization. If you want people to find your practice when searching for a urologist, you need to ensure your practice ranks for the right keywords.
Users search keywords to get relevant search results, so you need to identify key terms you can integrate into your site to put your practice in front of these potential patients.
At WebFX, we know the ins and outs of keyword selection. We'll help you conduct keyword research to find the most relevant terms for your practice.
Once we find keywords suitable for your practice, we'll help you integrate them into relevant pages, so you can start ranking for those terms and bring more patients to your office.
Title tag and meta description optimization
Your title tag and meta description are what users first see in the search results. Not only do you need to integrate your keywords into these two tags, but you need to optimize your tags to entice your audience to click on your listing.

These tags can help you drive more traffic to your site, which boosts your ranking in relevant search results. When more people are visiting your site and spending time on your site, it sends a positive signal to Google that your content is relevant, and you will rank higher.
At WebFX, we'll help you craft compelling title tags and meta descriptions to get more users to click. We'll optimize your title tags and meta descriptions to stay within Google's limit to ensure you have a clean and descriptive listing.
Google Business Profile optimization
As a urologist, you're going to have locals in the area who need your services. To help them find you in local search results, you need to claim your local listing, also known as your Google Business Profile listing.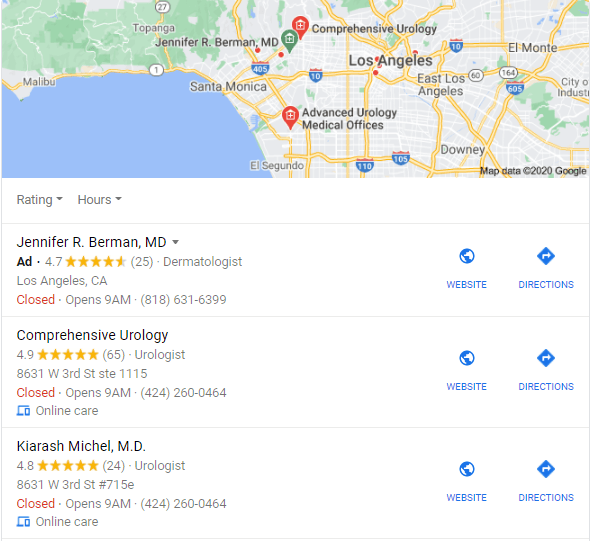 At WebFX, we'll help you claim and optimize your listing to appear in more local searches. We'll help you update critical information, add photos, and make your listing stand out from your competition.
Internal link building
Link building is a critical component of SEO for urologists. When users visit your site, you want them to stay engaged on it. Adding internal links can keep them browsing pages on your site and learning more about your practice.
Not to mention, internal links help Google crawl and index new pages on your website. When Google indexes your pages, they become available in search results. Get your content indexed, and you can start ranking in search results.
At WebFX, we'll help you build an internal link strategy, so you can keep users engaged on your page and help Google discover valuable pages on your site.
Image optimization
Images play a fundamental role in your audience's experience on your site. They don't want to see walls of text on your website. Images help break up information and make it easier to browse through your pages.
While images offer great benefits, a search engine can't read them based on the image alone. Not to mention, if your image file sizes are too heavy, you could slow down your site and hurt your SEO.
When you partner with WebFX, though, we'll help you optimize your images to improve your SEO. We also help you add image alt tags — descriptive blurbs about your photo — and compress image file sizes, so your visuals benefit your SEO.
Google Analytics set up and tracking
When you launch an SEO campaign, you want to ensure that you're driving results with your investment. Google Analytics can help you gather all the valuable intel about your campaign in one place.
When you partner with WebFX, we'll help you get your Google Analytics set up. We'll help you find the right metrics to track and set up your dashboard, so you can have a comprehensive overview of your campaign.
Competitor analysis
It's critical to know what your competition is doing to rank in search results. After all, you're trying to outrank them, so you want to know what they're doing and how you can outperform them.
At WebFX, we provide you with a competitor SEO analysis to see what content your competition is creating, how they're ranking, and how their rankings change over time. We provide you with insider insight to help you get a leg up on your competition.
Quarterly and monthly reporting
When you invest in urology SEO services, you want to be in the loop with your campaign. At WebFX, we provide you with quarterly and monthly reporting, so you can get insight into your campaign. We'll help you see what's working for your campaign and how you're driving results.
Hear What It's Like to Work With WebFX!

"WebFX has completely transformed my practice. With their support, I have expanded my practice significantly and grown exponentially. I could not have expanded to this degree, nor this quickly had it not been for the incredible efforts provided by WebFX and my team."
Healthcare
Why choose WebFX for your SEO services for urologists
When you invest in SEO for urologists, you want to choose a company that will drive the best results for your practice. If you're looking for a top-rated SEO company, look no further than WebFX. Here's why you'll want to partner with us:
We have an award-winning team of over 500 marketing experts that will work on your campaign
We know how to drive results — we've driven over $3 billion in sales and over 7.8 million leads for our clients in the past five years
We're transparent — you'll always know what you're getting and how much it costs
We have over 25 years of experience in digital marketing
We give you a dedicated account representative, so you always know who to contact
We provide call, lead, and revenue tracking to make it easy to track your return on investment (ROI)
You can feel confident that you're working with a team of experts that will help you create an SEO campaign that brings more patients to your practice.
Get started with SEO for urologists today
SEO is an excellent way for your practice to attract new patients to your office. If you haven't started creating your SEO campaign, WebFX is here to help.
Give us a call at 888-601-5359 or contact us online to speak with a strategist about our SEO services!
Earn a 20% greater ROI with WebFX