As a lawyer, you have enough to worry about without having to think about how you'll attract new clients. You won't always have the time to think about marketing and the increasing number of channels and the best practices required to reach the right people online.
But if you've taken some time to research your Internet marketing options, you may have come across Justia. As a directory for lawyers, Internet marketing services, and free online legal resources, it may seem like just what you need. But is it?
On this page, we'll help you decide whether Justia is worth it for you, and how you should best market your firm or legal practice online. Keep reading if you want to learn more, and give us a call at 888-601-5359 to learn more about using digital marketing services.
Our digital marketing campaigns impact the metrics that improve your bottom line.
See More Results

WebFX has driven the following results for clients:

$3 billion
In client revenue

7.8 million
Leads for our clients

5.2 million
Client phone calls
How Justia works

First, we'll go over how Justia works. As we mentioned above, Justia offers an online directory of lawyers' profiles that people in need of legal services can use to locate lawyers by location and specialty. As a legal professional, you have the option to create a free profile. You can also use their paid services to upgrade your profile and gain premium placement.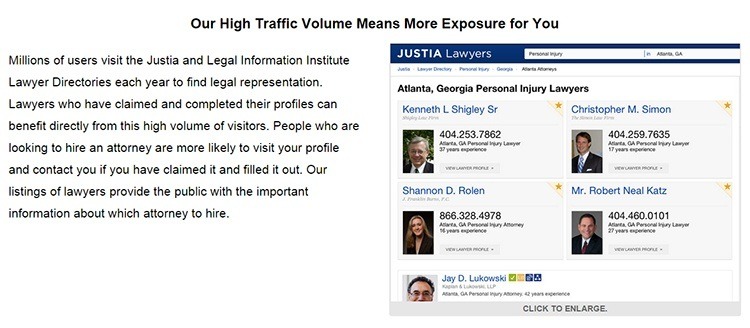 Regardless of whether you decide to use Justia's paid services, it is a good idea to claim your free listing because it is a very industry-specific directory listing, and you'll get a high-quality backlink to your website. Every lawyer can create an extensive listing that includes contact information, education, associations, practice areas, and links to their websites, blogs, and social media profiles.
This makes it easy for site visitors to easily find, compare, and select lawyers with expertise that match their legal needs. Users of the site could be potential clients, and if all it takes to reach them is a free profile, it's certainly worth your time.
In addition to offering the directory listings, Justia also offers web design, copywriting, social media, SEO, and other Internet marketing services. It's clear based on some reviews and testimonials on their website that they've satisfied a number of clients who utilized these services.
While initially it might seem like Justia is a great service to outsource all of your Internet marketing needs, there are a few things you'll want to consider prior to signing on the dotted line.

Hear What It's Like to Work With WebFX!

"Our account manager and the WebFX team have the tools, tips, and tricks to provide solid analysis and actionable updates and content to our website. They are studying our industry to ensure we are all on the same page and growing our audience."
Law Firm
Will you stand out?
An Internet marketing service that focuses exclusively on marketing for lawyers is as good as it gets, right? While the folks at Justia obviously understand your industry and know a bit about marketing law firms, you might want to ask yourself how they'll make you stand out from the rest of the law firms in your area they are working with.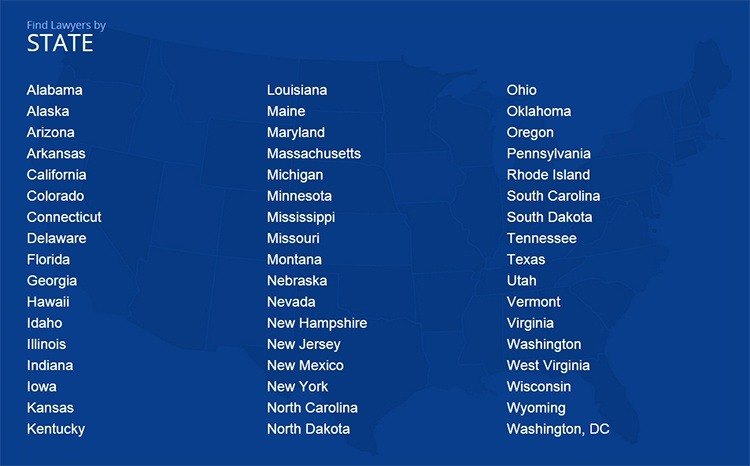 When you work with Justia, you're one of thousands of legal clients, and Justia markets numerous law firms in the same city for the same services. That being said, the success of using Justia to market your law firm can depend on your location and the competition in your area. If you're one of hundreds of defense attorneys in your area, a free Justia account may not earn you as many contacts.
So how can you get an edge on the competition when the competition is using the same Internet marketing company? Using the same exact strategies and techniques will certainly keep you up to speed — but is that enough?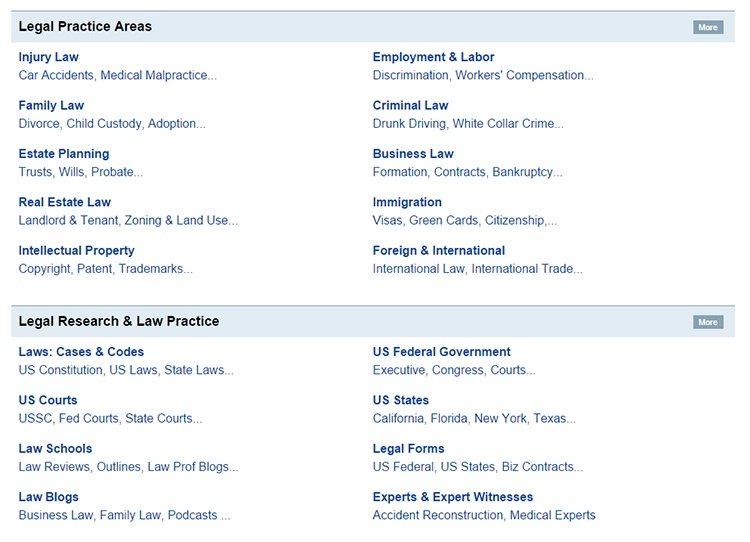 At WebFX, our clients come from all industries, and they all benefit from the diverse profile of industries we work in. We work with lawyers, jewelers, insurance agents, ecommerce retailers, tax firms, construction companies, and many others.
All of our clients' strategies are unique, but the insights we gain from a campaign in one industry often benefit campaigns in several others. Instead of using the same tactics for competing businesses, we use the knowledge we gain to make each of our clients the best in their field.
Will you own your website?
Justia offers responsive website design, which is great. Responsive design is absolutely necessary now that an increasing number of Internet users browse on devices other than desktop computers (like smartphones and tablets). Designing a site to be responsive means that it will display well across all screen sizes and browsers, and it eliminates the chance of missing out on a client just because they couldn't navigate your website.
Unfortunately, the sites they design will only run as long as you continue to use their services. As some reports online claim, Justia will not release ownership of your website to you if a contract is terminated. If you decide to stop using Justia's services for any reason, you'll have to start from scratch and build an entirely new site.
This is not a problem unique to Justia clients, though. In fact, the question of who owns your website is a valid one that you should ask any Internet marketing agency before you sign a contract. Make sure that you retain ownership of your site, and that the agency agrees to give you full control if you ever decide to stop using their services.
At WebFX, when we design or work on websites, the client always retains full ownership. We use 3rd party content management systems and create campaigns under accounts created specifically for each client, so clients always have control over their online presence — just as they should.
Good agencies have more than 50 testimonials.
Great agencies have more than 100 testimonials.
WebFX has over 1000+ glowing client testimonials.
See What Makes Us Stand out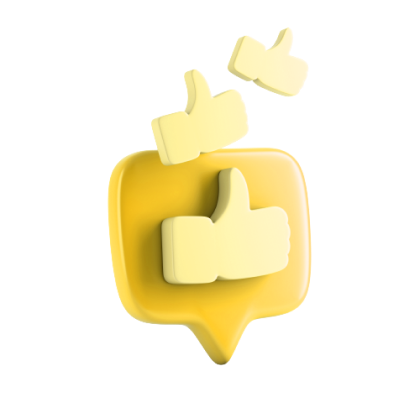 Is Justia well-reviewed?
As a lawyer, you know better than anyone that you should always do your due diligence. This means thoroughly researching any company prior to doing business with them.
While Justia has its share of positive reviews and testimonials on their own website, you should dig a little deeper. Justia has a number of complaints on various online review sites. It also has a very poor score with the BBB due to failure to respond to complaints.
So, is Justia worth it?
As a lawyer, you need to take advantage of online channels if you want to continue bringing in new clients. There is incredible value for your law firm in Internet marketing if done correctly. That being said, choosing the right service or agency to handle your online efforts depends on your firm's goals. Essentially, only you can determine if Justia is worth it for you.
Keep in mind that the company you contract with to do your Internet marketing can potentially do as much damage as they can good, so don't take this decision lightly. Do your research and consider all of your options before signing on with any company, firm, or agency.
Go beyond Justia for lawyers and get better results with digital marketing services
We do things a bit differently at WebFX. Our focus is on you, your business, and delivering ROI. WebFX has been recognized as the #1 SEO Company in the United States, and our testimonials speak volumes about the value of our services.
We take the time to get to know you, your business, your target market, and the unique marketing goals you have. In doing so, we craft custom strategies to help you increase traffic and leads — and we always focus on results.
Contact us online (or give us a ring at 888-601-5359) to learn more about our digital marketing services and how we can help you attract more potential clients through the Internet.
Earn a 20% greater ROI with WebFX