5 Website Elements You Need to Do Web Design for Luxury Brands
Luxury brands are defined by the experience they create for the buyer. You want to deliver a high-end experience that's reflective of your brand and the products you offer. That's why it's critical to invest in your website's design.
A luxury site must be immersive, aspirational, and engaging. With web design for luxury brands, you can create an aesthetically pleasing website that provides a high-end experience for your audience.
On this page, we'll provide you with five elements you need to create a luxurious experience on your website. Plus, we'll share three examples you can use for inspiration! Keep reading to learn more.
And if you find you need help bringing your web design ideas to life, our team of over 500 web design experts can help you build your website. Contact us online or call us today at 888-601-5359 to speak with a strategist about our web design services!
We'll help you create a website that stands out.
"WebFX has been instrumental in helping us develop a new website, allowing us to be a leader in our industry."

Learn More About Our Web Design Services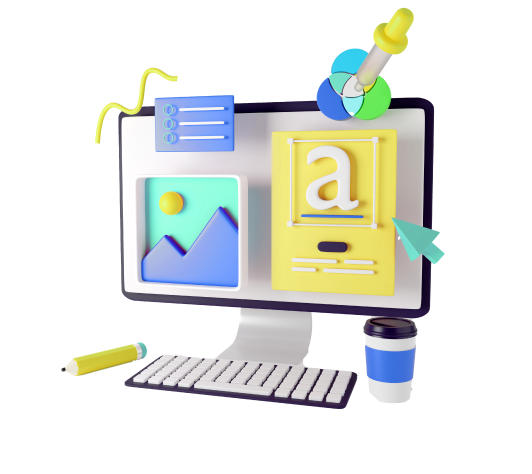 6 key elements for doing web design for luxury brands
When you do web design for luxury brands, there are some key elements you want to include to ensure you provide a top-notch experience.
Check out these five elements that take your site to the next level:
1. Branded color scheme
When you do web design for luxury brands, you need to have a branded color scheme. Your brand's color scheme helps people recognize your company whenever they see your products or promotions. It's one of the key elements that helps you stand out from your competition.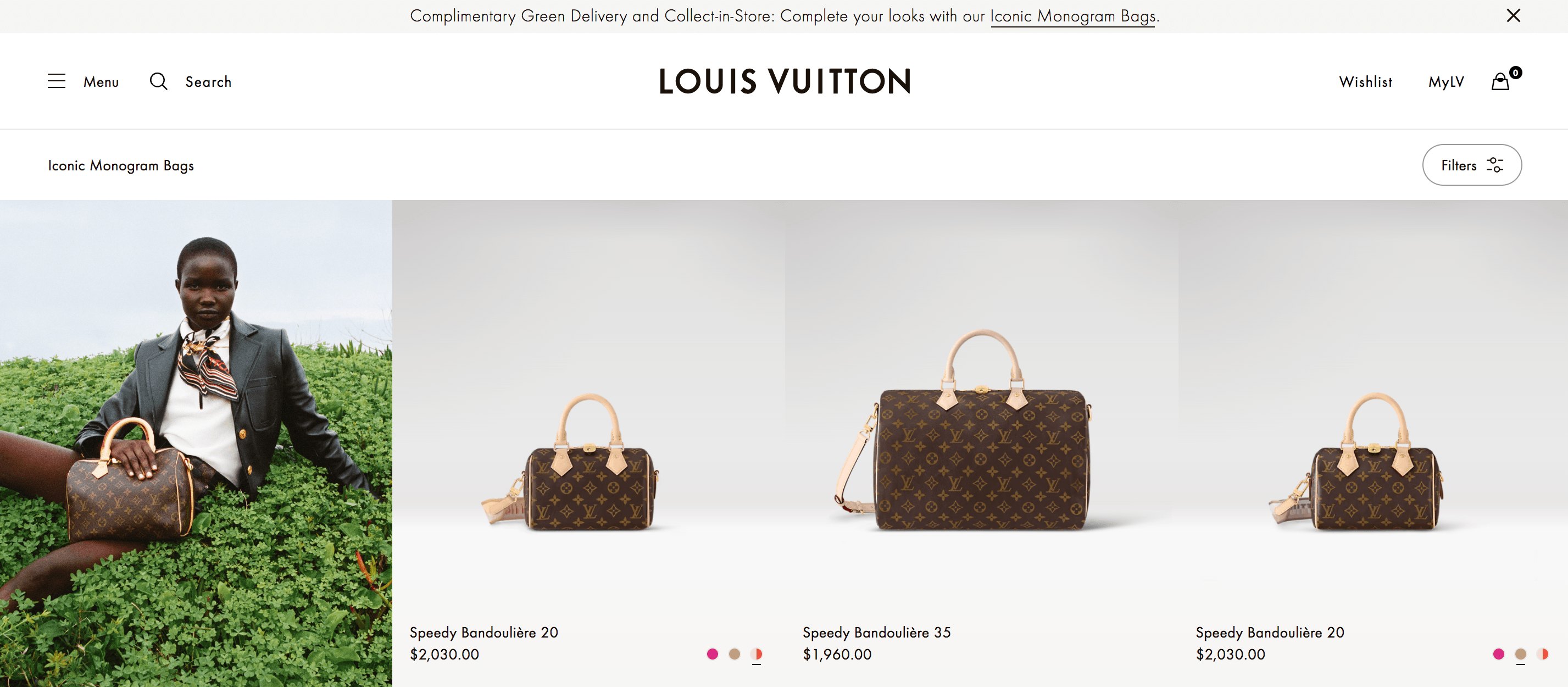 Choose colors that fit your luxury brand. You'll want to stick to three to four colors, which includes:
One main color

One to two accent colors

One font color
You don't want to choose too many colors for your design because it can make it too busy and overwhelming. It's best to limit your cover choices to ensure you keep your design simple.
By identifying your color scheme, you'll help create a branded identity for your luxury company.
2. Responsive design
Another key element of luxury brand web design is integrating responsive design.
Did you know that over 40% of online transactions happen on mobile? More people are using mobile devices, like smartphones and tablets, to purchase products online. That means you need a website that provides a positive experience on these devices.
Without responsive design, mobile users would need to use the desktop version of your website on their device. That means they would have to continuously zoom in and out to click buttons, view product descriptions, and check out your products. It would lead to more people leaving your website because it provides a frustrating user experience.
By integrating responsive design, your website adjusts to users' devices to ensure they have a positive experience and shop on your website with ease.
3. Intuitive navigation
When you do web design for luxury brands, it's important that you create a functional and intuitive navigation bar. Your navigation helps prospects move around your website and find the products they need. If it's disorganized or difficult to use, people will refrain from staying on your website.
To start, your navigation needs broad headings for all the pages you offer on your website. You can then create subheadings underneath your broad headings to further organize your pages.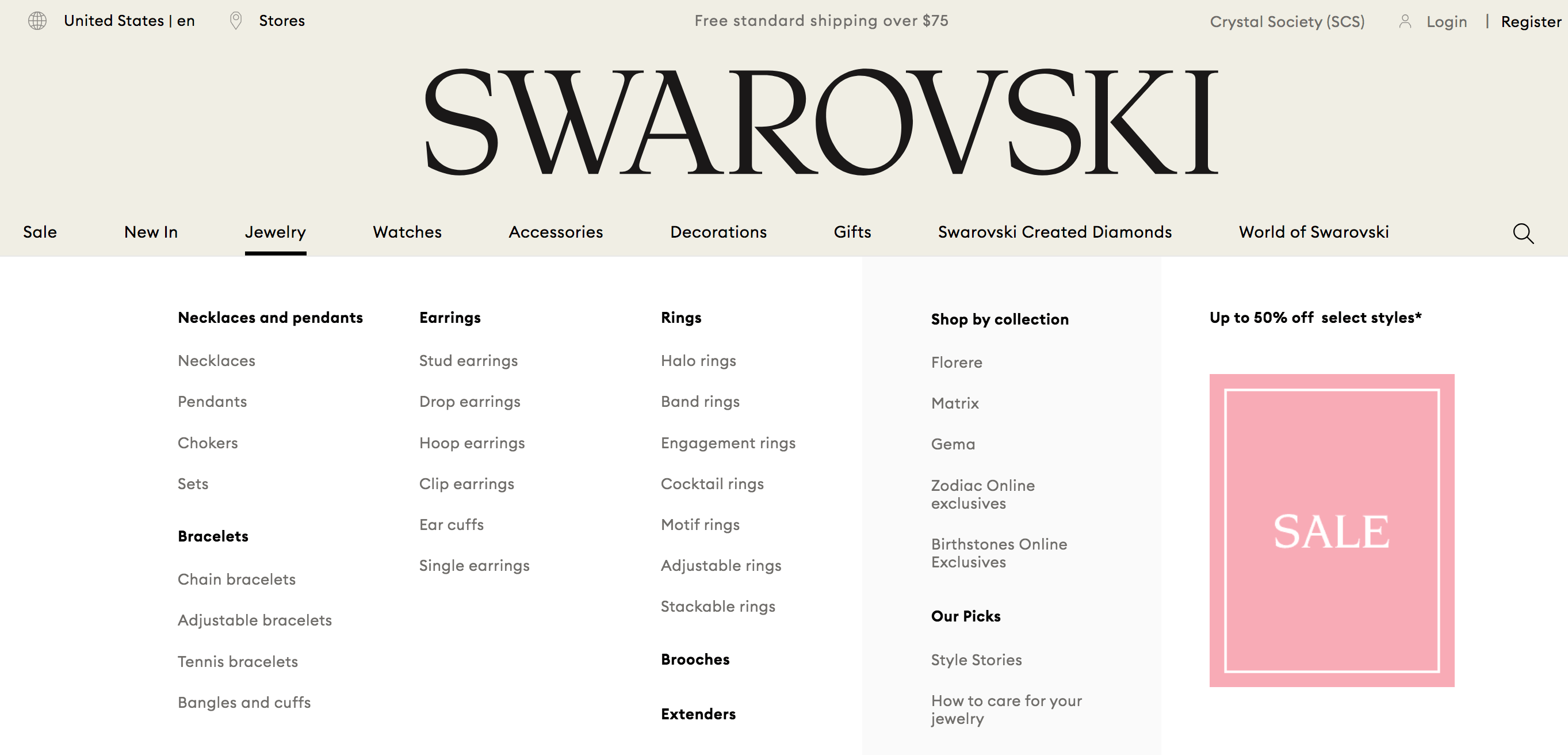 You'll also want to ensure you include a search bar as part of your navigation. Many people will come to your website looking for specific products, so adding a search bar enables them to find those products quickly.
If you want to do luxury brand web design successfully, pay special attention to your navigation. Having an organized and functional navigation will ensure prospects stay engaged on your website.
4. High-quality visuals
Imagine that you visit a website and all you see are low-quality, grainy images. Would you want to buy from that company? Likely not.
That's why integrating high-quality visuals is an important part of luxury brand web design. You need high-quality photos to showcase your products, so people can see every detail of what you offer.
Make sure all the visuals you add, whether images, videos, or graphics, are clear and high resolution. Don't add visuals that are stretched, grainy, or blurry. When you add photos to your product listings, make sure you take pictures from all angles of your product.
Adding high-quality visuals will help you build trust with your audience and keep prospects engaged on your luxury brand website.
5. Noticeable call to action (CTA) buttons
To do web design for luxury brands right, you need to integrate prominent call to action (CTA) buttons throughout your website. CTA buttons play a fundamental role in helping prospects take the actions you want them to complete.
When you integrate CTA buttons into your website, make sure they stand out on the page. You want people to notice them, so they click the buttons and take the next step.
Additionally, make sure your call to action phrases are actionable and tell prospects what will happen if they click the button.
By integrating CTA buttons into your website, you'll help guide more shoppers towards making purchases.
3 examples of web designs for luxury brands
Need some inspiration for how to do luxury brand web design? Check out these three examples:
Rolls Royce:

Rolls-Royce

is the epitome of luxury and refinement. Their website design reflects uses clean and smooth animations to showcase their luxury products while keeping website visitors engaged.
Rolex:

The luxury watch brand

Rolex

has a rich history and reputation for quality. Their website design reflects those qualities through clean and modern design. They also use high-quality visuals to showcase their products.
Dior:

The Dior website

is a reflection of the brand's dedication to both luxury and creativity. The site design is simple, with an organized navigation and high-quality product photos.
You can use these luxury websites to give you inspiration for your luxury brand web design.
Make the luxury web experience with WebFX
Luxury brands aren't just about the product — they're about the experience. That's why it's important to create a website design that provides an engaging experience for your audience.
At WebFX, we know what it takes to create an engaging and revenue-driving website for your luxury brand. In the past five years alone, we've driven over $3 billion in revenue and over 7.8 million leads for our clients. We'll help you build your dream website that boost your luxury brand's growth.
If you're ready to boost your luxury brand's revenue, contact us online or call us today at 888-601-5359 to speak with a strategist about our web design services!
Increase your leads, sales, and revenue with digital marketing
Find Us Driving Revenue Nationwide