Can Blogging Help with SEO?
Years ago, blogging was a trendy way for people to post about their lives on the Internet. Now, it's become a must for businesses of all sizes that want to gain traffic, grow their following, and improve their visibility in search engines.
What changed? Businesses realized that blogging offers a great platform not only to prove their expertise in their industry, but also to improve their search engine optimization, or SEO—and almost without even trying.
If you have been wondering whether your business should jump on the blogging bandwagon, or how blogging can help your SEO, we can help.
Don't forget, whether you're a local business that needs SEO, or if you need SEO services in Jacksonville, WebFX is here for you.
Call 888-601-5359 to speak with a strategist, or keep reading to learn more about how maintaining a blog can help you reach more customers online.
We're masters of our craft.
WebFX is a marketing and design industry leader.

Meta, Amazon, and Google Partner


4,000+
blog posts written


300+
Google Certified team members

Contact Us

How does SEO work?
In the past, when you wanted to find information about an industry, you might have consulted a friend, looked up a company in the phone book, or even gone to the library. Now, you can hop onto a search engine and type in a few keywords.
The goal of SEO is to get your business to come up as close to the top of the search results as possible. If you run a construction business in Dallas, Texas, you would want to rank #1 for the phrase "construction company in Dallas" or "builder Dallas TX," right? That's how SEO can help your business: it gets you closer to the top of search engines for these related phrases.
SEO involves a number of different tactics, including adding relevant keywords to your website, gaining links from other websites, and optimizing small elements like your page speed and length. SEO best practices are always evolving to keep pace with the search engines themselves, which frequently reevaluate how they rank websites.
The reason so many companies use SEO is to get a boost in traffic, which often leads to an increase in leads and conversions. Additionally, blogging is another way that a company can gain more leads, and that's why putting them together can create a powerful marketing program for your business!
How SEO and blogging work together
Blog posts are helpful for your site's SEO for three main reasons:
They provide fresh content for websites
They offer great ways to work in the keywords you want to rank for
They invite links from other high-quality websites
Let's take an in-depth look at each one of these factors, and explain how blogging can help improve your search engine optimization.
Blogging provides fresh content
Google, the biggest search engine of them all, puts a high value on new, original content being added regularly to a website. This tells Google your site is active. It also shows that real, live people are behind the site who care about their visitors and what they want or need.
Your blog may be the most frequently updated section of your website. This provides fresh content for search engines to index (that is, include in their results) on a regular basis. Additionally, it gives your followers, fans, or leads new information to digest and utilize in their daily lives.
Fresh content doesn't just benefit search engines—it can also benefit your followers! So don't hesitate to add posts to your blog, because it can definitely aid with more than your SEO.
Blogging gives you a great way to use keywords
Keywords are the backbone of any good SEO campaign. These are the words or phrases people are most likely to type in when looking for a service or product you sell.
For instance, if you are a plumber located in New York City, your keywords might include "plumber NYC" or "New York plumber." But you will also want to use other phrases frequently used by people searching for a plumber, such as "clogged toilet."
For these keywords to work, they must appear on your site in order for the search engines to notice them. Blog entries are a great place to use these keywords naturally and organically. You can even center blog posts around inquiries related to your business to pull in traffic and answer common questions.
Someone looking for advice—or a plumber's help—might type into Google, "how to unclog a toilet." This makes a great blog post subject! But it also gives you an easy way to target keywords, which will make your site come up higher in searches.
Blog posts invite links from other sites
The aim of every Google SEO campaign is to increase the number of links you receive from other sites. This tells Google your site offers good, usable, and reliable information.
Think of links as the online equivalent of a testimonial. The more testimonials you receive, the more likely consumers are to trust you. Similarly, the more links you have, the most likely Google is to endorse you with a high page ranking.
Blogs are an easy way to get more links to your website and content. You can cover important topics in your blog that other sites in your industry will want to link back to. The more links you receive, the higher your site will appear in the page rankings.
Additionally, this process will improve your credibility and reputation in the industry, as well as direct more traffic to your website. Links can increase your visibility, but they can also help you attract more visitors who are reading other websites in your industry.
Your blog can be a huge SEO asset!
So can blogging help you improve your SEO? Yes! Blogging can assist with achieving better results for you in search engines, as we have shown.
However, you should also be aware that blogging can help your marketing in other ways. With a blog you can also:
Build your social media following
Increase the likelihood that a new lead will see you as trustworthy enough to contact
Improve your company's reputation in your industry
Share images, which offer another opportunity to rank in searches (ex. in Google Images)
The most important thing for any blog is maintaining a high level of quality. If you are offering your potential customers smart, actionable information they cannot find anywhere else, this also helps to improve your company's reputation. That's an intangible benefit that is not tied directly to SEO, but can help your business improve in many other ways.
Time to Level Up Your Sales
Our long list of services helps you grow every aspect of your business with marketing strategies that are proven to increase bottom-line metrics like revenue and conversions.
In the past 5 years, we've managed more than 12.9 MILLION transactions across our client base.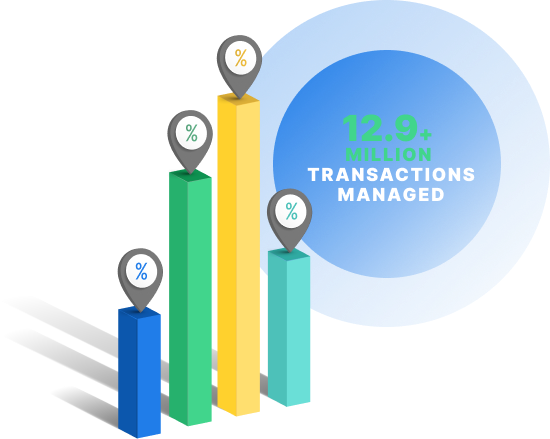 Need help starting a blog?
Now that you know the SEO advantages of blogging, you may be wondering how to get started. If you don't already have a blog, you can check out WordPress to get a free blogging platform that can be installed right on your website.
If you already have a blog, but want to make it more SEO-friendly, there are ways to do that as well! A good way to start is by following some of the advice above—for example, post more often or try to incorporate keywords into your content. But you can also apply the information from our on-page SEO checklist to make your blog more visible in searches.
If you're not sure that you can improve your SEO through blogging—or you don't have the time to dedicate to writing content for your blog—WebFX can help. We offer content marketing services that can give you a steady stream of relevant, high quality, and link-worthy blog posts and infographics that your followers and fans will love!
Want to know how we can give your blog sticking power in search engines? Contact us today for a completely custom, no-obligation quote. We'll be happy to show you how we've helped businesses just like yours succeed online through blogging and search engine optimization advertising!
How Is Your Website's SEO?
Use our free tool to get your score calculated in under 60 seconds.