The physical therapy industry, which currently employs more than 400,000 professionals, is set to grow in future years. While that's great news for patients and communities, therapists and offices have to try harder than ever to earn a patient's attention, business, and trust.
Now's the time to start rethinking your advertising efforts and bring them up to date. Marketing a physical therapy practice on social media is the best place to start.
Call 888-601-5359 to speak with a WebFX strategist about social media marketing, or read on to learn more about this strategy.
Growing your social presence with WebFX is a walk in the park.
"WebFX allows growing your social media platforms to be stress-free! They are knowledgeable and adapt to your company needs!"
Learn More About Our Social Media Services

Benefits of social media for physical therapy practices
Using social media to market your physical therapy clinic is a smart choice because it:
Is mostly free:

Starting a social media account is free, even for businesses. The most popular platforms don't lock features behind paywalls, so you can grow a following by investing nothing more than time. That said, each network has paid options to promote or boost your content to reach more people, which can be worthwhile, depending on your marketing strategy.

Makes you easy to find:

Your social media account is a convenient place to keep prospective patients up-to-date on all your current information, including your address, phone number, email, hours of operation, open positions, and upcoming events.

Establishes your credibility:

Forty-one percent of consumers

use social media when considering a new health care facility, meaning not having an active social media presence could deter business. Being online lends your practice a level of credibility with today's consumers and lets them get a better look at your expertise, credentials, and service.

Builds relationships with patients:

Social media is the place to be, well, social — and

that includes businesses

. A platform lets you reach new prospective clients, communicate with existing ones, and stay informed on industry and community trends.

Supports better customer service:

Effective physical therapy relies on clear provider and patient communication. While you probably won't use social networks to offer medical advice or exchange sensitive data, it gives current and prospective clients an instant way to ask questions about appointment availability and services offered.
Physical therapy marketing strategies for social media
Physical therapy social media marketing can, and should, be part of a larger digital marketing plan for your clinic or practice. Fortunately, social media is the perfect starting point to strengthen other parts of your campaign, including local search engine optimization (SEO) and content marketing.
Local SEO
SEO is the process of optimizing your online presence to be more visible in search engine results. Local SEO is one subset of that optimization, and it's essential when marketing physical therapy clinics, especially since health care "near me" Google searches have doubled since 2015.
Local SEO is when you specifically gear your SEO strategy to target local audiences and search results — the people in a specific region or proximity to your office.
While a broader SEO plan is still critical, it's more beneficial if part of your approach involves targeting your local market. Having someone from across the country find your website might be awesome for your online visibility, but it's probably not going to lead to a conversion.
How does social media play into all of this?
While you can't necessarily optimize individual profiles for local SEO, it can act as a building block that supports your local strategy in a few ways:
Social media platforms are the perfect place to share original content that ultimately leads back to your website, boosting your site's performance in Google's eyes.

The Google algorithm values reviews, and social media gives users a place to share their experiences, improving your online reputation.

Search engine algorithms crawl

various parts of the Internet

, and the more your practice, name, website, or account are shared and talked about, the better position you can be in.
Content marketing
If social media is a car, content creation is its fuel — they're infinitely more useful when they work together.
While customer service and connecting with clients are beneficial, sharing original content from your website to your social platforms is how you boost your place in search engine results, establish yourself as an authority, and provide your followers with valuable information.
Thirty-three percent of consumers use social media to find health care information, and 40% say the content they find on social platforms impacts how they manage their health.
Your prospective clients are already looking to Facebook, YouTube, and other sites to learn more about their health. Publishing evidence-based, relevant content to your following is one way to ensure they find trustworthy information while presenting the perfect opportunity to highlight your clinic as a possible solution.
Content can be written articles, scholarly whitepapers, long- and short-form videos, pictures, graphics, and more.
Physical therapy marketing ideas for your content creation strategy include:
Covering industry news, like new treatment methods for common injuries or legal updates surrounding health insurance or patient privacy.

Audience-specific information, like a video series covering common athletic injuries and how to prevent and treat them or blog posts addressing aging-related risks and recommended exercises to avoid them.

Something relevant to your local community, like safe training tips for an upcoming 5K or a guide to pain-free hiking as the outdoor season approaches.

Content on issues common among your patients, like specific concerns, questions, and misconceptions.

Infographics or videos that align with current trends or events, like how to prevent injury or bodily stress while working from home.
Choosing a physical therapy social media platform
The right platform for your physical therapy marketing plan depends on your target audience and specific campaign goals. Here are a few top choices for physical therapy practitioners and offices:
Facebook:

Facebook has a large and diverse audience that spans multiple demographics. It's also a multi-content platform, so you can share text, video, and image posts while also engaging in conversations via comments, public posts, and private messages.

LinkedIn:

LinkedIn is useful if your priority is establishing credibility, networking with other professionals, or connecting with potential employees. It's a professional platform that lets you build a network and share written content to present your research or ideas.

TikTok:

TikTok is very popular with younger audiences, which could make it the perfect fit if your practice often works with students and young adults. Create short video clips highlighting common injuries to avoid, voice your opinion about relevant viral trends, or give followers a behind-the-scenes look at the life of a physical therapist.

YouTube:

YouTube videos are the best way to demonstrate techniques, present in-depth education on specific topics, or even host live video streaming events.
While a larger presence sets you up for more prospective clients, managing more than one or two social accounts on your own means balancing each platform's changing algorithms and guidelines and creating a unique strategy for each one. Your physical therapy clinic has enough to manage day to day — stick to what you can realistically handle or let WebFX handle your physical therapy digital marketing.
74% of people use social media when making a purchasing decision.
Make their decision easy with a stellar social media presence. See how your brand can level up by requesting a no-obligation proposal today.
One of our experts will be in touch within 24 hours!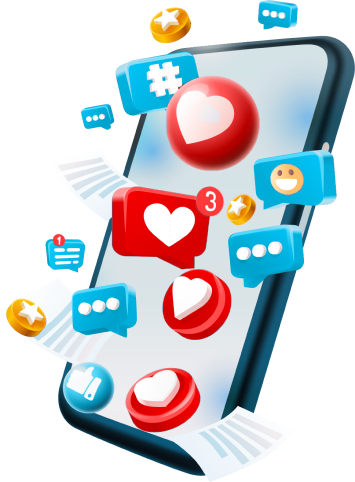 Grow your physical therapy practice with social media management from WebFX
The more time, research, and skill you put into your social media marketing strategy, the faster your following can grow and lead to business-building conversions.
For a busy clinic or provider, the idea of managing one social media platform, let alone an entire digital marketing strategy, could feel impossible. You didn't spend all that time studying and training to become an advertising pro — lucky for you, the team at WebFX did!
As a full-service digital marketing agency, we've got the experience and industry knowledge to handle every part of your online advertising, including social media management. Request a proposal today to start growing your platforms and your practice!
Increase your leads, sales, and revenue with digital marketing
Find Us Driving Revenue Nationwide