Google SERP Features: 8 SERP Features to Optimize for on Google
When users conduct searches, there are many possible descriptions that can appear in the search results. These are known as search engine results page (SERP) features. SERP features are any results that appear on a search page that are not a traditional organic result.
When your business's information is in these features, you can drive more traffic to your page and earn more conversions.
On this page, we'll go over eight common SERP features that you see in the search results and discuss how you can optimize for them whenever possible. If you need help optimizing for the SERPs, call us today at 888-601-5359 to speak with a strategist.
Let's get started!
Bonus: Want to keep a close eye on the SERPs? Monitor your competitors, keywords, and more by setting up Google Alerts!
Independent research from Clutch has named WebFX the
top SEO company

in the United States.

Clutch has personally interviewed more than 250 WebFX clients to discuss their experience partnering with us.

Read More Clutch Reviews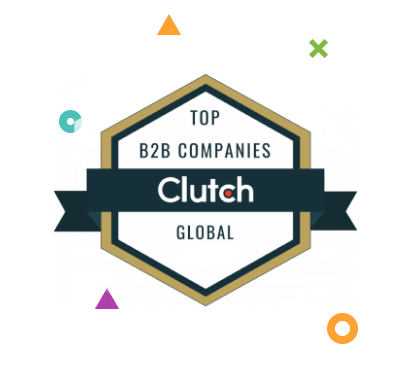 1. Direct answer box
The direct answer box appears when users ask a question that has an immediate answer. These boxes contain short pieces of information that are public-domain facts.
Google does not credit the information in this box because it's deemed to be common knowledge. For example, if someone types in "Who was the first President of the United States?" they're going to get a direct answer box that says "George Washington."
How to optimize for this feature
This is one feature that your business has no control over and cannot optimize your site to be featured in this box. Brands are not eligible to appear in this box because the answers in this box contain public domain information. There's no value to your business anyway because the information doesn't link back to any website when featured in the box.
2. Featured snippets
Featured snippets are boxes of information that appear at the top of the search results. These are similar to direct answer boxes, except they contain more information and are linked to the source of the information.
Google decides the information that appears in the snippet and deems it to be the most contextually relevant result based on the user's search. It's a quick way for users to obtain information about a topic without needing to dive too in-depth and check out different sites to learn more.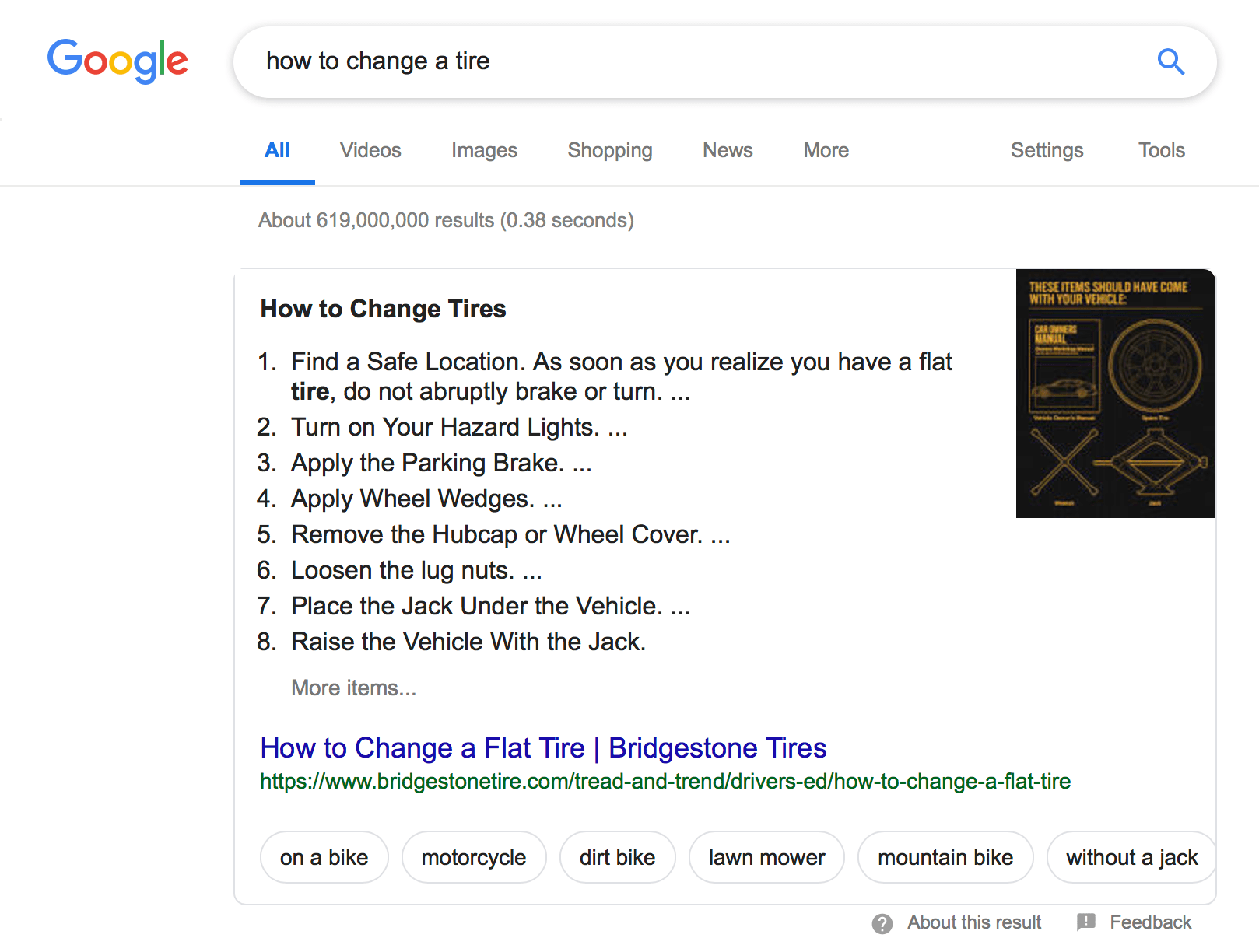 Featured snippets come in the following formats:
Paragraphs
Bulleted lists
Tables
Numbered lists
All of these formats contain information pulled from a website that provides the most relevant information to the query. Google gives credit to your business and links to the page with the full article of information.
Many businesses have the goal of getting their information in the featured snippet. Since these boxes appear at the very top of search results, people are more likely to click on the link that is attached to the information. It means more valuable leads for whatever business is featured in this box.
How to optimize for this feature
If you want your information to stand a chance at appearing in the featured snippet, you must take the time to optimize it for that box. Pre-formatting your content will help your information have a better chance of appearing in the box.
When you create content, create sections of information, that answer user questions, and format it in one of the formats listed above to help it have a better chance of appearing in the featured snippet.
Answering a user's question directly helps, too. If someone is searching "how to change a flat tire," a tire company would want to give a numbered list that details how to change a tire. It makes it easy to understand and provides the answer the user needs.
3. Rich snippets
Rich snippets provide direct questions to users' search queries. In other words, the answer displays in the search results, and searchers don't need to click to visit a site if their question is answered.
Some rich snippets include star reviews for a business's products/services or cost information.

Rich snippets add additional information that gets users to click on your page. If someone was conducting a search for a product and saw, in the search results, that it had over 4-star rating, those leads are more likely to click on your link.
How to optimize for this feature
This requires the use of schema markup. You will need to tag your products with the schema alerts so that Google knows what it should display and can display your results with the added text.
4. Knowledge graphs and panels
Knowledge graphs and panels are common features in the Google SERPs.
Knowledge graphs
Knowledge graphs display images, information, and facts about a certain topic. Google scrapes the information from Google data and external sources. These boxes typically appear at the top of the search results next to the organic search results or paid ads.

You'll often see these knowledge graphs when you search for the weather or look for information about a celebrity or famous person. If someone specifically for a bigger company, like The Coca-Cola Company, they'll drum up a knowledge graph in the search results too.
Knowledge panels
The biggest difference between knowledge panels and knowledge graphs is knowledge panels only pull information from Google Business Profile or Google Maps. Knowledge panels focus on helping people find information about businesses near them.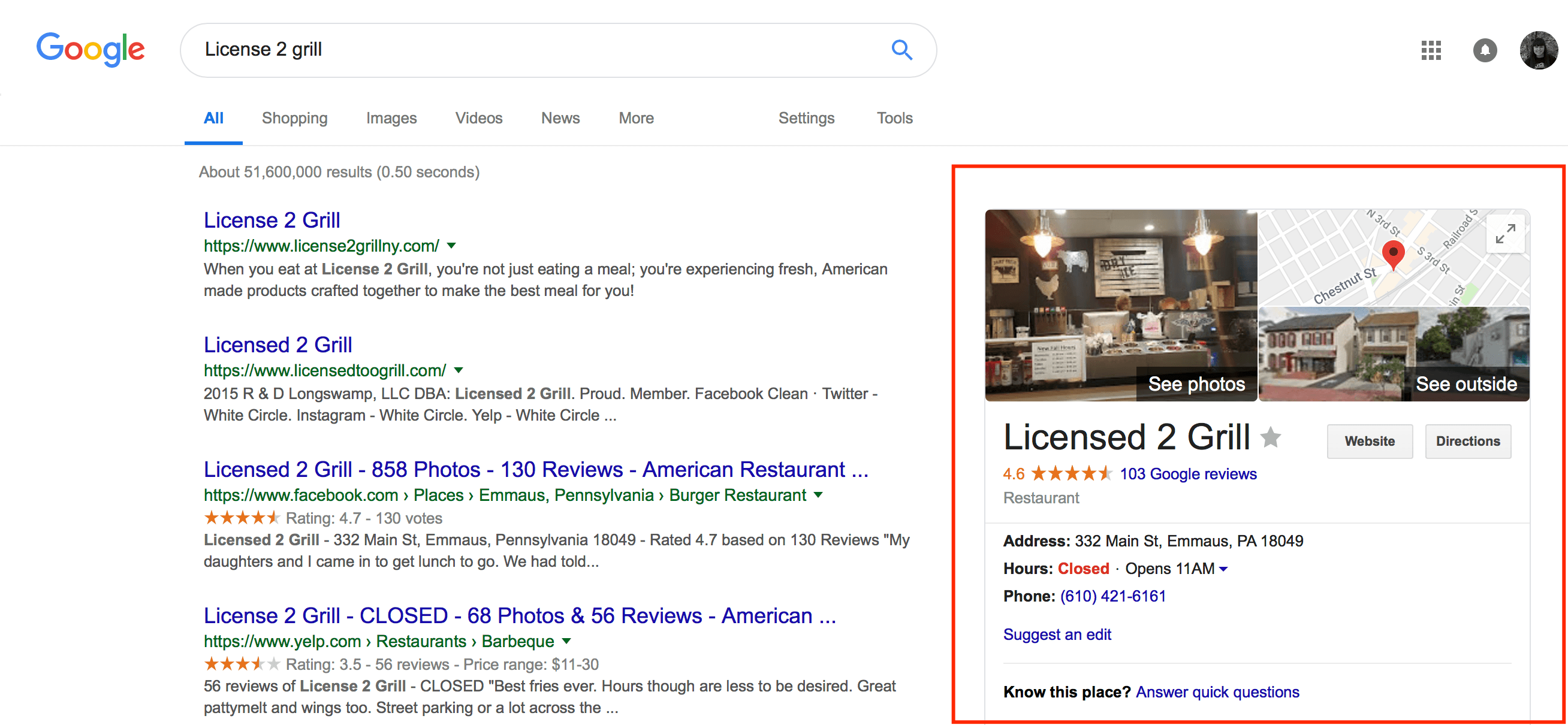 How to optimize for this feature: Generally, you'll be optimizing for knowledge panels over knowledge graphs. The best way to optimize for knowledge panels is updating your Google My Business account and keeping your listing accurate. An accurate, up-to-date listing will drive more leads for your business.
If you also want to optimize for the knowledge graphs, the best thing to do it keep your "About Us" section filled with valuable information about your business. Google can pull information from this section and use it in the knowledge graph. It's the best way to make your information readily available to search engines.
5. People also ask section
When users search for information, they will drum up a list of relevant websites. Within these search results, there is a "People Also Ask" section. This section lists related queries that people ask in regard to the same topic.

If a user clicks on the drop-down button for a certain question, they'll get a short snippet of information answering the question and link to the information. People can click on these links to explore and learn more information about the topic.
How to optimize for this feature
People also ask operates based on relational topics and machine learning. Google tries to pull related queries that have relevant information to the original search.
The best way to optimize for this feature is to think about follow up questions someone might have in reference to certain queries. If you were optimizing for "how to fix a leaky faucet," you may answer questions like "Why is my faucet leaking?" or "What do you do when your faucet is leaking?"
In addition, you'll want to add related keywords. This will help you rank for additional search queries and reach more interested leads.
6. Paid results
Paid search results commonly appear in search queries. These are pay-per-click (PPC) ads and companies pay to have their ad featured at the top of the search results. These ads can also appear at the bottom of the page.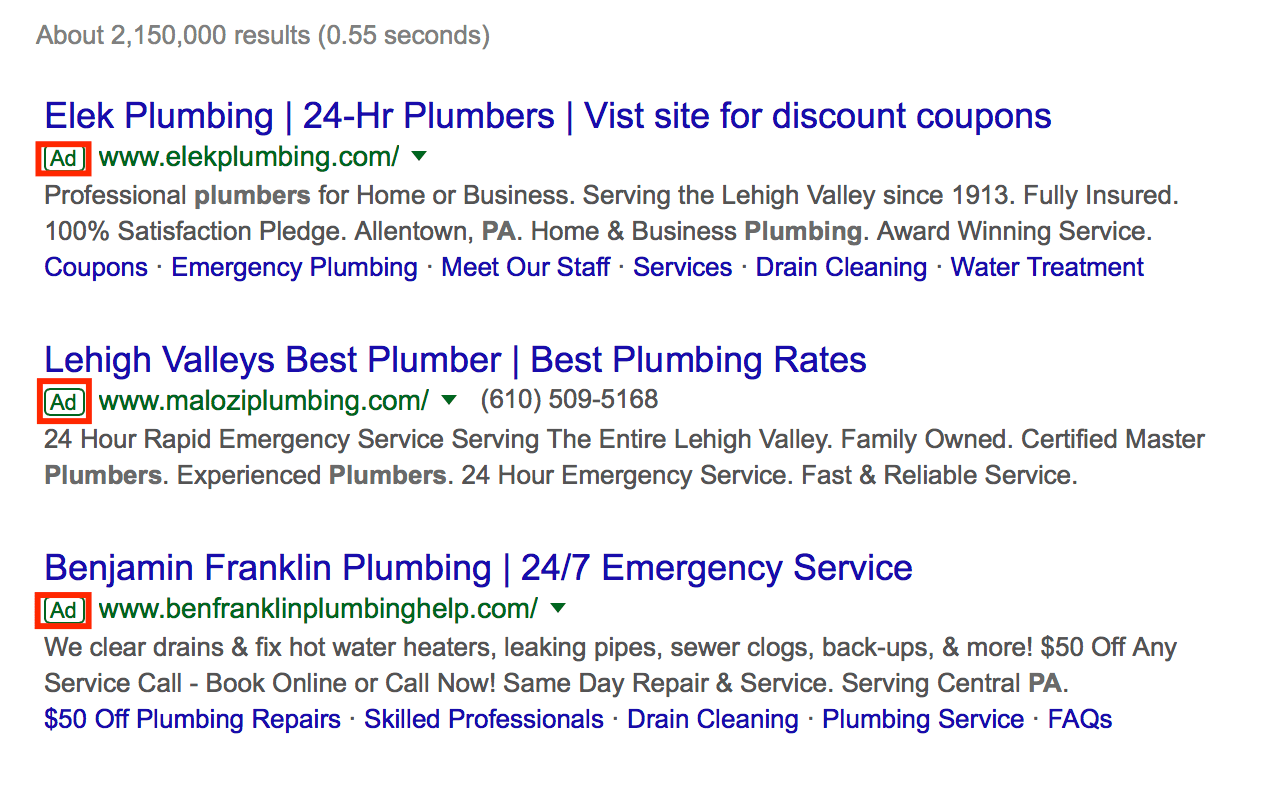 Many companies use PPC ads to help leads find their business first. They are tagged with the word "ad" to indicate paid content.
To start running a paid ad, you must choose keywords. Keywords determine where your ad appears in search results. If you want to appear in the most relevant search results, you must choose the right keywords for your campaign.
Once you have your keywords selected, you set the amount you are willing to pay each time someone clicks, or your maximum bid, and get your placement. This bid and your quality score will determine where your ad falls in the search results.
How to optimize for this feature
If you want your ad to get the best spot in the search results, the best thing you can do is review your keyword selection. Keywords trigger your ad to appear in the search results. If you don't have the right keywords, you won't drive the right traffic to your site.
You may need to revise your keywords and landing page to make sure they are relevant to one another. If there are keywords that are a better fit for your ad copy, you can optimize for them instead. When you have a more relevant ad, you get a better quality score, which leads to better ad placement.
WebFX will help you optimize for the Google SERPs
SEO is a crucial part of helping your business reach new leads. To rank higher in the SERPs, you must optimize your site with SEO to rank higher in search results. At WebFX, we have over 20 years of experience creating SEO campaigns that drive results.
We're a full-service digital marketing company that specializes in custom SEO and PPC campaigns. Our team of over 500 experts will bring their knowledge and expertise to your campaign. We'll help you create a customized campaign that helps your business grow.
If you're looking for a company that drives results, look no further than WebFX. In the last five years, we've driven over $3 billion in sales and over 7.8 million leads for our clients. Our customized campaigns will help you reach more leads interested in your business.
Don't believe us? Just ask our clients! Check out our 1020+ client testimonials that attest to the great work we do.
Get started today
If you're ready to start optimizing your campaign to perform better in the SERPs, contact us online or call us today at 888-601-5359 to speak with a strategist.
We look forward to helping your business reach new heights!
How Is Your Website's SEO?
Use our free tool to get your score calculated in under 60 seconds.