Website Structure 101: How to Create an SEO-Friendly Site Structure
If you're getting ready to build and launch a website, you might not realize the significance of a strong website structure. However, an organized and effective website structure can elevate your search engine optimization (SEO) efforts.
Since SEO and website structure are linked, you can't ignore it during site optimization. Logical website structure is like a series of handy signs and pathways through your pages, and this creates an attractive flow for both users and search engine bots.
Do you need an agency to hone your SEO and drive qualified traffic to your site? We've driven 255,000 page one rankings on Google for our clients. Get expert SEO services now with WebFX! Contact us online or call us at 888-601-5359 today.
Keep reading for our website structure best practices!
We foster and form long-term partnerships so that your business has long-term results.
Over 90% of WebFX clients continue partnering with us into year 2 of their campaign.
Hear from Our Happy Customers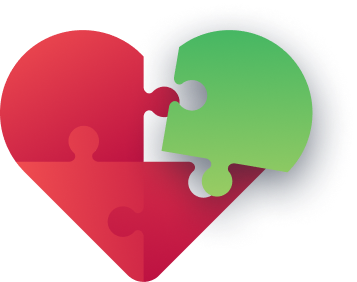 What is website structure?
When you hear "website structure," you might think of aesthetic elements or content organization. But website structure refers to how the pages on your site relate to one another. This includes how supplementary pages branch off from your home page into subtopics and folders.
The structure starts with a foundation, the home page, then splits off into other sections like the about page, contact page, and blog page

Since the structure is the framework of your website, it's crucial to sort it out from the start. Just like a to-do list helps you tackle multiple things, a well-executed website structure prepares you for SEO success down the road.
6 steps to SEO-optimized website structure
Not all website structures measure up the same to Google and its algorithms. To make your website structure "SEO-friendly," it has to appeal to visitors and guide them to relevant content across your site.
The nuts and bolts of website structure back up SEO's central value of functionality. From streamlined crawling to effortless navigation, it can amplify crucial metrics like the click-through rate and conversion rate.
Ready to find out our website structure best practices for SEO? Check out our six steps to piece together an SEO-specific structure for your website.
1. Establish your site hierarchy
If you were assembling a skyscraper, it would be next to impossible to revisit the foundation once you're in the middle of construction on the building's floors. Similarly, it's best to establish the organization of your website from the beginning, rather than delving into the structure after the fact.
The hierarchy of your site — or the system that arranges your pages from top to bottom — requires you to prioritize certain topics and sections. For instance, a page dedicated to your business' best-selling products might sit higher in the hierarchy than your media release page.
Review the main resources that can help your visitors make conversions and bring in revenue. You can find simple, overarching categories to house subcategories and individual pages. For example, if your business offers multiple services, one of the categories branching off your home page should be "services."
A site hierarchy ends up looking similar to a pyramid, and you can map out a basic guide before you dive into other website setup steps.
For a hierarchy that meshes well with search engine bots, don't spread your reach too wide in your primary categories. A reasonable average of core categories for a site structure is around five sections, although ecommerce sites can easily go beyond that with product categories.
2. Organize matching URL structure
URL structure impacts rankings in Google, and simple, readable URLs help your site gain exposure and qualified traffic. When users see familiar words in the search results, it can make a better impression in a snap decision to choose one result over another.
For example, a URL that reads "https://deliciouspiesforever.com/folder1/588920" isn't as useful as "https://deliciouspiesforever.com/blog/summer-pies."
In your SEO-friendly website structure, the URLs naturally follow. Since you've charted out a path for users to go through, the URL is another way to communicate the location of the page in the context of your site.
Let your URL reiterate the progression of your website by representing the folder order. For example, after the root domain name, you can put in the second tier or main category, followed by the name of the page.

More developed sites might contain a longer series of folders and subfolders, but the main idea is to create a concise URL with recognizable words.
3. Select the right navigational depth
Website structure determines how difficult it is to click to a part of your site. If you want to feature an instrumental page, like the contact page, but it's concealed beneath layers of subfolders, you can frustrate interested visitors and confuse search engine crawlers.
The navigational or click depth should present enough choices for users while avoiding an excessive amount of categories.
Shallow depth is often chosen for prime SEO to allow users easy access to the essential pages. However, a balance of depth and breadth for sites is best. Steer clear of a flat structure that doesn't proceed deeper than a second tier of folders, but make sure users can get where they need to go within a few steps.
4. Include "breadcrumbs"
Just like Hansel and Gretel's trusty breadcrumb path, website breadcrumbs also help users trace their steps back to a familiar location. Breadcrumbs are the ordered trail at the top of a site that appears when you get deeper within the structure. They serve as directions that explain your location, and search engines respond positively to them.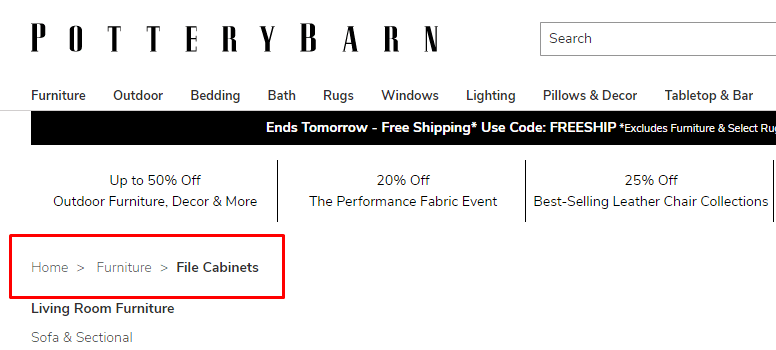 The route has arrows in between each destination to show you how you arrived at the current page and the way to get back to the home page. Breadcrumbs demonstrate clean categorization, and they make navigation even smoother for users.
Breadcrumb navigation elevates SEO performance because it reinforces information about page hierarchy on your site. It gives Google a well-rounded view of the chain of importance within your site content, which increases its overall accessibility.
5. Establish a header and footer
Another tool to enhance your website structure is the header on your site. For seamless navigation, you need to display your site's primary sections in the header. These are the sections you picked out during preliminary planning.

While you might have additional bells and whistles for your menu and header, like dropdown features, the easy-to-follow design is most important. Basic text links and corresponding anchors are a reliable way to enrich your SEO strategy.
Text links perform well because search engine bots can comprehend them. Although images have ALT text, text links continue to deliver better results when it comes to SEO — this is also the case with headers and footers.
You should also include the contents of your header in your footer, so users have options no matter where they are on your site. Although this is mainly for indexing, it's wise to input the links for consistency and usability.
Because of the prominent placement, the visibility of these folders and links encourages more visitors to frequent your chosen category pages.
6. Perform internal linking
Practicing internal linking for your website structure shows the relationship between pages and content on your site. Because search engine crawlers "crawl" along one link to the next, even on-site links can give Google a fuller picture of what you have to offer.
When you place links organically throughout your blogs and resources to product pages and recent posts, it forms a grid for users to explore. If there's a related page or helpful link on your blog, users can continue to traverse your site and come closer to converting or purchasing a product.
The internal link structure on your site also helps crawlers understand the content you want to put on a pedestal. This supports differences in ranking on search results pages for similar content.
Ensure you have a thorough network of links across your site, and try to link to your most popular pages to instill more ranking value in them for powerful SEO optimization. As you add pages and craft content, remember to continue internally linking to improve dwell time and other elements of SEO.
Time to Level Up Your Sales
Our long list of services helps you grow every aspect of your business with marketing strategies that are proven to increase bottom-line metrics like revenue and conversions.
In the past 5 years, we've managed more than 12.9 MILLION transactions across our client base.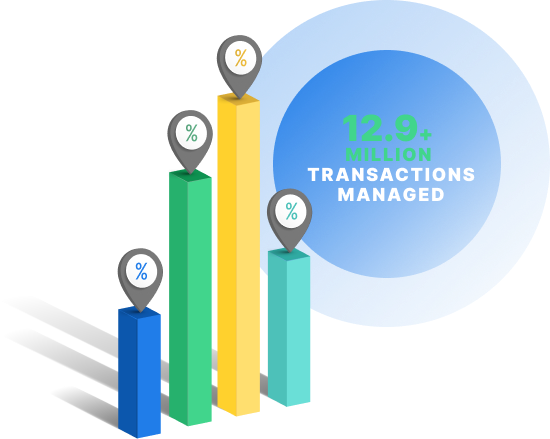 Create an SEO-friendly website structure with WebFX
User experience is at the heart of SEO-friendly website structure. You want to serve visitors with convenient tools and instructions as they advance through your site.
It's no secret that Google cares about user experience, too, which means these practices are critical for your site's visibility. Exceptional website structure achieves this, and you can boost traffic and generate revenue when you work on your website structure.
An expert SEO agency can fortify user experience and solve many additional SEO concerns. At WebFX, we have leading SEO services that drive results for your business and benefit your bottom line.
Our team of 500 SEO experts has generated over $3 billion in sales and over 7.8 million leads for customers in the last five years.
Are you ready to skyrocket your campaign with professional SEO services? Contact us online or call us at 888-601-5359 today to get started.
How Is Your Website's SEO?
Use our free tool to get your score calculated in under 60 seconds.