"Everyone who has a website should use Google Analytics." There's a good chance you've heard a sentiment like that before. But getting started with Google Analytics is easier said than done, at least until you've had someone walk you through the process. Whether you've yet to sign up for Google Analytics, or you set it up but haven't started taking advantage of all of its features, this guide is for you.
In this Google Analytics guide, we'll cover:
What is Google Analytics?
Why you should use Google Analytics
How to set up Google Analytics
How to use Google Analytics
Let's get started.
What is Google Analytics?
Google Analytics is a tool from Google that gives you in-depth data and analytics reports on the performance of your website or app. A free and paid version are available, and most small-to-midsized businesses can get the information they need from the free version. Google Analytics also integrates with other Google tools such as Google Search Console, Google Ads, and Google Data Studio.
Why use Google Analytics?
Google Analytics provides a wealth of data about how your website or app performs, and most of this data is available for free.
It does take time to figure out how to take full advantage of the program's features, but you'll gain access to valuable insights once you do. You can also get value from some of the basic data, and a Google Analytics consulting company can help you make the most of the platform. Some examples of the information you can get from Google Analytics include:
How many visitors your site gets
How people get to your website, such as through links on other websites and search results
Your site visitors' demographics, locations, interests, and other characteristics
Which pages on your website are most popular
How quickly your pages load
How many of your site visitors convert
What pages users visit before they convert
How to set up Google Analytics
So, how do you set up Google Analytics? This section of our Google Analytics guide will walk you through the process.
1. Create a Google account
If you already have a Google account you use for Gmail, YouTube, Google Calendar, and other Google services, you can use it for your Google Analytics. You may also choose to set up a new Google account. Make sure you use an account that you plan to keep for the foreseeable future and that only you have access to.
To create a new Google account, go to accounts.google.com and follow the signup instructions.
2. Sign up for Google Analytics
Once you have your Google account, head over to Google Analytics and click the "sign in" or "set up" button. Then, follow the instructions for setting up your account. Here, you will:
Add an account name
Select your data sharing settings
Choose whether you want to measure data for a website, app, or both
Set up your property, which involves inputting your website's name and URL, your industry category, and your time zone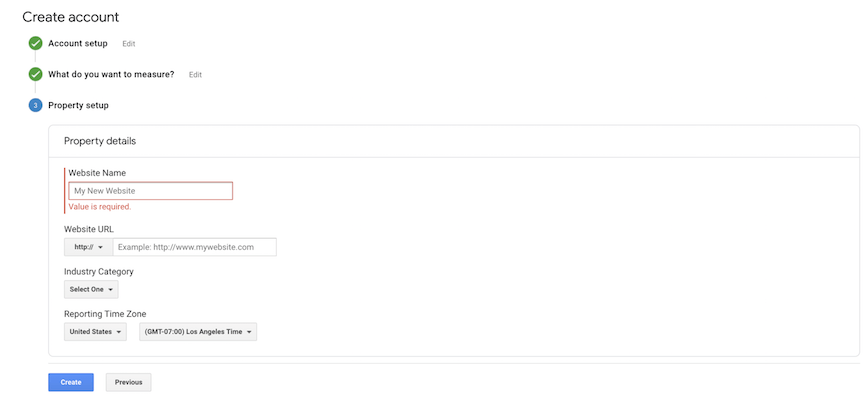 When you create your property, Google Analytics will automatically create a view called "All Web Site Data." Different views show you different types of data depending on how you set them up. You can use them to, for instance, exclude traffic from your company's employees. Keep the default view and add other views if you like.
You can find instructions on how to create additional views in this guide from Google.
3. Add tracking code
Once you create a property, you'll get a unique Tracking ID and a global site tag, which enables Analytics to collect data about your site. You'll need to add your global site tag to every page that you want to track on your website. Copy the global site tag and paste it immediately after the opening <head> tag on each page for which you want to track data.
To find your Tracking ID and global site tag, click Admin, select your account in the Account column, and select your property in the Property column.
Then, under the Property column, choose Tracking Info > Tracking Code.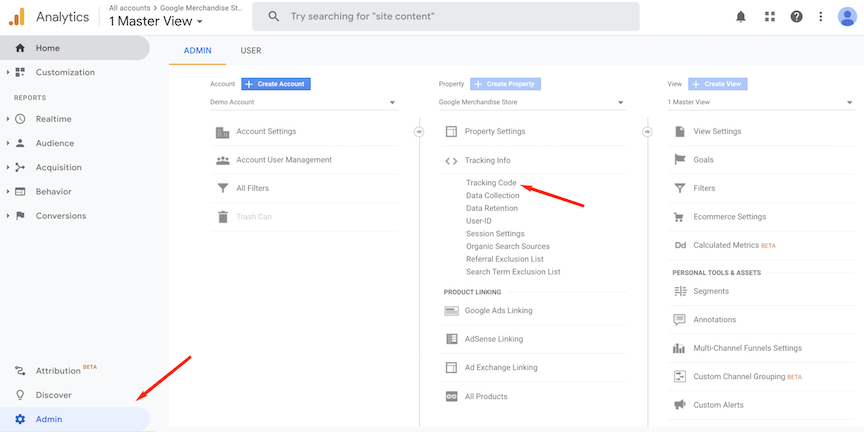 Learn How to Check if Google Analytics is Working
4. Set goals
Another important step in our Google Analytics tutorial is setting up goals, which measure when users complete certain actions and help you track how well your website is meeting your objectives. You decide what your goals are, and there are four main types:
Destination: A visit to a specific page
Duration: A certain amount of time spent on your site during a session
Event: A specific site interaction, such as downloading a PDF or watching a video
Pages/Screens per session: A session in which a user viewed a certain number of pages
To set up a goal, go to Admin and choose your view. Under the View column, select Goals. Then, click + NEW GOAL or Import from Gallery to set up a new goal.
You can have up to 20 goals for each view.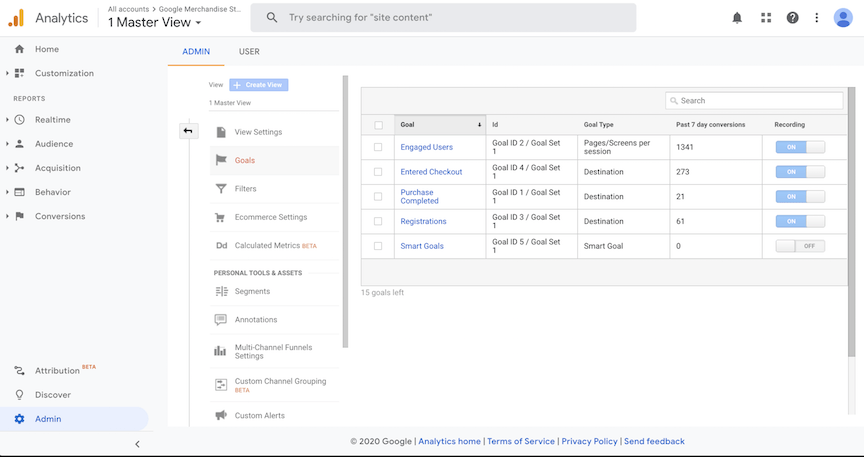 How to use Google Analytics
Now that you have your account set up, let's look at how to use Google Analytics. The program comes with numerous standard reports across five categories, which we'll discuss in this section of our Google Analytics guide.
After 24 hours of collecting data, you should have enough to start viewing your reports. Let's take a look at the five categories of reports and what you can do for each.
1. Real-time
Real-time reports allow you to view data about what's happening on your site at the moment. These reports typically show data from the last five minutes, but you can extend the timeframe to 30 minutes. The reports in the real-time category are:
Locations tells you where in the world your current users are located.
Traffic Sources tells you how your current users got to your site.
Content tells you which pages current users are looking at and how long they stay there.
Events lets you track interactions such as ebook downloads and ad clicks. You can customize which events you want to track.
Conversions tells you how many goals users completed on your site in real-time or within the last half-hour.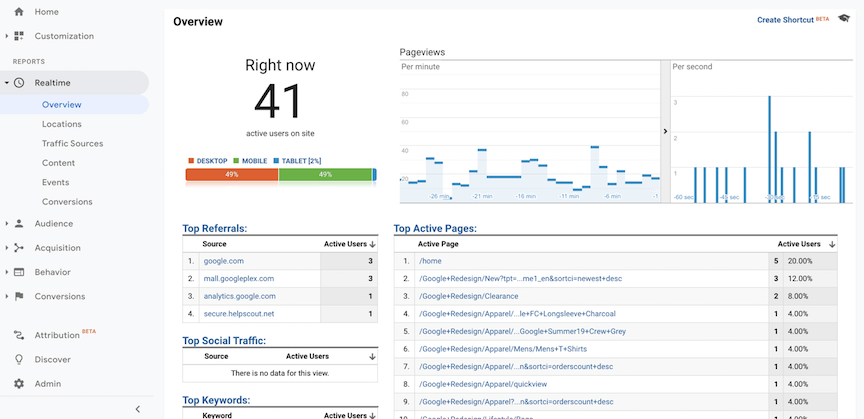 2. Audience
Audience reports give you information about your website visitors. These reports are useful for learning more about who your audience is and segmenting your users into different groups to improve your targeting. Some of the useful reports in the audience category include:
Active Users lets you see how many users visited your site within the last one, 7, 14, or 28 days.
Lifetime Value provides an estimate of how much a user will be worth to your business over the long term.
Cohort Analysis lets you analyze groups of users with shared characteristics.
Benchmarking allows you to compare your site data to other sites in your industry.
Users Flow shows you how users navigate through your site.
You can also view reports about users' demographics, interests, locations, behavior on your site, and technology.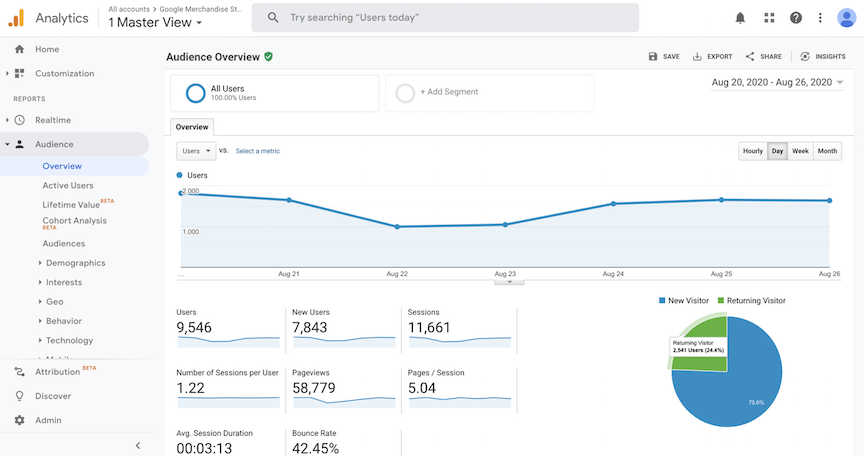 3. Acquisition
Acquisition reports give you detailed information about how users arrived at your site and what they did once they arrived. There are several categories of reports within Acquisition, including:
All Traffic reports tell you where your traffic came from. You can break your data down by channels, source/medium, referrals, and more.
Google Ads reports give you detailed information about your ad campaigns if you link your Google Ads account to your Analytics account.
Search Console reports give you in-depth information about how your site performs in organic search if you link your Google Search Console account to your Analytics account.
Social reports tell you how your content is performing on social media. You can view reports on network referrals, landing pages, conversion, plugins and users flow.
Campaigns reports let you see information about your campaigns. Reports include All Campaigns, Paid Keywords, Organic Keywords, and Cost Analysis.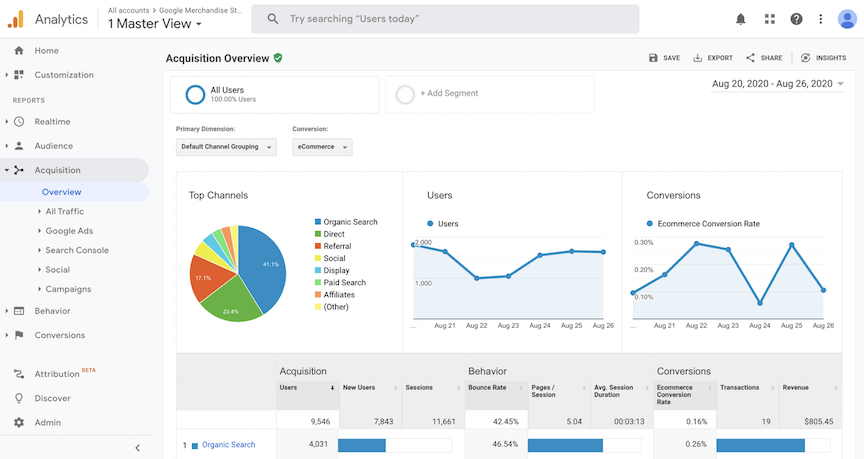 4. Behavior
Behavior reports let you analyze how users are interacting with your website. There are various reports and categories of reports under Behavior.
Behavior Flow shows how users move throughout your site.
Site Content reports give you insights into which content is performing the best based on user behavior data.
Site Speed reports tell you how quickly your content loads.
Site Search reports give you information on how visitors use your website's search function.
Events reports give your detailed data about events such as downloads and form submissions.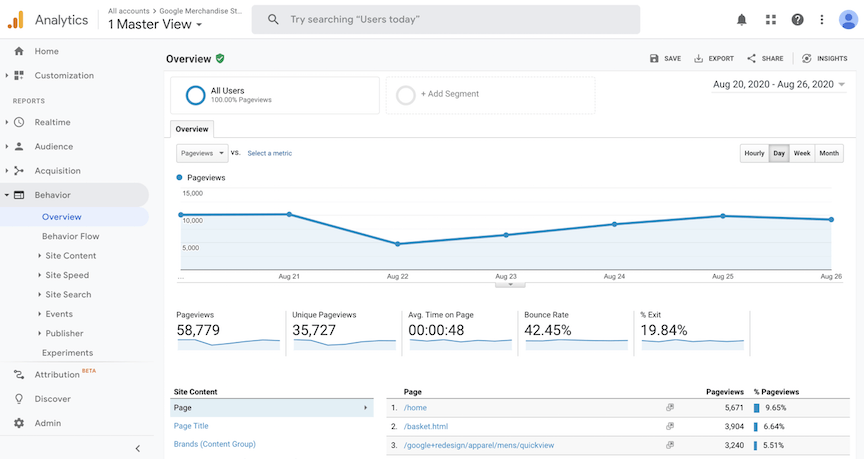 5. Conversions
Conversions reports allow you to track actions you want your users to complete, such as purchases, quote requests, form submissions, and downloads. Reports within the Conversions category include:
Goals: Once you set up which goals you want to track, you can access detailed data about them here, including total goal completions, conversion rate, goal completion paths, and more.
Ecommerce reports give you information on your online sales. You can view data about your products, transactions, conversion rate, average order value, and more. To use these reports, you need to enable them and add a code snippet to your website.
Multi-Channel Funnels reports tell you how different channels contribute to your conversions. Reports in this category include Assisted Conversions, Top Conversion Paths, Path Length, and more.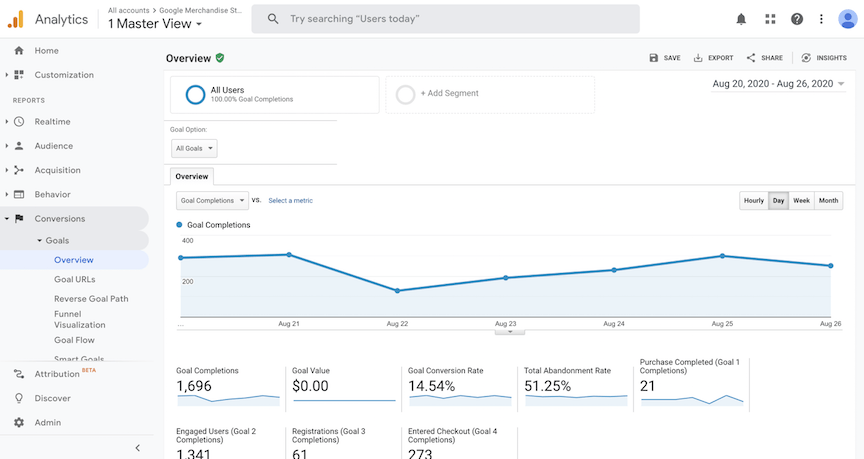 Making the most of your Google Analytics data
After reading this Google Analytics guide, we hope you feel a little more comfortable setting up and using this powerful tool. This Google Analytics tutorial covers the basics of using the program, but there's so much you can do with Google Analytics that we barely scratched the surface. If you want to learn more about Google Analytics, you can check out our other Google Analytics resources or explore Google's own documentation.
If you want expert support in making the most of your Google Analytics data, consider our Google Analytics consulting services. We can help you set up your account, understand and analyze your data, and use your data to improve your website's performance. To learn more, request a free quote, or give us a call at 888-601-5359 today.
How is your website's SEO?
Use our free tool to get your score calculated in under 60 seconds.
Get posts by email
Join 200,000 marketing managers and subscribe to Revenue Weekly!
"*" indicates required fields
WebFX Careers
Join our mission to provide industry-leading digital marketing services to businesses around the globe - all while building your personal knowledge and growing as an individual.