Agency

Website Redesign Agency
The Holy Grail of Website Redesign Agencies: WebFX
Website redesign agencies are the unsung heroes of the marketing world. Why? Because without them, your website might repel customers rather than attract them. If you own a business, you know that website traffic is one of the most important metrics to the success of your company — and an outdated or difficult-to-use website can slowly seal the fate of your business. If you want to ensure that your website is intuitive, aesthetically pleasing, and ultimately, a lead-driving machine, hiring a website redesign agency is one of the smartest decisions you can make.
"My website is fine!" — Or is it? How to know when to hire a website redesign company
If you've had your website for a long time, or you built it yourself, you've likely grown connected or even attached to your current design. It represents your business and sells products — but is it yielding the best possible results?
Here are a few things to look out for to help you determine when you might need some help from a website redesign company.
Website usability
Usability is extremely important to a website — after all, if visitors have a hard time using it, it's unlikely that they'll make a purchase.
Usability comes in all different forms, from page speed to navigation. Keep reading to learn more about each!
Page speed: Your page speed has a lot to do with the usability of your website. Did you know that a 100-millisecond delay in load time can cause the conversion rate of a page to drop 7%? That might not sound like much, but in terms of conversion rate, 7% is substantial.

For your pages to be as user-friendly as possible, you should ensure that all pages load in 3 seconds or less. To learn more about how fast your pages load, you can use a tool like Google's PageSpeed Insights. If you're not happy with the results, WebFX offers page speed optimization services that can help make all of your pages speedy!
Ease of navigation: If you've ever been on a website with crappy navigation, you know the frustration of not being able to find what you're looking for.To ensure that your website is user-friendly, you should ensure that your navigation bar is easy to use and isn't overly packed with pages. Users can become overwhelmed with too many options, so the rule of thumb is to keep your navigation bar simple and effective.
Internal links: Internal linking helps the usability of your website because it directs users to related pages and products. For example, if you have a content page on your website about how to use a specific product, you could link to other related items or parts that work in conjunction with the product.Not only does internal linking work in the user's favor, but it also helps Google easily find and index pages on your website.
Readability: Nobody likes a long wall of text and if your content is nothing but text, you could be providing less-than-desirable usability for users.When you create content, you should be sure to add graphics, videos, and images to ensure that users don't become trapped in your content. Providing readers with visuals helps to keep them interested in your content and makes it fun to read.
Calls to action: Calls to action are extremely important on any website. If you don't have an ecommerce website where you sell your products and services online, you can still benefit from calls to action.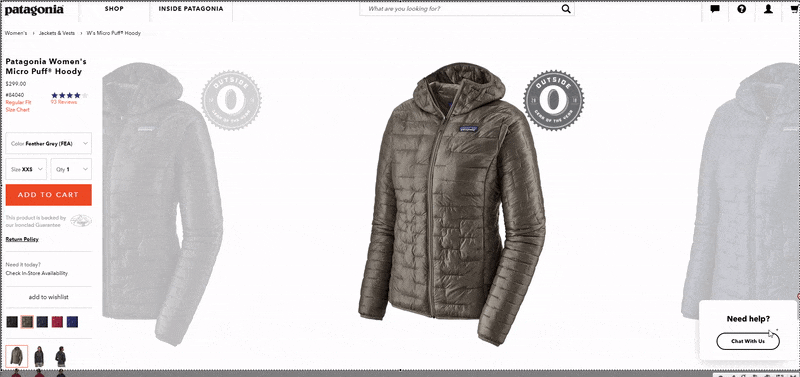 Examples include directing site visitors to similar pages or encouraging them to sign up for your mailing list. Calls to action are a usability factor because they give users the opportunity to convert easily.
Mobile-friendliness: Up to 70% of Internet traffic comes from mobile phones — making it easy to understand why it's absolutely necessary to have a website that is mobile-friendly.When your site is mobile-friendly, it simply means that users who surf your site on a smartphone or tablet will experience it the same way a desktop user would. If your site isn't mobile-friendly, users will become frustrated and likely navigate away from your site.
Website aesthetics
The aesthetics of your website are more important than you think, and they can actually deter users from your website.
If you've ever visited a website that uses 10 different colors, 6 different fonts, and big walls of text, you know exactly what we're talking about.
To ensure that site visitors have an enjoyable experience on your website, it's important to consider aesthetics.
Color palette: The colors that you choose to use on your website should speak to your brand and follow your brand guidelines. For example, if your logo is red and yellow, those two colors are likely a part of your overall color palette.

Keep in mind that you'll want to use the same exact color throughout your site. For example, if you feature an olive green, be sure to use that same exact variation throughout your website for consistency.
Fonts: Be sure to use web-safe fonts on your website to ensure that all operating systems can display the font you choose. Furthermore, you should only use two to three fonts on your website, and you should be sure to select fonts that work together.
Graphics: Graphics are extremely important to the aesthetics of your page for many reasons. Not only do they help break up large walls of text on your site, but they also help keep readers engaged in your content.
Overall design: Even though you use your company's unique color pallet, choose web-safe fonts, and use graphics to break up the text, it doesn't mean that your site is perfect.We recommend hiring an experienced website design agency to ensure that your website is cohesive and effective for site visitors.
Website branding
Is your business going through a rebrand? Are you tired of your company's logo that's been with you for decades? If so, it's a great time to hire a website redesign agency.
Not only can they help you design a new logo that shows off your new, modern style, but they can also help redesign your website to follow suit.
Not only can they help you redesign your logo, but they can help you come up with an entire branding kit to ensure that your website is cohesive with your updated brand.

When it comes to branding, design agencies have it under control.
Website success
Is your website attracting enough leads? If you find yourself questioning whether or not your website could be doing better, it's probably time for a redesign.
When you have a well-designed website that appeals to customers, you can see an increase in leads and sales — simply because users will stay on your site longer, use internal links to bounce around your pages, and click call-to-action buttons that entice them to convert.
If your website just isn't producing results like it used to or has never produced the results that you're looking for, it's time to hire a website redesign company.
Why should I hire a website redesign agency?
When you know that your website needs a revamp, there are a few options:
Hire an agency
Hire an in-house designer to take over your website
Do it yourself
But what makes hiring an agency one of the best decisions you'll ever make? Read on!
They can create a custom website redesign strategy
There's a lot more to web design than just swapping out some colors and adding graphics. When you opt for a total redesign, you'll need a website redesign strategy.
When you pair with an agency, they'll be able to concoct the perfect website redesign strategy to make your website dreams a reality.
They'll ask about your website goals, your company's style, and any specific features that you're interested in, and take them all into account when creating your strategy.
Not only that, but your website redesign strategy also consists of monitoring your website after the redesign to ensure that it's doing its job better than the original website.
They are experienced
Experience is everything when it comes to website redesigns. When you hire a web redesign company that's been in business for over a decade, you can assume that they've driven amazing success for previous clients — or they wouldn't still be in business.
To work at an agency, all the designers are likely required to have a college degree in design, as well as a wide variety of design skills that provide incredible results for clients.
If you want the best website redesign out there, hiring an experienced website redesign agency is the best option.
They cost less than other options
Many website owners may research other options simply because they think it's too costly to hire a website redesign company. Although the cost of a website redesign varies greatly, you can rest assured that hiring a redesign company is likely the most cost-effective option.
Here's why:
If you hire an in-house designer, you'll have to pay for their training, their equipment, design programs, and add them to payroll.
If you do it yourself, you'll have to pay for your own training and invest in equipment and design programs. You'll also have to spend countless hours training yourself or someone on your team to be a designer, in addition to running your business.
When you hire a website redesign agency, you'll pay a flat rate for your redesign, and you won't have to worry about paying for design programs or adding them to your payroll.
Website redesign agency services from WebFX
When you work with a top website redesign agency, you can rest assured that they offer strategies that will help your website be the best it can be.
Here are a few redesign services that WebFX offers:
Custom redesign
Every website that we create from scratch or redesign from an existing site is completely custom to your unique business. We know that even if two businesses are in the same industry, their companies are incredibly different.
That's why we don't believe in cookie-cutter design strategies. We'll make sure that you get a custom redesign that speaks to your unique style and business offerings.
Professional website copywriting
In order for your website to rank in search engine results pages or SERPs, you have to provide Google with content to rank.
When you work with a web redesign agency like WebFX, we include professional website copywriting as one of our services. We know how important content is, and if you're opting for a website refresh, content is part of the equation!
CMS integration
Do you want to be able to update your website on your own? WebFX can help you integrate your website with the CMS of your choice to ensure that you always have the ability to update and edit your website.
Some of the most popular CMS platforms include WordPress, Joomla, and Magento, and WebFX can help you design a website using the option of your choice.
We don't want to tell you about the work we do, we want to SHOW you.
View Our Portfolio

We've built over
Websites
in a variety of industries.
Website redesign cost: what determines how much you'll pay?
There are a lot of factors that determine how much your website redesign will cost. Luckily, you can get a custom quote from WebFX, and in the meantime, you can use our free project quote calculator to determine a ballpark cost for the website of your dreams!
Businesses can pay anywhere from $1000 to $110,000 for a website redesign, depending on their exact needs.
But there are a lot of factors that determine that cost!
Here are some elements that determine the cost of your website redesign:
Number of pages
Style of design
Amount of copywriting
How many keywords you want to rank for
Whether or not your want a responsive design
If you need a database integration
If you need e-commerce functionality
If you're looking to integrate with a CMS
WebFX is a premier website redesign agency
If you're looking for a marketing agency that offers website design, you've found one. WebFX is a full-service digital marketing agency that specializes in strategies like SEO, PPC, content marketing, and so much more.
In addition, we offer top-of-the-line website redesign services that are sure to take your business to the next level online. We also offer services to better your website once it's finished, like user experience testing, ADA compliance services, and more.
Even if you don't decide on WebFX for your website redesign agency, we strongly recommend hiring a marketing agency that offers web design for many reasons.
They have a full team of marketing specialists who can share insight with the design team
They can market your new website
They can suggest how to increase your website's success with marketing
When you work with WebFX, you're working with an agency that's been in business for over a decade — driving amazing results for our clients. To date, we've built more than 1,600 client websites and won more than 50 web design awards for the sites we've created.
If you want to work with a marketing agency that offers web design, WebFX is here for you. We're over 1020 testimonials strong, and we know that you'll be satisfied with our service offerings!
We provide our web redesign services to clients in a wide variety of industries including:
If you're ready to take your business to the next level with a website redesign agency, WebFX is here for you.
Feel free to contact us online for a free quote or give us a call at 888-601-5359!