Local SEO Solutions: Your Unrivaled Resource for Local SEO Strategies
As a local business, you hear a lot about marketing strategies that can make your store more visible to customers, but if you haven't considered local search engine optimization (SEO) solutions, you're missing out. Big time. Local SEO solutions can help your neighborhood business reach customers in your area that are most likely to shop at your store. Not only that, but with local SEO strategies, you can increase sales and revenue — growing your business year over year.
WebFX Local SEO Services Pricing
How many locations do you want to optimize?
Input your desired number of locations below to see a monthly pricing estimate.
Leverage your local SEO strategy with these 7 local SEO solutions
When you build your local SEO strategy, it's important to leave no stone unturned.
Read on to learn about seven local SEO solutions to help you improve local search rankings — and turn those ranking increases into revenue.
1. Claim your Google Business Profile listing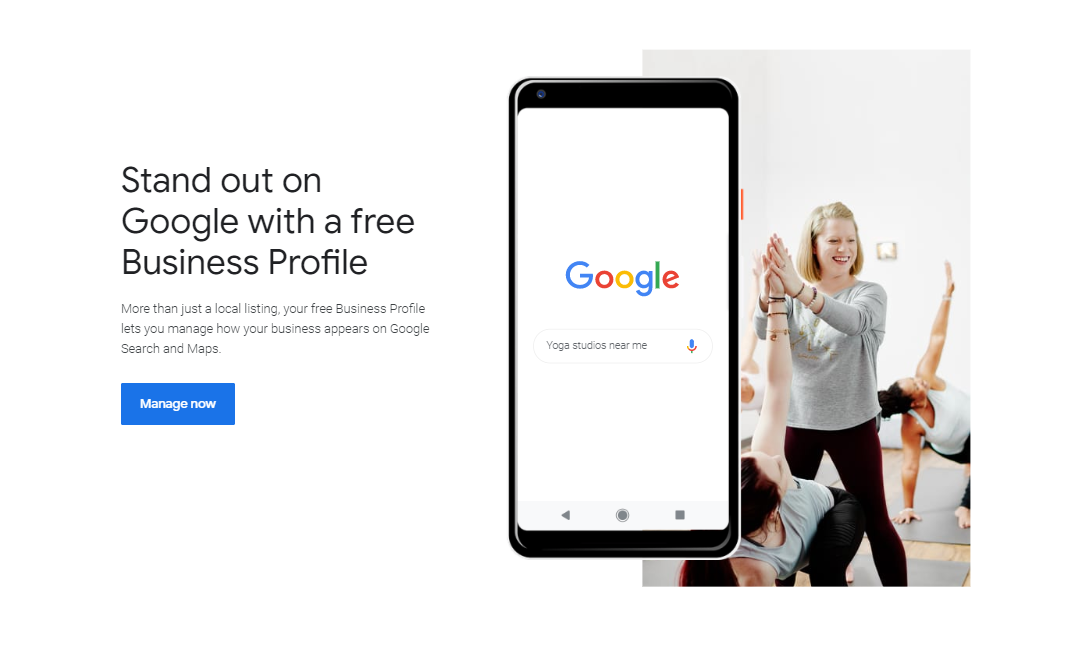 This step is far and away one of the most important local SEO factors — including for local SEO for ecommerce. Without claiming your business on Google Business Profile, you won't have the opportunity to show up on Google Maps, or in the local SEO 3-pack.
Here's an example of a local SEO 3-pack.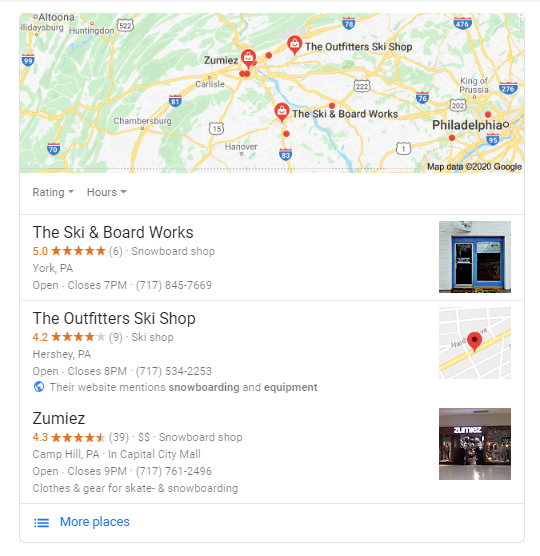 Google Business Profile isn't just for retail stores, restaurants, or grocery stores, though. Organizations like a wastewater treatment plant, for example, should use Google Business Profile. With their profile, a wastewater treatment plant's SEO will improve by helping Google better understand the business.
When you claim your business on Google, you'll provide the following information:
Company name
Address
Phone number
Website
Hours of operation
Images of your business
Logo
Payment methods
Products and services
You'll want to provide as much information as possible to appeal to different types of customers.
Did we mention that claiming your business is free? There's no excuse not to do this step!
2. Submit your info to online directories
Like we mentioned, the more online real estate you can claim, the better. That's why it's an important local SEO factor to submit your info to online directories.
You'll submit much of the same info that you'd submit to Google Business Profile as we mentioned above — info like your company name, contact information, and hours of operation.
These directories include sites like:
Bing
Yelp
HubSpot
Yellow Book
Facebook
Apple Maps
Angie's List
When you submit your info to these directories, you'll continue to build your brand authority while attracting even more customers to your local storefront.
3. Build your social media presence
Social media profiles offer even more online real estate for you to claim! With so many social media platforms out there, there are a wide variety of opportunities to use your social media accounts to benefit your local SEO strategy.
Before you do anything, you'll want to create social media profiles for your business on platforms including:
Facebook
Instagram
Twitter
Snapchat
These are the four basic social media channels that can benefit your business. The good news? It's free to create an account on every one of them!
Here's how each social platform can help your local SEO efforts.
Facebook: Facebook maintains the largest user base with 2.38 billion active users. If you don't create a Facebook account for your local business, you miss a great opportunity to create brand awareness with interested customers. One benefit of Facebook for local SEO is the ability for users to check in to your business when they visit there — prompting their friends to check out your business too.Not only that, but you can post tons of pictures of your business, your products, and your services on Facebook in addition to flash deals and upcoming events. Check out Chick Invitations Facebook page as an example:Their cover photo showcases an image of some of their clothing products featured at their brick and mortar store — making you want to step inside. Overall, Facebook is a great option for local businesses since it allows them to show off what makes their brick and mortar store so unique
Snapchat: Snapchat is a social platform that allows users to take an image and send it to their friends. The only catch — after the time frame of your choosing, the photo disappears forever. The platform also provides a messaging option and a "stories" function where users can post images and videos. Both messages and stories disappear after 24 hours.If you want to take advantage of Snapchat for local SEO, you can!Snapchat allows businesses to purchase a geofilter that users can only use when they're within the geofence that you create.These geofilters typically promote local business events and help create brand buzz.
Twitter: Like Facebook, Twitter is great for local businesses simply because of its huge following. With 330 million monthly active users, Twitter is a great place to have an online presence.Although you're limited to 280-character thoughts, you can create brand awareness and become closer with your customers by using Twitter. You can post pictures and videos to your timeline, and your followers can retweet them.Twitter also allows you to provide great customer service with its direct message feature.
Instagram: Instagram is an image-based social media platform that allows you to get down and dirty with showing off the personality of your brand. Although you're able to post captions with your posts, the images and videos are the focus.You can post images of your products, your employees, and your space with captions that encourage users to visit your storefront.Instagram, similar to Snapchat, also has a "story" feature that allows you to "go live" if you want to talk about a product, a promotion, or just get closer to your audience.Instagram also features a direct message feature.
4. Interact with your customers online
Whether you rely on social media as a direct bridge to your customers or you feature a chatbot on your website, it's crucial that you interact with your customers online.
Local businesses get good press for being kind, caring individuals that care for their customer base — but you can't be labeled as such if you don't interact with your customers online.
Of course, you'll want to make sure that you reply to all messages on every social media platform as well as all email inquiries, but how can you initiate interactions with your customers on your own?
Here are a few options:
Encourage users to share their favorite product of yours in the comment section of a post on social media, then respond to them
Send email newsletters that you encourage users to respond with any questions or concerns they might have
Hold online contests and announce the winner on your special platforms
Show followers your humanistic side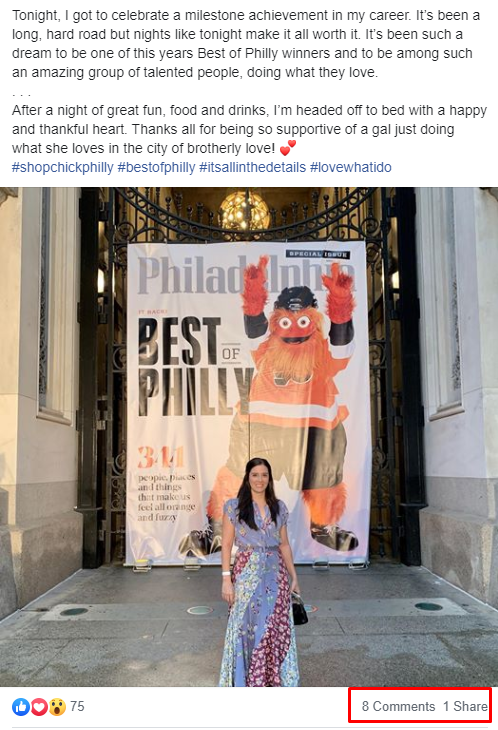 The owner of this company took a moment to reflect on an award she won, and in return, customers interacted!
When you make yourselves available to your customers online, they'll feel more comfortable and acquainted with your brand, be more likely to recommend you, and finally, be more likely to purchase your products.
5. Optimize existing content with local keywords
Keyword targeting is important to basic search engine optimization (SEO), and it's equally important to local SEO.
With a basic SEO campaign, you optimize your content for keywords that you want to rank for in search results. Local SEO is really no different, except you optimize your content for local keywords.
Some examples of local keywords include:
Women's clothing boutique in Austin
Flower shop in downtown Johnstown
Portland sporting goods
These keywords are considered "local" keywords since they feature a location.
When you optimize your existing content with local keywords, that content can rank in search results when people search for the local terms you've included.
That means you have a chance to take over a spot in the local SEO 3-pack (by claiming your Google Business Profile) and a spot in organic search results!
You'll also want to use these local keywords in your title tags and meta descriptions for the page.
6. Don't neglect those online reviews
Did you know that 88% of people trust online reviews as much as a personal recommendation? That's huge, and it means that what customers say about your business really resonates with other potential customers.
That said, it's crucial that you monitor and respond to all your reviews, whether positive or negative.
If they're positive, you could reply with something like:
Hey [name!] Thanks so much for your review of our [product]. We're so happy you love it!
We knew you'd love this product! Thanks for your review!
Thanks for sharing, [name]! Did you know that we have a product like that one coming out in March?
It can be a little more difficult to reply to negative reviews, but you should anyway. Here are some ways that you could potentially reply to a negative review:
Hey [name]! We're so sorry that you had a bad experience. Please contact us ASAP at [phone number] so that we can get this fixed for you!
Oh no! We didn't mean for that to happen! Please get in contact with our customer care team at [email address] so that we can provide you with a refund.
Although it might be difficult, there are a few things to remember when replying to negative reviews:
Potential customers see all your responses, which means they could use your replies to other customers to form an impression of you and your business. Never say anything that could jeopardize the way potential customers feel about your business.
Keep in mind "the customer is always right" mentality.
If a customer is speaking half-truths about your company, speak kindly and calmly let them know that they can contact you at any time to resolve the issue.
Always provide them with a way to contact you. Providing contact information shows that you're interested in resolving the matter.
7. Use geofencing advertising
Geofencing is the ultimate local SEO solution for a few reasons — first, it captures the attention of potential customers that are physically close to your location and second, you can use it to steal customers from your competition.
If that sounds like the perfect local SEO strategy, keep reading!
Anyone with a business can use competitor geofencing advertising, but it works especially well for local businesses. Here's how it works:
You draw a virtual boundary around your business
When a customer enters, dwells within, or exits that boundary, they're served ads for your company
Geofencing is a great way to capture the attention of customers that might not even know your business exists.
For example, let's say you own a sushi restaurant. You claimed your GMB listing, and you also have a geofencing campaign. When a customer walks down the street and enters your geofence, and happen to be searching for a sushi restaurant, an ad will appear for your restaurant within search engines.
These ads are extremely cost efficient, too, since they only appear to customers who are most likely to click them — those who are physically close to your company.
You can also use geofencing to beat out your competition. For example, let's say a rival sushi restaurant just opened down the street. You can place a geofence around their location to trigger ads for your restaurant when users pass by your rival's restaurant.
Sneaky, huh?
Why every hometown business needs local SEO solutions
Opting for local SEO solutions can undoubtedly take your business to the next level in a variety of ways. Before we talk about why, let's first determine if you qualify as a local business.
What qualifies as a local business?
Before we dive in, you're probably wondering if your brick and mortar qualifies as a local business. A local business is:
A brick and mortar company that is locally owned
A corporate business with multiple locations (each of those locations in considered the local business)
If your business falls into one of these categories, congratulations! You're considered a local business which means you can benefit from local SEO solutions!
Importance of local SEO solutions for local businesses
Okay, now for the good stuff.
Why does your local business need local SEO solutions?
Simple — without them, your customers won't find you online, and therefore, won't have the opportunity to visit your storefront or purchase your products.
When you don't include local SEO strategies in your marketing initiatives, you're leaving it up to chance that your customers find you.
For example, without local SEO solutions, the only way your customers will find your business is if they walk past it on the street.
Local SEO allows your business to appear in Google search results and appear in Google Maps so that you can reach customers who are:
Visiting your area from out of town
Planning a trip to your area
Walking down your street, but unaware of your business
A resident of your town, but unaware of your business
When it's all said and done, local SEO solutions help you reach exponentially more customers near you, so that you can grow your brick and mortar store.
Benefits of local SEO solutions
So we've helped you determine whether or not you qualify as a local business, we've let you in on the importance of local SEO solutions, and now it's time to tell you about the marvelous benefits you can reap by opting for local SEO.
Let's get started.
1. You build brand awareness
When you opt for local SEO solutions, you'll exponentially boost your brand awareness.
Local search engine optimization allows your business to take up valuable real estate online — like Google search results, Google Maps, local listing websites, and more.
When you take up more space online, you create more opportunities for customers to discover your business — causing your brand awareness to explode.
2. You have a fighting chance against your competition
Chances are your competition already uses local SEO solutions to reach their customers. The problem? As your competition, they have the same customers that you do.
It's crucial that you keep up with your rivals by appearing in the same search results (and ranking better) and showing up in Google Maps.
But the most important part? Making sure that you opt for local SEO and ensuring that your listings are accurate and consistent across all platforms.
There's no doubt that your competition will leave you in the dust if they use local SEO and you do not.
3. You take control of your audience
When you use local SEO solutions, it gives you control over who you target based on location. When done correctly, local SEO will help you reach the people who are closest to you, bring them into your store, and create more sales.
Overall, local SEO solutions give you more control over who enters your store because of the targeting options. Without them, you might find yourself with more foot traffic, but less sales.
3 bonus tips for the most successful local SEO strategy
If you want to create the most successful local strategy possible, check out our local SEO tips.
1. Make all your listings consistent
When you're talking about local SEO, consistency is key. Without it, you could confuse customers and even cause them to distrust your business. The last thing you want to do is frustrate potential shoppers, so don't!
Be sure that your store name, address, phone number, email address, and website are consistent on all platforms. For example, your Google Business Profile information should match any listings in local directories, and your social media profiles.
2. Add location pages to your website
If you want to make the most of local SEO, don't just rely on platforms like Google Business Profile. Take the extra initiative to create specific pages on your website that target local keywords like "bakery in Mount Joy, Pennsylvania."
When you make these separate location pages, you'll have the opportunity to rank in organic results on Google in addition to showing up in the local SEO 3-pack.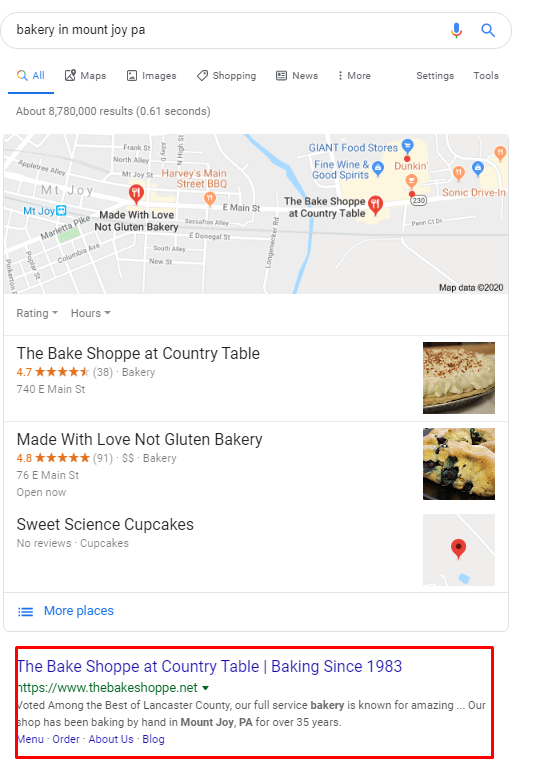 For example, on this search results page, you can see the local SEO 3-pack, as well as organic results below. The organic result that shows up just below the local SEO block is a page that targets the keyword "Mount Joy, PA" and "bakery."
This bakery steals more valuable real estate and can gain more customers because of it.
The more real estate, the better.
3. Encourage positive reviews
When you get positive reviews from happy customers, other customers are more likely to purchase from you. Not to mention, you can integrate star-reviews into your Google Business Profile to show off the way previous customers feel about your store, your products, and your services.
Great reviews are a sign of trust and satisfaction, and the more you have, the better.
You can encourage happy customers to review your business in many ways:
Provide a business card at the register of your storefront asking users to review your business online for a discount on their next purchase
Offer an email-receipt option and include a link to your review site of choice
Provide a link to review your website in your email newsletters to subscribed customers
Are you looking for a one-stop local SEO solution shop?
If you have your own local business, keeping up is hard enough. If you take local SEO seriously and want to see real results, we suggest working with a local SEO agency like WebFX.
Here's a small taste of what we provide as a part of our local SEO service packages:
Dedicated local SEO expert
Access to WebFX agency representatives (Google, Bing SMB, Facebook)
Local keyword research
Title and meta optimization
Quarterly SEO copy or GBP posts with locally-optimized terms
Citation management
Notifications for reviews/social interactions across all tracked profiles
Monthly reporting calls
Monthly local SEO reports
And more.
If you'd rather manage your local SEO on your own, WebFX also offers client-managed local SEO services that allows you to have a direct hand in your company's local SEO solutions.
When you opt for our client-managed local SEO services, you'll have access to LocalFX — proprietary software that helps you update and sync listings across 100 directories, view listing status, understand how your listings perform, and so much more.
With LocalFX, all the local SEO factors that matter to your business are at your fingertips.
Whether you want to have a hand in your own local SEO efforts or have someone do it for you, the team at WebFX is here to help.
Our team has a variety of certifications that make us one of the best-of-the-best including our Google Premier Partnership, our Google Cloud Partnership, and more.
Each employee is Google Analytics certified, allowing us to pull and explain custom local SEO reports that help you to better understand your campaign. Not only that, but we interpret your local SEO reports in a way that allows us to improve your campaign, help you drive better results, and grow your business overall.
But that's not all. If you own a business, marketing is key, and we offer just about every marketing strategy under the sun.
If you're interested in going all-in on your local business, we also offer the following services:
To get started with local SEO, or any one of our other marketing strategies, we can't wait to hear from you!
Feel free to contact us online or give us a ring at 888-601-5359 for more information!