If you've heard that search engine optimization (SEO) is good for your business but aren't sure where to start, you've come to the right place. This quick SEO tutorial will give you some basic SEO knowledge and a list of actionable SEO steps you can use to kick-start your strategy today. Before we look at SEO step by step, let's define SEO.
Learn how we increased traffic by over 40%, and conversions by over 100% for an ecommerce client.
Read the Case Study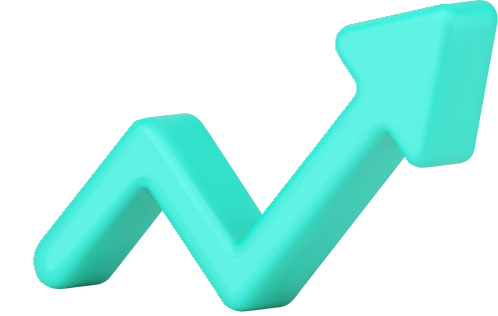 What is SEO and how does it work?
What is SEO?
It's a collection of strategies for getting your website onto the first page of Google.

These strategies range from including target keywords in your URLs to earning links to your blog posts from other sites.
When you have an SEO strategy in place, your site will appear higher in search results for keywords related to your business, products, and services. Ultimately, SEO helps you gain exposure in relevant search results, so more people can find and visit your website, contact you, and purchase. Since 75% of people don't look beyond the first page of search results, it's extremely important to maintain top rankings with SEO.
Not sure how to get started with SEO? We'll cover SEO step by step, so just keep reading!
SEO step by step: Comprehensive SEO tutorial for 2020
Now that we've got that basic SEO knowledge down, let's take a look at how SEO works. The seven steps of our step-by-step SEO tutorial are:
Conduct keyword research
Google your keywords and narrow your list
Create comprehensive content based on your keywords
Earn links to your pages
Improve your technical SEO
Elevate your page's design and user experience (UX)
Continually re-optimize your content
Now, let's take a closer look at each step of the process.
1. Conduct keyword research
The first step of our SEO tutorial is keyword research. Keywords are the words and phrases people enter into search engines like Google when looking for businesses, products, or services like yours. Using relevant keywords in your site content helps your pages appear higher in search results, enabling more people to find your site.
You can start by thinking of a few keywords people might search when looking for information about your business, services, or items you sell. For example, if you're a mechanic in Philadelphia, you might try terms like "mechanic in Philadelphia" and "auto repair shop in Philadelphia." Then, use keyword research tools to identify the keywords and phrases people search for most to find your business. Top keyword research tools include:
Ahrefs' Keyword Explorer shows you the most popular keywords for a topic and their search volume.
Google Trends displays trends in the popularity of keywords but doesn't give you search volume, which is the number of people that search a given term.
KeywordsFX helps you find popular keywords related to your starting keyword. Enter your starting keyword, and you'll get a long list of new keyword ideas.
Google Autocomplete can give you some good ideas as well. Just start typing keywords related to your business, and see what similar terms pop up.
Here are some of the keyword ideas you get if you search "mechanic in Philadelphia" on Ahrefs, along with their average monthly search volume, clicks, and other metrics.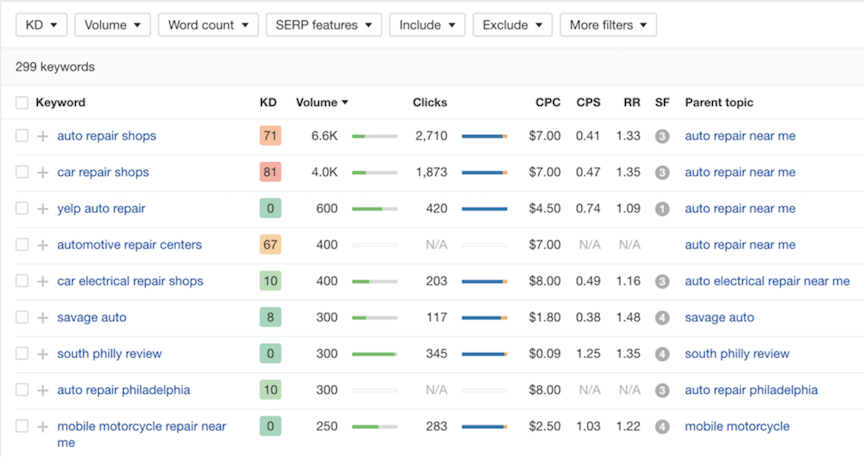 When conducting keyword research, try to find a mix of short-tail and long-tail keywords. Short-tail keywords are just one or two words long and somewhat general.
Long-tail keywords are longer and more specific. "Mechanic" is an example of a short-tail keyword, while "best mobile mechanic in Philadelphia" is long-tail. Long-tail keywords are easier to rank for since there's often less competition, and it's easier to tell exactly what people are looking for when they search specific, long-tail keywords.
While short-tail keywords are more competitive, ranking for them can be extremely beneficial. It usually becomes easier to rank for short-tail keywords as your site gains more authority. At WebFX, we offer key phrase research and analysis as part of our SEO plans.
We also conduct competitor keyword analysis and provide our clients with advanced rank tracking and in-depth keyword mapping reports. Need help with your keyword research and SEO strategy? Contact us to connect with an expert!
Looking for an all-in-one SEO audit tool? You've found it.
SEO Checker provides data on key metrics to give you:
Complete SEO score

Content Grade

Site Speed Analysis

and more.
2. Google your keywords and narrow your list
Once you've chosen your basic keywords, it's time to learn more about them by going straight to the source — Google itself. Search the keywords on Google and check out the content that ranks on the first page. Analyze these results for search intent — what people are looking for when they search a keyword or phrase.
Ask yourself what each result provides for users. Diving deeper into the search intent behind keywords can help you narrow your keyword list and focus on the most valuable terms for your business. Also, take note of any other patterns in the results.
Do top-ranking pages feature a list format? Are they blog posts or long-form content? Do they include lots of screenshots or links to relevant tools?
Here are some of the top results on Google for "auto repair shop in Philadelphia." If you want to rank for that keyphrase or similar keyphrases, looking through these results may help you choose the right terms to target and create content that ranks.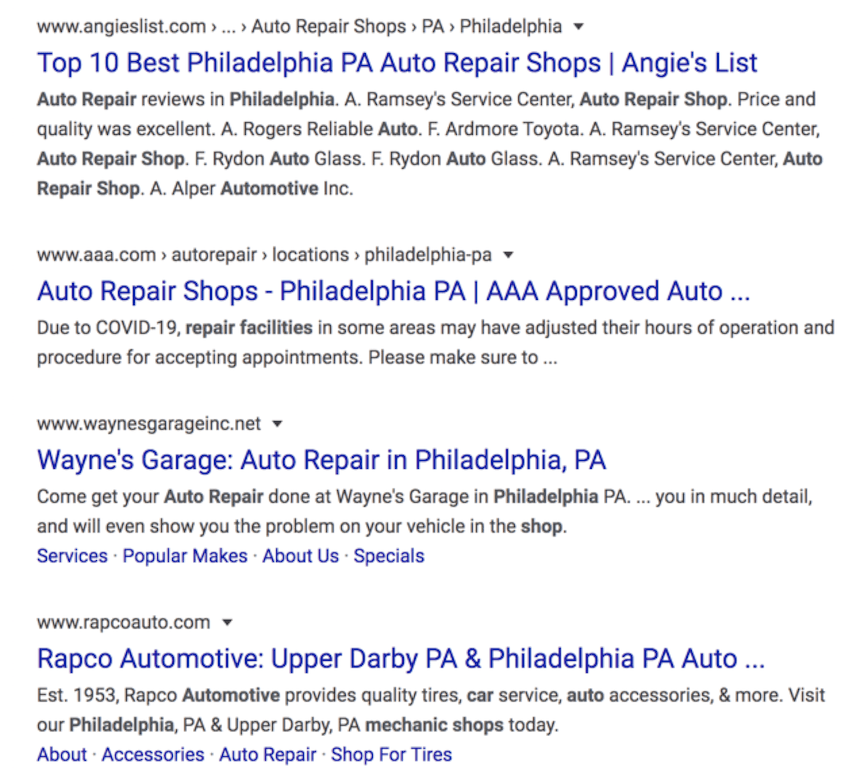 Reviewing top-ranking pages will give you an idea of the content Google thinks is most relevant for a given search. Then, you can better structure your content to attain a spot at the top of search results.
3. Create comprehensive content based on your keywords
Next, it's time to create content for your website. Create a page for each keyphrase. You can target just one or several keywords on each page.
Use the target keyword for the page and several related keywords throughout your content. Include keywords in your page title and your headings, in addition to using them throughout your content. Make sure that your keyword use sounds natural and isn't repetitive, though.
You can use the search intent and patterns you found in the top results as inspiration for your content since that tells you what users are looking for when they search a given term. To beat out the top results and end up on the first page, though, you need to make content that's a little better than what's already out there. You can also aim to make your content stand out in some way while ensuring that it still matches the search intent.
For example, if you see competitors posting articles like "10 most common car problems," you could up the ante by creating a comprehensive list of the 100 most common problems. You could also consider formatting your page differently or including a short video about each car problem to improve user experience (UX).
4. Earn links to your pages
Factors off of your site itself can also impact how Google ranks your pages in search results. One of these factors is the number and quality of other sites that link to your pages. When you earn backlinks from high-authority sites, Google views your site and content as more useful and authoritative.
Google views these links as evidence that others trust and value the content on your page — and you'll rank higher in search results. You can use various strategies to earn backlinks. The primary one is simply to create useful content that others want to link to.
You can also email bloggers and ask for links, perhaps by pointing out a broken link on their site and offering your page as a replacement. As part of our SEO services, we can help build links on trusted websites in your industry. Another helpful SEO strategy is internal linking, which is linking to other pages on your site from your own pages.
Try linking to a new page from an existing page that's performing well to give the new page an SEO boost.
5. Improve your technical SEO
Another area of SEO to focus on is technical SEO, which refers to improving your website's technical aspects to help Google crawl and index it more effectively and improve your rankings. Crawling refers to Google reviewing and analyzing your site, and indexing refers to Google organizing and storing your content so that it can appear in search results. Here are some of the technical SEO factors you should pay attention to.
Site speed
Google uses page speed as a ranking factor, meaning it considers it when determining what order to rank search results in.
A slow site also makes for a poor user experience, which could harm your rankings even further. To check your site speed, head over to PageSpeed Insights, a free tool from Google. Type in your site's URL and Google will give you a report on your site's speed, along with recommendations on how to improve it.
Here's an example of a PageSpeed Insights report.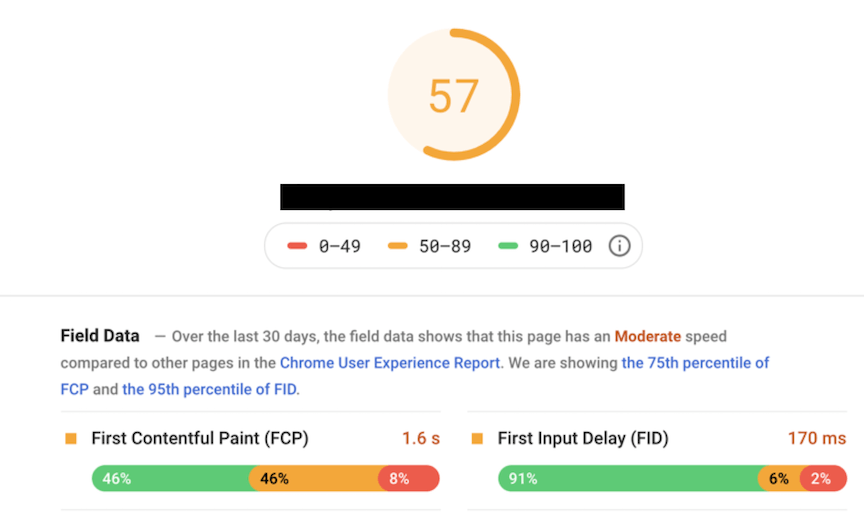 And some recommendations from PageSpeed Insights on how to increase site speed.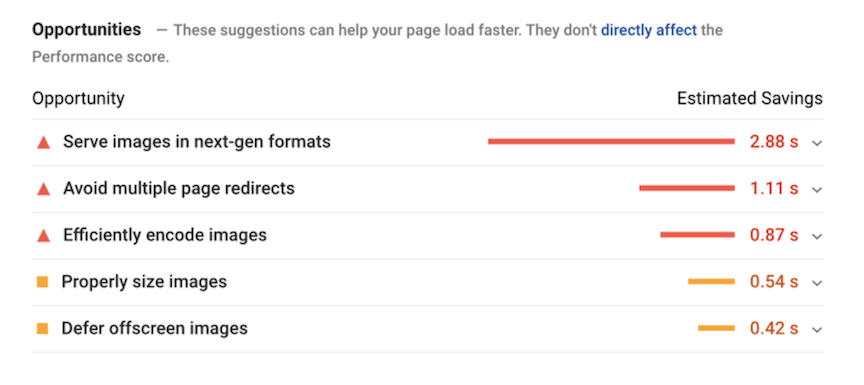 Some other potential recommendations include removing unused CSS, minifying JavaScript, and enabling text compression.
If you're not sure how to make these changes, talk with a web developer or professional SEO agency like WebFX.
robots.txt
Another important factor is your robots.txt file, which you can use to prevent Google from crawling sensitive pages on your site. Make sure that your robots.txt file is formatted correctly and is specifying that the right pages not be crawled. An incorrect robots.txt file can result in Google not crawling pages that you want to appear in search results or crawling sensitive pages.
You can check whether your robots.txt file is formatted correctly using Google's robots.txt tester tool in Google Search Console.
Mobile-friendly design
More than half of all Internet traffic now comes from mobile devices. Because of this, Google now uses a mobile-first approach to indexing sites, which means it assesses the mobile version of your site, rather than the desktop version. To make your site mobile-friendly, use responsive design principles.
A website that uses responsive design can adjust to the device it's viewed on so that it looks good and functions correctly on any device. To make your site responsive and mobile-friendly, you'll likely need to work with a professional web designer or web design company. You can check whether your site is mobile-friendly with Google's mobile-friendly test tool.
These are just a few of the strategies you can use to improve your website's search engine performance. When WebFX analyzes your site at the start of an SEO campaign, we look at more than 200 on-site SEO factors. Give us a call at 888-601-5359 to learn how we can improve your SEO so you can enjoy more leads, sales, and revenue.
Bonus Read: Why using a mobile SEO checker is crucial
6. Elevate your page's design and user experience (UX)
When deciding how to rank your page, Google also takes into account how users interact with it. That's why the next step of our SEO tutorial is to make sure your page is easy to use and enjoyable to look at. Consider working with a web design company that can optimize your site for search engines.
To optimize each page for UX and SEO, break up the text using headings, bulleted lists, and visuals, such as photos, screenshots, charts, and videos. Breaking up your text will make it easier to scan the page and see what it's about and will make it look more inviting to readers. Improving your site's design and UX also encourages people to spend more time exploring your content, which sends a positive signal to Google.
7. Continually re-optimize your content
The SEO process isn't over once you launch your content. It's crucial to monitor the performance of each page and your overall SEO strategy. You can then make tweaks as necessary to maximize your results.
Whenever you make changes, such as tweaking your copy or adding additional graphics to a blog post, monitor the effects of the changes. Watch for differences in rankings and how users interact with your site. Tools like Google Optimize can help you experiment with changing aspects of your website.
It's also beneficial to periodically refresh your existing content and remove any outdated information.

If you have a blog post that includes statistics, for example, periodically go back and update them. You can then reshare your post on social media, email, and other channels.
When you work with WebFX, you'll get monthly reporting on your site and your competitors' sites. MarketingCloudFX, our proprietary digital marketing platform, makes it easy to track your site's performance and offers artificial intelligence-generated recommendations to improve your search engine rankings.
Go beyond basic SEO knowledge with WebFX
While you can get started with SEO on your own, many companies benefit from working with an experienced SEO agency like WebFX.
Just ask the more than 1000 clients who have provided testimonials about our services! Learning SEO step by step takes time, and implementing SEO strategies on your own usually requires some trial and error. Going it alone means you'll have less time to focus on other areas of your business, and it will likely be a while before you start to see results.
When you work with an SEO firm, however, you have a team of experts on your side who can take care of everything for you and get results. Working with WebFX means you get a dedicated project manager backed by a team of more than 500+ digital marketing experts. We can complete all of the above steps for you, plus much more.
The result? Increased leads and revenue. We've generated more than 7.8 million leads and $3 billion in revenue for our clients in the last five years.
Contact us online or at 888-601-5359 to learn more about our SEO services.
WebFX Careers
Join our mission to provide industry-leading digital marketing services to businesses around the globe - all while building your personal knowledge and growing as an individual.