If you're a cable-television regular, you've likely had some exposure to the 17-season television show, American Idol. And if you've seen American Idol, you've seen Simon Cowell — the dark-haired, British music producer and reality television star. His harsh critiques aren't for everyone, but his fans are adoring.
But what does Simon Cowell have to do with Facebook marketing? We'll get into that, as well as everything you need to know about a successful Facebook marketing strategy for your business on this page.
Paid or Organic Facebook Advertising? See What Our Experts Say
If you want to speak directly with a Facebook marketing specialist, feel free to give us a ring at 888-601-5359!
So, what's the key to Facebook marketing for business?
As Simon Cowell said in 2011, "The only people with power today are the audience.

And that is increasing with Twitter, Facebook, and everything else. We cater to their likes and dislikes, and you ignore that at your peril."
What exactly does his eloquently spoken quote mean? Let's break it down.
Cowell simply stated that your audience has the power, and with social media platforms, that exponentially increases. He continued to explain that to succeed in advertising, business, or simply Facebook marketing, it's crucial to cater to the likes and dislikes of your audience. Why do we think this is the key to marketing on facebook?
He's right! If you want to be successful with Facebook marketing, you have to cater to your audience. You have to create a personalized campaign that focuses on your customers — their needs, their demographics, their online behavior, and more.
If you fail to do so, you'll have a hard time succeeding in the world of Facebook marketing. One thing Simon Cowell didn't mention is the importance of understanding the Facebook algorithm. We just so happen to cover it in a video.
Now that we've revealed the most important parts of Facebook marketing for business, let's dive deeper.
What you need to know before committing to Facebook marketing
There are a few prerequisites you must consider before opting in for Facebook marketing.
Here are a few of the most important:
You have to have a Facebook Business page
To successfully market your business on Facebook, you'll have to create a Facebook Page for your business. This is a simple step that allows you to reap all the benefits of Facebook marketing — from organic posts to Facebook ads.
Create your page by going to https://www.facebook.com/business/pages, and click "Get Started" under the business or brand option.
Decide on a page name and start typing a business category to see Facebook's suggestions.
Add a profile picture and a cover photo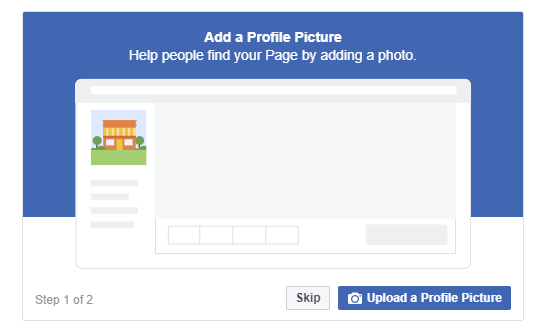 Build out your page with business information, pictures, services offered, and more
The more you build out your Facebook business Page, the better. You'll want to add photos of your business, the products you offer, videos of your facility, and more.
You must post often and be responsive to be successful
Sometimes, people don't realize that Facebook marketing for business is a commitment. If you want to have a successful run with Facebook marketing, you'll have to put in the time.
You'll have to post on a schedule to show followers that you're committed and trustworthy, reply to user messages promptly, and reply to user comments. If followers don't hear from you or message you without response, they could begin to see your company in a bad light. If you want to reap all the benefits of marketing on Facebook, you'll have to put in the time.
An alternative for businesses that don't have time for Facebook marketing? Hire a Facebook marketing agency like WebFX!
You don't have to run Facebook ads, but it will help increase conversions
Many people wonder if Facebook ads are necessary for a Facebook marketing strategy. The answer?
Both yes and no.
Yes, Facebook ads will help you increase website visits, conversions, and even revenue.
But no, you don't have to use Facebook ads to have a Facebook marketing strategy. Overall, ads are a great way to engage interested customers in your products and services. Just about every agency that offers Facebook marketing for business will suggest running Facebook ads — simply because they will help you reach your goals more effectively than not using them.
How to be successful with Facebook marketing
We hope the last section helped prepare you for the commitment that is Facebook marketing!
As a strategy, it's extremely effective and if you've decided to keep reading, you've made the right choice! Although Facebook is a commitment, it's one that can change the face of your business. We know that companies everywhere are busy keeping customers satisfied in their stores and on their websites, which is why we offer social media management services.
If you're feeling overwhelmed at the thought of taking on Facebook marketing, WebFX is here for you! If you choose to do Facebook marketing on your own, we stand behind you, but if you need a little extra help, contact us online! Now, let's talk about how you can be successful with Facebook marketing.
1. Know your audience
It would be difficult to create a five-course meal for an audience that you don't know — and it's difficult to create a successful Facebook marketing strategy for an unknown audience. If you want to successfully use Facebook for marketing, one of the first steps is to get to know your audience. You'll want to gather as much information as possible about who you plan to target with Facebook marketing, and you can do so in the following ways:
Look at your other marketing campaigns: If you have a website and use a platform like Google Analytics to manage metrics, check out who visits your site most often. Take note of things like where they're located, what pages they visit on your site, and their demographics.
Create marketing personas: Consider what you know, your product and service offerings, and your current customers and create a marketing persona. This is a fictitious person who embodies all the qualities of your ideal customer. Although they're not real, it helps you create a better marketing campaign since it can help you better understand your target customer.
Look at your social media accounts: If you're active on other social media platforms like Twitter or Instagram, look at the users who interact most with your account. Determine how they interact with your posts, what kind of content they seem to enjoy, and what products and services they're interested in.
2. Listen to Simon, keep your audience top of mind
Earlier, we talked about how we believed Simon Cowell unlocked the key to Facebook marketing, simply by admitting that your audience has the power. If you don't cater to them, he said, you likely won't have success.
The reason you market in the first place is to try to sell your products to your audience. To do so, you must appeal to your target audience.
With that in mind, you should base every decision on the expectations and interests of your audience. Simon might not be a social media specialist, but he's certainly onto something. This might be smart advice to keep in mind, but how do you make sure you appeal to your target audience with Facebook marketing?
Try this:
Don't post what you want, post what your audience wants: You might really want to post about a new dish that you created, but your entire audience follows a vegan diet. Pay attention to what your audience wants and only post things that they'd be interested in.
Pay attention to ad targeting: You might want to target the entire Facebook population, but not only will you waste money, you'll waste your efforts. Target an audience that you know is interested in what you have to offer.
Listen to their advice: If you find an overwhelming number of users asking for something specific, do it! This will make your audience feel heard and let them know that you're interested in customer satisfaction.
3. Create and post content for your audience
So far, every one of our steps about how to successfully use Facebook for marketing has revolved around — you guessed it — knowing and catering to your audience. Simon really did get it right! Next, you want to make sure you create and post content for your audience.
Facebook content comes in a variety of formats including:
Text posts
Image posts
Video posts
Posts with links
Surveys and polls
Facebook stories
Each content format has different benefits, and to have the most success with Facebook marketing, you should use a mix of formats.
Text posts are just what they sound like — posts that you construct with text.
Image posts and video posts are also self-explanatory — they're posts that feature an image, a set of images, or a video, and you can add text to them as well.
Posts with links can be any of the above and work well if you're looking to increase website traffic. Adding a link to your blog allows you to double dip — allowing you to increase traffic to your blog and also teach users about your business.
Surveys and polls are a great way to engage users. People love to talk about themselves, so it would only make sense that they also love to share their opinion. You'll benefit from these kinds of posts too — not just because they boost page engagement, but they also allow you to learn more about the preferences of your target audience.
Finally, Facebook stories allow you to post image or video content with captions that appear at the top of a user's feed for 24 hours. It's fleeting, but it's a great way to create brand awareness.
When you're deciding on what kind of content you should create for your Facebook presence, consider them all. When you provide users with a variety of content, they'll be more engaged and even excited to see what you post next. Like we mentioned before, you'll want to create a social media content calendar to ensure that you post regularly and consider using social media scheduling tools to make your life easier.
If creating content for your social accounts seems overwhelming, consider hiring a Facebook marketing agency to help!
4. Monitor your Facebook marketing strategy
If you're going to use Facebook for marketing, it's crucial to monitor your strategy. A Facebook marketing strategy that isn't consistently monitored could turn out to be a huge waste of time, effort, and even money (if you opt for Facebook ads). Facebook makes it easy to monitor your post interaction, ad success, and so much more with its proprietary analytics program, Facebook Insights.
Facebook Insights lets you in on a wide variety of metrics that can help you tweak your campaign in the right direction. You'll have access to metrics including:
Actions on page
Page views
Page previews
Page likes
Post reach
Post engagements
Messenger insights
Video insights
Page followers
Orders (for ecommerce)
When you pay attention to these important metrics, you'll know exactly where your campaign falls short so that you can make necessary tweaks to get back on track. You can even export the data so that you can compare metrics all in one place.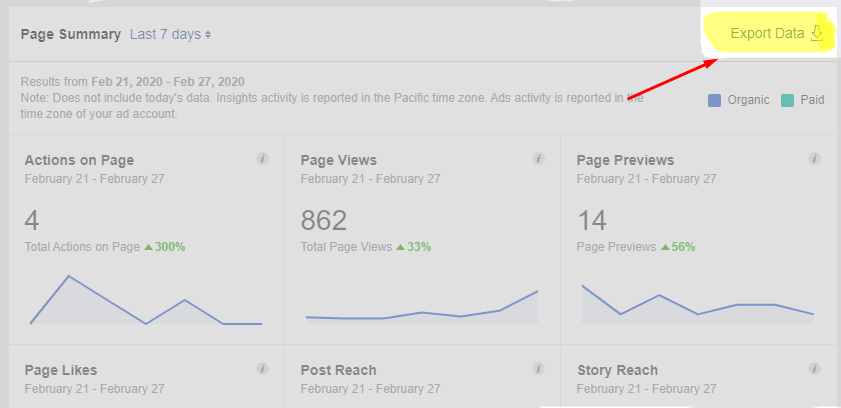 5. Get started with Facebook ads
Owning a business and opting for Facebook marketing doesn't mean that you have to run ads, but it does mean that you should run ads. A staggering 93% of social media advertisers use Facebook Ads — and that can only be for one reason — because they work. We've even made a video about Facebook ads!
Facebook's proprietary ad platform allows you to create ads in a variety of formats and provide you with a laundry list of targeting options.
These are just two reasons why Facebook ads are a great investment for your business. Another reason Facebook ads are a staple of Facebook marketing is the fact that they're one of the most cost-efficient options out there. You only pay when users click your ad and for every ad campaign you create, you'll set a cap for how much you spend.
That means you can virtually never overspend — and you can always choose exactly how much you want to budget for your ads. You can set daily or lifetime caps, and you can choose where your budget goes or choose to let Facebook handle it. A Facebook marketing agency can help you create an irresistible Facebook presence with ads that engage users and draw clicks.
Not happy with your social media engagement?
We've got just the blog post for you.
Read the Blog Post & Watch the Video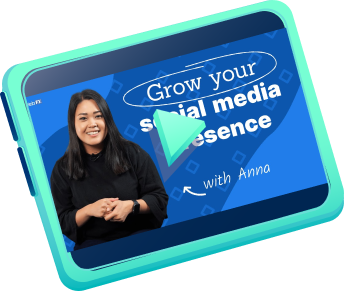 WebFX knows Facebook marketing
WebFX is a full-service digital marketing agency and Meta Business Partner that has been in business for over a decade.
In that time, we've been able to fine-tune our approach to custom marketing campaigns (including Facebook marketing), to ensure that our clients get the best possible results. We know the ins and outs of Facebook marketing for business, and how to create a Facebook marketing strategy that rocks your world. Not only do we offer Facebook marketing and advertising services, but we also offer advertising on other social platforms including:
We know that no two businesses are the same, which is why we don't believe in cookie-cutter campaigns. We'll get to know your unique business, your goals, your current strategy, and more. We'll treat your business like it's ours because our clients are our family.
We work with a wide variety of industries in a variety of locations — so don't be shy, contact us online today for a free quote! Or give us a call at 888-601-5359 to learn more about how we can create a custom Facebook marketing strategy for your business.
WebFX Careers
Join our mission to provide industry-leading digital marketing services to businesses around the globe - all while building your personal knowledge and growing as an individual.