Web design galleries offer designers and developers creative inspiration on their own designs. By aggregating the top web designs on the web, a gallery serves as a prime spot for getting those creative juices flowing.
In this article, you'll find 16 of the best and most popular web design galleries ranked in order by the number of votes they garnered in a poll that was published earlier this month. On instances where there was a tie, the site with the higher Alexa rank received a higher ranking.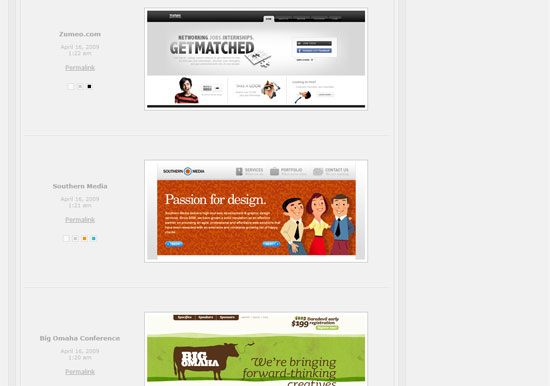 Nearing almost 4 years of operation, Web Creme is one of the more matured website showcases on the web. The websites are displayed with large thumbnails so you don't have to be 2 inches away from the monitor to see them. The Web Creme archives can be filtered by using color themes of sites.
15. FAVEUP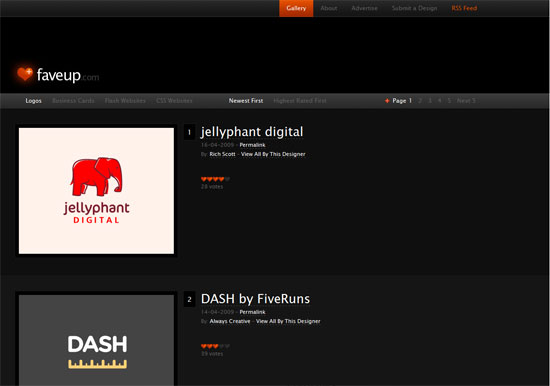 FAVEUP is a design inspiration gallery that has a CSS Websites, Flash Websites, Business Cards, and Logo section. It's an excellent one-stop shop for your design inspiration cravings.
14. CSSREMIX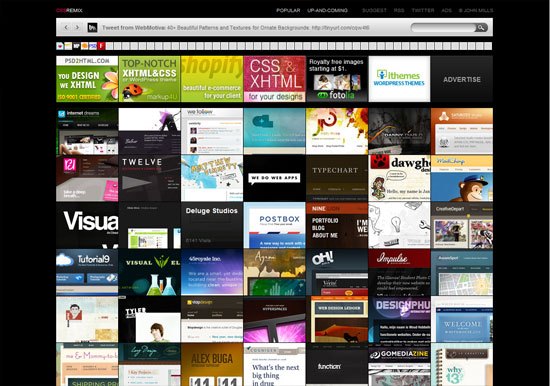 Created and administered by New-media designer John Mills, CSSREMIX is a thumbnail-style web design gallery featuring some of the best designs on the web. Subscribe to the RSS feed so that you can get notification whenever a design is featured on CSSREMIX.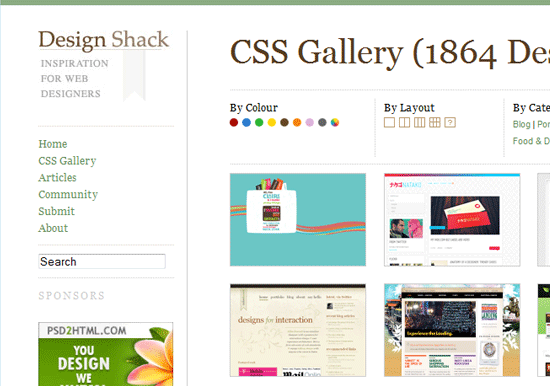 Design Shack currently features over 1,800 websites in their CSS Gallery. If you think that's too much, don't fret, you can filter the gallery by color, by the layout type, or by category (such as Corporate or Music).
12. CSSelite.com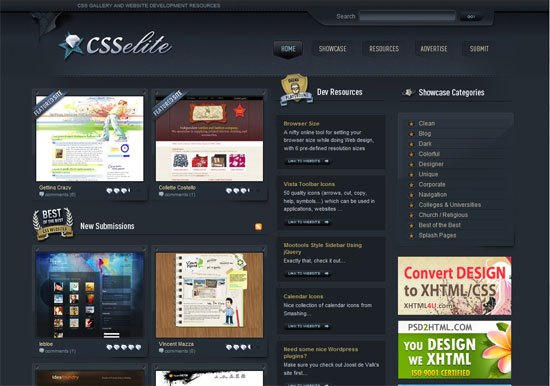 CSSelite.com features high-quality web designs that users can vote and comment on. Check out the Best of the Best category to see the top picks on CSSelite.com. You may also want to subscribe to the CSSelite.com RSS feed to get notified of new designs.
11. The FWA
The FWA, which stands for Favourite Website Awards, is a Flash gallery that awards one site daily for the best Flash website. It's a coveted award by many Flash designers – and the winners typically display the FWA badge on their winning site as a mark of prestige.
10. Pattern Tap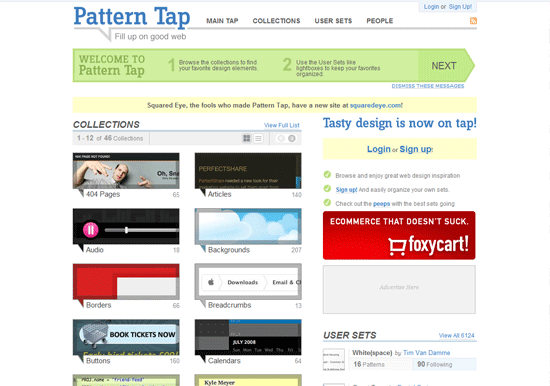 Pattern Tap is an excellent gallery for getting interface design pattern inspiration. At Pattern Tap, you'll find collections of common site interface components like breadcrumbs and inspirational web forms.
9. Make Better Websites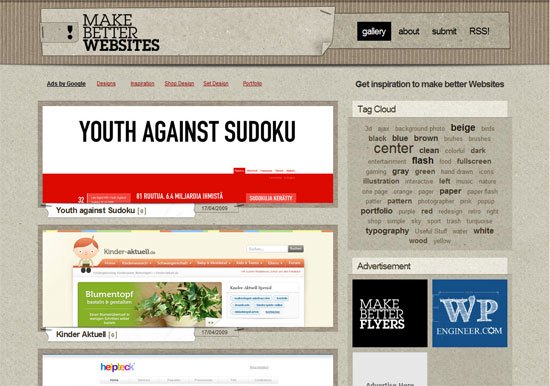 Make Better Websites has an excellent philosophy: " We want to advocate a world without visual violation of shitty advertising.". You'll see a clean gallery interface devoid of advertising.
8. Smashing Magazine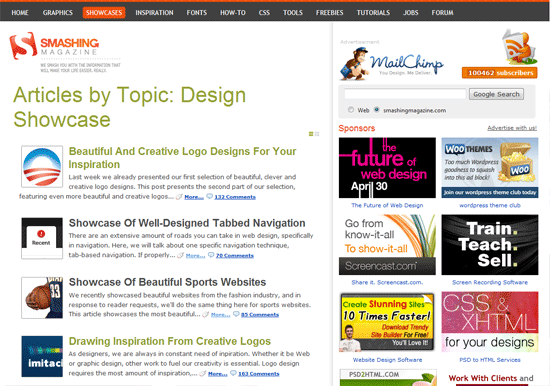 Smashing Magazine, the premier online publication for designers and artists, has an excellent Showcase section that presents high-quality and captivating design collections. At Smashing Magazine, you'll find great collections of tabbed navigation showcase to more niche collections such as the sports website showcase.
7. cssheaven.com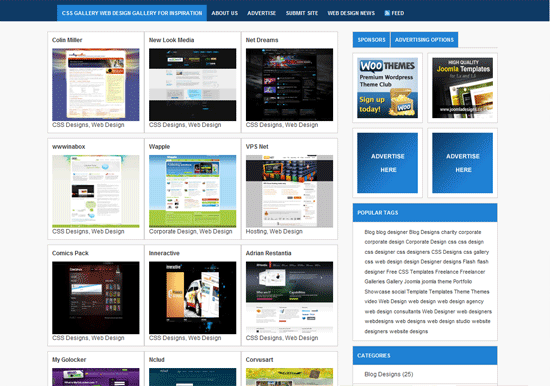 cssheaven.com is a thumbnail-style gallery. They tag and categorize entries so that you can easily find designs based on keywords or categories.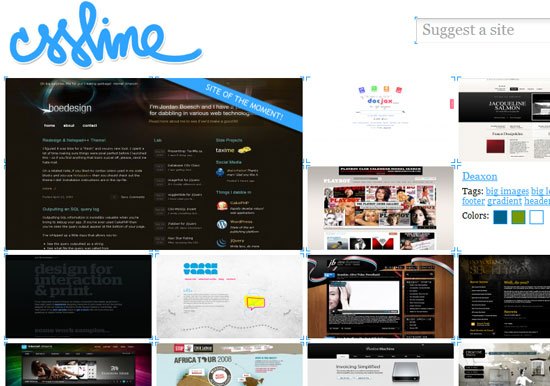 CSSline is a great site for those who just want to see the designs – the site's own design is minimalist in fashion so that you're focused solely on designs being featured. They tag entries by keywords and color.
5. CSS Mania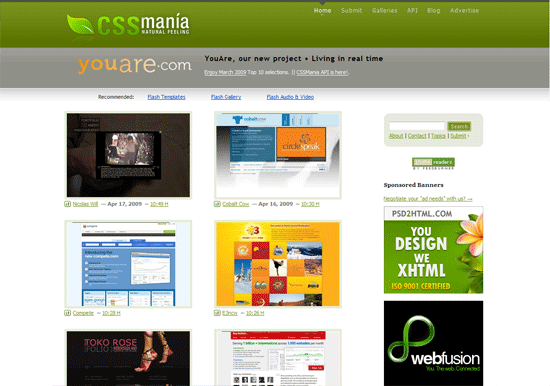 CSS Mania features hundreds of web designs a month organized into many categories for you to find exactly what you're looking for. They also have an API for developers wanting to interface with CSS Mania content.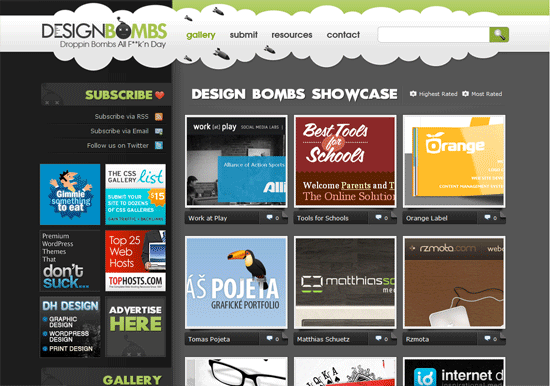 The only description needed for DesignBombs is quoting the site's tagline: Droppin Bombs All F**k'n day.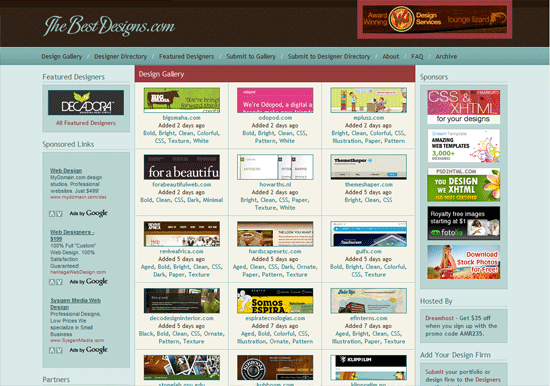 The Best Designs features only top-quality designs which are categorized into many helpful keywords for easier navigation and searching of sites.
2. Best Web Gallery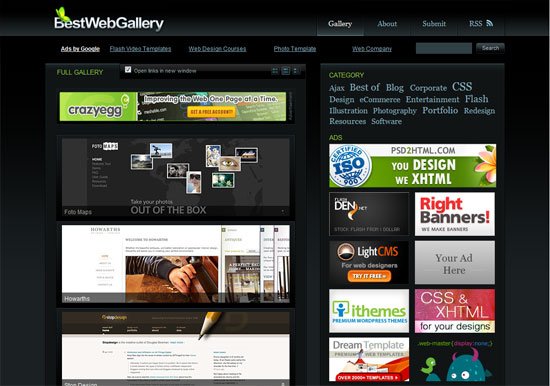 Best Web Gallery focuses on quality rather than quantity: though you may not find hundreds of updates a month, whenever there are updates, they are of the highest quality designs.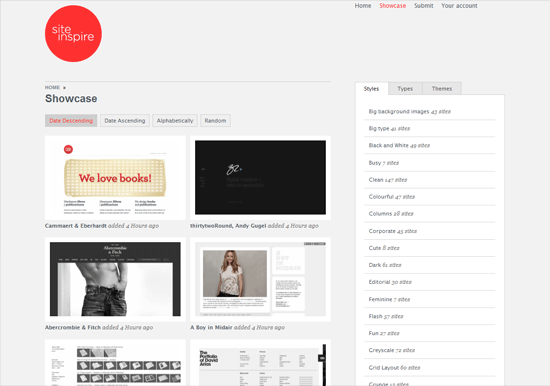 At the number one spot for the best design gallery as voted by readers: siteInspire. siteInspire currently houses close to 500 high-quality designs which you can sort in a variety of ways. siteInspire also categorizes each entry meticulously so that it's easier to find site designs on a particular topic.
Real Advice
If you are looking for a web design agency, check out WebFX.
They have experience in a wide range of industry-specific web designs. Check out their tips for web design for hotels. They also have a number of resources available for your use, such as this pricing calculator!
Related content
WebFX Careers
Join our mission to provide industry-leading digital marketing services to businesses around the globe - all while building your personal knowledge and growing as an individual.