6 Tips for Choosing the Best Content Marketing Company
If you've ever heard someone say "content is king," they aren't lying. Content creation is one of the best ways to attract potential leads to your site.
While this method is great for drawing in customers, it can be consuming. Some companies choose to leave content out of their marketing plans simply because they don't have the time or manpower to create and update content.
Content marketing isn't something you want to put on the back burner because it's extremely effective for attracting new leads. In fact, content marketing drives in 3x more leads than traditional marketing.
Not only does content marketing drive in more leads, but it helps those leads convert. Businesses that use content marketing see 6x more conversions than ones that don't.
Time to Level Up Your Sales
Our long list of services helps you grow every aspect of your business with marketing strategies that are proven to increase bottom-line metrics like revenue and conversions.
In the past 5 years, we've managed more than 12.9 MILLION transactions across our client base.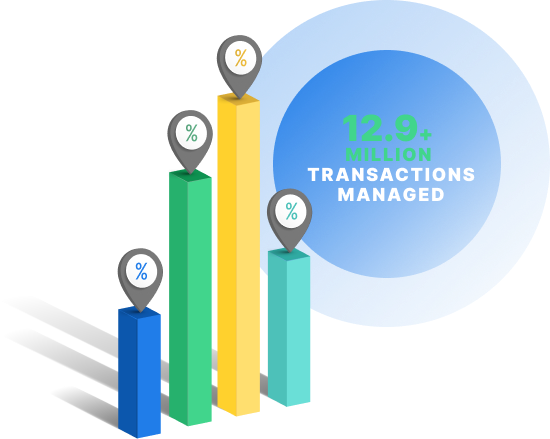 So what do you do if you don't have the time or manpower to create content?
Working with a content marketing company is the best option for your business. You can continue to manage other aspects of your company while they manage your content. And your business will reap the benefits of content marketing.
Now the question becomes, how do you choose the best content marketing company for your business?
It is a challenge to figure out which company is the best fit for your business. So, we put together these seven tips that will help you pick the right content marketing company for your business.
Give us a call today at 888-601-5359 if you want to learn about our content marketing services, or keep reading for tips on how to choose the best content marketing company.
WebFX is a partner businesses trust.
Hear from HydroWorx, who saw a 236% increase in organic sessions with WebFX services.
Watch the Video Testimonial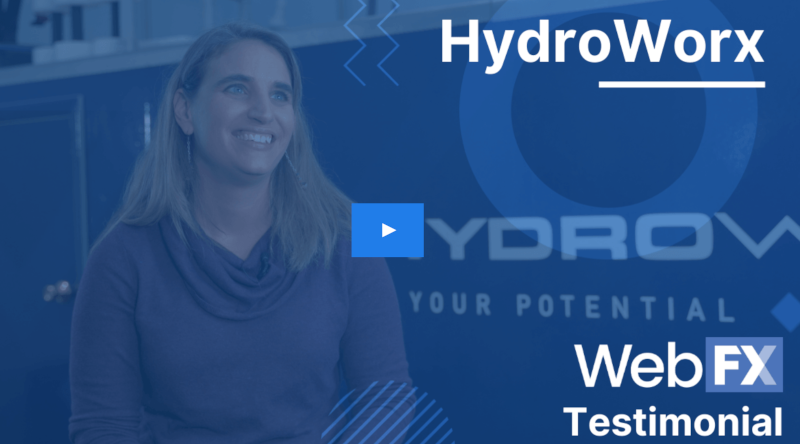 1. Determine if they are familiar with your industry
It is hard to write content about an industry if you aren't familiar with it. When you are choosing a content marketing company, see if they have experience writing for your industry.
You'll need to take an in-depth look at each company's website. It is important to look at the content they produced for other businesses in your field. This can help you determine if they are a good fit for your business.
If you find that their content is very basic and doesn't seem as though they are knowledgeable about your industry, they probably aren't a good fit. There's a good chance that they are doing the bare minimum research to create the content.
In order to produce the best content, a company needs to get to know you. They need to understand your brand in order to produce the right content.
As you conduct research, see if they mention anything about getting to know your brand. If it isn't mentioned anywhere on their site, this may not be something that they value. A company that values your business will take the time to get to know your company.
When comparing top content marketing companies, take a look at the content they have created for other businesses in your field. You don't want to see cookie-cutter material that is structured and created almost the same.
It is important to pick a company that takes time to get to know you, your brand, and your message. These types of companies will produce the best content for your business.
At WebFX, we have experience writing for clients in a number of diverse industries. Our writers take the time to get to know your business, so we can generate the best content possible.
2. Look for quality over quantity
Content marketing requires frequent production, but it is moot if the content is not good quality.
Ideally, you want a company that can do both. It is great to have a company that can produce quality content at a high volume. This isn't always the case for every company.
You will come across companies that pride themselves on how much content they can produce for you. While it is great that a company can produce a lot of content, the quality of the content is far more important. A generic, 500-word article isn't going to drive the kind of engagement you want for your business.
Look at the articles a company produces for their clients. You want to see indications that they did research, and you want to make sure that the company you choose is capable of writing quality work that your customers can understand.
3. Compare prices
This is challenging. Many companies will hide their prices. Instead of offering transparent pricing, they won't share their prices until you contact them or sign on with them.
You may need to contact some of these companies to find out their rates. If they are unwilling to share it until you sign on, they probably aren't the best company. You need to know how much content marketing costs in order to budget correctly.
When you contact companies, ask them how much it costs and what they do for that money. You want to know where exactly your money is going. A company that values you as a client will give you all the information you need to make a decision.
Once you have a handful of prices, you can decide which companies fit your budget. This will help you narrow down your company choices.
4. Check out the company's content
As a content marketing company, the one you choose should be practicing what they preach. You'll want to look through their site, including their blog, to see what kind of content they are producing.
If you find that they don't produce content often, how can you trust them to produce content frequently for you?
It is important that the company you hire produces their own content. Their content is also a good indication of the quality of content they will produce.
Is their content short or long? Is it basic or in depth?
These are questions you want to answer as you look through their content. If the company doesn't produce valuable content on their own site, there's a good chance they won't create valuable content for you.
5. Look for social proof
Companies will always try to tell you they are the best at what they do. The important part is that they have proof to back it up.
One great indication of proof is a portfolio. A portfolio allows you to see the work they did for other companies. You can make the judgment on the quality of their work and decide if it is a good fit for your business.
You also want to see client testimonials on their page. If a company is doing great work, their clients are usually happy to speak to the quality of work.
Diverse testimonials are a great indication of a company's versatility. It indicates that the company takes time to get to know each industry and produces quality content for clients.
If a company has won some awards, that's another good indication of the quality of their work. When other people or companies recognize a company's good work, it says a lot about that company.
It is imperative that your business looks for proof of success in a content marketing company. If they have satisfied clients that received quality content, they will more than likely do the same for you.
6. Think about a multiservice company
As you conduct your research, consider companies that offer multiple services aside from content marketing.
You can have great content, but if it isn't being promoted, people may never see it. Services like search engine optimization (SEO) and social media marketing help you get your content in front of the right audience. WebFX offers a number of digital marketing services in addition to content marketing, so you can get the best possible ROI from your online marketing.
By choosing a company that offers all these services, you won't need to hire multiple firms. This company will already be familiar with your business and your content, and they will be able to help you promote it online.
WebFX is a top content marketing company
WebFX is a full-service digital marketing company that can help you produce content that drives results for your business.
Our team of 500+ members will bring their expertise to your campaign. We take the time to get to know your business. Your business is unique, and we want to create a plan that is just as unique.
At WebFX, we believe in transparent pricing. Our goal is to make you feel as informed as possible, so you can make the best decision for your business. You will never be in the dark about where your money is going.
Learn more
If you're ready to learn more about how we can help you produce valuable content, contact us today to speak with a strategist!
We look forward to hearing from you!