Local SEO is one of the best ways for franchises to reach local customers and increase traffic to both a website and a physical storefront.
But there's a lot that goes into creating an effective local SEO strategy. On this page, we'll go over what local SEO is, why it's important to franchises, and how you can start using it to reach more customers online.
If you'd like to talk to someone that knows local seo for franchises, contact us at 888-601-5359.
What is local SEO?
Local SEO is the process of optimizing a website so that it shows up in search results for location-based searches, like "ice cream Harrisburg PA."
It's one thing to use search engine optimization, or SEO, to rank for product- or service-related terms, but local SEO helps you reach customers searching for those things in your city or region.
Local SEO focuses on tactics like including geographic keywords in your content, title tags, and meta descriptions, having specific location details on your website, and including location-specific testimonials and reviews.
As a franchise, you already have the benefit of an established brand – and local SEO can be exactly what you need to help potential customers find your specific location.
Why is local SEO important to franchises?
Local SEO's biggest benefit for franchises is that it helps reach customers near a particular storefront location.
Franchises are typically built on well-known brands, so customers will be comfortable visiting new locations. But unless they know that a specific location exists near them, they won't be able visit and make a purchase.
So whether you work in the corporate office of a franchise brand, or own a specific location, local SEO is essential for reaching customers and generating sales.
Local SEO strategies for franchises
Local SEO is an ongoing process, but the following strategies can help you establish your franchise in search engine results.
1. List your different locations in Google Maps
One of the easiest ways to find a storefront today is to search for it on Google. The search engine provides a map of options, and lets users get GPS directions to the one they choose within a few clicks.
If your locations don't yet appear in Google's map results, you need to register them using Google My Business. Registering for Google My Business is easy – simply visit their website and follow the step-by-step instructions.
After you've created an account, your storefront will be visible on Google Maps – making it easier for users to find in search engines and easier to get directions.
2. List each of your locations in Yelp
Yelp is one of the most trusted review sites among consumers. Many people use it to search for businesses and determine which one is the best option for their needs, based on user-submitted photos and reviews. It also provides users with hours, contact information, and other details like products and menus, depending on the industry.
If you don't list each of your franchises locations in Yelp, you could miss out on potential customers – many of whom are already in your area and searching for your products or services. If someone searches for your franchise, but you only have a Yelp page for a location three states away, they won't consider you as an option.
Having Yelp pages for each location also allows users to review each specific location, which benefits local audiences. They'll be able to see exactly what local customers liked and disliked about a specific location of your franchise, as well as accurate photos of your storefront and products.
3. Use location-based keywords
One of the most effective ways to improve your visibility in local search results is to include location-based keywords on your pages. For example, if you're a restaurant based in Harrisburg, PA, you'll want to include the phrase "restaurant in Harrisburg PA" in important elements like title tags, headings, and body copy.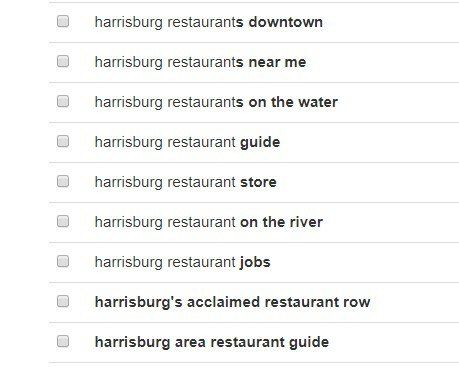 You can also use local landmarks, nearby tourist destinations, and regional names as target keywords. So, for example, if someone searches for "restaurants near Pennsylvania state capitol," your business can show up in search results.
4. Consider each location when creating your website
If you work in the corporate office of a franchise, you should be sure to list each of your individual locations on your website. You can create a "locations" page with each storefront's address, phone number, hours, and other contact information.
You might also choose to include an interactive map of all of your locations so that users can find the one closest to them, and see your other locations.
If you run a single location, or multiple locations, you may want to consider creating your own website. This will allow you to create content specific to your location's products and services, while also ranking for longtail keywords specific to your location.
For example, if you're running a specific promotion that not all franchise locations are running, you'd want to promote this on your website. Having the ability to add a page that you can share on social and promote with PPC ads makes it much easier to reach potential customers.
5. Encourage customers to leave reviews for your location
Online reviews are extremely important. In fact, 84% of people trust online reviews as much as personal recommendations. So if your storefront doesn't have any reviews, potential customers will wonder why.
Reviews give local customers a chance to see what other people think of your service, products, location, and more. They can also help your business rank higher in search engine results pages when users search for keywords mentioned in your reviews.

6. Use consistent branding
One mistake that some franchises make when performing local SEO is deviating from established branding. Major franchises are easy to identify by colors, logos, and brand identity. If you don't stick with this established branding, you can confuse customers and deter them from visiting your location.
For example, think of how thrown off you'd be if you walked into a Starbucks and saw employees in yellow aprons. The green aprons are a Starbucks staple, and believe it or not, your logo and color scheme are, too.
In terms of your website, branding is also extremely important and should be cohesive with your storefront. You should be sure to stick with the same color scheme across your website – and the colors you choose should be representative of your brand.
You should also stay consistent with your brand's theme and feel. For example, if you own a flower shop and your logo, gift boxes, and gift cards all have a sketch design, you should be sure to also implement that style on your website.
Does your franchise need a local SEO strategy?
Businesses today have many options for reaching potential customers online, and local SEO is one of the best for franchises. So if you're looking to partner with a marketing agency to help you improve your visibility in local search results, WebFX can help.
WebFX is a full-service digital marketing agency that specializes in custom, results-driven digital marketing strategies. We have years of experience helping our clients improve their visibility in both national and local search results, and we can do the same for your franchise.
When you work with us, we'll get to know your business and create a custom local SEO plan tailored to your needs and goals.
Contact us today to speak with a specialist and to recieve a free quote!
Find out how WebFX can create an effective Internet marketing strategy for your website. Call 888.449.3239 or contact us online today for a free evaluation.