When you build your digital presence, you want to help more leads find and contact your local business online. Search engine optimization (SEO) is the process of boosting your website's ranking in search results, and it's one of the best ways to attract more valuable leads to your site.
As a local business, you'll want to focus on local SEO. Local SEO is a type of SEO that focuses on helping you reach more local customers. It is appropriate for any business that serves local customers or finds that the search results for keywords related to their business are dominated by Google Maps.
So, how do you create an effective SEO plan?
On this page, we'll provide you with four tips to help you shape your SEO campaign for your local business. Keep reading to learn more and call us today at 888-601-5359 if you want to set up a customized local SEO plan.
Learn more about SEO for local businesses!
1. Claim your Google Business Profile
Claiming your Google Business Profile page is a great way to kick-start your local SEO strategy. When you conduct a search for a local business, you will see a Google Maps list of places to visit.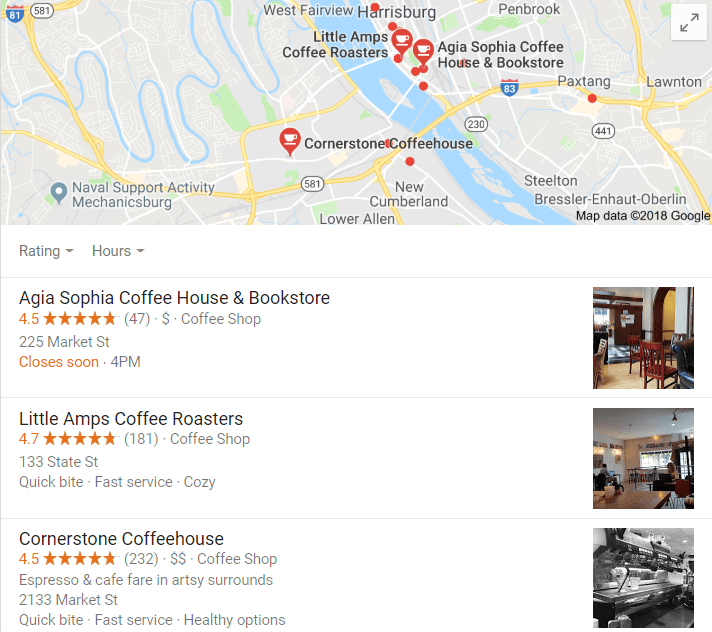 These are all nearby businesses that fit your search query. If you investigate further and click on one of the businesses, you'll see their Google Business Profile listing. This listing provides you with all the helpful information you need about a business.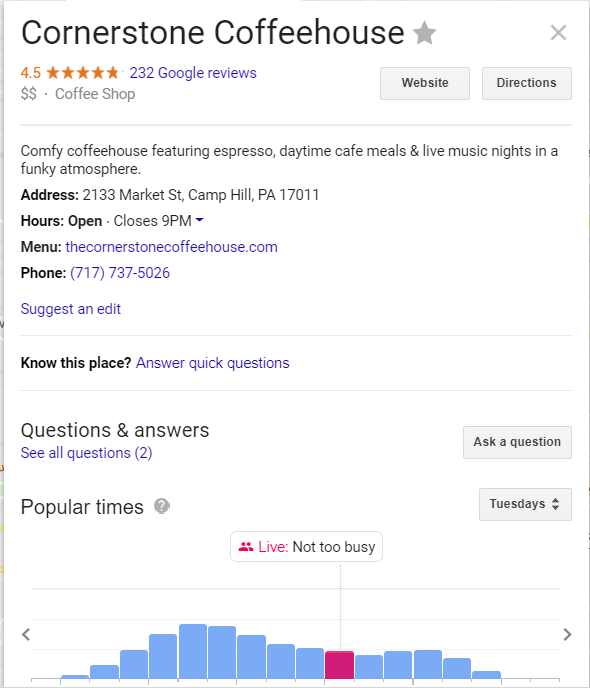 It is important that you claim your local business listing on Google Business Profile. It is a powerful tool that brings in new leads for your business. Your competitors will have a Google Business Profile listing too, so you don't want to lose leads to your competition.
Once you claim your Google Business Profile listing, you'll want to fill it out with an abundance of information. You want users to feel informed about your business and find all the information they need to decide.
Google Business Profile enables you to include a lot of information in your listing. You can post your hours of operation and contact information. If you are a local business that sells food, you can include a link to your menu in your listing.
This listing also enables you to post photos and links about your business. It's a great opportunity to showcase your local business' products. You can entice people to come to your business to check out more of your products.
Another great feature of Google Business Profile is the reviews section. Google enables customers to leave reviews about your business. This is an opportunity for you to thank people for positive feedback and resolve any issues from people with negative feedback.
When you take advantage of your Google Business Profile listing, you will see better results with your SEO plan. You will drive in more leads for your local business.

Hear What It's Like to Work With WebFX!

"Local and transparent in the work they do. There are so many companies out there that offer the same services, we are grateful to have hit it off the way we did with WebFX. Couldn't be happier!"
Waste Management Services
2. Conduct keyword research
Users use keywords to conduct searches to find the best results. You need to use keywords to appear in the right results. You want to connect your business with credible leads.
This means you need to conduct keyword research. There are numerous keyword research tools you can use to find the right keywords for your local business.
When you conduct keyword research, you want to focus on long tail keywords. These are keywords that contain three or more words. If you want to see the best results with your campaign, you'll need to focus on long tail keywords.
These keywords are better than short tail keywords, which only contain one or two words. A long tail keyword is "flower shops near Harrisburg, PA" while a short tail keyword is "flower shops." Long tail keywords are better because they are more specific and drive in more valuable traffic.
Your audience is using long tail keywords, too. When users conduct searches, they use specific keywords to generate the results that fit their query best. By using long tail keywords, you will help your audience find your local business.
If you want to see the best results with your SEO campaign, you need to focus on conducting keyword research to find long tail keywords.
3. Integrate keywords
Once you select your long tail keywords, you need to integrate the keywords into your site. When Google crawls through your site, they look for keywords to understand the context of your page. You want to integrate these keywords on to your local business' site, so you can rank for the right keywords.
There are numerous places you can integrate keywords. You can integrate them into the header, title, body text, and meta description of your page. These are all great places to put keywords to help your page rank in the results.

As you integrate your long tail keywords, be sure to avoid keyword stuffing. Keyword stuffing is when companies use the keyword too often on their page in hopes that they will rank better for that keyword. This is a poor idea, as keyword stuffing hurts your website's ranking.
When you integrate keywords, use them where they fit on your page. Don't force yourself to implement them, but place them where they fit naturally. This will help you avoid keyword stuffing.
By integrating keywords on to your page, you will help your local business' site rank better in the search results and connect with valuable leads.
4. Earn backlinks
Backlinks are important to your SEO ranking. These are links that link back to your page from an authority site's page.
You want to earn backlinks because they build the trust and authority of your site. When a reputable source links to you, their followers trust that your business is knowledgeable and an expert in your field. Google also trusts that your business is trustworthy and provides reliable information.
The best way to earn backlinks is through content creation. When you create industry-specific content, you can reach out to these credible sources and invite them to check it out. If they like what they see, they may link to your content as a resource in their own content.
This is a helpful way to build relationships with authority sites, so you can earn more backlinks. You want to earn numerous backlinks, so you can boost your website's ranking. If you have dozens of backlinks, Google will rank your site higher and enable more leads to find your site.
To make the most of your SEO plan, you need to dedicate time to helping your local business earn backlinks.
WebFX is a top SEO company
SEO is a great way to bring more credible traffic to your local business' site. It's a great way for you to boost your website's ranking in the search results, so you can reach more credible leads. At WebFX, we know how to create SEO plans that work for your local business.
We're a full-service digital marketing company that specializes in creating customized SEO plans. We have a team of 500+ experts that are dedicated to your campaign. Our award-winning team will help you create a customized SEO plan that brings your local business more qualified leads.
If you're looking for results, we know how to drive them. To date, we've driven over $3 billion in sales and over 7.8 million leads for our clients. We focus on putting our clients' success first.
Our clients love the work we do, too. In fact, we have more than 1020 client testimonials from a variety of industries. Check them out to see what it's like to partner with a top SEO company like WebFX!
Get started today with SEO for your local business
If you're ready to start earning more credible traffic for your local business, contact us online or call us today at 888-601-5359 to speak with a strategist.
We look forward to helping your local business grow!
Earn a 20% greater ROI with WebFX